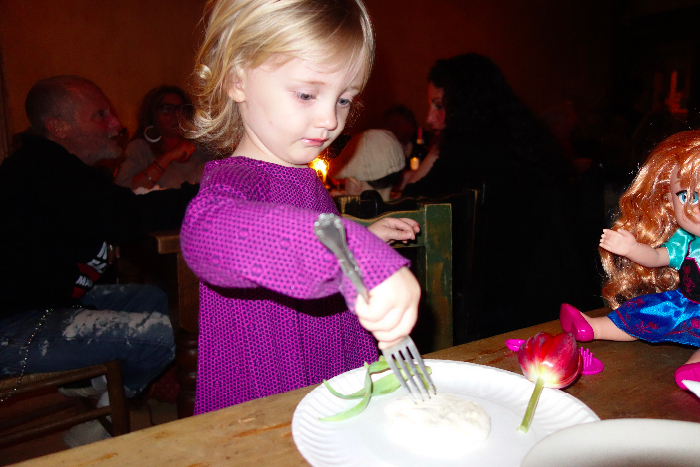 The famous Lucali's is reputedly home to one of the best pizzas in New York City. As such, there is always a line to get in, and it's always seemed to us like too much of a hassle to try to get in when we're paying a sitter so that we can potentially stand in line for an hour. When we recently flew back from Australia however, we had a week with jet lag where Missy E was awake every night at dinner time. Since she wasn't sleeping anyway, we all headed down to Lucali's in Carroll Gardens to FINALLY try this pizza we've been hearing about all this time.
We arrived right before the restaurant opened, and were not that surprised when we saw a big crowd of diners who had the same idea that we had had. Turns out that getting there right when the doors open does not beat the crowd: the smart thing to do is to reserve a table over the phone, or arrive at least 15 minutes before the restaurant opens, guaranteeing you a seat in the second seating of the evening — so about a 30-45min wait. Missy E was napping in her stroller when we arrived, so we strolled around the neighborhood for half an hour until we got the call that our table was ready. They do not have high chairs. Our table was right next to the pizza-making station. The staff couldn't have been friendlier toward our slightly crazy toddler. The wait staff gave her a fresh flower to play with, and then a piece of pizza dough with which she could "make" her own pizza. When she started to get antsy, I took her to watch the chefs hard at work making the pizzas from scratch. We watched as they rolled and threw our pizza's dough, covered it in fresh toppings, and finally, removed it from the oven, piping hot.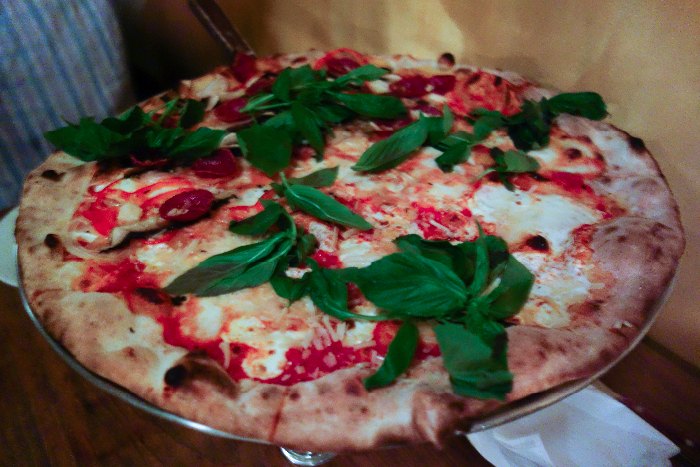 And about those pizzas. There are two menu options at Lucali's — pizza or calzone, with your choice of meat and vegetables, which are listed each night on the chalkboard outside the restaurant. The only beverage they serve is water, but you can BYO wine. The much-hyped pizza was absolutely amazing. It had the perfect crust, thin and crispy on the edges, with a rich tomato sauce, a generous amount of cheese and giant clumps of fresh basil. One pizza was just the right size for two adults and a toddler to share (they do half-and-half if you want different toppings to your dining companions).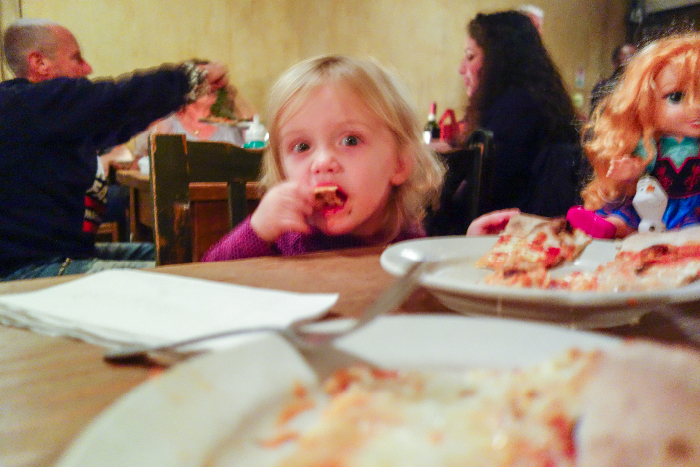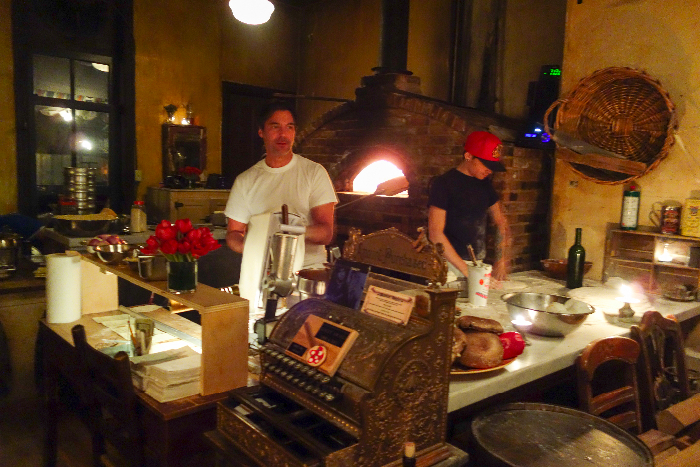 After our pizza we still had room for dessert, so we dropped by our nearby fave, Brooklyn Farmacy, for a banana split.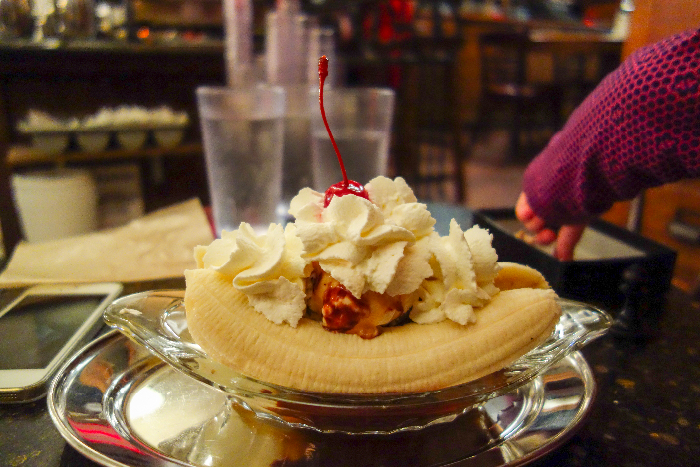 Highchairs: No.
Stroller storage: No.
Easy access: Yes.
Change tables: No.
Kids' menu: No.
Lucali
575 Henry St,
Brooklyn, NY 11231
Phone: (718) 858-4086
Prices: $$
Hours: Mon-Sat 9am-8pm Sun 10am-6pm
Get Directions
Brooklyn Farmacy
513 Henry St,
Brooklyn, NY 11231
Phone: (718) 522-6260
Prices: $
Hours: Mon-Fri 11am-11pm, Sat & Sun 9am-11pm
Get Directions