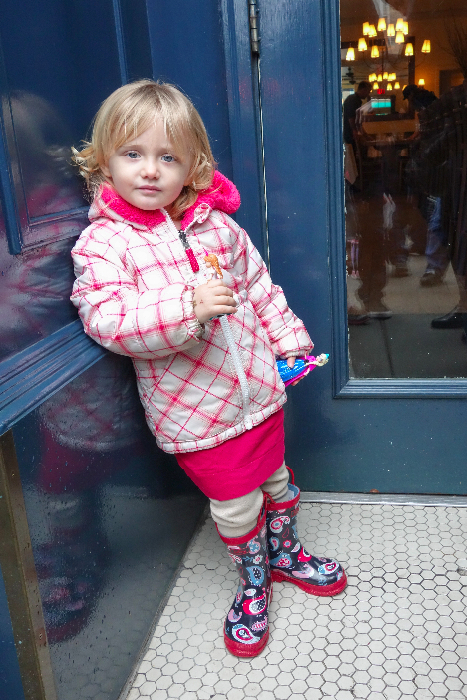 What is possibly the most famous brunch spot in Brooklyn, Buttermilk Channel, has always eluded us as a brunchery with our child. The thought of a long wait has been too daunting to even try it. One rainy weekend, however, my desire to eat well (and potentially run into Beyonce, who apparently loves their chicken and waffles) got the better of me, so we grabbed our obliging neighbors and headed on down to Buttermilk Channel. The doors open at 10am on the dot. We arrived at 9:55 and were the 2nd in line. By 10am, there were over 10 other people behind us. So lesson learned — the early bird gets the waffles.
We were seated at a great table straight away, and had very attentive service. I particularly liked how our waitress brought the toddlers tiny glasses of water and crayons without being asked, and did ask us if we wanted to order anything for the kids while we were looking at the menus for ourselves. (And yes, yes we did.)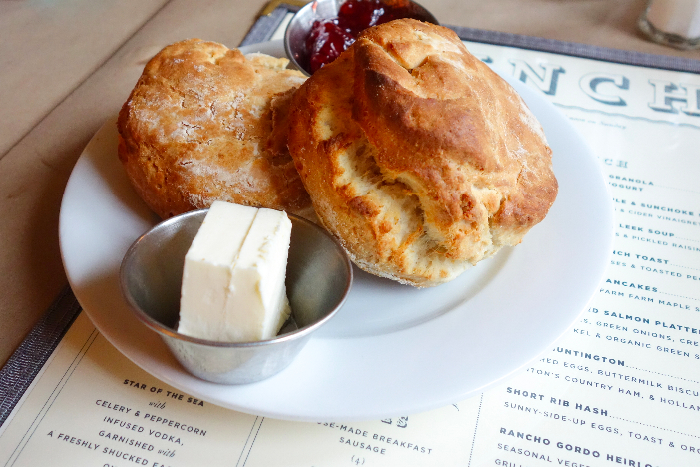 I ordered Buttermilk Biscuits ($4) for the toddlers to snack on while our meals were being prepared. I ordered the most exotic sounding dish on the menu — the Pecan Pie French Toast, with Bourbon, Molasses & Toasted Pecans ($11). It was outstanding. One of the best brunch dishes I have ever eaten. Thick bread generously soaked in egg, and covered with a thick, sweet molasses . . . absolutely incredible. The entire table had food envy so I had to share it so that everyone could enjoy its glory. That being said, every dish was delicious: Eggs Huntington with Poached Eggs, Buttermilk Biscuits, Benton's Country Ham & Hollandaise Sauce ($11), Short Rib Hash, with Sunny-side-up Eggs, Toast & Organic Greens ($13) and the House-cured Salmon Platter, with Fried Peppers, Green Onions, Cream Cheese, Pumpernickel & Organic Green Salad ($12).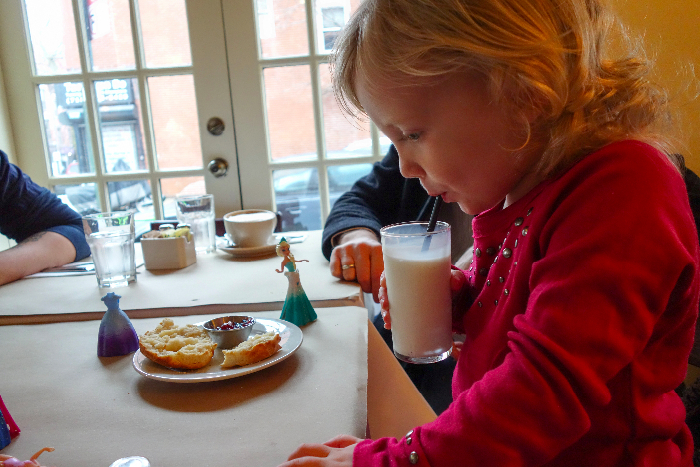 Buttermilk Channel does not disappoint. Its reputation is completely well deserved as one of the best brunch spots in Brooklyn, and the restaurant is an absolute must for anyone who loves fine, Southern-inspired food (and celebrity spotting). Their kid-friendliness is just such an added bonus that enables parents to enjoy top-quality food without feeling like pariahs for bringing small, noisy children with them.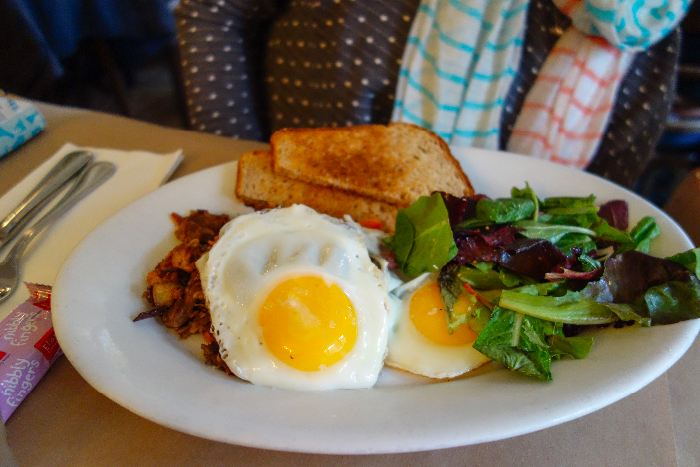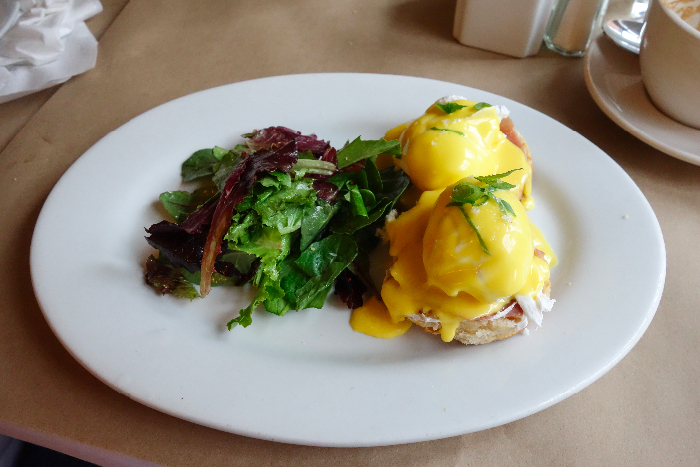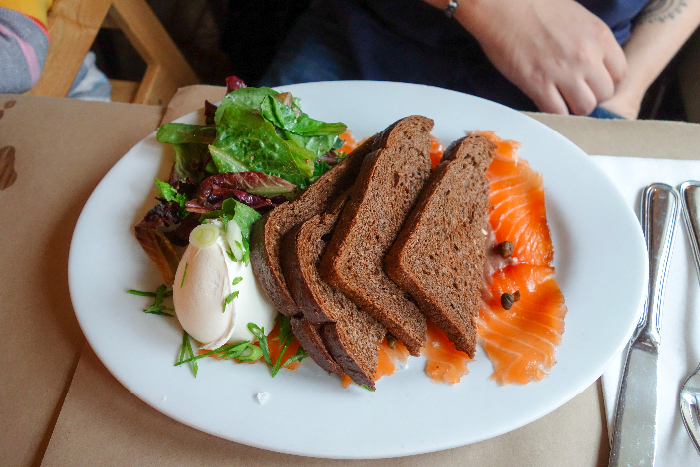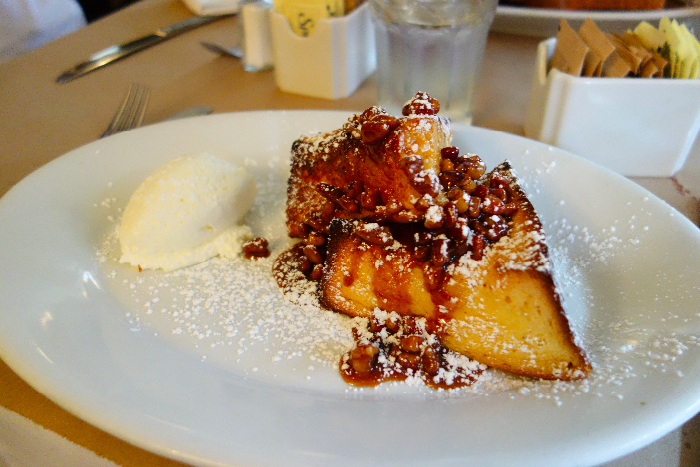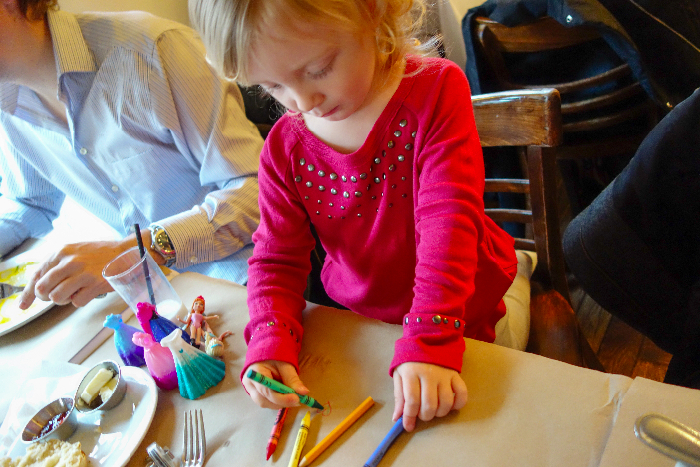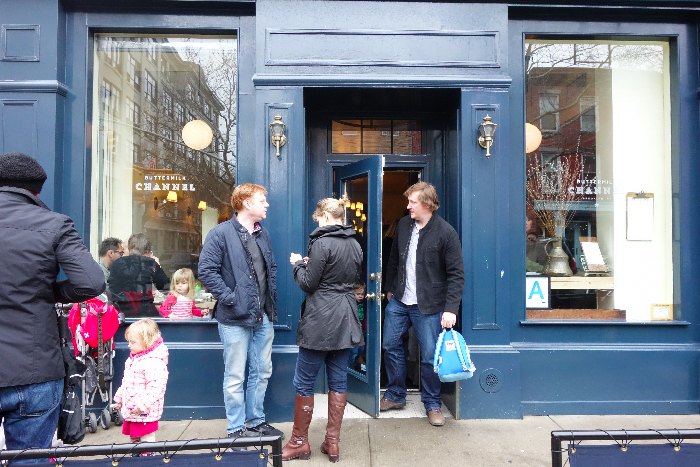 Last Bite: Buttermilk Channel is worth the effort, even if you have to wait in line. Arrive early to avoid the throngs of New Yorkers also hankering for a divine brunch with their families.
Highchairs: Yes.
Stroller storage: Minimal. Bring a stroller that folds and be prepared to leave it outside.
Easy access: Yes.
Change tables: No.
Kids' menu: Yes.
Buttermilk Channel
524 Court St,
Brooklyn, NY 11231
Phone: (718) 852 8490
Prices: $$
Hours: Mon-Wed 5pm-10pm, Thur 5pm-11pm, Fri 5pm-12am, Sat 10am-3pm, 5pm-12am, Sun 12am-3pm, 5pm-10pm
Get Directions