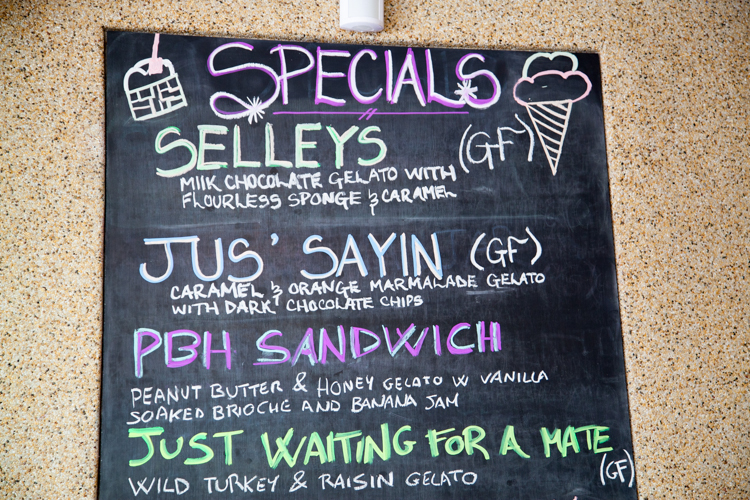 While I was happily eating delicious ice cream in New York from Ample Hills, rumblings were reaching me across the globe of delicious gelato, so amazing that people were lining up down the street for is. The gelato is, of course, Gelato Messina, only the most delicious gelato I've every tasted, and my new obsession.
So what makes Messina so mind-blowingly good? Firstly, Messina use ingredients in their raw and most natural form and make everything from scratch. For example, they roast and grind their own pistachios, and bake their own apple pies and brownies in-house, before smashing them up in the gelato.
Secondly, Messina have a wild range of over 40 flavours at any one time. Regular flavours include the popular Salted Caramel and White Chocolate, Apple Pie, Tirasimu, Gianduia, Pannacotta with Fig Jam and Amaretti Biscuit and, my personal favourite, Chocolate Chip. Weekly specials are creative mashups like Have A Gay Old Time (swirls of caramel in milk gelato with bits of chocolate covered biscuit crumbs) and Nicpic (milk chocolate gelato with rice crisps, peanuts, wafers and caramel).
Price wise, Messina is reasonable too. A tiny scoop for kids costs $3, a single scoop $4 and a double is $6.
DARLINGHURST STORE
Shop 1/241 Victoria St,
Darlinghurst NSW 2010
Hours: Sun-Thur 12pm-11pm, Fri & Sat 12pm-11.30pm
MESSINA DESSERT BAR & CAKE SHOP
243 Victoria St,
Darlinghurst NSW 2010
Cake Shop hours: Mon-Thur 12pm-11pm, Fri 12pm-11.30pm, Sat 12pm-11.30pm, Sun 12pm-11pm
Dessert Bar hours: Mon-Thur 5pm-11pm, Fri 5pm-11.30pm, Sat 12pm-11.30pm, Sun 12pm-11pm
THE STAR STORE
Cafe Court, Level G,
80 Pyrmont Street,
Pyrmont NSW 2009
Hours: Mon-Thur 11am-11pm, Fri & Sat 11am-11.30pm, Sun 11am-11pm
SURRY HILLS STORE
389 Crown St,
Surry Hills NSW 2010
Hours: Sun-Thur 12pm-11pm, Fri & Sat 12pm-11.30pm
BONDI STORE
G6/61 Hall Street,
Bondi NSW 2026
Hours: Mon-Sat 12pm-11pm, Sun 12pm-10pm
PARRAMATTA STORE
283 Church Street,
Parramatta NSW 2150
Hours: Sun-Thur 12pm-11pm, Fri & Sat 12pm-11.30pm