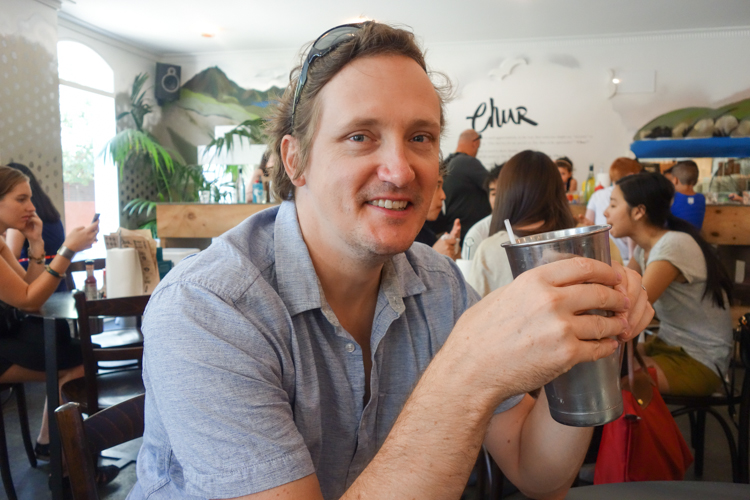 I love burgers. LOVE burgers. In fact, the last meat I ate before I gave up all kinds of meat for good was a hamburger. I wasn't sure I could be a vegetarian when I loved burgers so very much, but after much searching and sampling, I've been finding the best vegetarian burgers in various countries now. My previous Sydney fave, The Counter, closed down while I was living overseas, and I hadn't found a worthy successor until my recent visit to Chur Burger.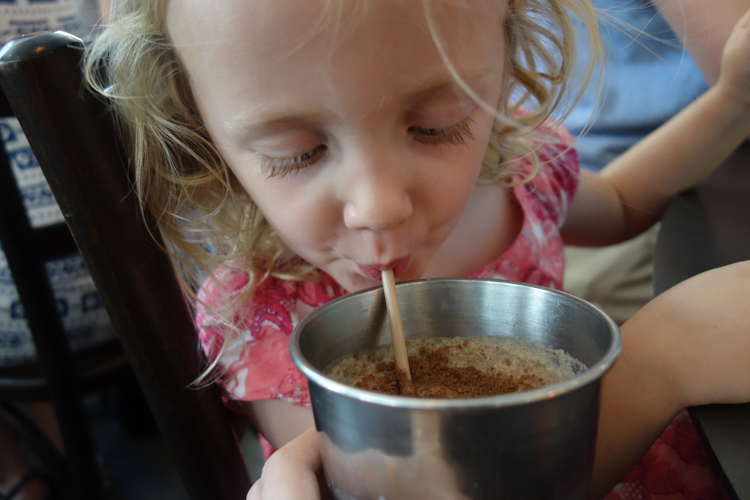 Chur Burger has been popular with food bloggers for a while, always a good sign. Nestled in the quiet back streets of Surry Hills,  Inside however, the vibe is lively, with retro pop music playing loud (the music was actually our only grumble about our dining experience. While we liked the music selection, we found it too loud to hear what our friends were saying).
We had a bit of a food splurge and ordered waaaaay too much for our little family to eat. Everything was so delicious though, that we gave it our best shot and walked away with groaning stomaches at capacity.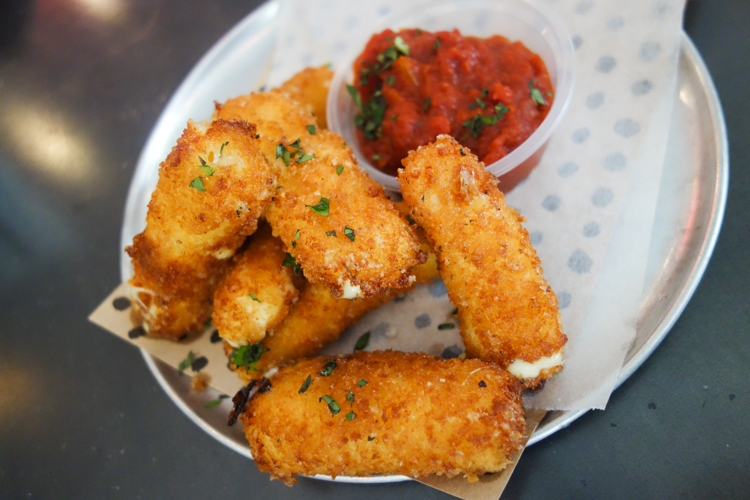 Mozzarella sticks and tomato jam (special of the day, $10). HEAVEN. Deep fried cheesy goodness.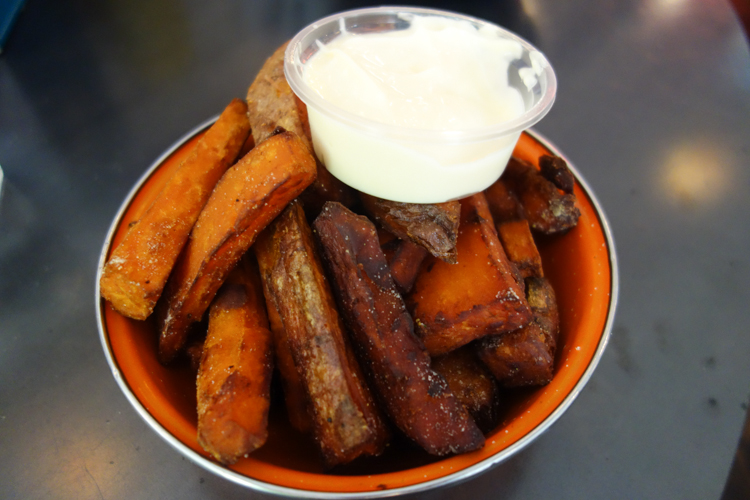 Sweet potato fries, garlic, lime ($8). Delicious. Thick, crispy and soft in the middle.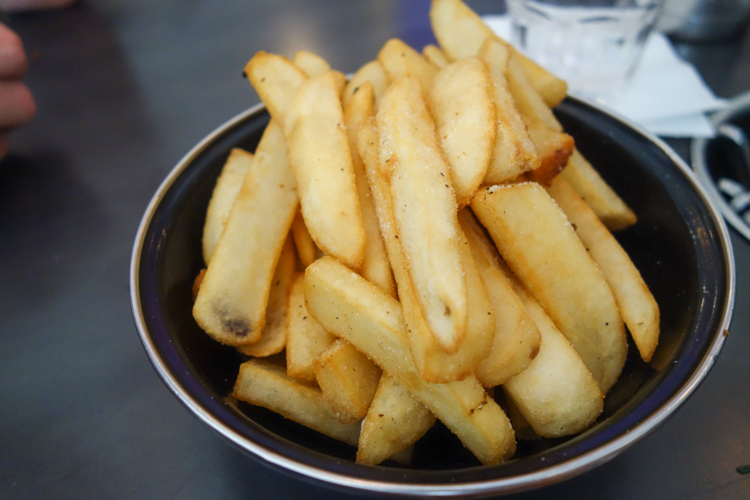 Chips, chilli salt ($6). We ordered these with plain salt so Cheese could eat them. Perfect, fat fries.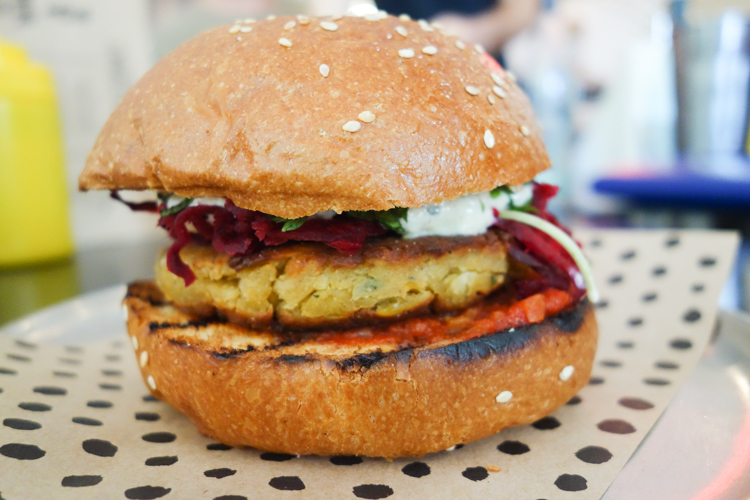 Spiced chickpea fritter, grated beetroot, honey labne ($10). The holy grail of vegetarian burgers. I find it so hard to get a decent vegetarian burger and this one was pretty much perfect. Lightly spied patty, and the honey labne was devine.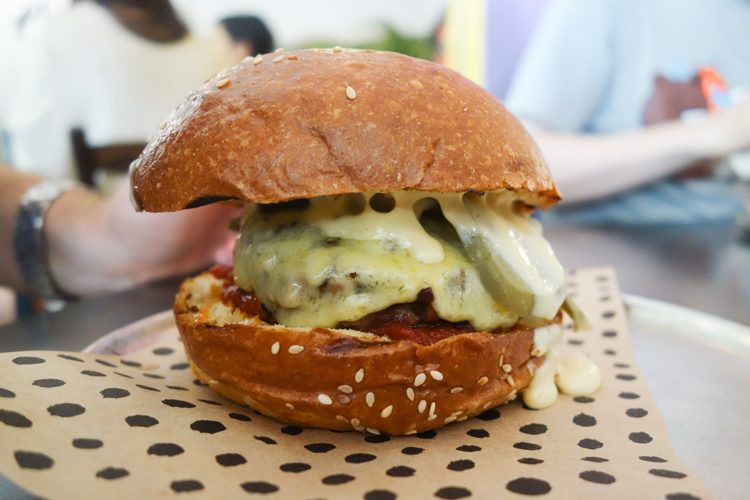 Grilled beef, cheese, tomato jam, mustard mayo, pickle ($10). This was Alec's. Asked for a comment he said "it was really good" and that was all he could offer.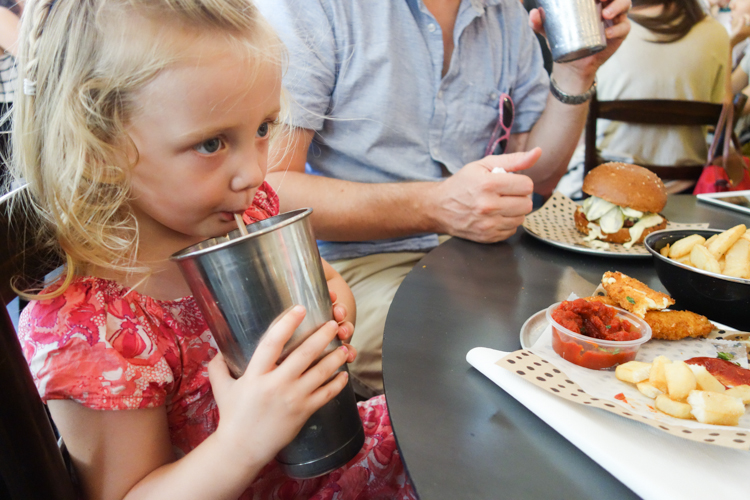 We also ordered two Milkshakes – Vanilla and Milo ($10, all with Heilala vanilla). I only tried the Milo one but it was absolutely divine. Cheese and I battled it out to see who would get to eat the chocolate Milo bits left on top at the end. Alec said his vanilla was delicious and drank the entire thing before I could sample it.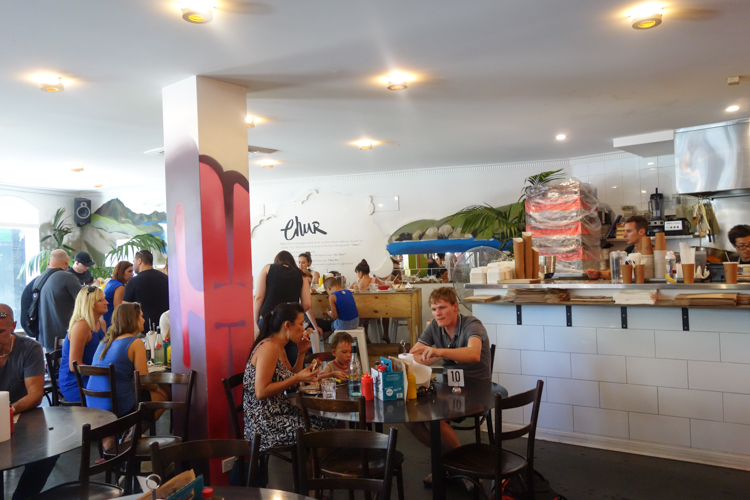 Chur Burger had lots of families dining in, as you'd expect from a burger place. While there was nothing particularly kid-friendly about it (no kids' menu, room for strollers, change table), it was such a laid back, casual affair that bringing a few noisy kids certainly had no impact on the other kid-free patrons' dining experience. I certainly felt very comfortable with my wiggle preschooler and didn't worry to much if she was being loud or fidgety – no need to feel like everyone has to be on their best behaviour, so long as they're hoeing into burgers and enjoying their shakes and fries.
Highchairs: No.
Stroller storage: No.
Easy access: Yes (one step).
Change tables: No.
Kids' menu: No.
Chur Burger
48 Albion Street,
Surry Hills NSW 2010
Phone: (02) 9212 3602
Prices: $
Hours: Mon 11:30am-9pm Tues-Sat 11:30am-10pm, Sunday closed
Get Directions