If you're cruising down the Redfern side of Bourke St, do not pass the non-descript building that houses St Jude without tasting at least one of their delicious dishes. Whilst it's a super busy tiny slip of a café, the outdoor tables make for a baby-friendly place to brunch.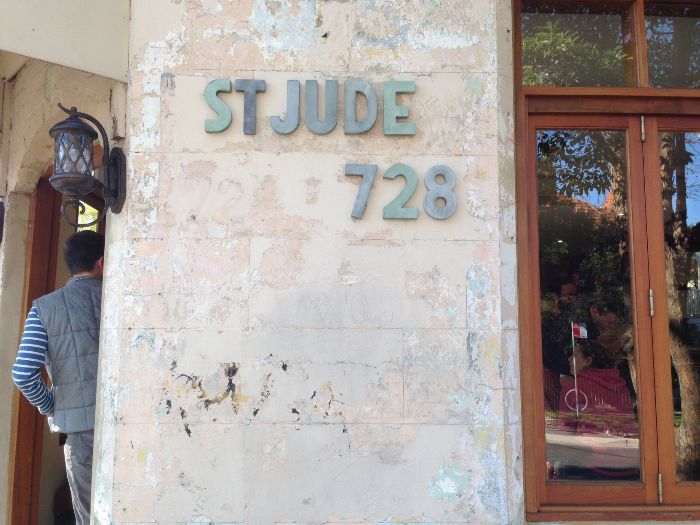 St Jude's brunch offerings are enough to please—and quite possibly impress—even the most seasoned Eastern Suburb gourmand. Neither Lorin nor I, nor Baby Lukas come to think of it, are vegetarian, but today we sampled two of St Jude's vegetarian offerings. (St Jude isn't a vegetarian-only café, but breakfast for us usually includes the delicious and revered pork in one format or another, so for us both to try a veggie-only breakfast, and to be fully satisfied, is a testament to St Jude!)
The interior is a little small, with the cozy booths lining the far wall making for comfortable baby seating. The handful of outdoor tables are ideal if you can get one—especially given the ridiculously nice winter weather we've been having!
This Saturday morning, we descended upon St Jude's in a bit of hurry (with Baby Lukas possible ready to implode due to it being nap time). We were initially seated at the world's smallest table but another waiter took pity on us and moved us to a larger table the second he was able to.
Choosing from the menu was hard, but we both struck gold.  The Sweet Corn and Pumpkin Fritters with Avocado Cream, Poached Egg, Hollandaise and Baby Spinach ($14.50), sampled by Lorin, was a dynamite choice, and one worth getting, even if you don't think you're a fritters kind of bruncher. I went for the Avocado Smash with Salsa, Fresh Spinach and Feta ($14.50), which Baby Lukas and I pretty much fought each other for. Luckily for us, the servings were more than generous.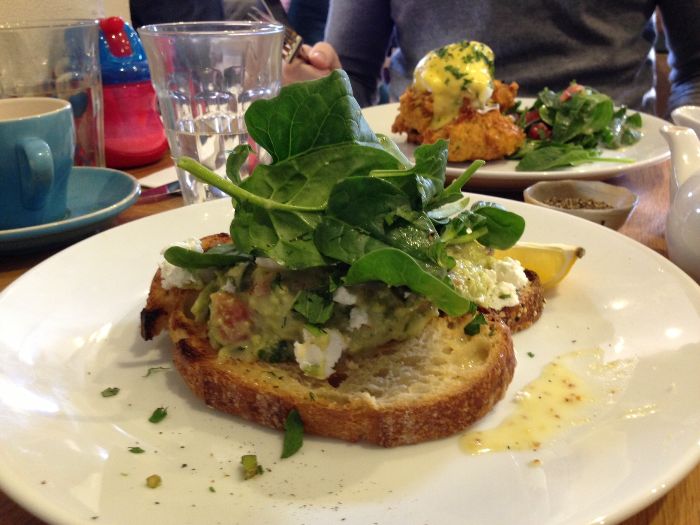 Last bite: If you're looking for a baby-friendly café where you can sit outside and enjoy these ridiculously sunny Sydney winter days while sampling some of the tastiest brunch this side of Bourke St, St Jude is the place for you.
Highchairs: No.
Stroller storage: Not unless you sit outside.
Easy access: Yes.
Change tables: No.
Kids' menu: No, but kids won't starve.
St. Jude
728 Bourke St, Redfern 2016
Phone: (02) 9310 3523
Prices: $
Hours: Mon-Sun 7am-4pm
Get Directions