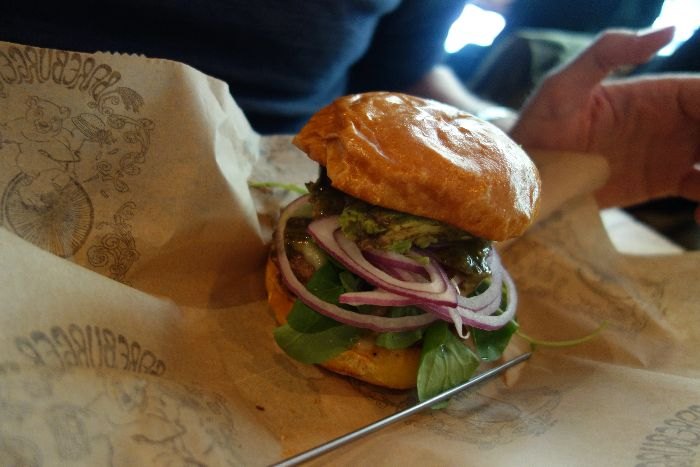 The quiet neighborhood of Cobble Hill is home to a LOT of strollers. It's often joked that once Manhattanites start breeding, they move to Brooklyn. If this is the case, then a lot of these new parents must move to Cobble Hill, as it is literally bursting at the seams with babies, toddlers and lots of kiddie fun.
Best Breakfast: Ted & Honey
This little cafe is the go-to breakfast sandwich spot. Order an egg sandwich on your choice of multi-grain, brioche or ciabatta (the bread is freshly baked from nearby Caputo's bakery). The haloumi and avocado is our fave. While you're waiting, look on the bottom shelf for books and puzzles to entertain your little one. If your child is not the sitting and eating kind, get your sandwich to go and sit in leafy green Cobble Hill Park next door. 264 Clinton St, Brooklyn
Best Quiet Nook: Cobble Hill Park
This little oasis of calm amongst the brownstones is a popular haven for mothers' groups during the week, and families on weekends. A little play area at the end of the park entertains older kids with a sand pit and climbing structures. The park is lovely year-round, but is especially pretty in spring when tulips and daffodils are blooming.
Clinton St. Between Verandah Pl. and Congress St., Brooklyn
Best Lunch Spot: BareBurger
Grab an all-natural burger, shake and fries for lunch at Bareburger. Kids can order a Cubby Meal, choosing from items like a grilled cheese panini or "grizzly" burger (with a quinoa veggie patty option). Adults: order from a wide variety of burgers (including "build your own"), sandwiches and salads, all made with organic ingredients free of hormones, pesticides and other unsavory elements.
149 Court St., Brooklyn
Best Playground: LICH Playground
This large playground has climbing structures for toddlers and older kids, plus a few swings. The main attraction for the toddler set, however, is the ever-changing walker and car toys that are routinely "donated" to the park throughout the year. The park is well-shaded on afternoons, and the trees put on a beautiful display of color in the fall.
Henry St. and Amity St., Brooklyn
Best Kids' Store: Picnic
Dress your little one like a Brooklyn hipster at Picnic. Owned by local mom Lindsey Engler, the store stocks adorable outfits and accessories for kids from baby and up. You'll also find a range of NYC and Brooklyn books and toys.
192 Amity St., Brooklyn
This article was first published on MommyNearest.