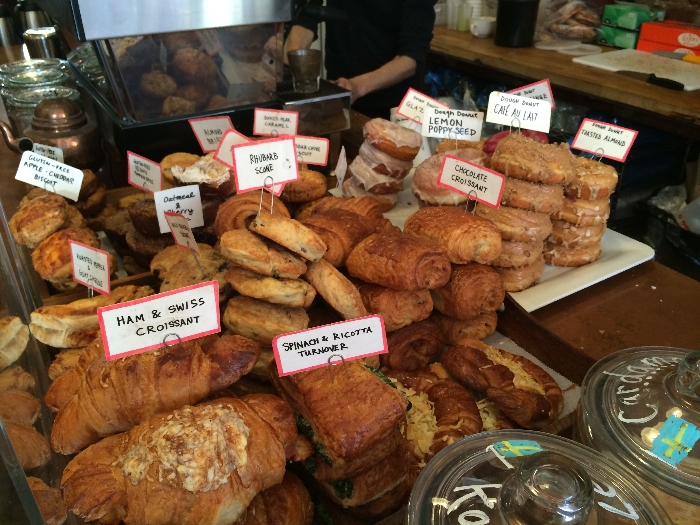 We are always searching for a new great coffee place that will deliver my flat white-obsessed husband with a consistent cup of decent coffee. His most recent obsession is Konditori, a Swedish cafe that aspires to combine the hominess of Swedish Coffee Culture with the edginess of Brooklyn. I've never been to Sweden, so I can't comment on how accurately the cafe represents the "Swedish coffee hominess", but what I do know is my husband has been stopping by this cafe twice a week on his way to deliver Cheese to pre school since it opened, and gets REALLY mad if Cheese isn't ready for school in time for him to get his regular cup of jo.
Since I'm not a coffee drinker he promised me a good hot chocolate and selection of fine baked goods, which was enough for me to accompany him and Cheese on their regular coffee ritual one morning.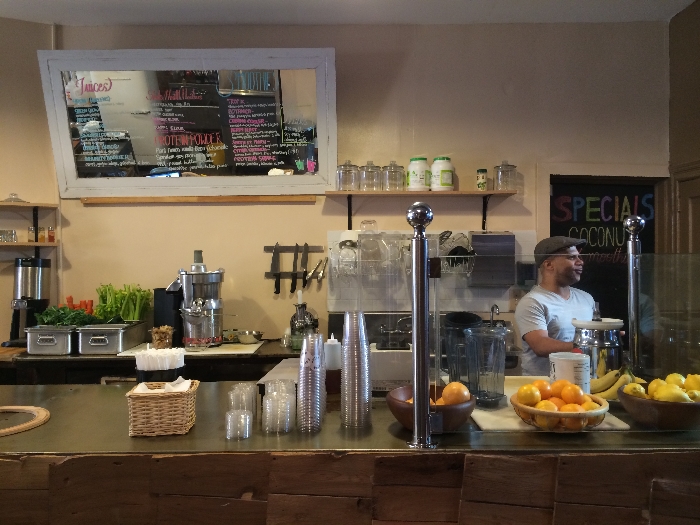 As well as a seriously good cup of coffee (the husband obviously has stamped it so) you can pick up a hand rolled kettle boiled bagel, gourmet muffins and Swedish treats like Cardamom Bread (coffee bread with almond filling), Kanelbulle (cinnamon rolls) and Coco Balls.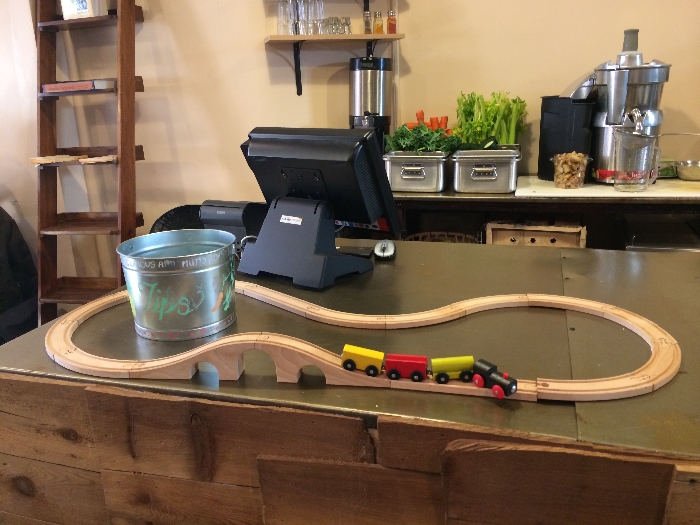 The cafe also has a fresh juice bar, which has a little IKEA train set running around the tip jar — a magnet for toddlers and adults waiting for their juices alike. Cheese was obsessed with the trains, and we were both very happy when told it was fine for her to take the train back to the table play with (bless you!).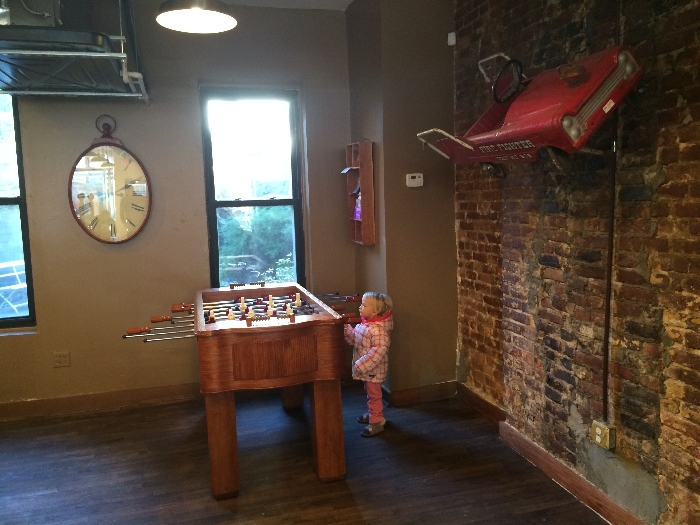 In the back of the store is a huge foosball table (another prime toddler distractor) and plenty of room if you need to park your giant stroller.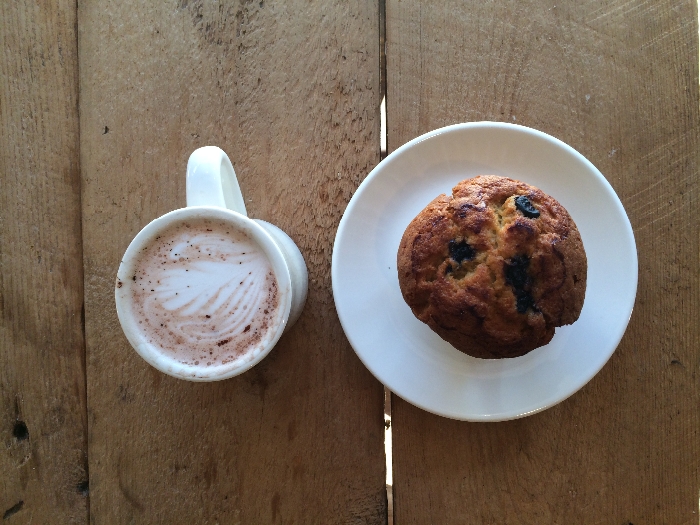 I ordered a hot chocolate ($2.25) and one of the gourmet muffins ($2.50). I thought it was blueberry banana, but I could only find blueberries, so who knows, maybe I read the sign wrong. Either way, it was a good, solid muffin, and the hot chocolate was delicious.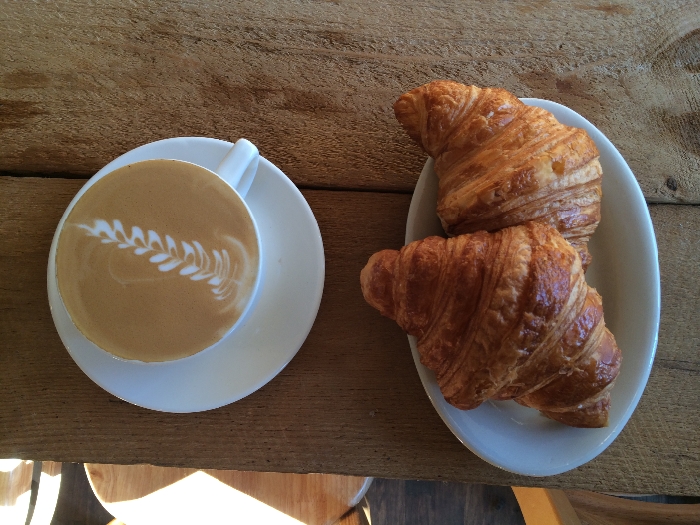 I had to act quickly to snap Alec's latte ($3.50) and croissant ($2.50) before they disappeared. Part of his weekly ritual with Cheese is for them to enjoy croissants together.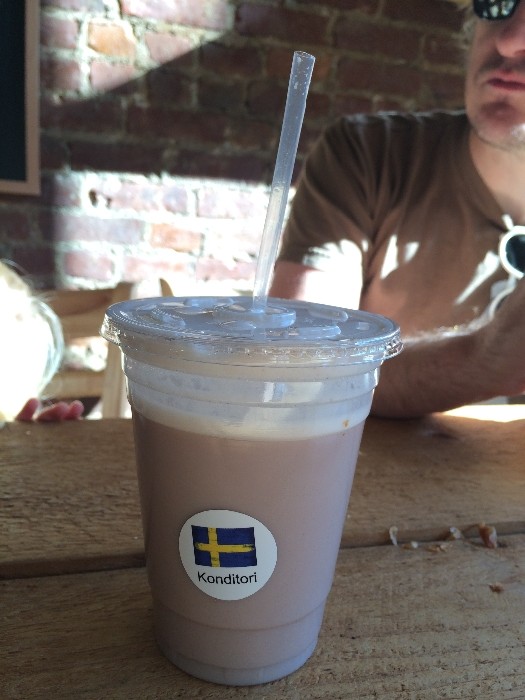 The Konditori staff were very happy to make a special "toddler" hot chocolate for Cheese. Basically this means I ask them to dilute the hot chocolate heavily with whole milk, and put it in a straw cup for her to drink. This both takes away from it being too chocolately for a toddler, and also brings it down to the perfect temperature for toddlers straight away, so we can skip the "you have to wait, it's too hot!" talk.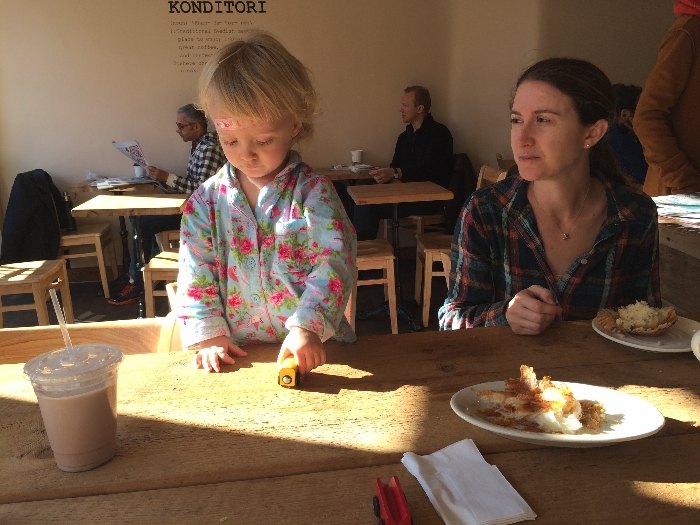 Last Bite: Great coffee, friendly staff, and plenty of room and distractions for toddlers. Stop by to find us hibernating at Konditori all winter long.
Highchairs: No.
Stroller storage: Yes – room for strollers!
Easy access: Yes.
Change tables: No.
Kids' menu: No.
Konditori
114 Smith St,
Brooklyn, NY 11201
Phone: (646) 696-0257
Pries: $
Hours: Daily, 6am-8pm
Get directions