Today's Brunch Special is courtesy of Sammy Smith Coleman, co-founder of Bottle Rocket Stroller Tours. Sammy lives with her husband, Matt Coleman, and their daughter, Edie, 21 months, in a brownstone in Boerum Hill, Brooklyn.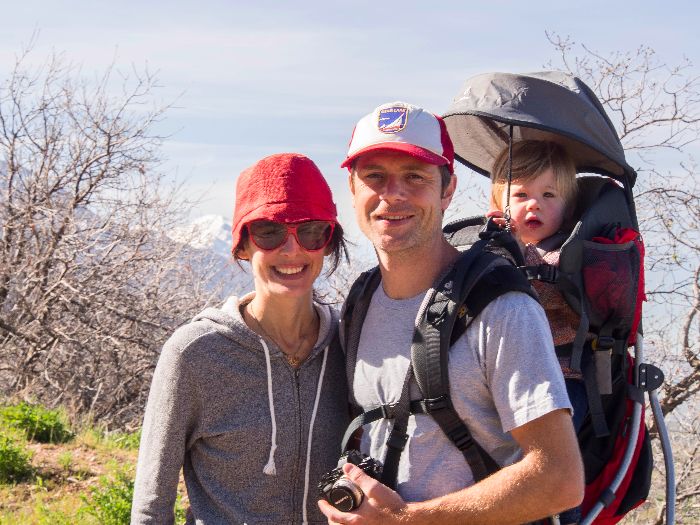 Tell us about your business, Bottle Rocket Stroller Tours:
We take mamas (papas and other caregivers too!) and their dreamlets on tours of museums, galleries, parks, architecture and food establishments.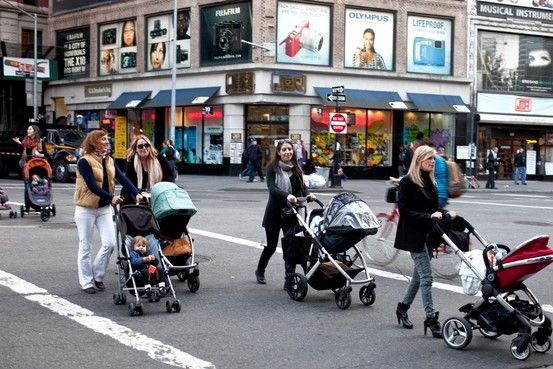 What inspired you to start the stroller tour business?
I've always dreamed of running a business and was at a time in my life where I felt like I needed to balance caring for my daughter and doing something for myself. A friend approached me and asked if I'd partner with her and I immediately said yes!
What are some of your upcoming tours?
We have a High Line Park tour on May 20th, The Jewish Museum of Art on May 22nd, Neighborhood Food tours, June 5th and 12th, Park Slope Architecture on June 20th and 28th and MoMA on June 26th. (Check out all of BRST's upcoming tours online.)
What do the food stroller tours involve?
We tour local kid-friendly food shops and restaurants. For example, on the Cobblestone Brooklyn tour, our last stop was Brooklyn Farmacy, where they made mini egg creams for the kids. Our tours try to accommodate dietary restrictions that both the moms and kids might have. There was one mom who couldn't eat dairy so she had a non-dairy drink at Farmacy and ate bread with local honey when we stopped at Stinky Brooklyn. Most of the places we tour will have an alternative option when needed.
How should parents taking your stroller tours prepare for their kids' snack-attacks?
We always encourage mom/caregivers to bring snacks for their kids, especially on our outdoor tours. We can't guarantee that there will be something that all the babies/kids will eat but we try. Most of our tours are late in the afternoon so most go home to have dinner. We can always recommend local kid-friendly restaurants to have dinner at after if anyone is interested.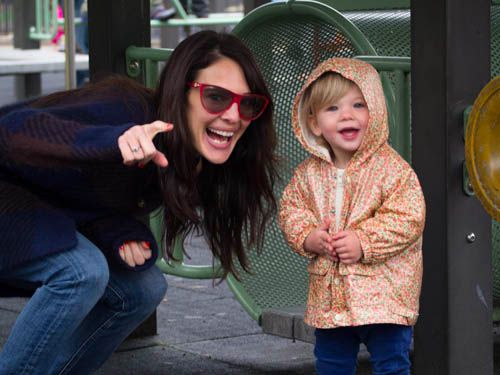 On to food! What have you found are the easiest/hardest ages to eat out with Edie?
Easiest age was by far was when she was a few weeks old, up till she started walking at around 12 months. It became more challenging after that since she wanted to explore and run around.
Any stories of an especially good or bad dining out experience with Edie?
My favorite story was at Rucola a few months ago. We were waiting for my husband to arrive and Edie saw him through the window walking towards the restaurant. She started yelling, "PAPA!! PAPA!" at the top of her lungs and the whole place started laughing. As soon as he walked in she got even louder and Matt felt like the proudest papa around. So far we haven't had any really bad experiences outside the typical screaming and throwing stuff.
Fave local restaurants to eat out with your family?
Building on Bond, Moo Burger, Watty & Meg. Buttermilk Channel in Carroll Gardens is amazing with kids! We also love Ted & Honey, and sitting outside at Bar Tabac.
Fave spot to stop for treats?
One Girl Cookie, Brooklyn Farmacy, Betty Bakery, scones from Building on Bond, and ice-cream from Van Leeuwen.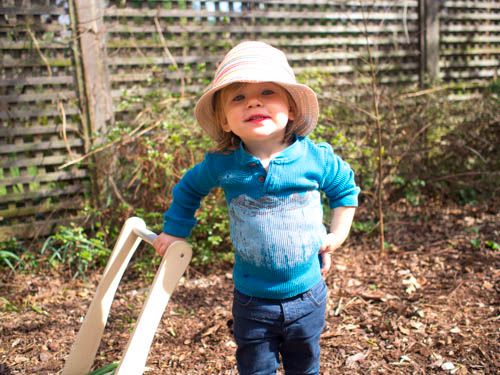 Do you have any eating out traditions with your family?
My husband makes pancakes and waffles a lot on the weekends. We'll have to start some traditions! We did Friday night pizza at the mall when I was a kid, I have such great memories of it!
Number one tip for other parents when eating out with kids
Don't leave home without books, snacks, a zipper pouch full of random stuff she's never seen before, and ask for your kid's meal a little early – but not too early so they finish way ahead of you!