6 Reasons To Stay at the Tokyo Disneyland Hotel
When we travel to a Disney park we love to stay at the official Disney hotels where possible. The added benefits of staying at a Disney hotel plus being in the Disney "bubble" for our entire stay makes every trip that big more magical.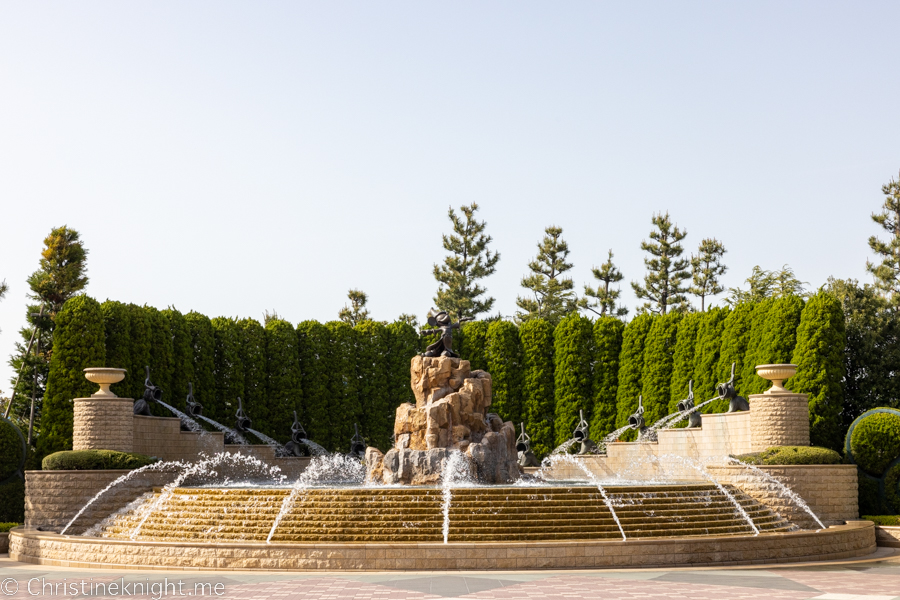 There are different perks to staying at each Disney resort around the world: here is why you should stay at the Tokyo Disneyland Hotel on your next trip to Japan (if your budget allows).
The closest hotel to Tokyo Disneyland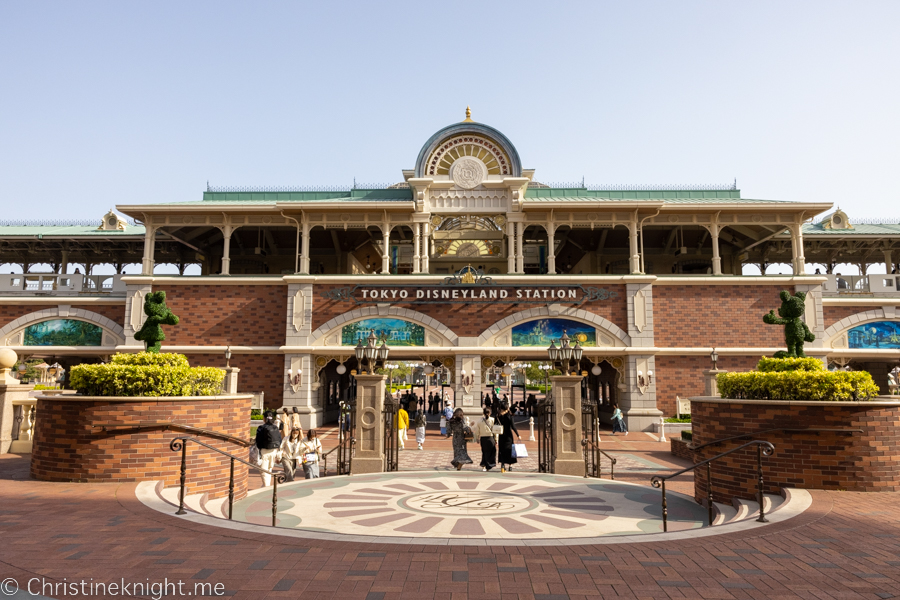 Tokyo Disneyland Hotel is the closest hotel to the entrance of Tokyo Disneyland. The ease of walking out of the doors and straight through security and then the entrance gate, and then also how fast and easy it is to get back to the hotel again at the end of a day at the park is a huge perk that can't be underestimated in my opinion. To us, this alone makes it worth the stay.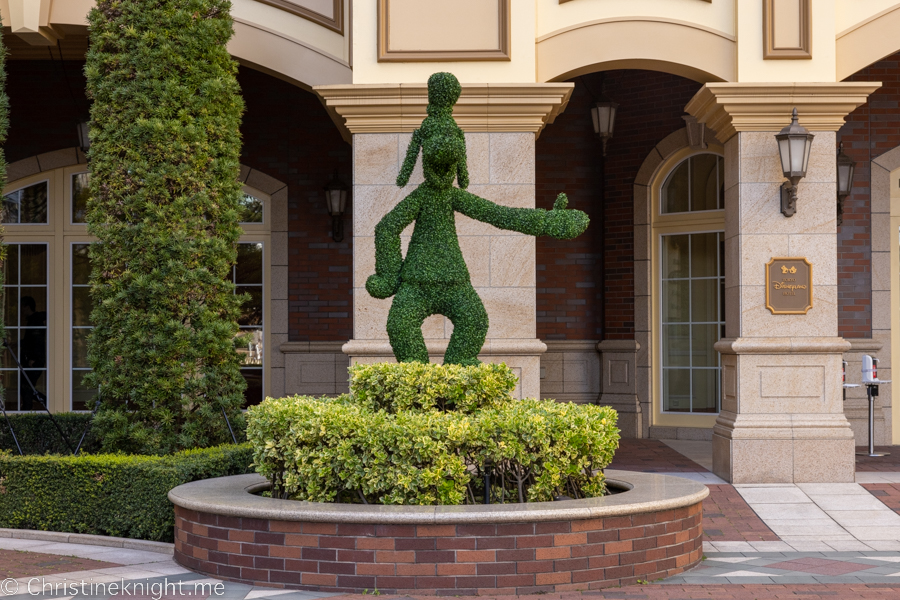 It's also very easy to get to Tokyo DisneySea. The monorail is a few steps from the door and takes you directly to DisneySea in 7 minutes.
Adorably Themed Rooms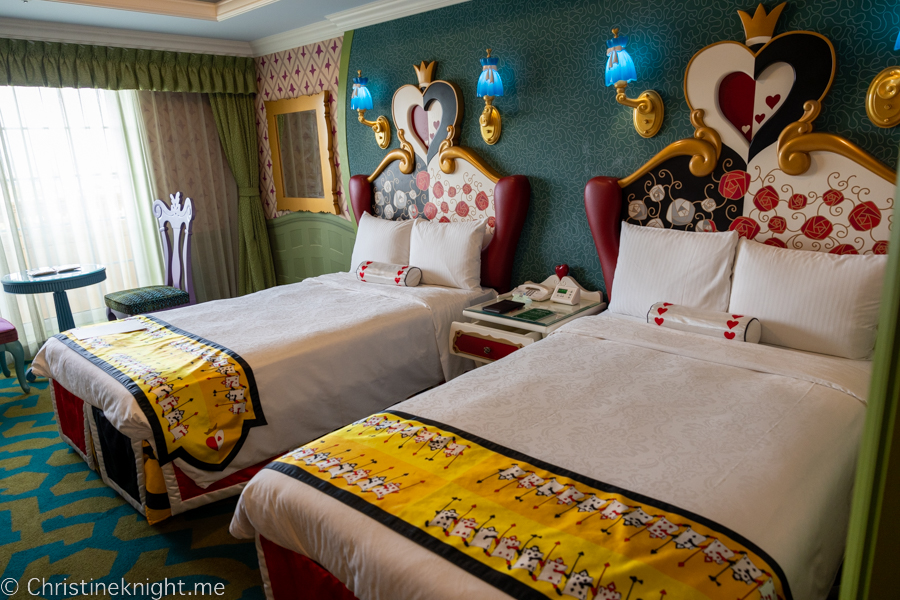 While the standard room is Victorian-themed in-line with the theming of the Tokyo Disneyland Hotel, there are ultra adorable themed rooms as well. Choose from Tinker Bell, Alice in Wonderland, Beauty and the Beast and Cinderella.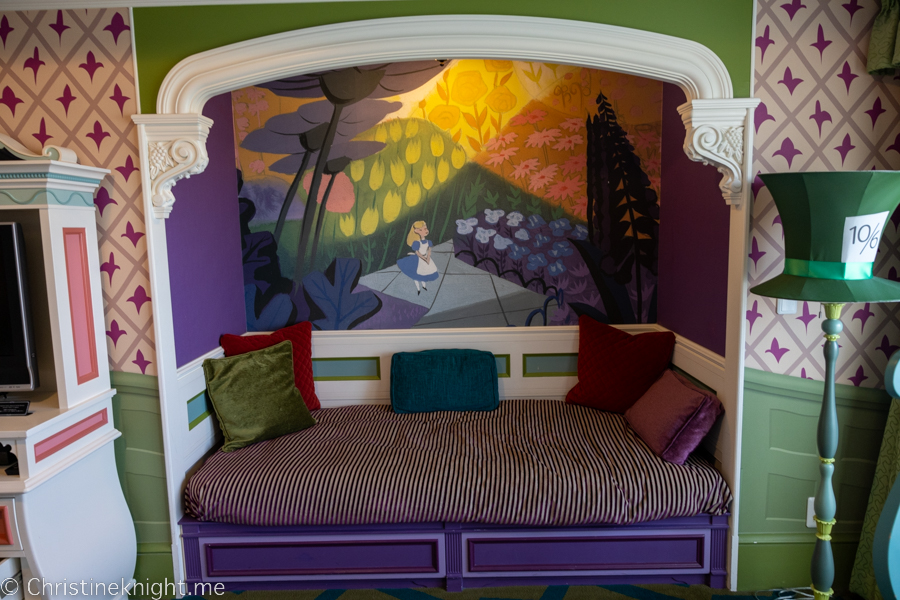 We chose the Alice in Wonderland room for our stay. While it did cost significantly more for a themed room, we had no regrets.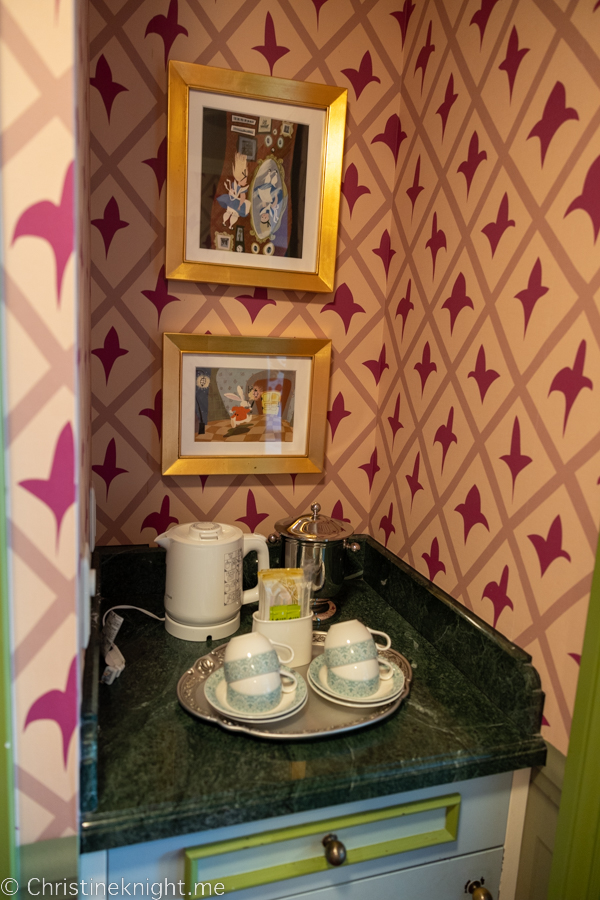 Our room was filled with Alice in Wonderland-themed furniture and motifs of the Queen of Hearts, the Card Soldiers, the White Rabbit and the Cheshire Cat. In addition to two regular beds, this room has a trundle bed that can be pulled out.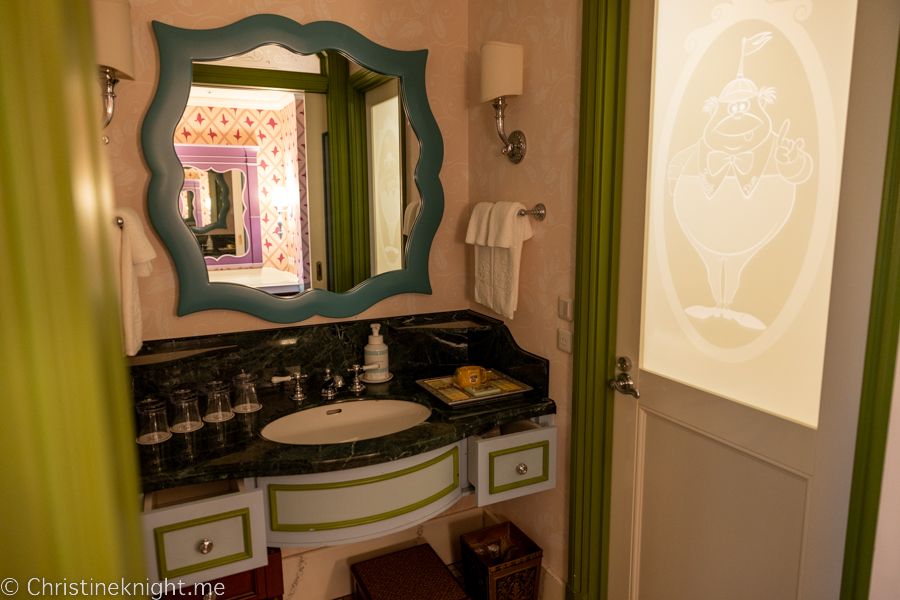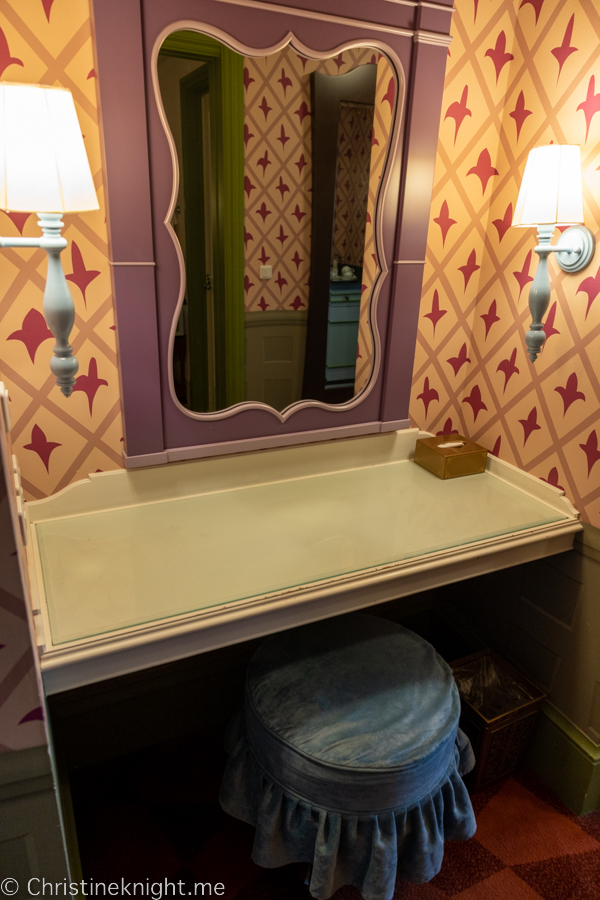 Free room amenities to take home
I looooove the free hotel-themed take home items! Each day these items were replenished as well so we had plenty to take home as souvenirs and gifts.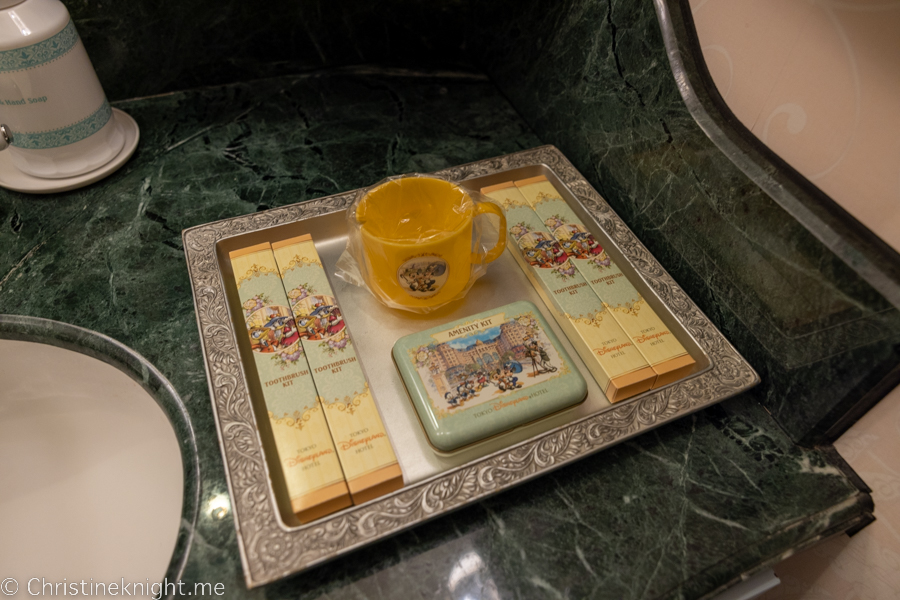 Toothbrush
Room slippers
Amenity kit (cotton swabs, cotton balls, hair elastic)
Re-usable hotel-themed shopping bag
Complimentary Mineral Water
Children's slippers
Children's toothbrush
Children's mug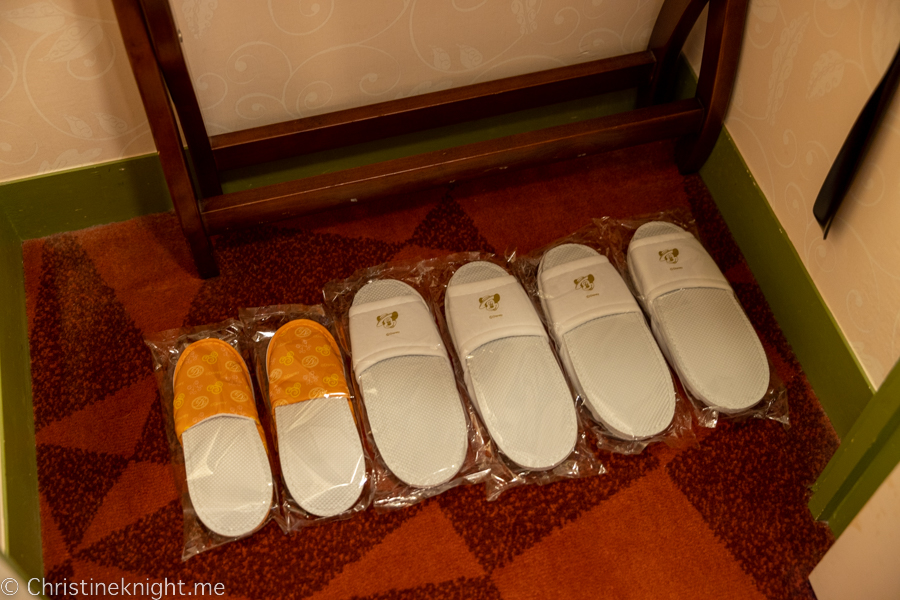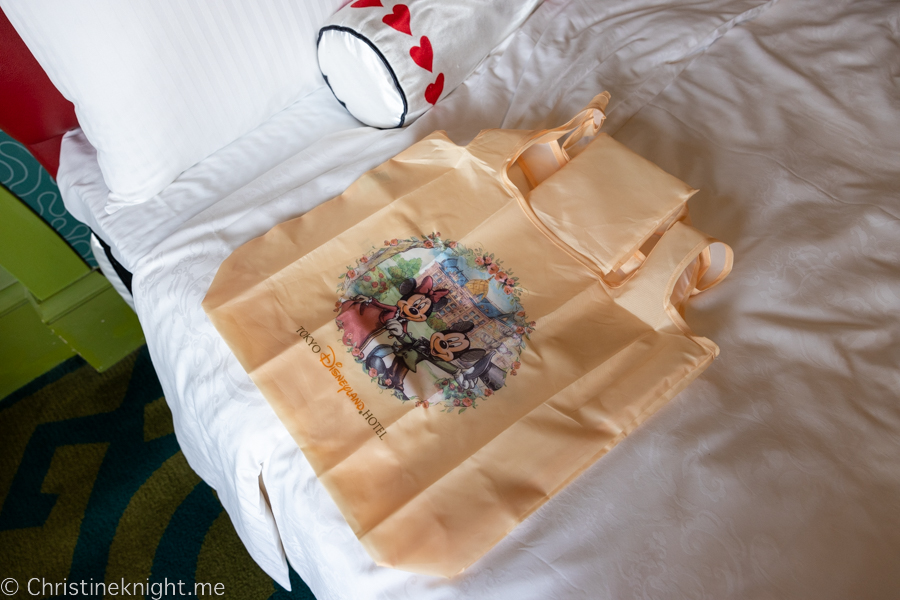 You can use the complimentary pyjamas (for adults) in the room and request children's sizes, however these must stay at the hotel.
Disney Hotels Exclusives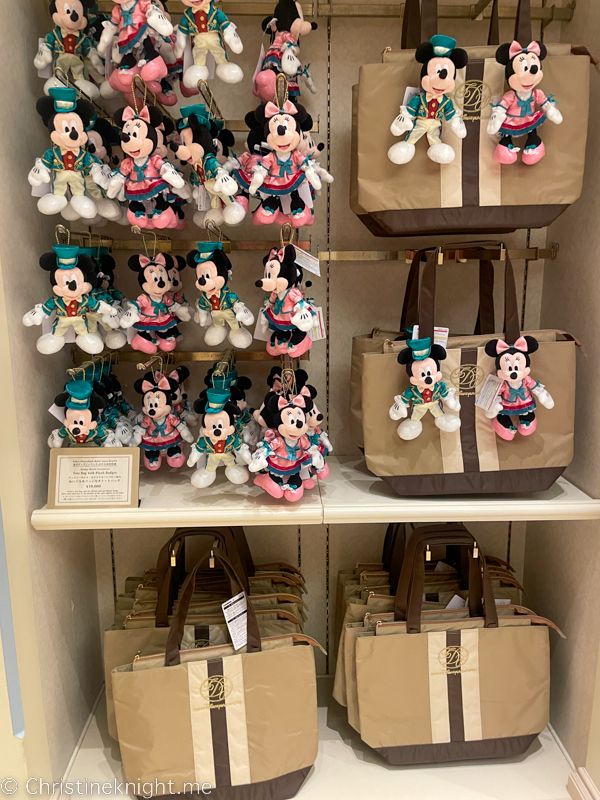 Special products are available for purchase to Guests staying at a Deluxe Type Disney Hotel (Tokyo Disneyland Hotel, Disney Ambassador Hotel, Tokyo DisneySea Hotel MiraCosta). I bought one of these tote bags and clip on toys as a special momento of our stay.
Guaranteed admission to the Parks
One major benefit if you visit in peak season is that guests of the hotel are guaranteed admission to Tokyo Disneyland and Tokyo DisneySea, even when admission is being restricted due to high attendance.
"Happy Entry" Early Park Entry
Guests staying at a Disney hotel are be eligible for "Happy Entry," a Disney hotel benefit that allows Guests to enter Tokyo Disneyland or Tokyo DisneySea through a Special Entrance for Disney hotel guests 15 minutes earlier than other Guests.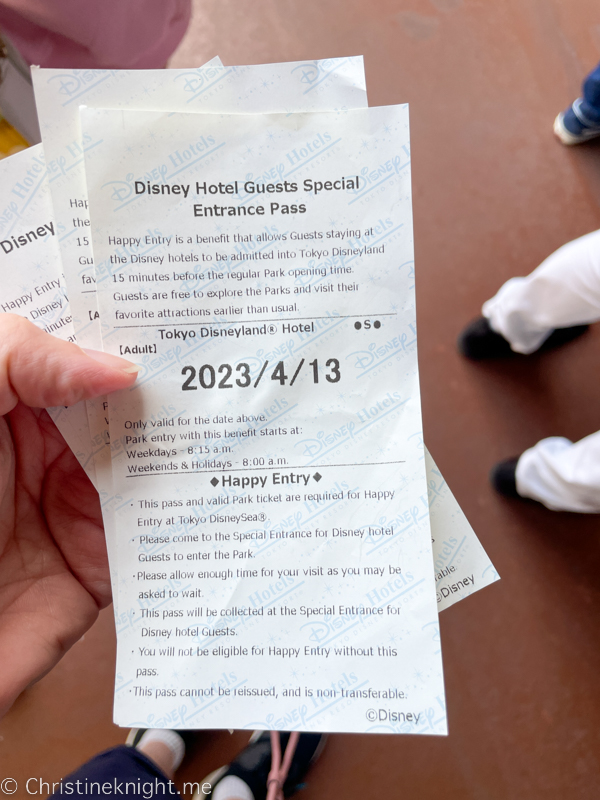 When checking into the hotel you will be asked what days you have purchased park tickets for and be given a little paper slip per person per day for 15 minute early admission to the parks. Note that not every park is available for early entry each day and the schedule is not published anywhere that we were able to find, and also that this benefit is not available on the day of check-in but is available on the day of check-out.
Park admission time for Guests staying at a Disney hotel is shown on the Special Entrance Pass.
Good to know before you go
How to book a Tokyo Disneyland Resort hotel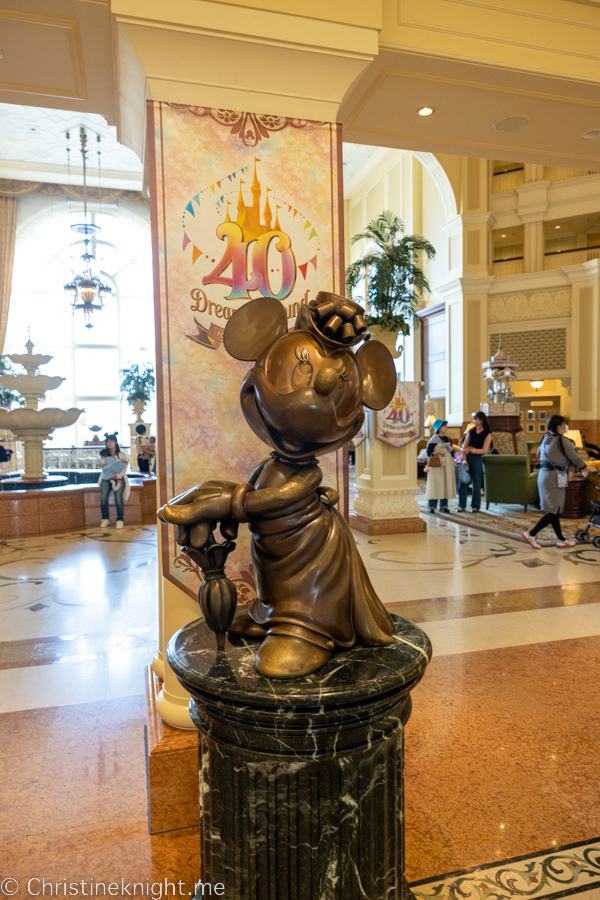 Bookings are open from 11am (JST) three months in advance through the Tokyo Disney Resort Online Reservations & Tickets website. Up to five consecutive nights and three rooms can be booked per booking.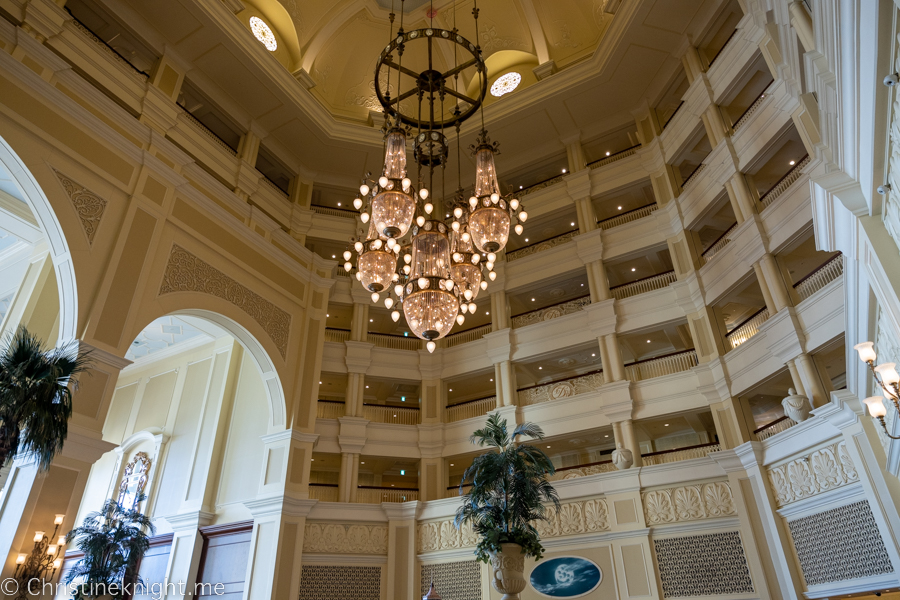 Go here to reserve your room.
A helpful guide to booking your room is here.
Hotel information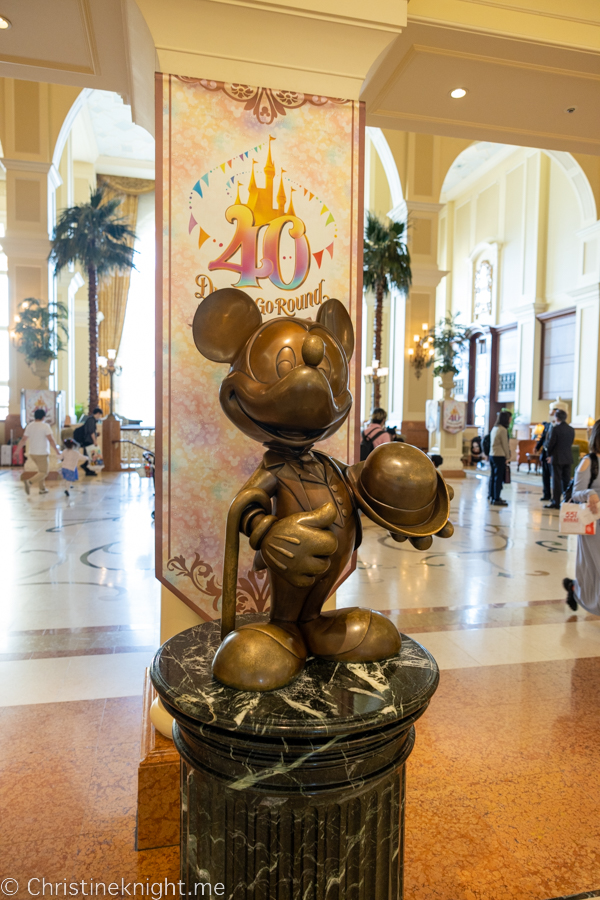 Check-in: 3pm Checkout: 12pm. You will not be able to check in early so there is no point in asking.
The hotel features restaurants which need to be booked in advance of your stay for optimal days and times. It is difficult to book on arrival as the restaurants are busy and book up well in advance.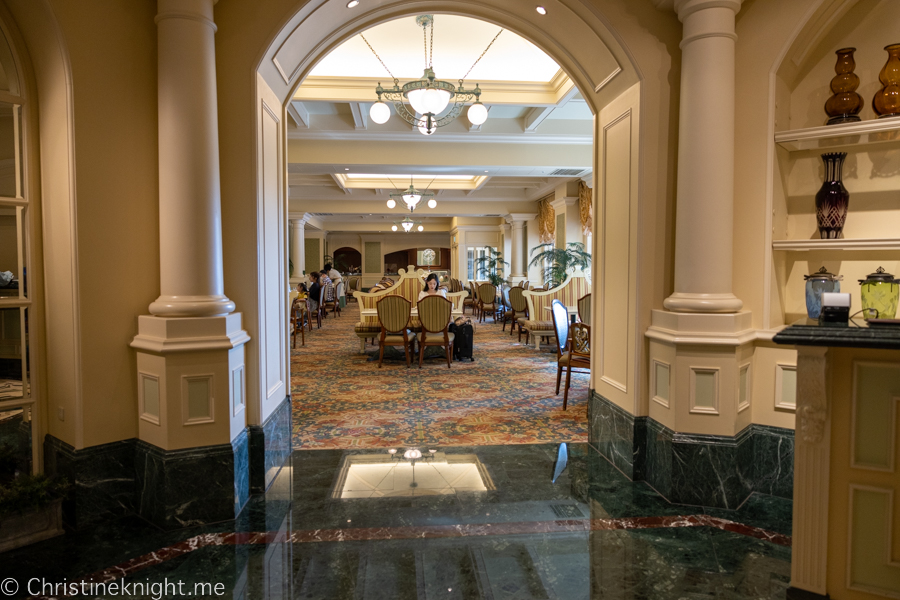 There is a small convenience store with very basic food items and necessities however the prices are high. There is a 7-Eleven a 15 min walk from the hotel that is well stocked and reasonably-priced.
You can purchase quick meals from the convenience store and ask the staff to heat them up for you at the counter after payment.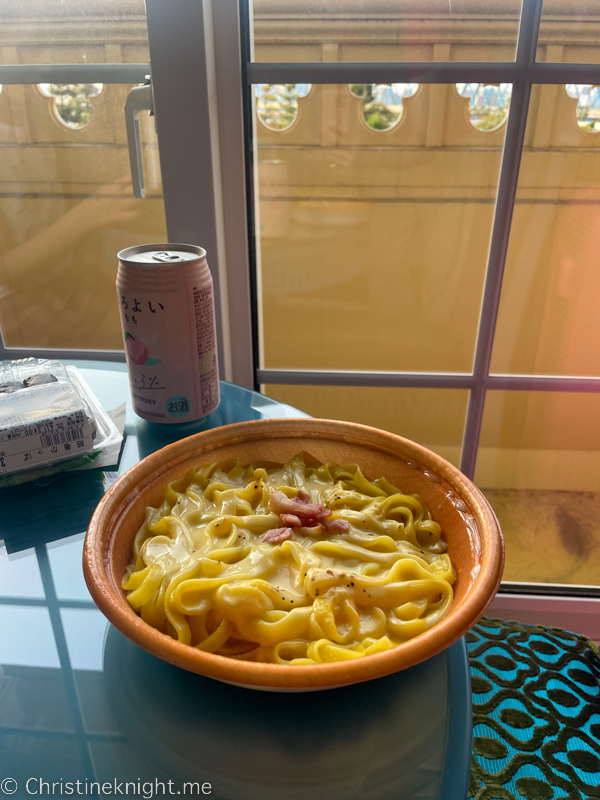 Room categories
All 706 guest rooms feature designs of the Disney Characters. Guest rooms are divided into four categories. Rooms with a view of Tokyo Disneyland are categorized as Park View, and the ones with a frontal view of Tokyo Disneyland as Park Grand View.
Concierge Rooms and Suites come with breakfast, and also include access to an exclusive lounge offering check-in/checkout and beverage services.
Themed rooms are located at the back of the hotel and do not have a view of the park. Ours had a view of this beautiful garden.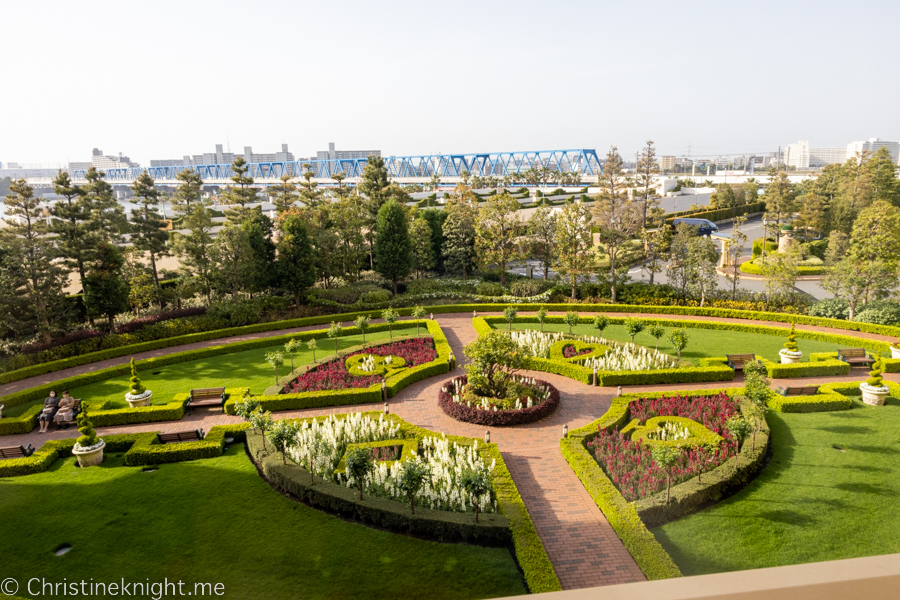 Cancellation fees and booking changes
This was confusing to us so it's worth mentioning. If you want to start your stay earlier than dates you have already booked, you must cancel your existing booking and book a new room from scratch. You cannot add dates onto the start of your booking.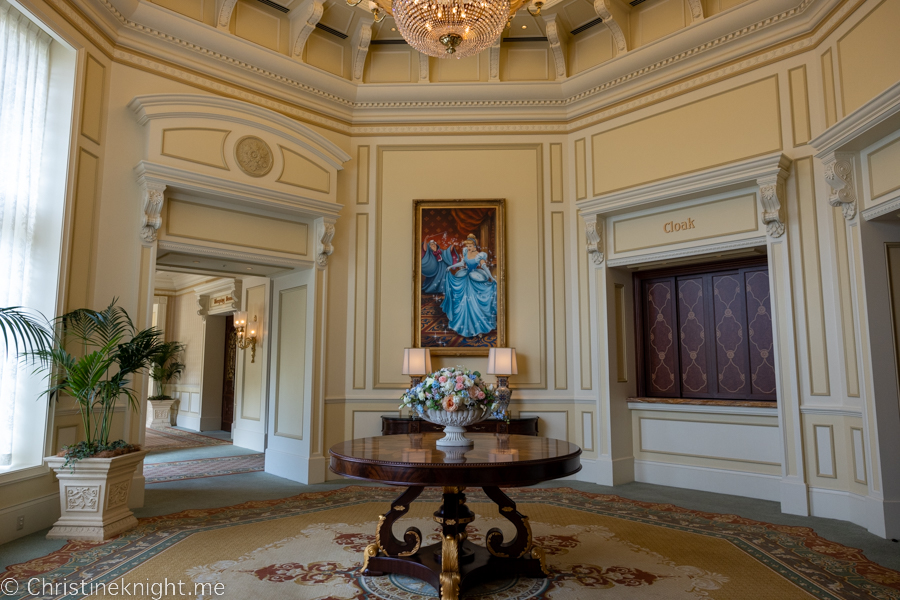 You may cancel your booking and have your deposit refunded as per these conditions:
・If a cancellation is made prior to the following dates when a cancellation fee will be charged, the full amount of the deposit paid will be refunded.
・If a cancellation is made after the following dates when a cancellation fee will be charged, the deposit minus the cancellation fee will be refunded in accordance with the conditions of accommodation contract of each hotel.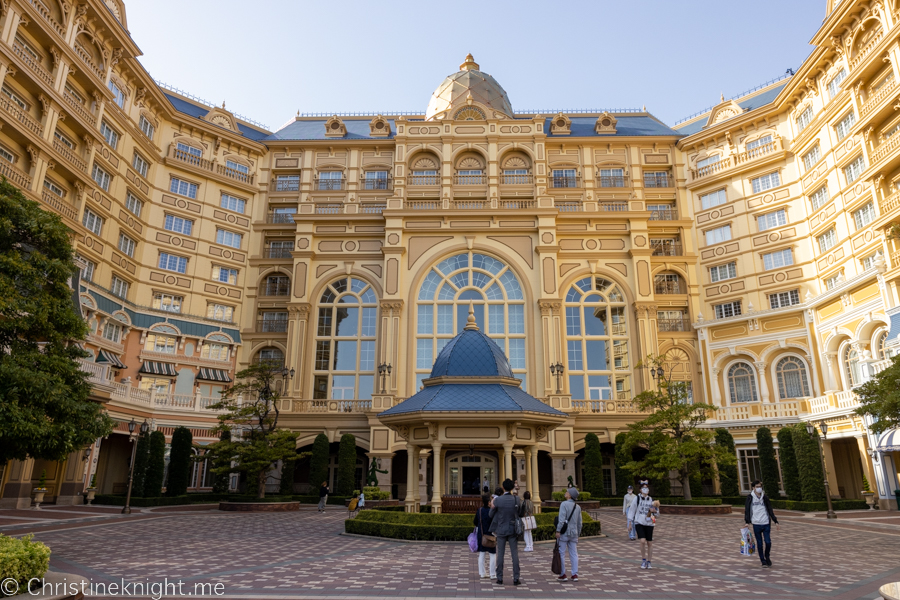 Tokyo Disneyland Hotel
Disney Ambassador Hotel
Tokyo DisneySea Hotel MiraCosta
-14 to 8 days before your stay: 10,000 yen per room
-7 to 2 days before your stay: 20,000 yen per room
-Day before, on the day of your stay, or no-show: 30,000 yen per room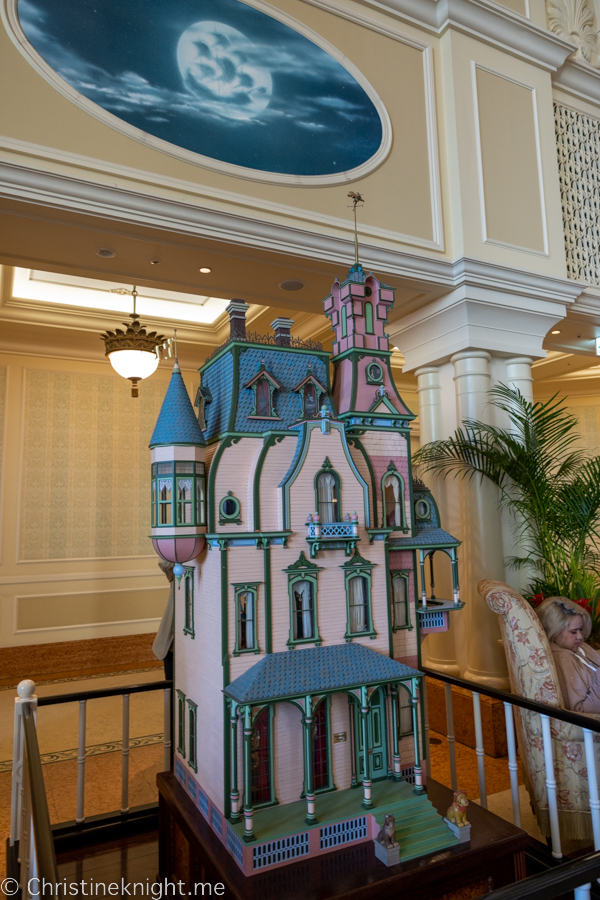 Tokyo Disney Resort Toy Story Hotel
Tokyo Disney Celebration Hotel
-14 to 8 days before your stay: 5,000 yen per room
-7 to 2 days before your stay: 10,000 yen per room
-Day before, on the day of your stay, or no-show: 15,000 yen per room