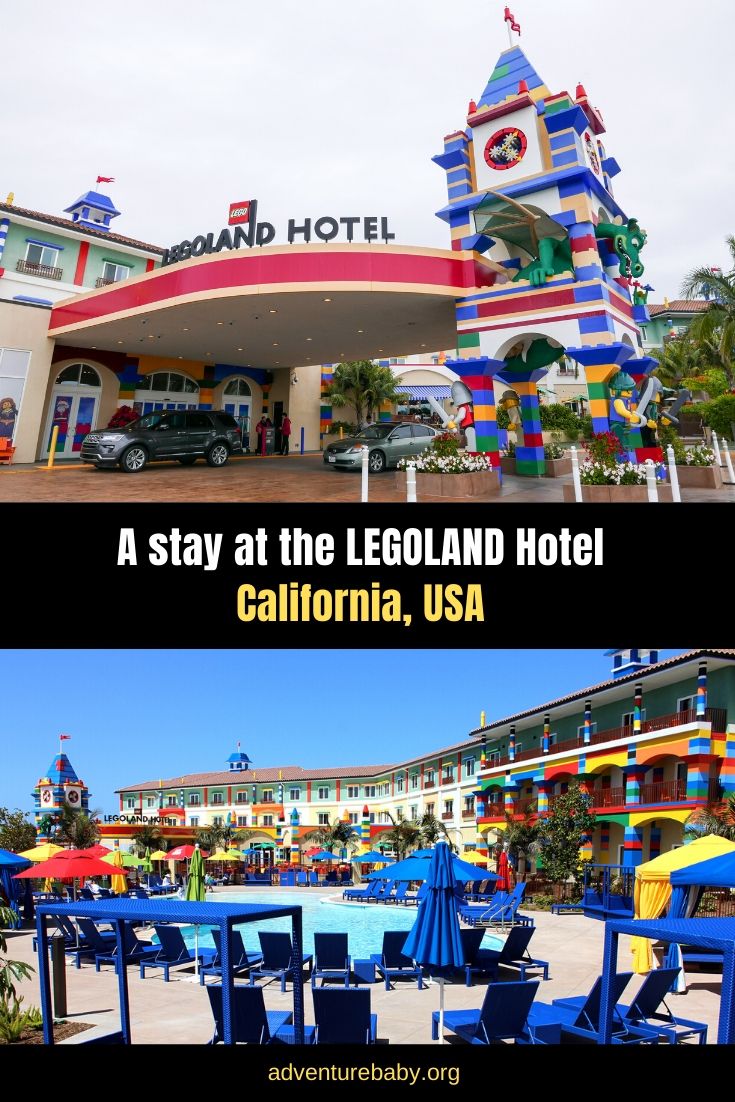 LEGOLAND® California Hotel
The LEGOLAND® Hotel is a unique, family-friendly resort located in Carlsbad, California. The deluxe 250-room hotel opened in April 2013.
For any true LEGO fan, a stay at the LEGOLAND Hotel is an absolute must. A stay at the hotel includes themed rooms, free buffet breakfast, nightly children's entertainment, and an in-room treasure hunt with LEGO surprises.
LEGOLAND® Castle Hotel vs the LEGOLAND® Hotel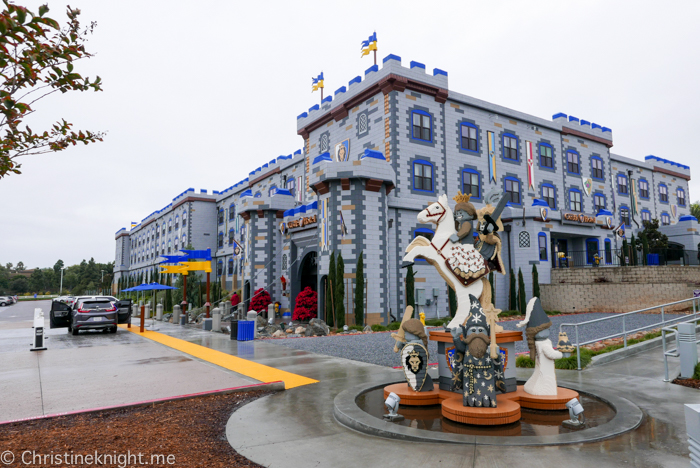 There are two LEGOLAND® hotels, the LEGOLAND® Castle Hotel and LEGOLAND® Hotel, both located a few steps from the park entrance. They both offer similar benefits: LEGO-themed rooms, exclusive early morning access to the park (when you book a package including tickets), free breakfast, nightly entertainment in the lobby and a daily in-room treasure hunt with LEGO surprises.
Both hotels are three-story with 250 rooms, so have the same amount of guests in each.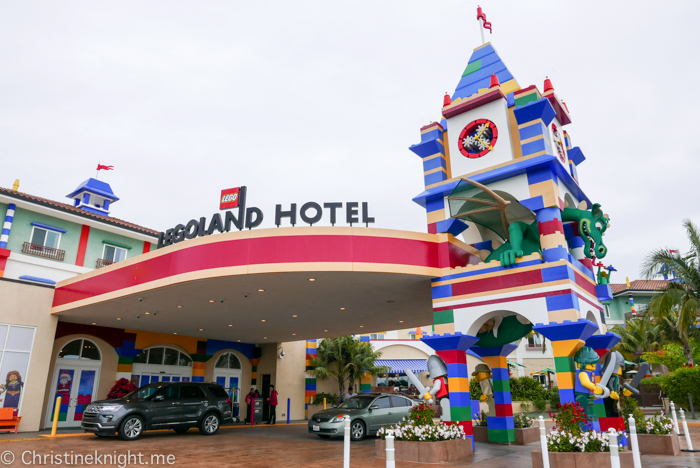 Compared to the LEGOLAND® Hotel next door, the LEGOLAND® Castle Hotel is a bit smaller and quieter. The lobby and play area is smaller, the evening entertainment a lot quieter and there is one restaurant vs two and a cafe at the LEGOLAND® Hotel. Both are excellent hotels, however, and guests can use the restaurants and facilities at both quite easily.
Both hotels have swimming pools but only the Castle Hotel has play equipment and an outside movie theatre. The Castle Hotel's pool is also considered the better of the two pools with its zero-entry and interactive water play features.
Both hotels offer package deals to stay that include park tickets.
Read about our stay at the LEGOLAND Castle Hotel.
LEGOLAND Hotel themed rooms
The hotel offers five choices of themed rooms, each with an added "deluxe" option.
Pirate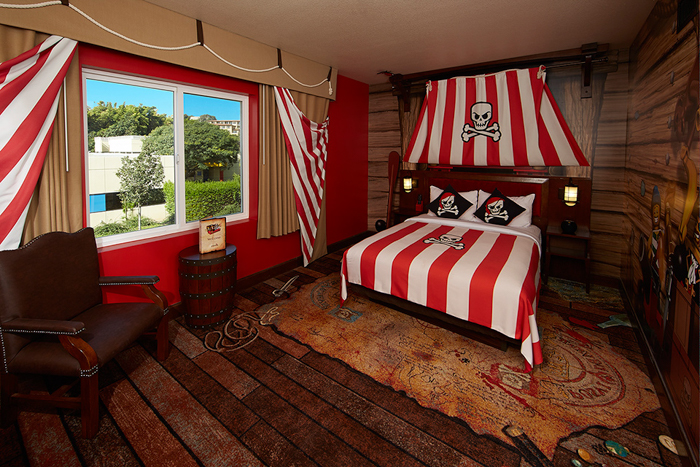 Ahoy there, mateys! A breath-taking step into Captain Red Brick and his first mate's pirate cabin. Your whole ship will be decked out with pirate bedding, curtains, wallpaper and even Polly, a LEGO parrot, can be found watching over you as you sleep! After a jolly adventure on the rides in the Park, send your junior shipmates up to their private bunks while you relax in the king-size cabin. So, me hearties, book your pirate room today for an unforgettable family treat. Shiver me timbers!
Adventure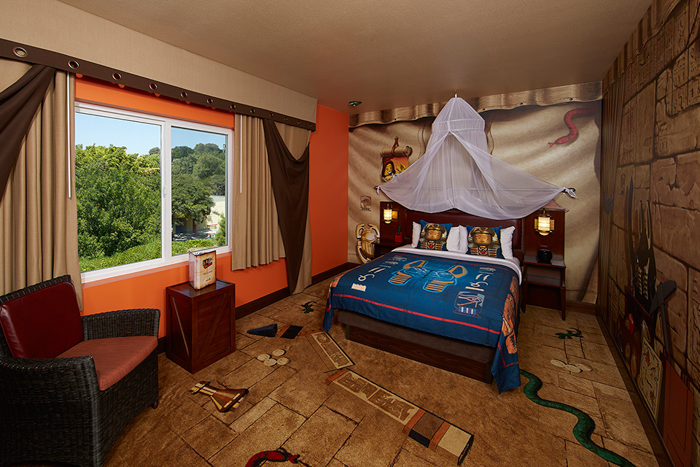 Spend the night where the adventure never ends! Dare to follow in the footsteps of the famous LEGO hero adventurer, Johnny Thunder, and explore this adventure themed room… Send your junior explorers off to their very own bunks for a well-deserved rest as you kick off your desert boots and settle down in your comfy king-size bed, safe in the knowledge that Johnny is guarding all exits! Get ready for the ultimate adventure!
Kingdom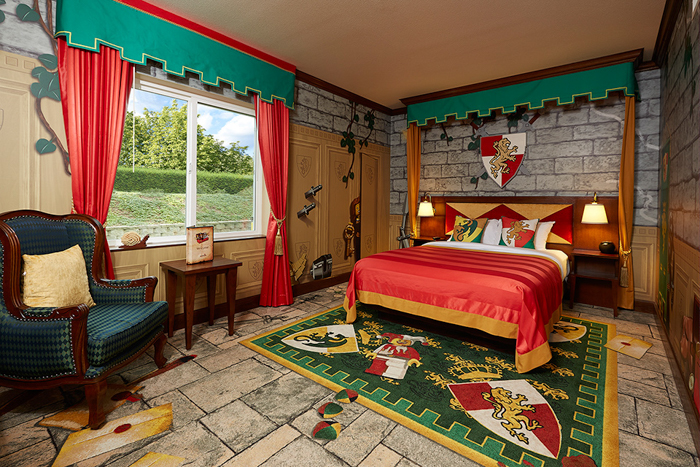 A royal welcome awaits you in the Kingdom themed rooms, fit for a king and his court. Bask in your luxurious surroundings and relax in your king-size bed, while your junior royals head off to their own sleeping quarters. With bunting, shields and flags above the bed, this LEGO kingdom is certainly up to royal standards. Little knights and maidens will love the LEGO models dotted around the room, but remember… whatever you do, don't let them kiss the frog!
Friends
The LEGO Friends have invited you to the ultimate sleepover! Step into the world of Heartlake City where the girls are awaiting your arrival. After you and your friends spend the day in the Park, stay the night at Heartlake Stables with your favorite Friends. With a king-sized bed for parents and private bunk bed for the kids, it is sure to be a sleepover your family will never forget!
NINJAGO
Welcome young Ninja! Step into the temple courtyard, the cliff top overlooks all of NINJAGO as far as you can see. The bed lies at the bottom of a large shrine that holds all four of the epic elemental weapons. After a day in the Park, send your little Ninjas to their own private Dragon Cave while you relax in your king-sized bed. Ninja alike will love exploring the different powers of each Ninja… Which power will you choose?
Lobby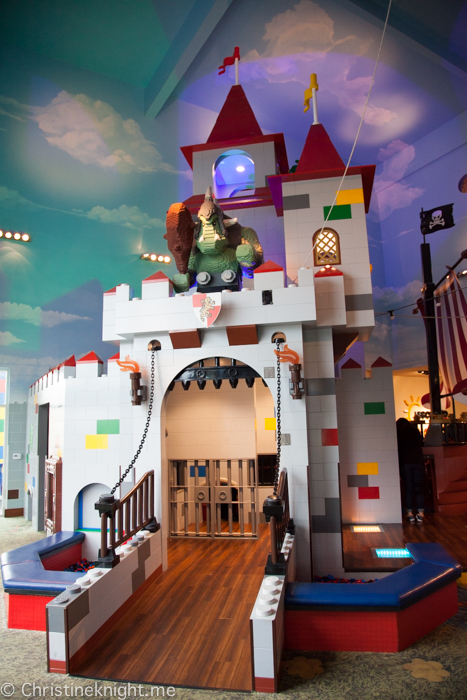 The LEGOLAND® Hotel lobby is a sensational space with a castle play area and giant pit of LEGO bricks.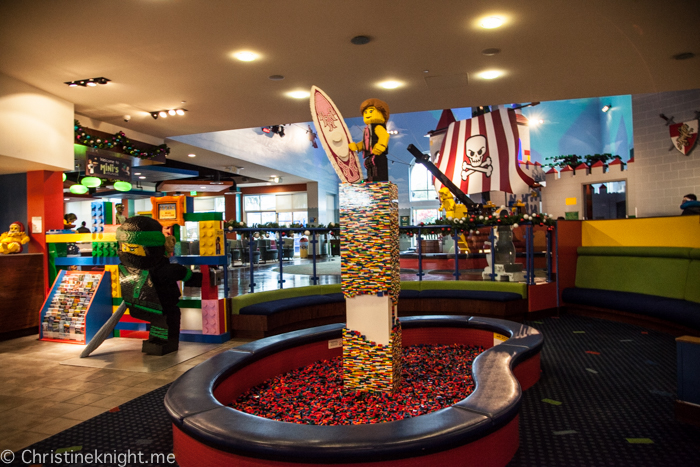 This is also the area where the evening entertainment happens. Expect bright lights, lively hosts, plenty of music and dancing games.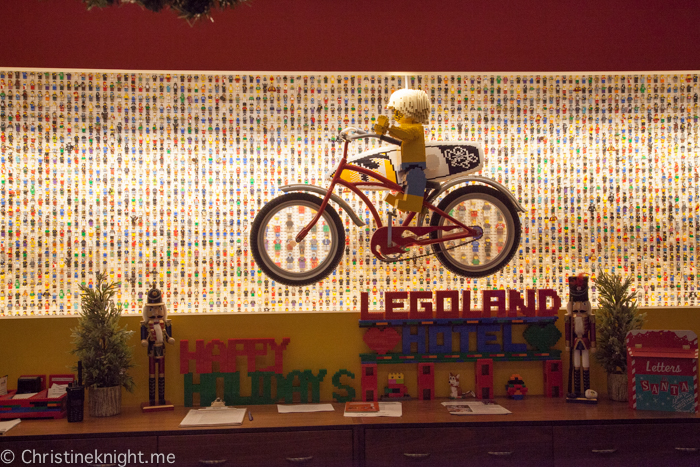 The lobby is also filled with amazing little LEGO details like minifigures, and the merchandise store.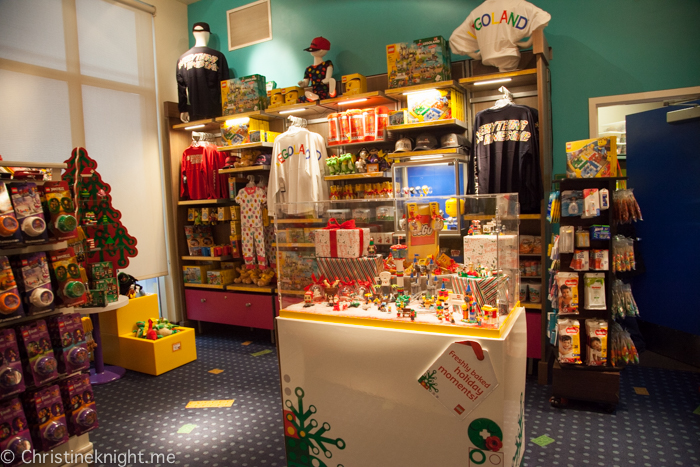 Bricks Family Restaurant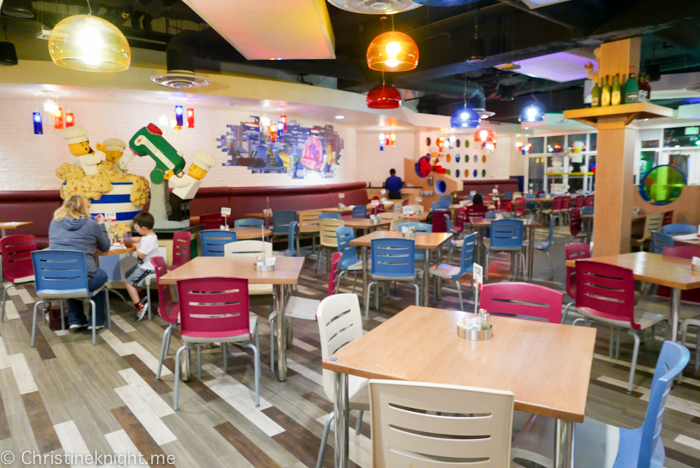 This fun restaurant is filled with cute restaurant-themed LEGO sculptures. A buffet breakfast at Bricks is included for hotel guests which features fresh fruit, smoothies, omelet station, bacon, sausage, hot and cold cereals and more.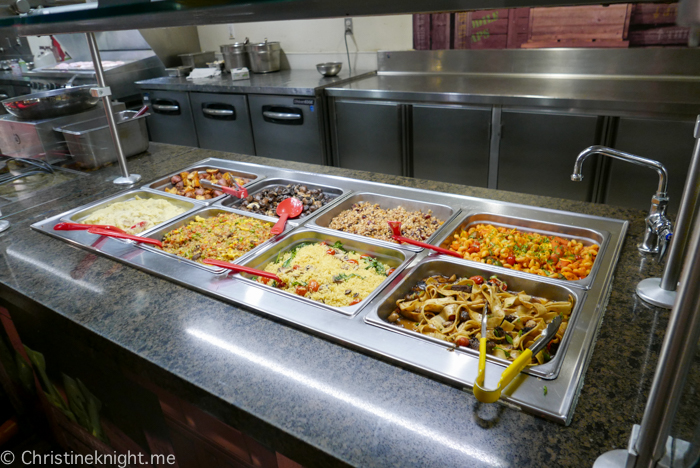 Bricks is also open for dinner with a fab buffet for anyone who wishes to dine there. We loved the buffet because it had a huge range of food, including plenty of healthy options.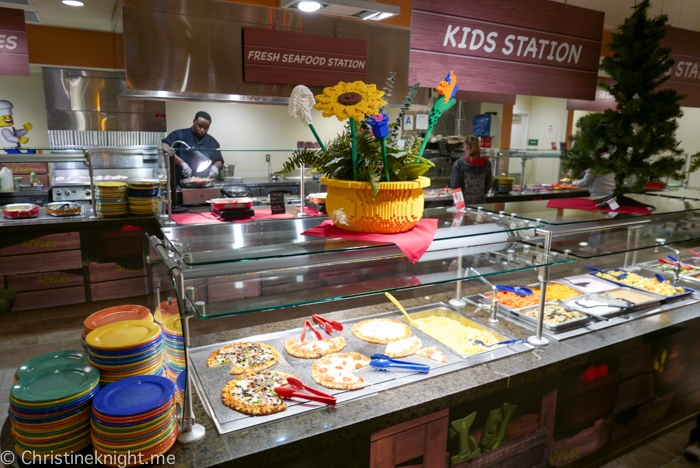 The dinner buffet includes homemade soups, a California fresh salad bar, carved meats sliced to order, a variety of hot and cold entrees, side dishes, desserts and sweets and a "Just for Kids Buffet". As a vegetarian I found loads of food to choose from. Children 2 and under eat free.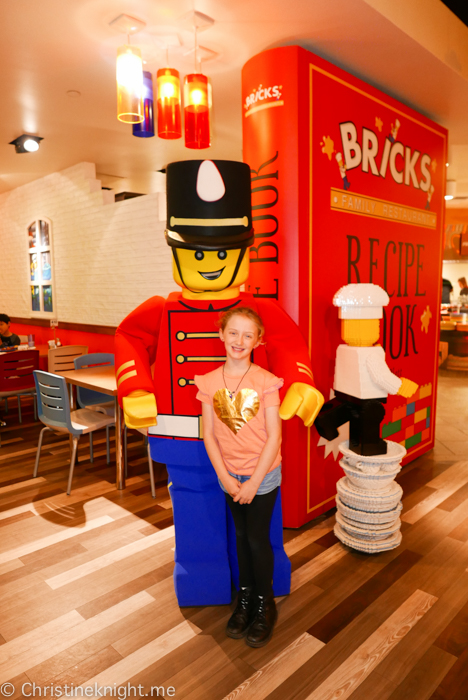 There is plenty of entertainment throughout the dining period too. We had a photo opp with a LEGO character on arrival, and a hilarious act by a few of the LEGOLAND® Hotel Heroes as we dined.
Skyline Cafe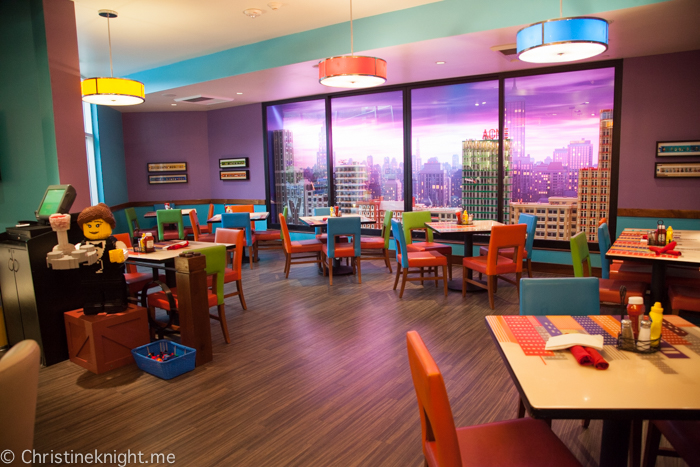 This bright little cafe is a great spot for a casual meal or snack, offering a variety of made-to-order appetizers, lunch and dinner options. You can also order tap beers, wines and spirits here. We really liked the decorating – the cafe features a LEGO® skyline.
Mini's Lounge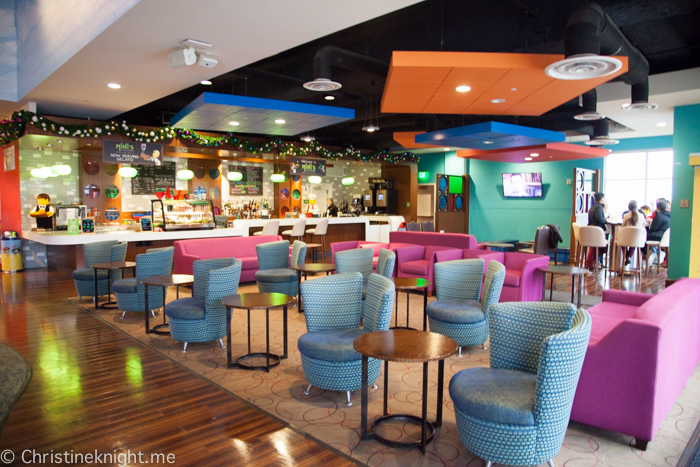 The lounge is located right next to the play area, so it's the perfect spot to grab a coffee or snack while the kids are playing. Mini's Lounge offers hot and cold beverages, fresh fruit, pastries and snacks.
Swimming Pool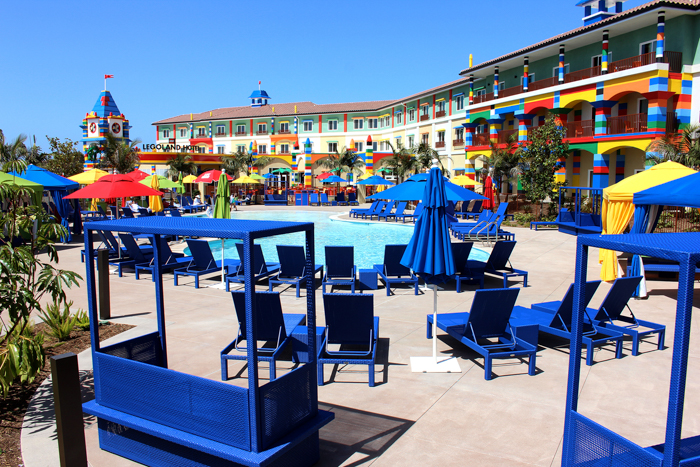 The LEGOLAND Hotel features a large, heated swimming pool.
On-Site Amenities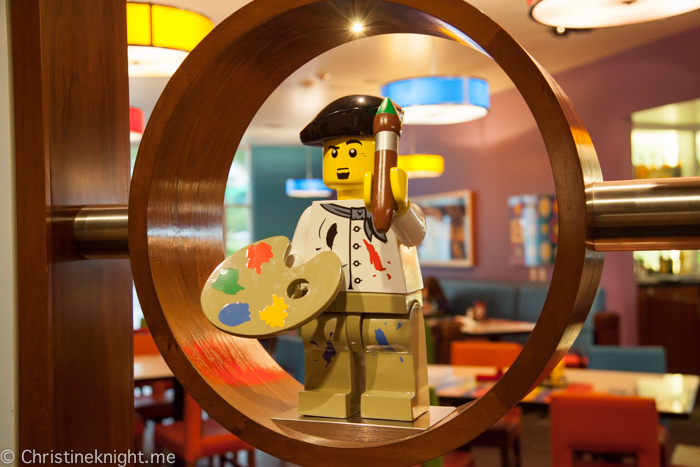 24 Hour Front Desk and Security
Check-In: 4:00pm
Check-Out: 11:00 am
Concierge Desk
Full Breakfast Buffet Included
Bricks Family Restaurant
Skyline Cafe
Room Service 7am-10:30am, 12pm-10pm (Children's Options Available)
Wi-Fi Included
Outdoor Heated Pool
Poolside Cabanas
Nightly Children's Activities
ATM
Gift Shop
24-Hour Fitness Center (Treadmills, Elliptical, Weights, etc.)
ADA Accessible Rooms Available
Suites Available
Video Arcade
Resort Fee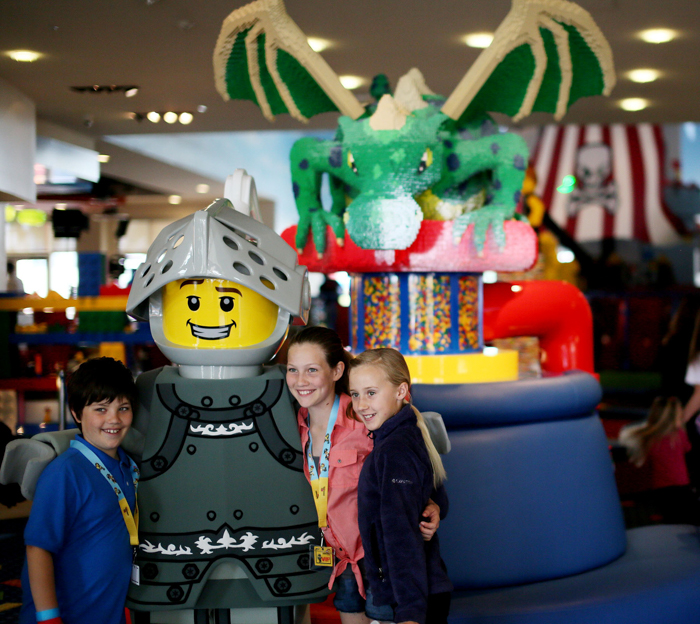 All reservations are subject to a nightly Resort Fee of $28 plus applicable tax which is not included in your reservation total and will be collected upon check-in. Resort Fee includes nightly in-room refreshments, nightly surprises for the kids, luggage service, standard wireless internet, children's entertainment, fitness center, pool access, pool towels, and local and domestic long-distance phone calls. Subject to change without notice.
Parking
Self-Parking: $25 / night
Valet Parking: $28 / night
Read about our visit to LEGOLAND California Resort.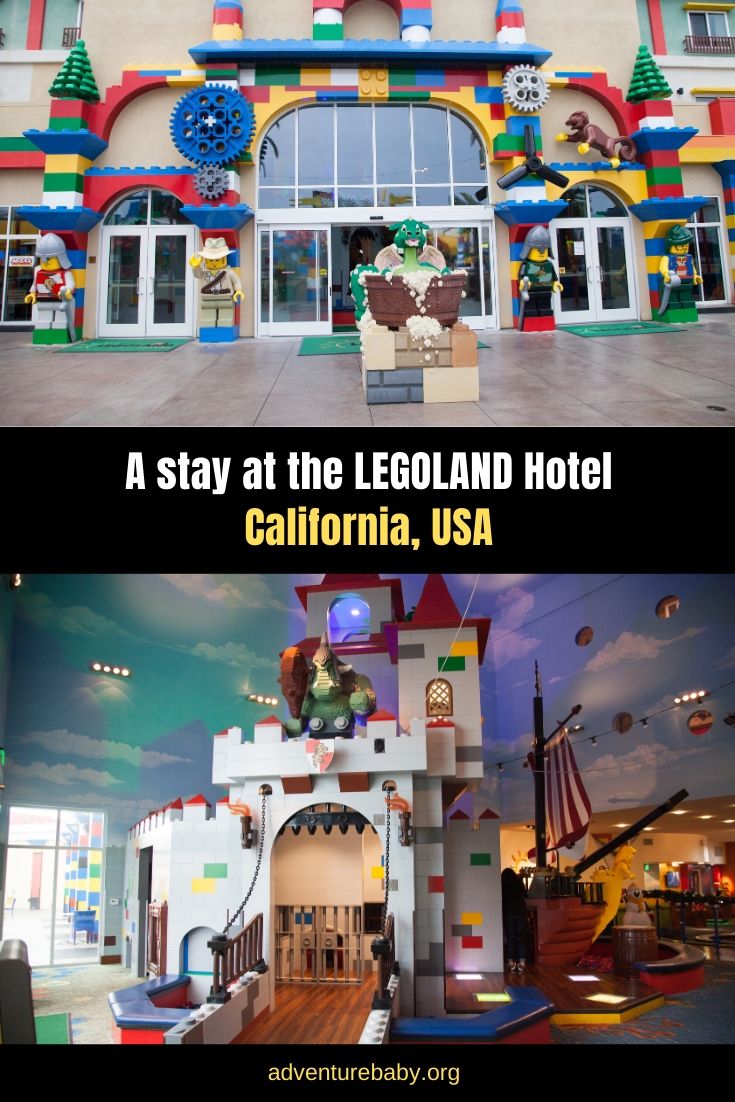 LEGOLAND Castle Hotel
1 Legoland Dr, Carlsbad,
California USA
legoland.com
Additional photos care of LEGOLAND California Resort.
Things to do in San Diego
Go wild at San Diego Zoo.
Stay at the LEGOLAND Castle Hotel.
Stay at the LEGOLAND Hotel California.
Visit LEGOLAND California Resort.
Find plenty of things to do in San Diego with kids (or without!)