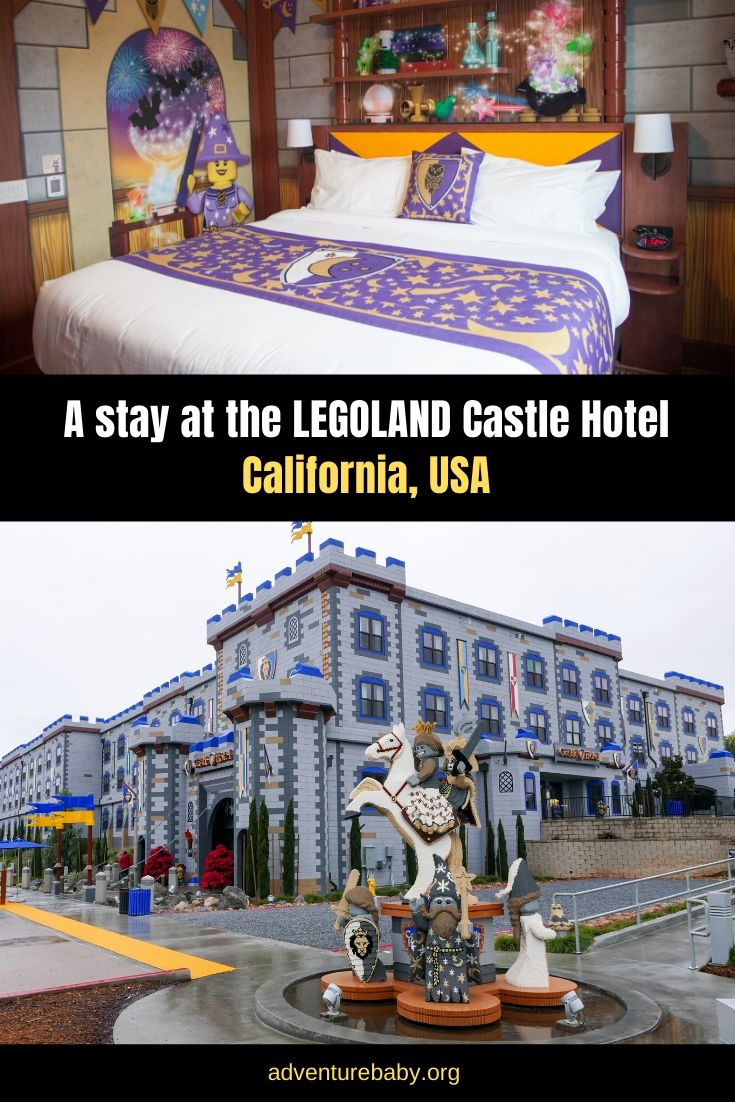 Hotel Review: LEGOLAND Castle Hotel
The LEGOLAND Castle Hotel is located at LEGOLAND California Resort, Carlsbad. The deluxe 250-room hotel opened in April 2018.
A stay at the LEGOLAND Castle Hotel is a must (in our opinion) for anyone visiting LEGOLAND California Resort. With every room given a LEGO theme and 2,100 LEGO models made out of more than three million LEGO bricks scattered throughout the hotel, an overnight stay turns a park day trip into an immersive LEGO experience.
LEGOLAND Castle Hotel vs the LEGOLAND Hotel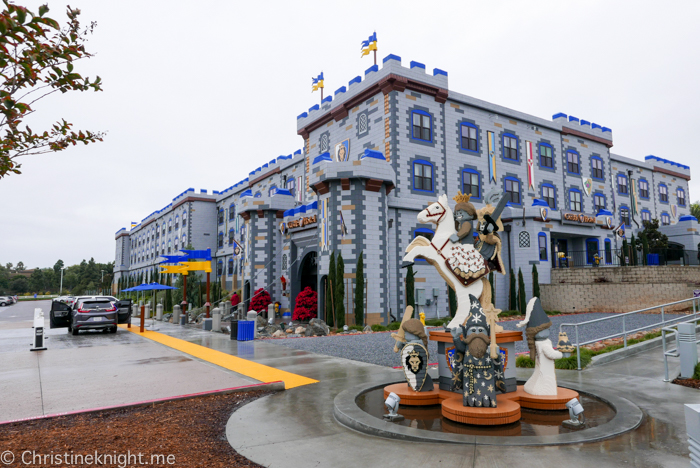 There are two LEGOLAND hotels, the LEGOLAND Castle Hotel and LEGOLAND Hotel, both located a few steps from the park entrance. They both offer similar benefits: LEGO-themed rooms, exclusive early morning access to the park (when you book a package including tickets), free breakfast, nightly entertainment in the lobby and a daily in-room treasure hunt with LEGO surprises.
Both hotels are three-story with 250 rooms, so have the same amount of guests in each.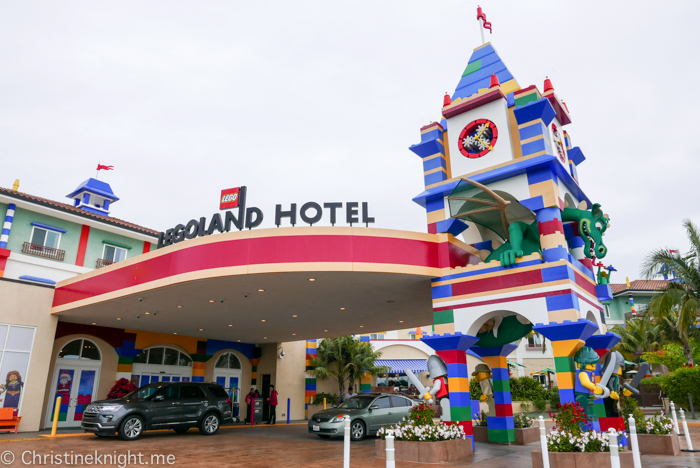 Compared to the LEGOLAND Hotel next door, the LEGOLAND Castle Hotel is a bit smaller and quieter. The lobby and play area is smaller, the evening entertainment a lot quieter and there is one restaurant vs two and a cafe at the LEGOLAND Hotel. Both are excellent hotels, however, and guests can use the restaurants and facilities at both quite easily.
Both hotels have swimming pools but only the Castle Hotel has play equipment and an outside movie theatre. The Castle Hotel's pool is also considered the better of the two pools with its zero-entry and interactive water play features.
Both hotels offer package deals to stay that include park tickets.
What you can expect during a stay at the LEGOLAND Hotel California.
LEGOLAND Castle Hotel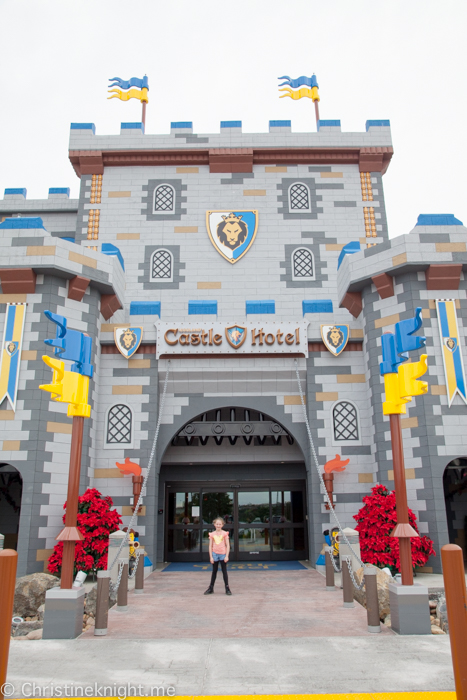 The LEGOLAND Castle Hotel is shaped like a castle on the outside, which makes for an exciting experience from the moment you pull up into the car park. Note that parking is NOT included in the stay, nor is the daily resort fee.
Grand Hall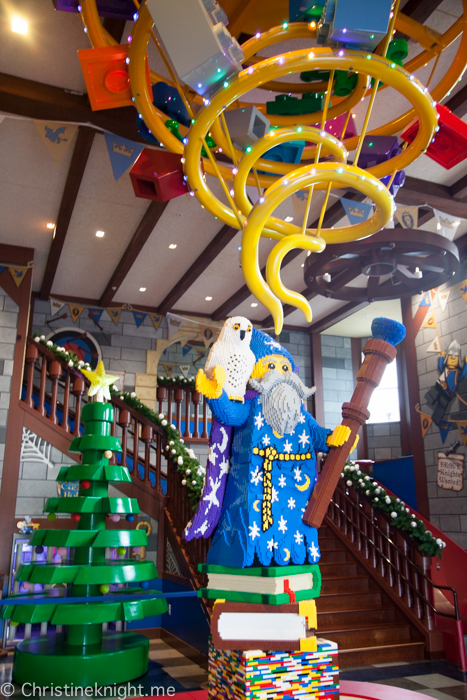 Inside the lobby, called the Grand Hall, the fun begins, with a large Merlin-themed brick pit and fun features to be discovered while waiting for your room key. The brick pit is also excellent for entertaining kids if it's raining outside.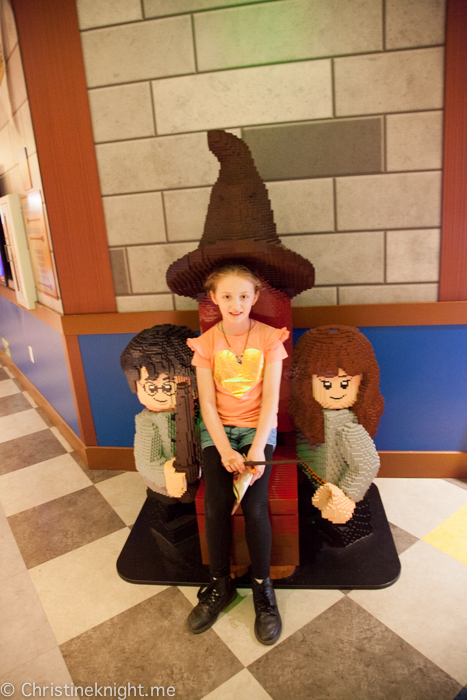 There are great photo ops in the lobby and up the stairs including tiny jail cell and a silly chair that makes funny comments. There is also a knock-knock wall that tells jokes and a Harry Potter located chair up the stairs.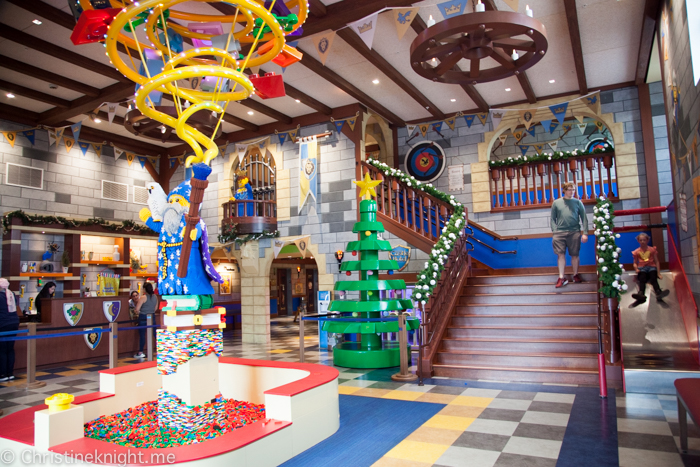 The slide is a really fun way for kids to get back down to the lobby instead of taking the stairs. We suggest taking the elevator at least once as they've put a lot of effort into make the elevator ride itself a fun experience.
Themed Rooms
There are three different themed rooms to choose from: Knights & Dragons, Royal Princess or Magic Wizard.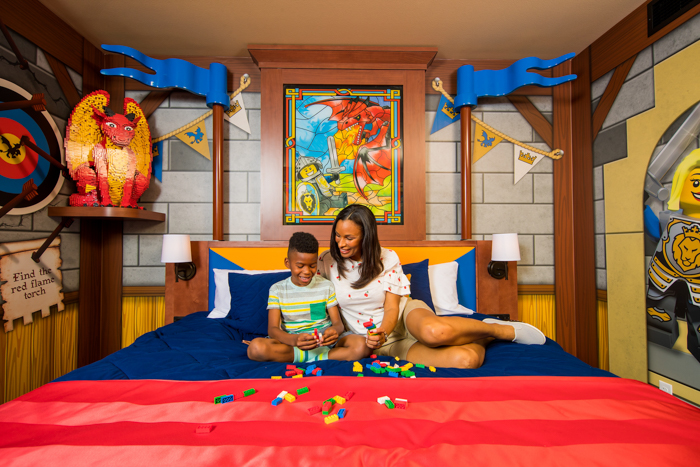 Knights and Dragons Room: Guests will defend the King's Castle and help protect the King's treasure from the approaching bad Dragon Knights and their fire-breathing dragons!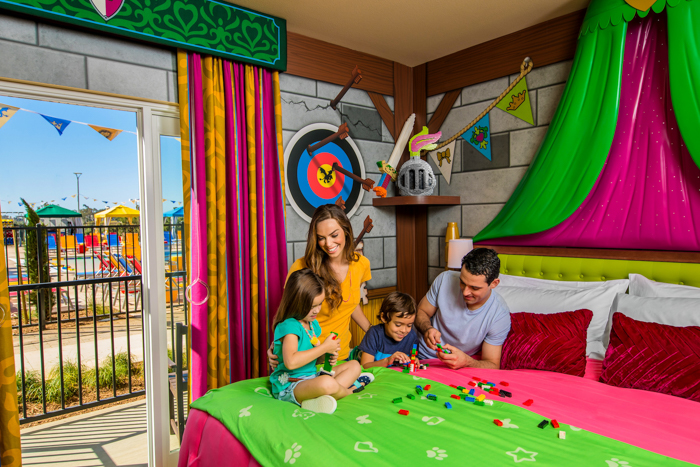 Royal Princess Room: The Princess is no damsel in distress and she uses the help of the jester to prepare to sneak into the tournament and compete with the knights.
Magic Wizard: Full of curious potions, spell books, wands and magic mirrors, kids can use their imagination to believe their help is needed to protect these treasures and keep them safe from any bad Wizards or Dragon Knights.
Magic Wizard Room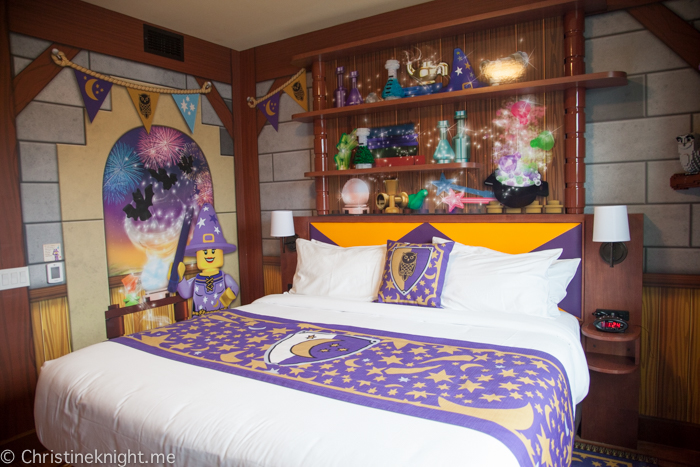 We chose the Magic Wizard theme and loved our room, which was filled with spell books, wands, potions and even a magic mirror.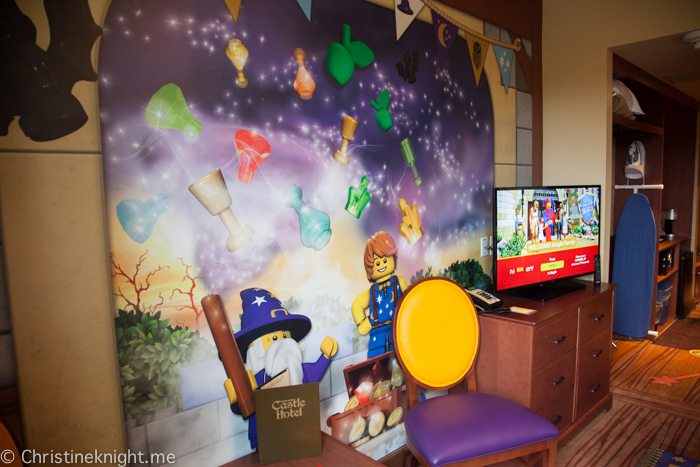 Each standard room as two bedrooms, one with a queen bed and one with single bunk beds. Both rooms have their own LCD TV screen.
The main bedroom has a light-up headboard that can be turned off thankfully at bedtime.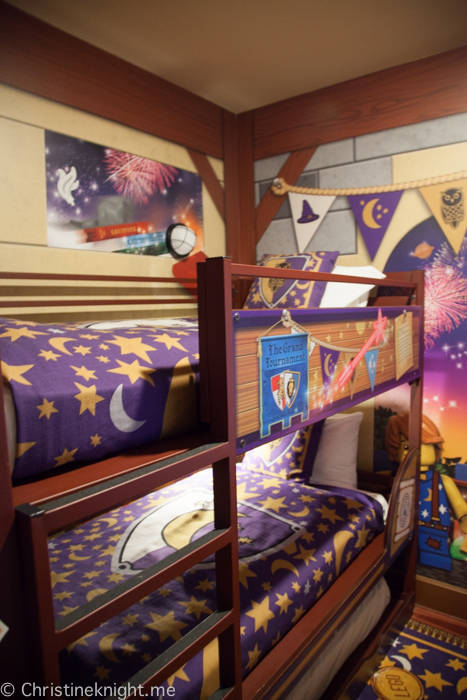 The room with bunk beds has a cool feature that, when turned on, shines stars onto the roof like a night light.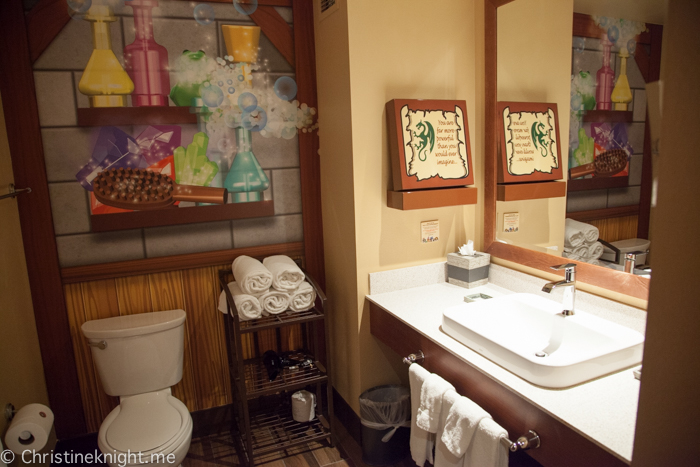 In between the two bedrooms is a bathroom. The bathroom had one sink and a combined shower/bath.
The room was a tight fit for the three of us with our luggage, but the theming was just incredible.
If you have a larger family, you might look into one of the 20 family suites at the hotel. The suites are roughly one and a half times larger than the standard rooms, sleeping up to seven people and including a lounge area with sofa bed, children's sleeping area with a bunk bed and trundle and a king-sized bed for the adults.
The bathroom features two sinks and a separate bath and shower. There are closing doors for the children's sleeping area and adults' – something the standard rooms don't have.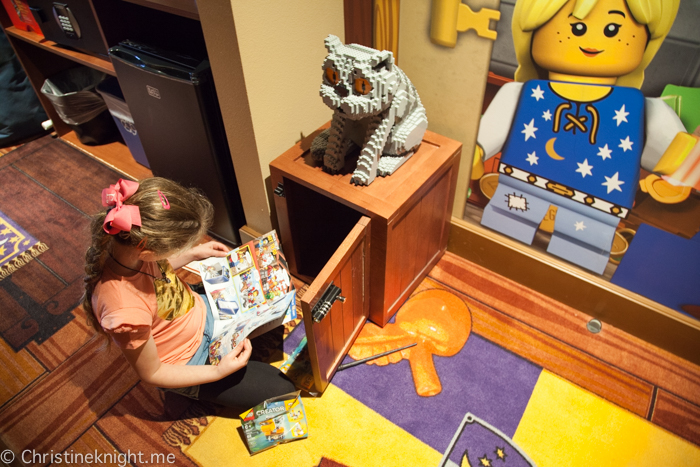 A cute added bonus of staying at the hotel is a daily treasure hunt. Reception hands over a map with four clues that are located around the lobby and restaurant. Find the answer to each clue and you will receive the code to the in-room safe. The safe is filled each day with a different LEGO surprise.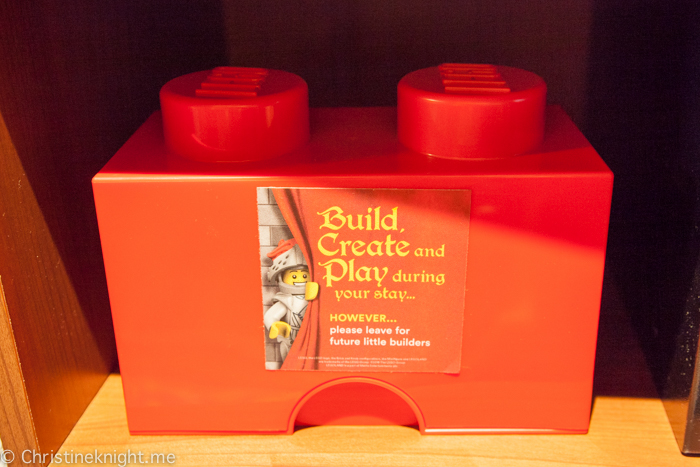 Also included in each room is a box of bricks and a cute LEGO ice bucket.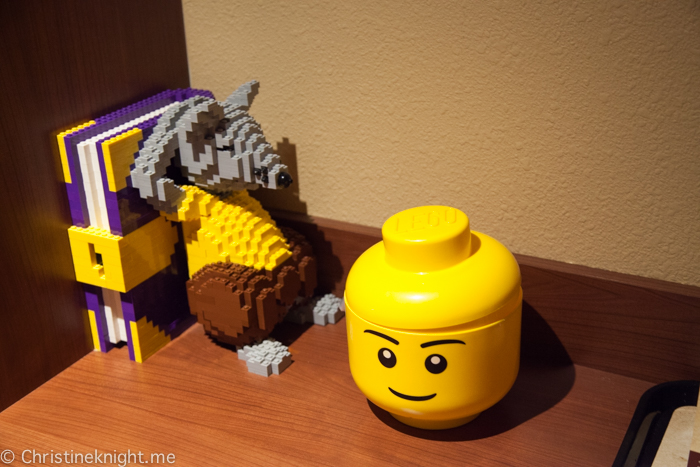 Dragon's Den Restaurant and Bar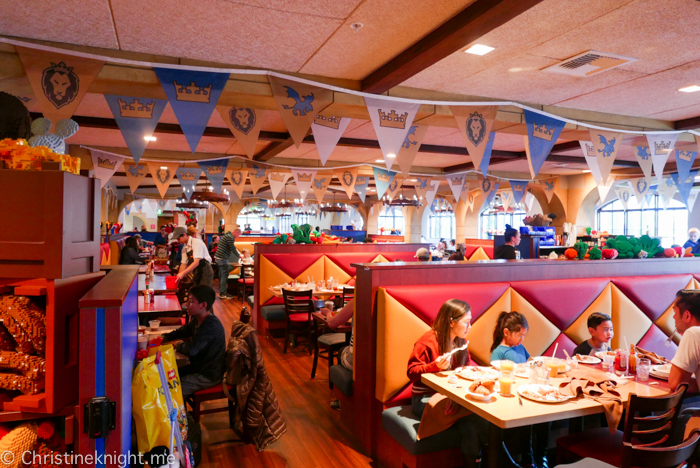 There is one sit down restaurant located inside the LEGOLAND Castle Hotel, the Dragon's Den Restaurant and Bar.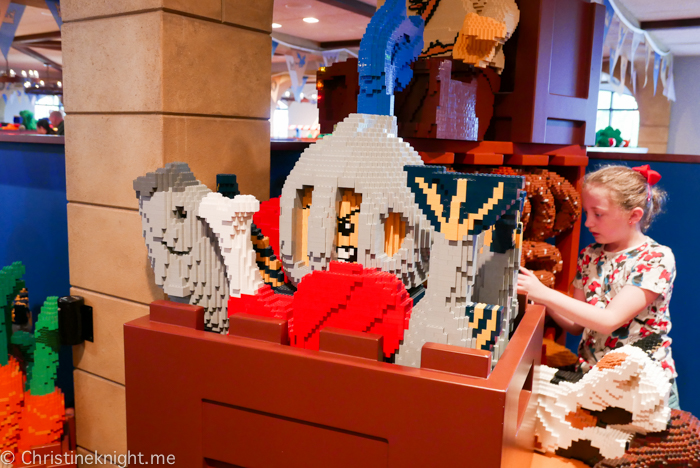 Dragon's Den Restaurant and Bar is a full-service sit down restaurant. In the evenings guests can choose from an a la carte menu.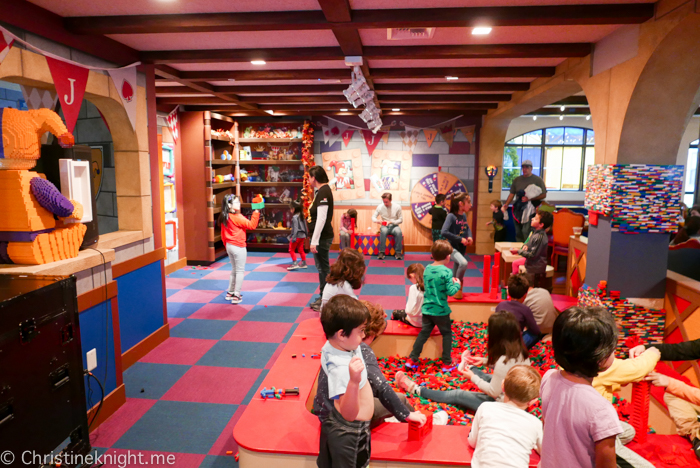 There is a large brick play area in the restaurant which makes is a great choice for families who want to linger over a meal while the kids play happily.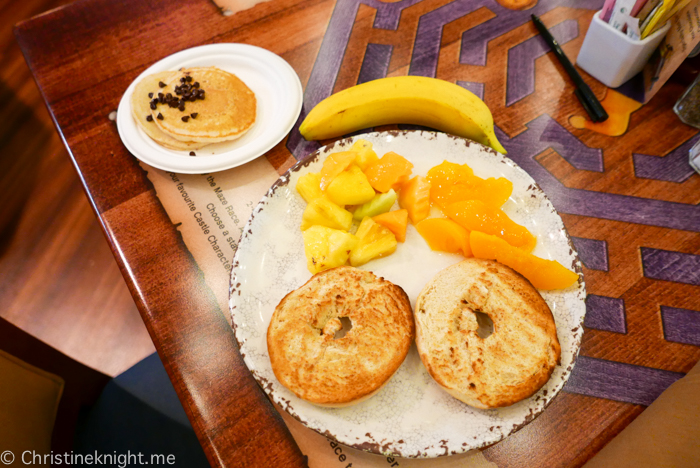 In the mornings there is a full, hot buffet breakfast on offers featuring fresh fruit, smoothies, omelet station, bacon, sausages and pastries.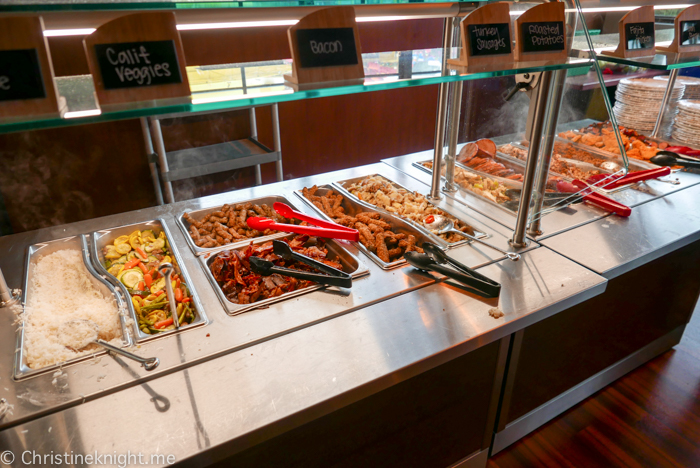 Entertainment is offered inside the restaurant including singers and actors.
The Royal Courtyard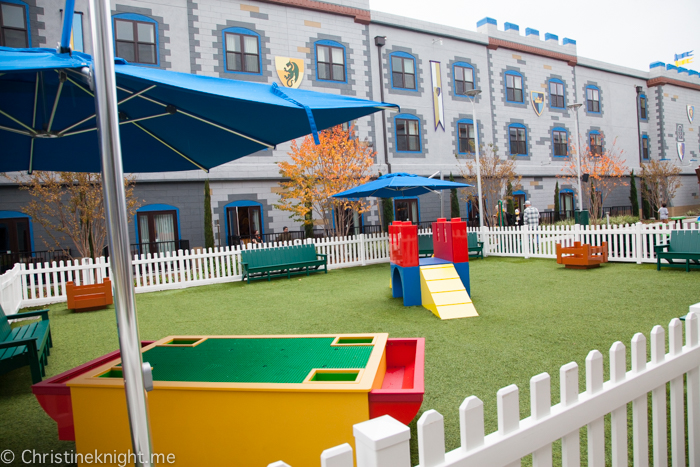 The Royal Courtyard area is located directly outside from the Dragon's Den Restaurant. It has a DUPLO play area for younger kids, play structures movie screen for nighttime movies, a stage for live plays and shows, a gradual incline pool and hot tub.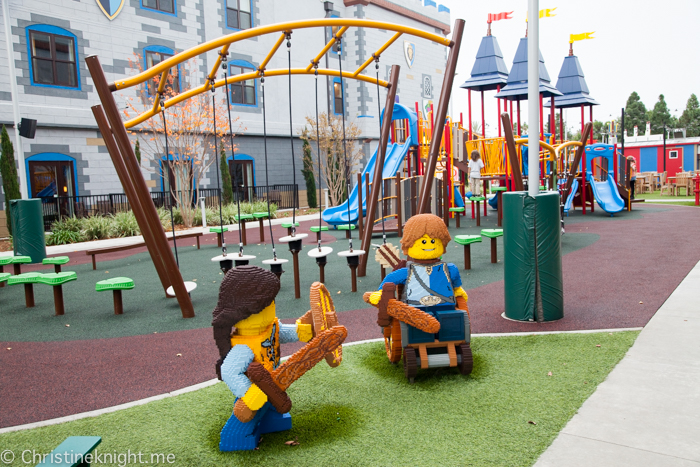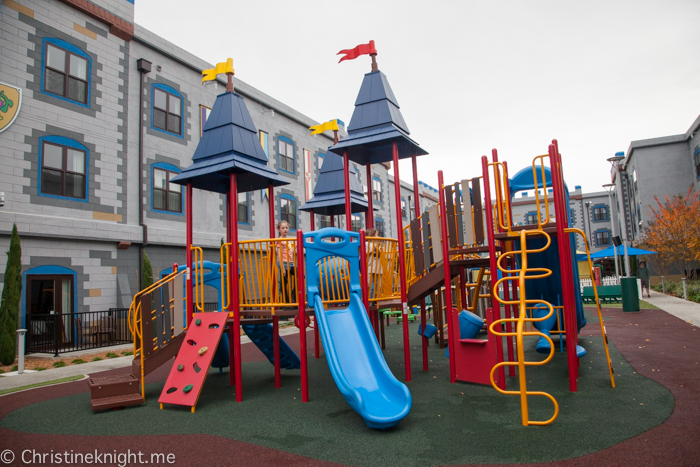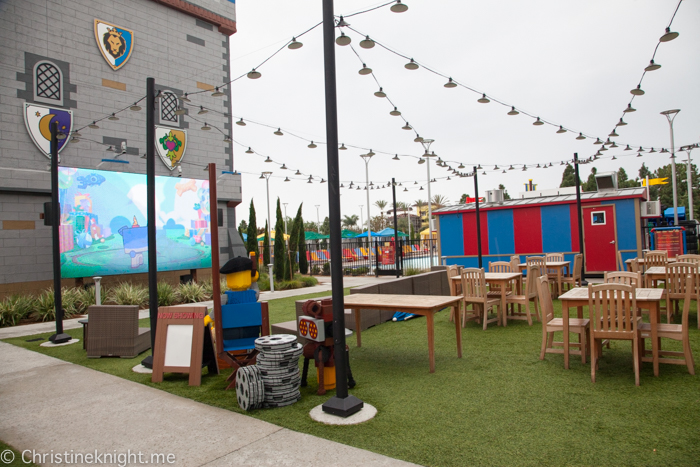 The zero-entry pool has interactive water play features and whirlpool spa. For those that like to dine by the pool, Castle Pool Bar & Grille will offer smoothies, sandwiches and salads prepared fresh to order.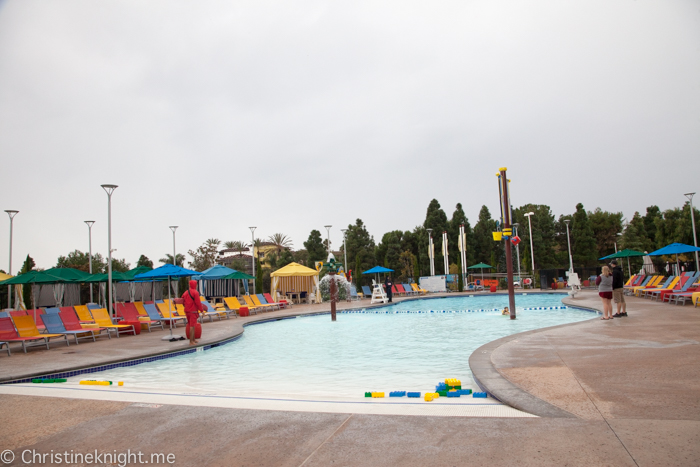 LEGOLAND Castle Hotel Amenities
24 Hour Front Desk and Security
Check-In: 4:00pm
Check-Out: 11:00am
Concierge Desk
Full Hot Breakfast Included at Dragon's Den Restaurant
Wi-Fi Included
Outdoor Heated Pool
Hot Tub/Jacuzzi
Poolside Cabanas
Nightly Children's Activities
ATM
Laundromat
Gift Shop
Fitness Center
Service Animals Only
ADA Accessible Rooms Available
Suites Available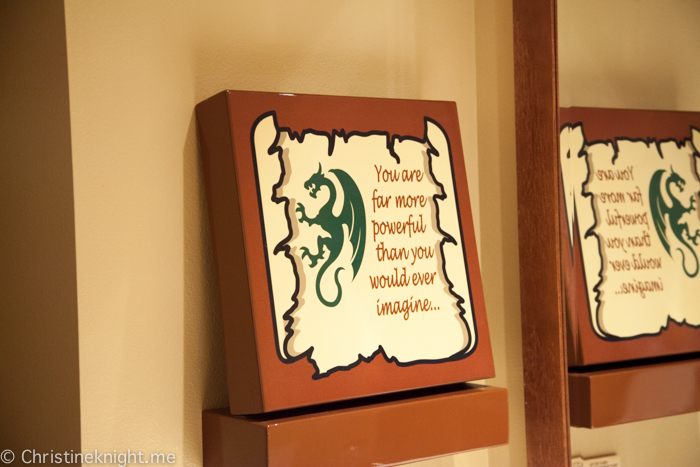 Resort Fee
All reservations are subject to a nightly Resort Fee of $28 plus applicable tax which is not included in your reservation total and will be collected upon check-in. Resort Fee includes nightly in-room refreshments, nightly surprises for the kids, luggage service, standard wireless internet, children's entertainment, fitness center, pool access, pool towels, and local and domestic long-distance phone calls. Subject to change without notice.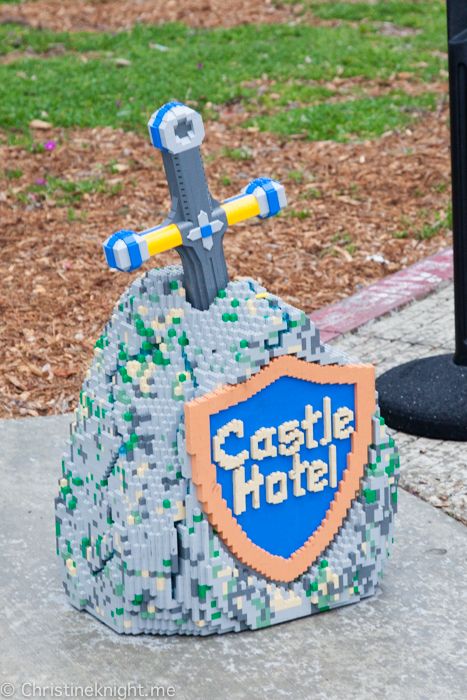 Parking
Self-Parking: $25 / night
Valet Parking: $28 / night
Read about our visit to LEGOLAND California Resort.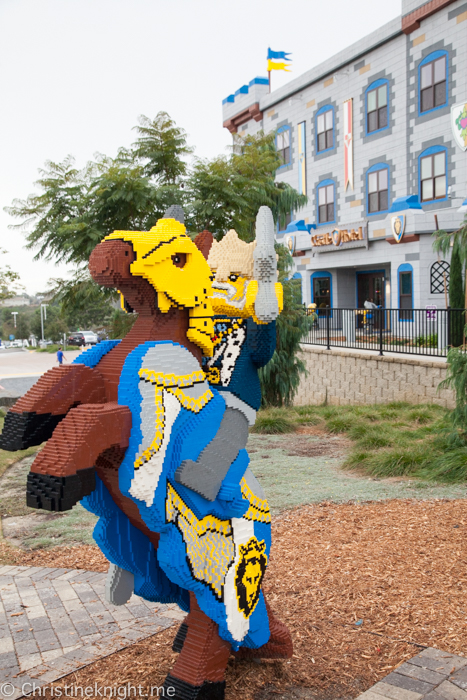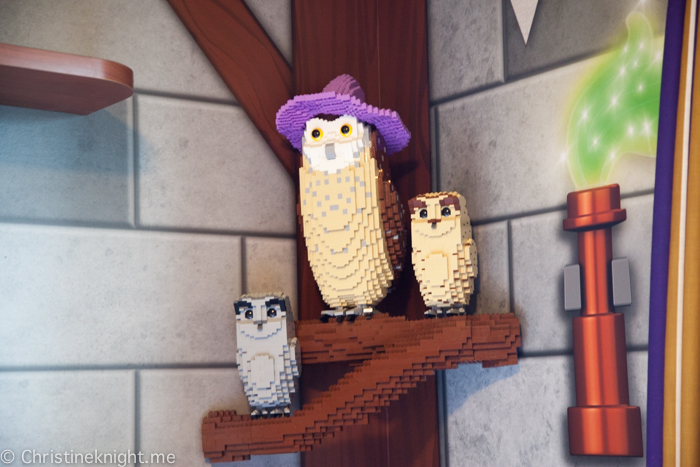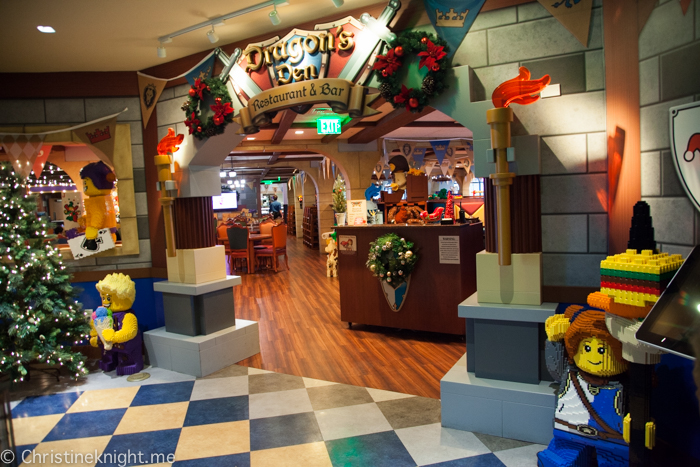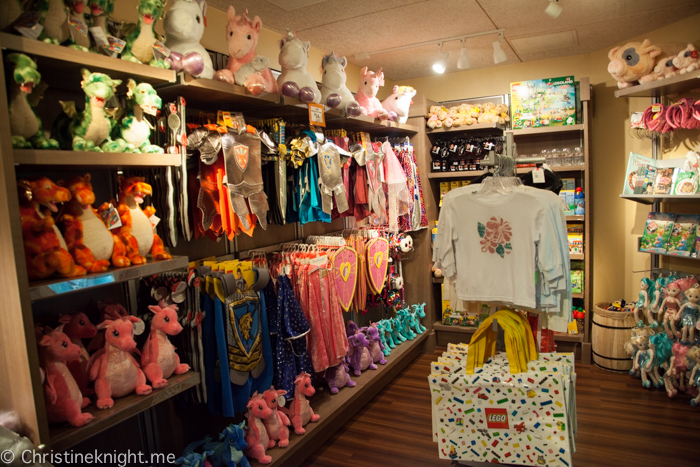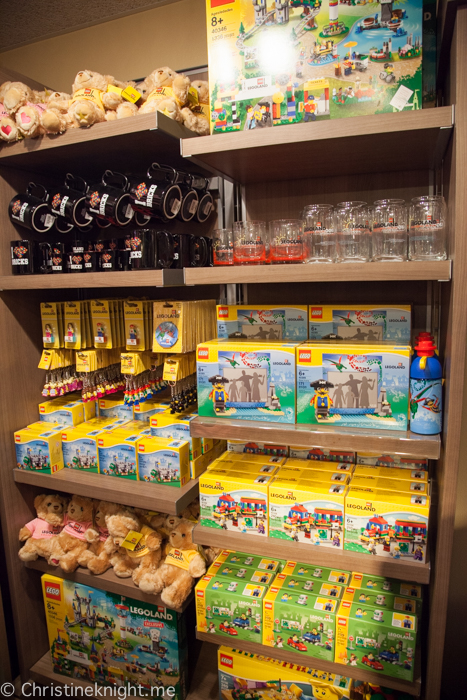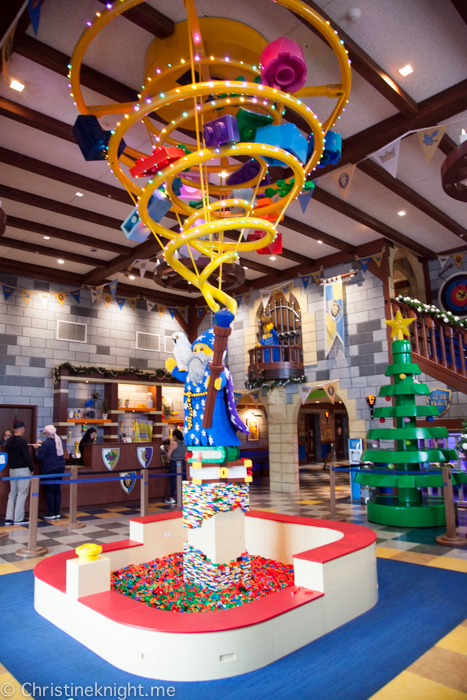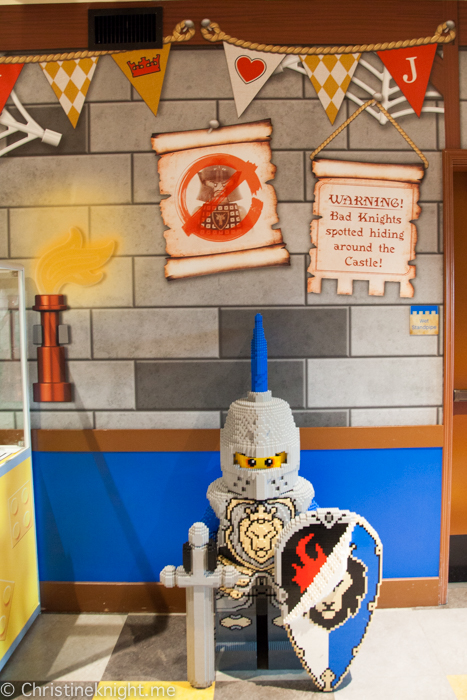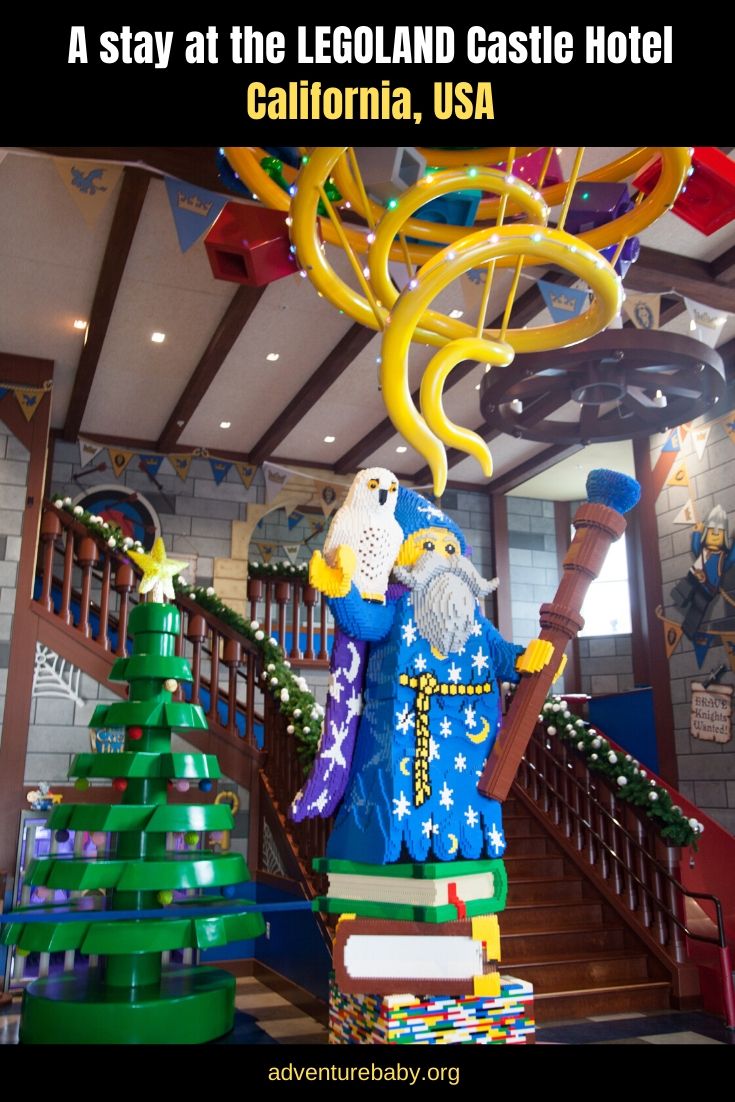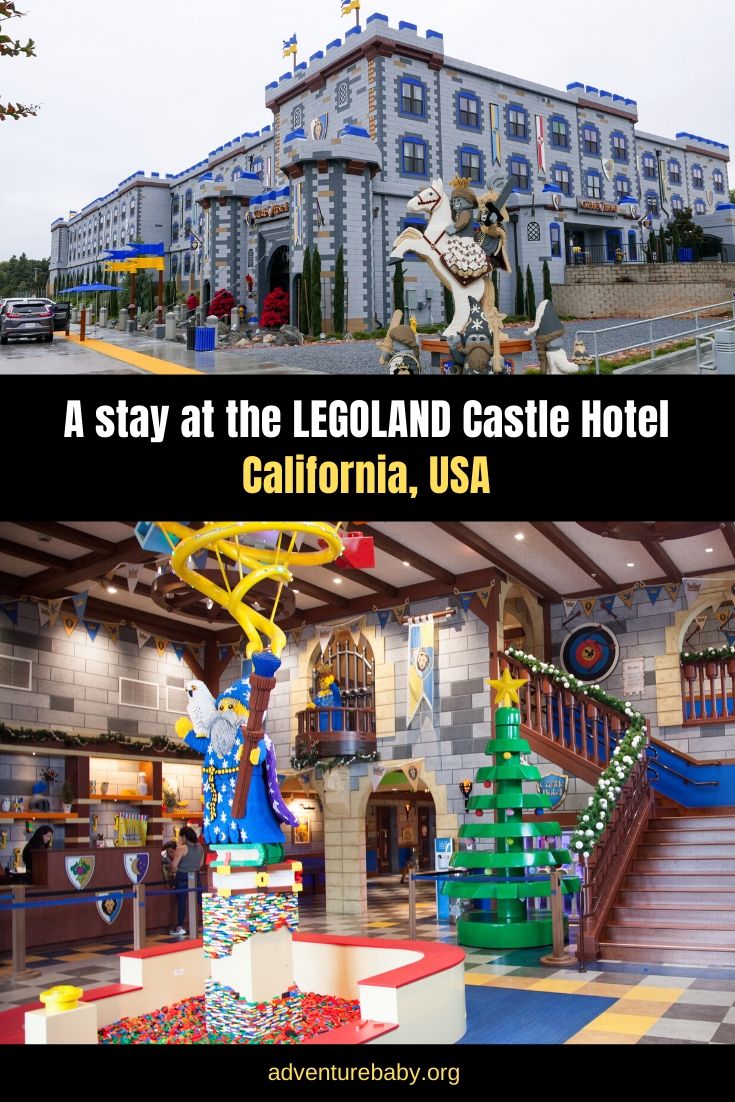 LEGOLAND Castle Hotel
1 Legoland Dr, Carlsbad,
California USA
legoland.com
Things to do in San Diego
Go wild at San Diego Zoo.
Stay at the LEGOLAND Castle Hotel.
Stay at the LEGOLAND Hotel California.
Visit LEGOLAND California Resort.
Find plenty of things to do in San Diego with kids (or without!)