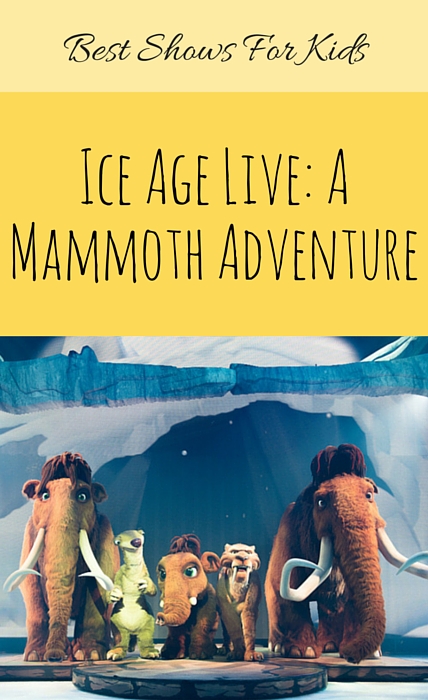 Hubby and I have been big fans of the Ice Age movies for a long time, so when I saw Ice Age Live! A Mammoth Adventure was coming to town, I was pretty excited at the chance to see characters I love come to life on ice.
It was also an opportunity to introduce young Cheese to the show as she has been too young thus far to watch the movies (mainly because she is a very sensitive soul).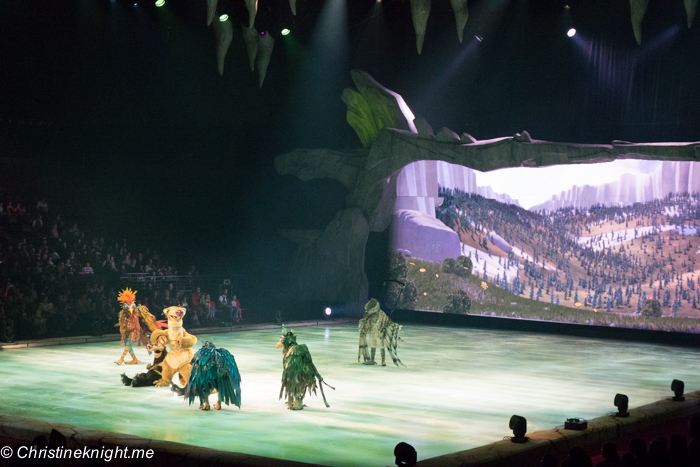 Ice Age Live: A Mammoth Adventure tells the story of the latest batch of Ice Age characters from the movie, including Manny (Cheese's favourite), and Peaches, the new baby. Without giving the story away too much, I really enjoyed how simple the storyline was. Peaches gets kidnapped by a scary bird, Shadow (Cheese kept calling him "The Boss"), and the rest of the gang need to bring Peaches home.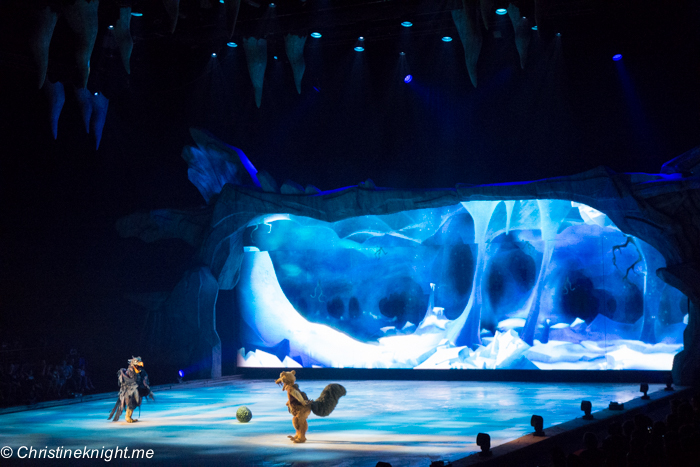 The simple storyline meant that little kids could easily follow what was happening, leaving them enraptured in the spectacular costumes, puppets and areal acrobatics.
I was incredibly impressed with how well the movies translated to a show on ice, which I think was mostly due to the superb designs by co-director Michael Curry, who has worked on Cirque du Soleil, Walt Disney's The Lion King. The puppetry was extremely well done, with the characters making very life-like movements, blinking, lip-syncing, as well as skating. It looked like hard work!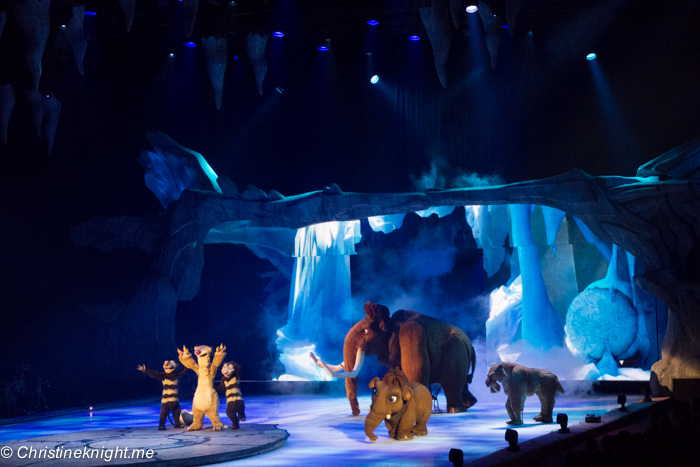 When I saw the large characters lumbering out onto the ice, I did wonder if the people inside them were going to do much skating, so I was thrilled when I saw them emerge from the suits, still in character, to engage in breathtaking acrobatics. It was a really clever way of ensuring the people inside the suits had a chance of showing their exceptional skills off as well as portraying these huge creatures in their amazing puppets.
I also enjoyed the set design. The ice stalactites on the roof glowed with various colours, and a video screen integrated into the back set really enhanced the feeling of moving over vast distances as the group travelled on their big adventure.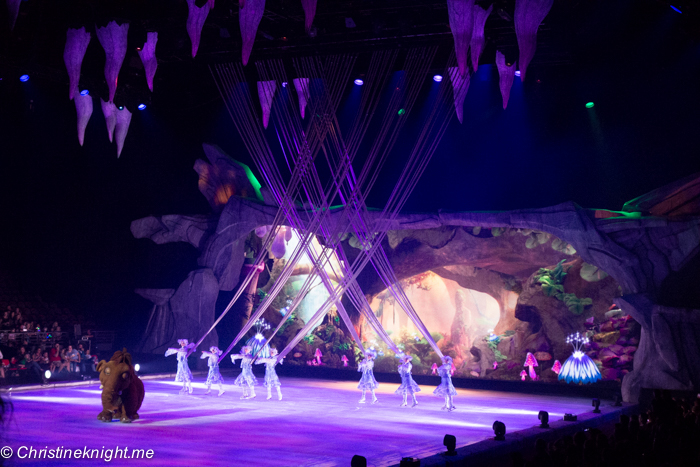 Cheese, who is 4.5, loved the show. She is extremely sensitive to anything "scary" and was a little bit worried when Peaches was stolen, but she very quickly relaxed when she began to understand that nothing bad was going to happen to any of the characters. There was so much light, joyful music and a celebratory tone to the show that she was swept up in the mood and when it ended, said "Is it over? That was fast!". The show went for almost two hours including interval, so I think that's incredibly good, for a show to be so long and leave a preschooler with a short attention span wanting more.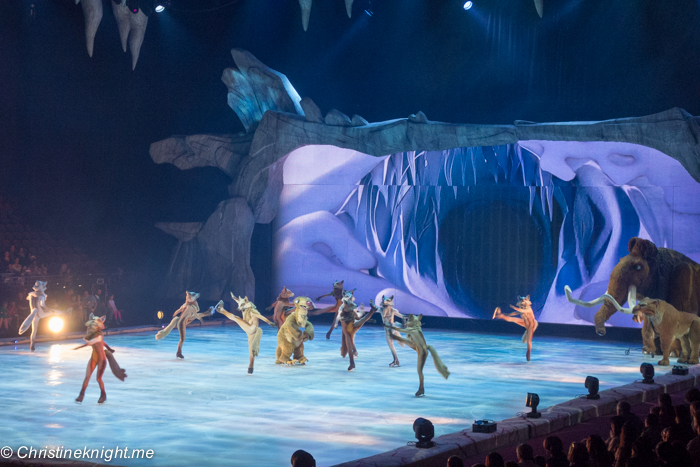 If you or your family enjoy Ice Age, or if you're wanting to introduce your little ones to the characters, this is the show for you. We highly enjoyed Ice Age Live: A Mammoth Adventure.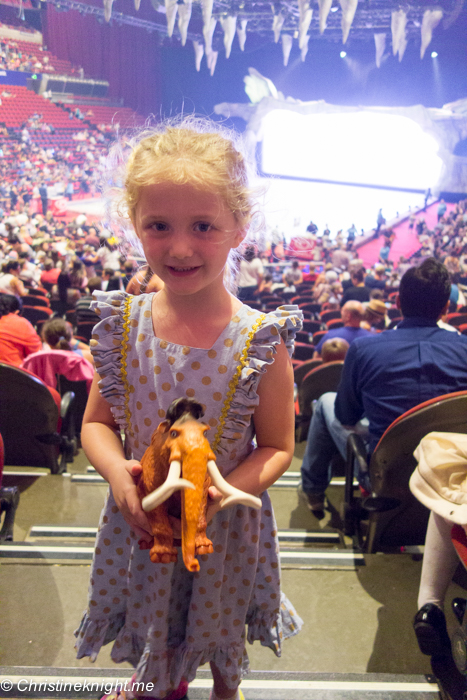 The show is currently touring around Australia – next stop is Perth! Check here for tickets.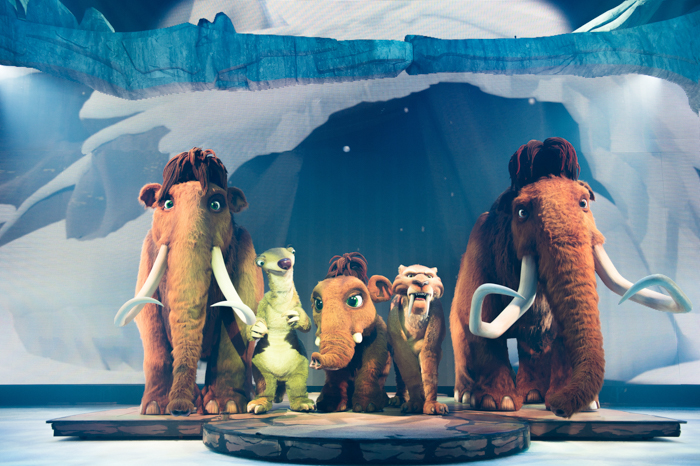 Thank you so much to Ice Age Life: A Mammoth Adventure for hosting us. All opinions are, as always, my own.