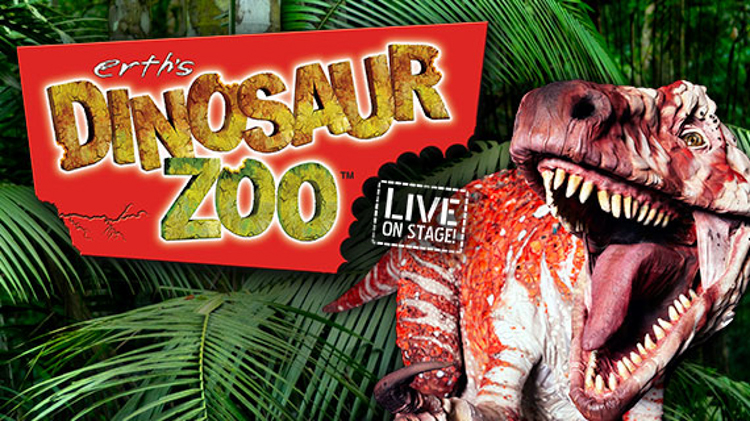 While Cheese and I often see shows together, it's rare that Alec comes along too. He's just not usually interested in princess shows (what a surprise) or shows based on cartoons. But when I mentioned the new show at the Sydney Opera House, Dinosaur Zoo, he was in. Finally a show he could enjoy as well as Cheese and I.
Because, who doesn't love dinosaurs? Dinos are fascinating for people of all ages and gender. They make a great subject for this new show playing at the Sydney Opera House April 4 – 19, 2015.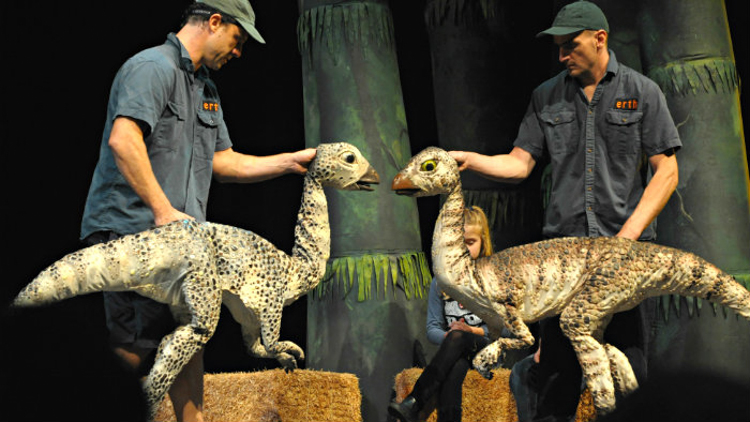 Dinosaur Zoo is a fun blend of beautiful puppetry, impressive sound effects and comic humans driving the storyline.
The narrator, Graham, takes the audience on a an educational and fun journey where we learned about several dinosaurs that were discovered in Australia. None of the generic T-Rexes here. Only Aussie dinos, thank you very much. I found it refreshing to learn about these dinosaurs, none of whom I'd heard of before, and to see puppet replicas of them come to life before our eyes.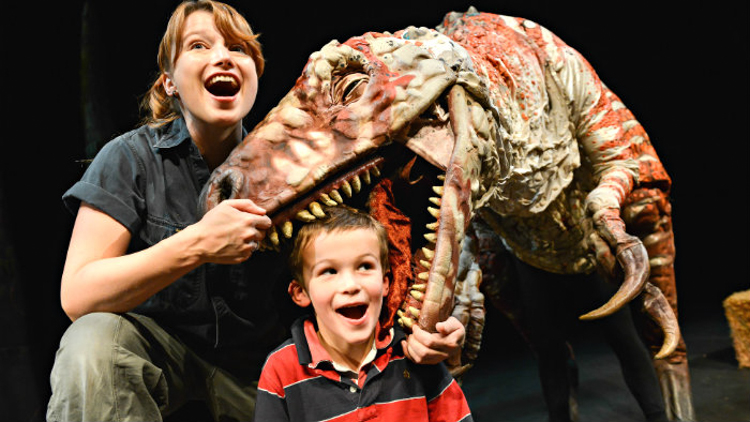 The show could very easily have been too scary for little kids had a different approach been taken. However, with the high level of interaction and frequent humour, the show was never going to freak out the littlies.
Graham introduced each dinosaur to the audience using the correct scientific terms the entire time. This is not a show that dumbs down science for kids. I was interested to see how the kids would respond to this, as there were a lot of younger kids in the audience, like Cheese. The kids, however, were rapped by the dinosaurs and there was very little fuss during the show that would indicate loss of interest. In fact it was the opposite, The kids were all hanging off Graham's every word, desperate to be called down to the stage for their chance to pat a dinosaur.
The lesson here: never talk down to kids. Use big words. Kids will absorb them like the little sponges they are.
I was impressed by the quality of the puppets. They were incredibly done, and I found them to be very lifelike. I also liked the variety of dinosaurs used in the show. Babies, insects, carnivores and a big herbivore gave the show a good coverage of dinosaurs in general.
Cheese wasn't selected to go up on stage, no matter how straight she stuck up her arm, but it didn't matter as after the show two of the handlers brought out the babies to meet the audience in the foyer.
If you arrive early, kids can enjoy the free creative play set up by the Sydney Opera House in the foyer, called "Echo Table". By waving their arms over tables, kids can control the emerging patterns and reveal large pictures, like the Mona Lisa, hiding underneath.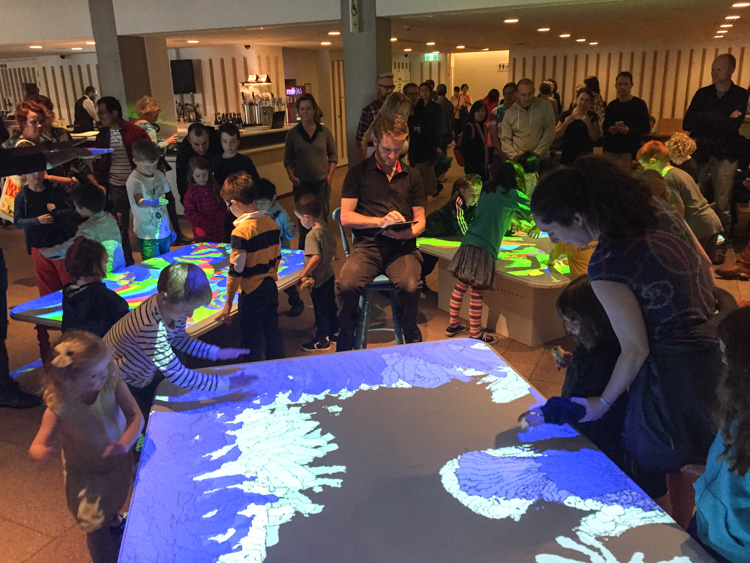 For a pre or post-show meal, if you're after an option out of the theatre, downstairs is the newly-refurbished Opera Kitchen. The food is pricey ($17.50 for a small piece of quiche and fries, $22 for Alec's OK burger and fries), and the choices for kids aren't very healthy ($15.50 for a kids' meal, all of which contain a small soft drink, chips and an ice cream).
While the food was okay, it wasn't spectacular, so unless you really want to sit and admire the view, I would suggest getting cheaper sandwiches (and a much healthier kids' pack) from the theatre bar next to the drama studio in the Opera House instead. They offer a $7 Kids' Box including: White bread cheese sandwich, brown bread vegemite sandwich, a banana or apple, Uncle Toby's mango & passion fruit yoghurt bar, cheese stick, juice, and a party blower. Check out all the kids' meal options at the Opera House here.
Dinosaur Zoo is playing at the Sydney Opera House April 4 – 19, 2015.
Suitable for children 5+
Tickets: $39 – $55
Run time: 50 minutes
Parking: If it's a wet day and you need to drive, use the code "Opera" for discounted parking. Ours cost $9 instead of $15 on a Saturday.
Thank you to the Sydney Opera House for hosting us for this performance and for use of some of these images. All opinions are, as always, my own.