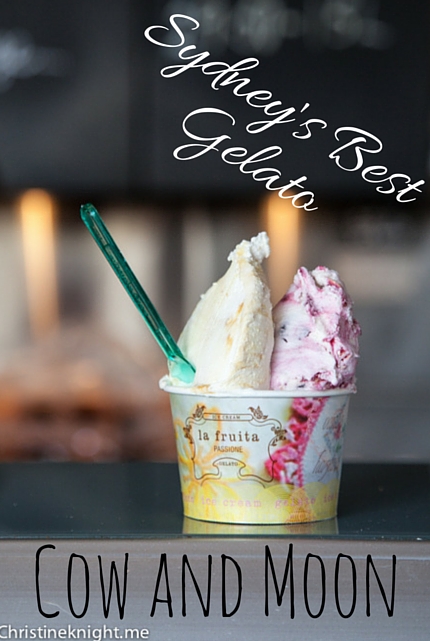 Hi, my name's Christine, and I'm a gelato-aholic. I have a serious problem with ice cream and gelato, and honestly visiting Cow and Moon in Enmore does not help. This little inner-west gelataria has had a line out the door since they were awarded best gelato in the world, winning the Gelato World Tour in Rimini, Italy.
The flavour that won Cow and Moon the title was their almond affogato flavour, a re-creation of classic affogato. None of our family like coffee-flavoured gelato, so we all had something different off the menu. Their Strawberry Balsamic is often raved about, but we chose the Breakfast Mix (berries, yoghurt and cereal), Hokey Pokey (big chunks of toffee in creamy vanilla) and classic Chocolate.
Gelato cakes – this one was $42.
The smallest gelato size is $5.50 in a cup or cone, with a choice of one or two flavours. This size was perfect for an adult but too big for a small child. I'd love to see a "tiny" version with half the amount of gelato in it for kids.
The gelato was, as promised, amazing. Right up there with my other favourite, Messina Gelato, as some of the best gelato I've ever tasted. There's a good reason people line up for this stuff – it's amazing. I really enjoy gelato that is bursting with flavours and full of chunky ingredients. Cow and Moon have indeed perfected gelato and I can't wait to go back.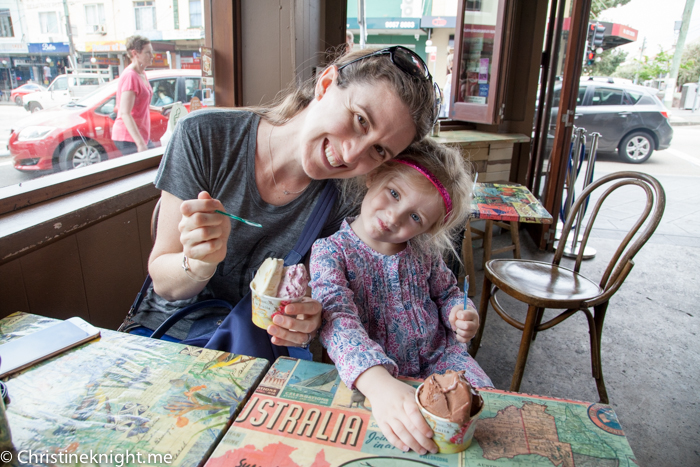 Cow and Moon is a cafe, so you can order coffee and food if you're not in the mood for gelato, or just sit and slowly enjoy your scoops like we did.
Have you been to Cow and Moon? What's your favourite flavour?
Highchairs: No.
Stroller storage: Yes.
Easy access: Yes.
Change tables: No.
Kids' menu: No.
Cow and Moon
181 Enmore Rd,
Enmore NSW 2042
Phone: (02) 9557 4255
Prices: $
Hours: Sun-Thurs 8:30am-10:30pm, Fri & Sat 8:30am-11:30pm
Get Directions