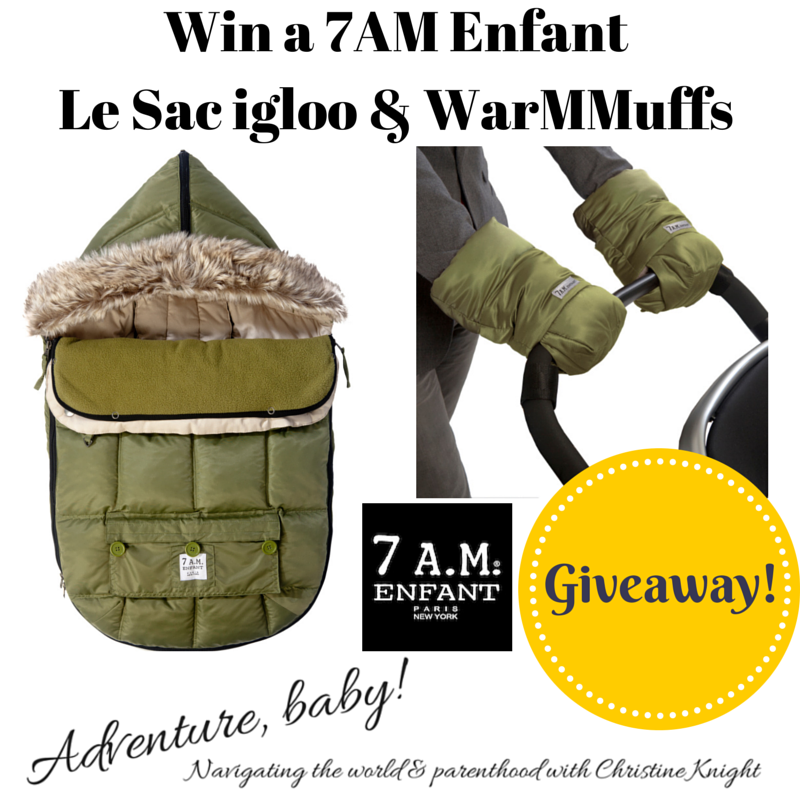 A special giveaway for US readers this week from the wonderful peeps at 7AM Enfant.
One lucky reader will win a Le Sac igloo and matching set of WarmMuffs in the colour of their choice, just in time for the next polar vortex.
The Le Sac igloo is designed to keep babies warm in strollers and carseats. It features a five-point harness opening, a soft, faux fur hood that zips down to lie flat on a stroller or car-seat, and a water-repellent shell to protect children from snow, rain, and wind. For warmer outdoor temperatures, the snapped fleece blanket can be removed and the lightweight cotton lining can be used independently. The 7AM Enfant Le Sac igloo retails for $115 USD.
And for your strolling pleasure, we are also offering a matching set of WarMMuffs. These cozy hand-warmers attach to any bar or handles, keeping your hands toasty while making it easy to hand out snacks and retrieve thrown toys. The WarMMuffs' hook and loop fasteners allow for easy attachment to strollers, shopping carts and more. The 7AM Enfant WarMMuffs retail for $38 USD.
Enter The Giveaway!
To be in the running to win your own matching set of 7AM Enfant Le Sac igloo and matching WarMMuffs, simply sign up to the Adventure, Baby! and 7AM Enfant mailing lists below, then leave a comment at the end of the post to let me know. If you've already signed up for both, just leave a comment saying you're already receiving both newsletters to go in the running.
Giveaway is open Thursday November 20th 12am to Wednesday November 26, 11:59am. Entry open to US mailing addresses only. By entering the giveaway, you are agreeing to the terms and conditions listed here.
[wysija_form id="2″]
STEP 2
Sign up for the 7AM Enfant mailing list HERE.
STEP 3
Leave a comment letting me know you've signed up for both mailing lists (if you've already signed up previously, that's fine!).