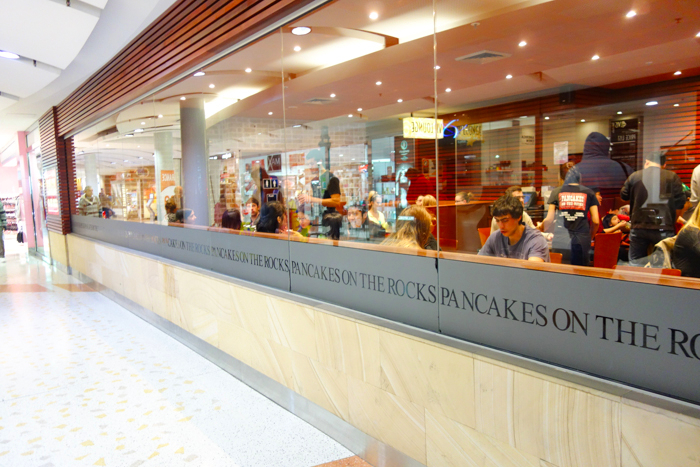 If you are a Sydneysider, you probably grew up with Pancakes On The Rocks. The first Pancakes opened on Hickson Road, at The Rocks in Sydney on 17th August, 1975. The restaurant was inspired by a road trip the founders took around America in the late 1950s. They noticed the popularity of pancakes on American menus and wanted to bring that love of pancakes to Australia. The company has since also focussed on creating a casual dining atmosphere and a menu that has something for everyone on it.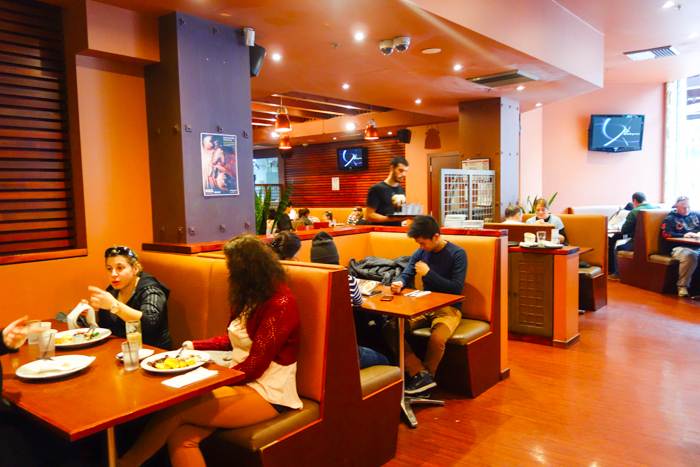 We dropped by specifically for a pancake breakfast on our way to the nearby Powerhouse Museum. Miss E requested pancakes, so pancakes it was!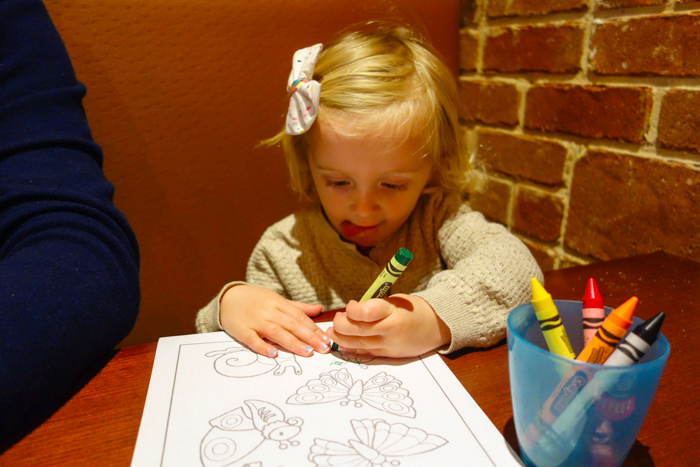 Upon being seated, our very friendly waitress very quickly delivered E a cup filled with new crayons and a big colouring sheet. Missy E has just started to enjoying colouring in, so this was a big hit.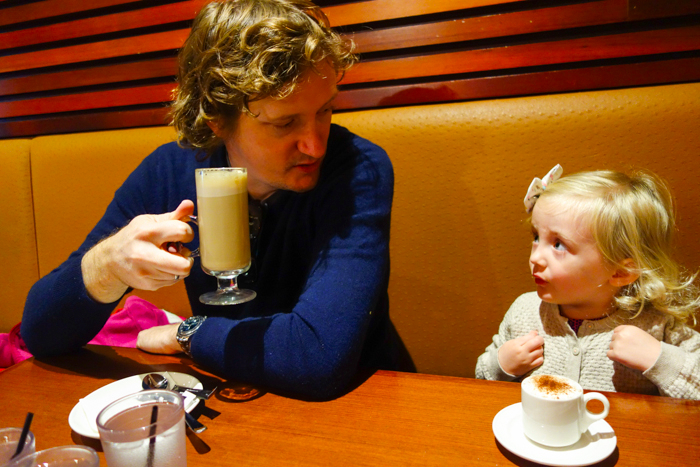 We also ordered her a babyccino and a coffee for Alec, which he described as "very good". High praise from the coffee addict.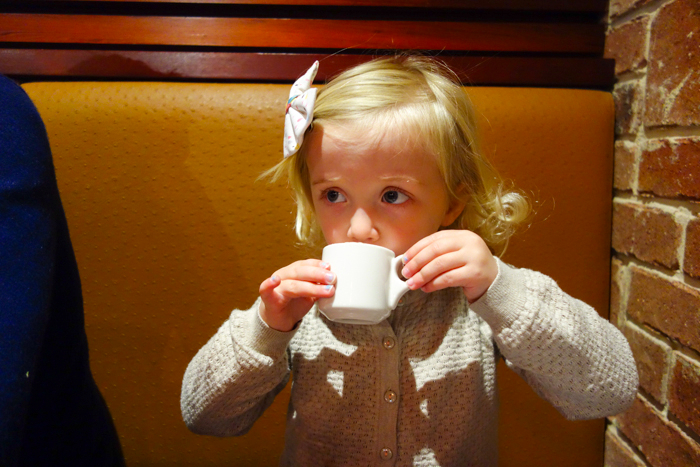 As you'd expect from a family restaurant, Pancakes features a great kids' menu, with cute items such as The Butterfly ($6.95): Three mini pancakes with strawberry jam, chocolate sauce, vanilla ice cream, and 100's & 1000's. Adorable. Since E usually only picks at food we rarely buy her her own dish. This time however, I found myself regretting not ordering her a kid's meal, as she ate an entire one of my adult-sized pancakes.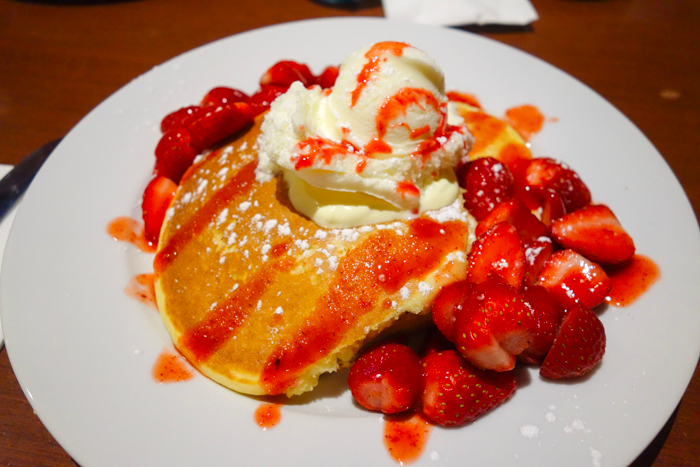 Between the three of us, we ordered a side of scrambled egg ($1.95), sausage ($3), the Strawberry Patch ($13.95; Buttermilk pancakes with fresh strawberries, cream, vanilla ice cream and strawberry coulis) and the Bananarama ($12.95; Buttermilk pancakes with grilled banana and home made butterscotch sauce, topped with cream and vanilla ice cream).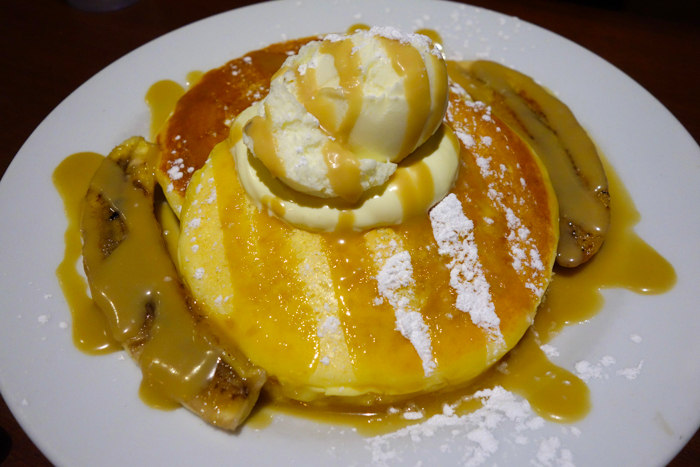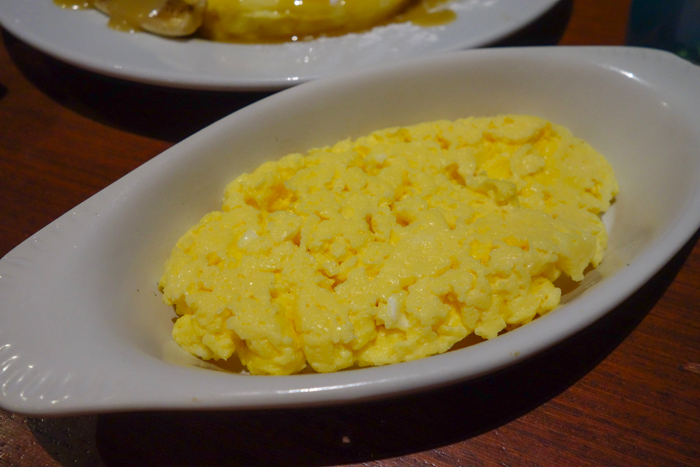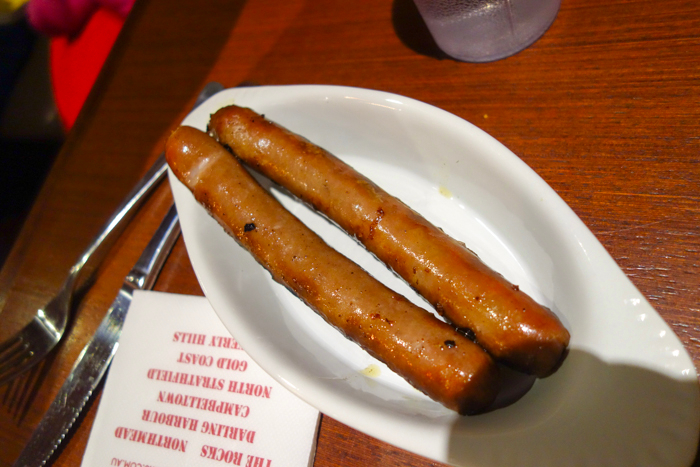 The pancakes are amazing. Perfectly fluffy and light, and covered in fruit plus a drizzle of sauce and dollop of ice cream. I love my pancakes heavy on the fruit, and their fruit distribution was huge, so I was very happy. The egg was potentially microwaved and next time I think I would skip it, but it still tasted ok. The star dishes were, of course, the pancakes, which is the way it should be at a restaurant called Pancakes!
Last bite: A stress-free meal with kids. The pancakes are perfecto!
Highchairs: Yes.
Stroller storage: Yes.
Easy access: Yes.
Change tables: Yes.
Kids' menu: Yes.
Pancakes On The Rocks
Harbourside Shopping Centre,
Darling Harbour,
227/229-230 Darling Dr
Sydney NSW
Phone: (02) 9280 3791
Hours: Mon-Sat 9am-8pm Sun 10am-6pm
Get Directions