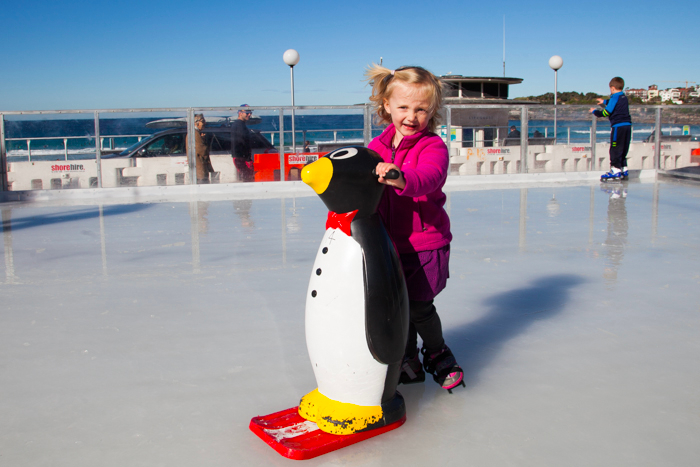 A gorgeous, sunny winter day calls for … ice skating, of course! We tried one of the many pop up ice skating rinks over the weekend at Bondi Beach as part of their Winter Magic event. We had a fantastic time, and little E took to ice skating like a natural. The penguin aid that we rented certainly helped her confidence.
Thinking of trying a pop up rink this winter? Here are our tips:
Book in advance (the sessions usually sell out).
Rent a penguin aid for littlies where possible — they only have limited numbers and they go fast.
Arrive at least 30 minutes early to ensure you are able to secure a pair of kid-sized skates (only limited double-bladed kid skates are available).
That's it! We all had so much fun, and would absolutely go again if it wasn't quite so expensive ($22 for adults, $10 for kids under 5 and $8 penguin aid hire).
The Bondi Winter Magic ice skating rink is  located in front of the Bondi Beach Pavillion, and is open from 27 June to 13 July, between 10am to 9pm each day. Skating sessions start on the hour and each skating session is 45 mins long. Book tickets online.