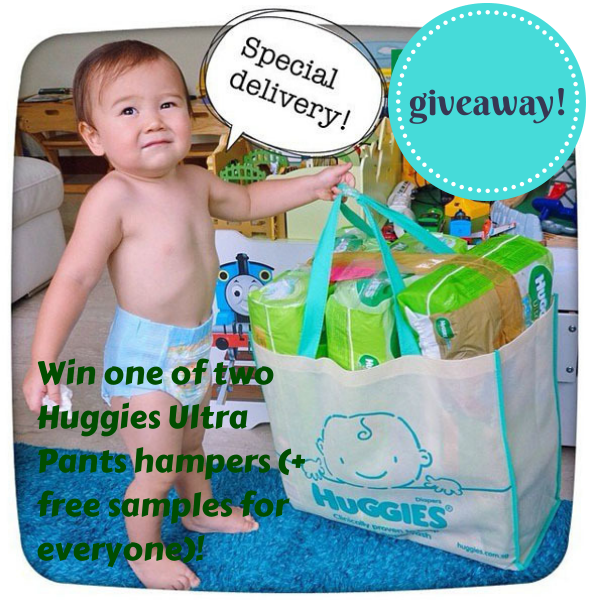 Click here to nab your FREE 3-piece sample of Huggies Ultra pants!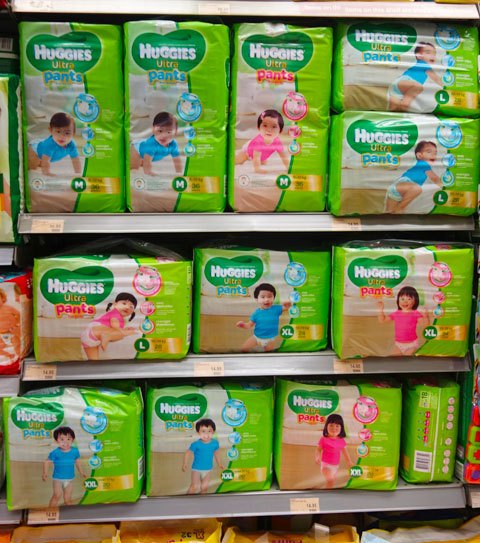 Because I am a pedantic person and simply must make sure I have the best, I set about purchasing EVERY SINGLE DIAPER BRAND there is in the market in Singapore when we moved here 3 years ago. I finally settled on Huggies and have been using the brand for both kids (Hunter was potty-trained a year ago so I stopped using diapers on him, but Carter wears them to this day).
Here's what I look for in a great diaper for my kids:
Thin/flat in size – I carry a bunch of diapers when I go out, and since I go out every day, all day, I'm not willing to have a fat chunk of diapers taking up useless space. And you know what? Diaper brands vary greatly in their physical thinness – I know because I've bought them all.
Large surface area when worn – some brands made my look like a my kid's wearing a g-string. And, no matter how cute their ass is, I do not want it hanging out the sides! I look for diapers that move with my active kid, and don't ride up his ass.
High absorbency – I have zero tolerance for leaks. Nothing worse than picking up my kid in the morning and realising they've soaked through their clothes, sleepsack, AND the bedsheets! My kids wear one diaper for a 14-hour stretch, so the diaper needs to be highly absorbent, and prevent diaper rash.
Easy on/off – I don't want to fiddle around getting the diaper on (kids are not the most patient), and I want to whisk the diaper off with little fuss and no messy poo smeared everywhere. Just to make it difficult for diaper-makers, I also want a diaper that my kid can't rip the sides off themselves.
I've been using the standard version of Huggies Ultra Pants since Carter was about 8 months old. I started using the pull-up Pants style when he started crawling, simply because he would kick around and fuss during diaper changes on his back. It was WAY easier whisking the diaper down his legs, and he could stand up during changes.
They now have the new Huggies Ultra Pants, which are gender specific. It makes logical sense to start your kid on pull-up diapers once they start really moving, because it is SO much easier/faster to change them!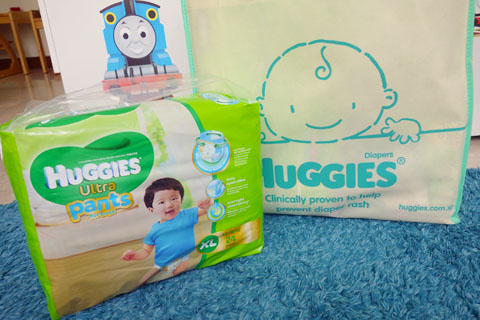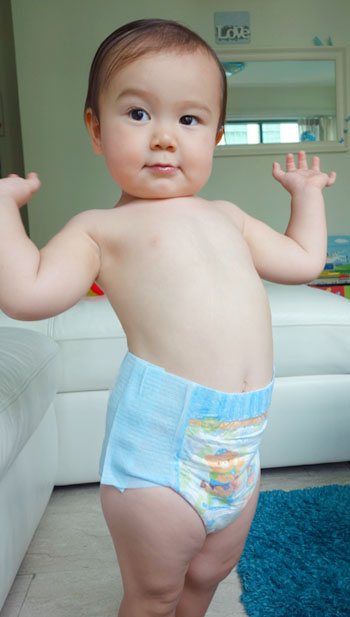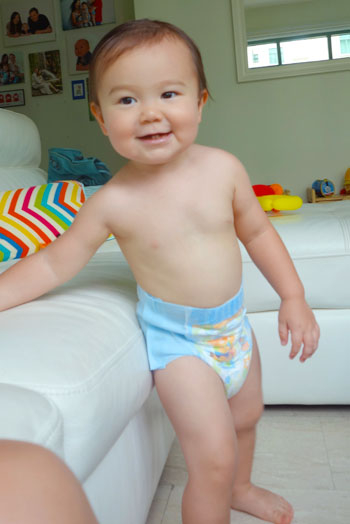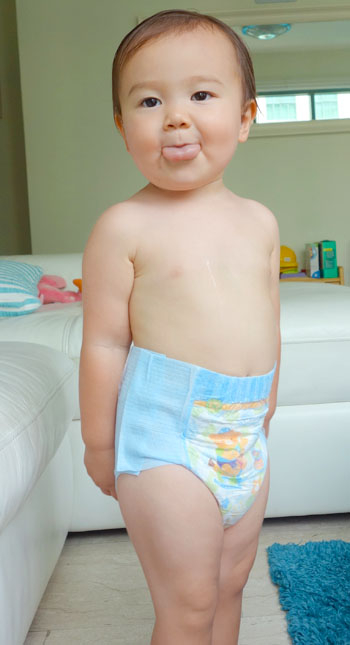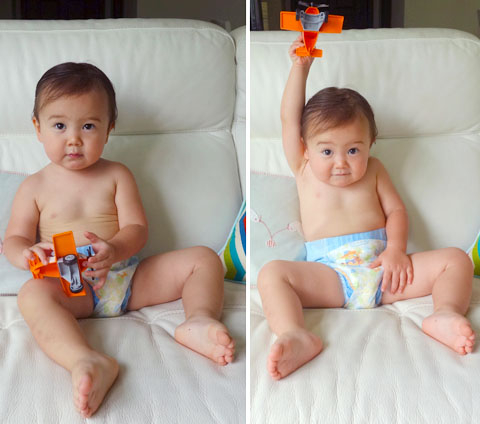 I've been popping Carter into this new version, and it's even better than the previous version we've been using for so long, because the Huggies Ultra Pants nails every point I listed above in what I need in a diaper.
Carter uses these Huggies Ultra Pants (new boys version) exclusively, both day and night, because the absorbency is top notch. Thin to carry around, comfortable and wide to wear, zero leaks, and rips off in a split second. I'd buy these diapers again and again.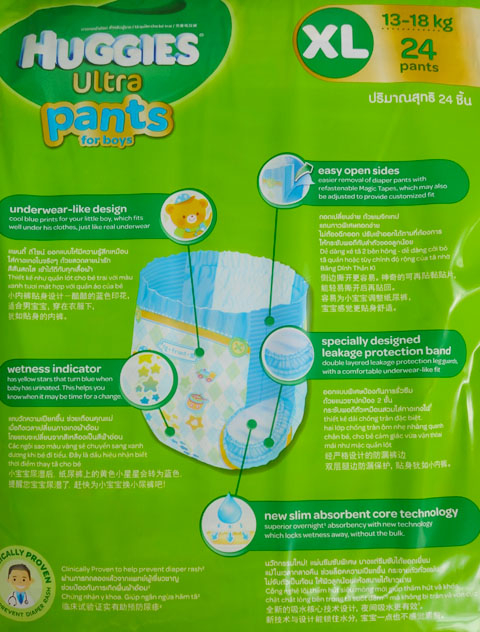 The sides are easy-open and are of this unique texture that binds the two sides together, without having clothes getting stuck to them. They are, by far, the easiest diaper sides to rip off. Yet, the technology makes it hard from babies to tear it off themselves from their angle.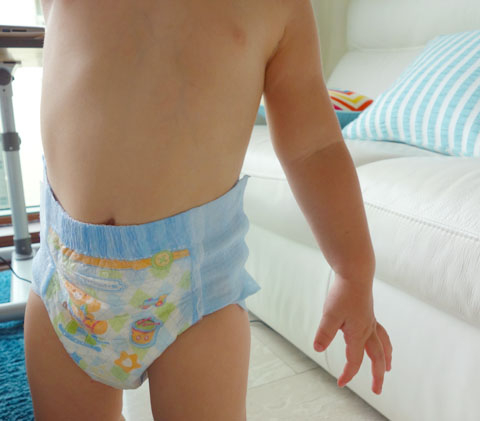 When is it time to change? When the pee indicator changes from from yellow to blue (indicating the diaper is full). They roll up in a jiffy, and form a neat little packet to chuck out. The OCD person in me sighs with pleasure.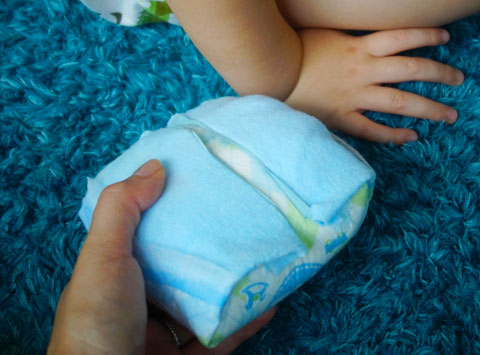 These are the available sizes for Huggies Ultra Pants. FYI, Carter wears an XL and he is 19 months old. They fit very well and will last him for quite awhile, I believe, since kids generally don't grow as quickly (or fatter) at around his age.
They are now available at major hyper/supermarkets near you but if you would like to do some sampling first, check out below for some ways you can get your hands on some!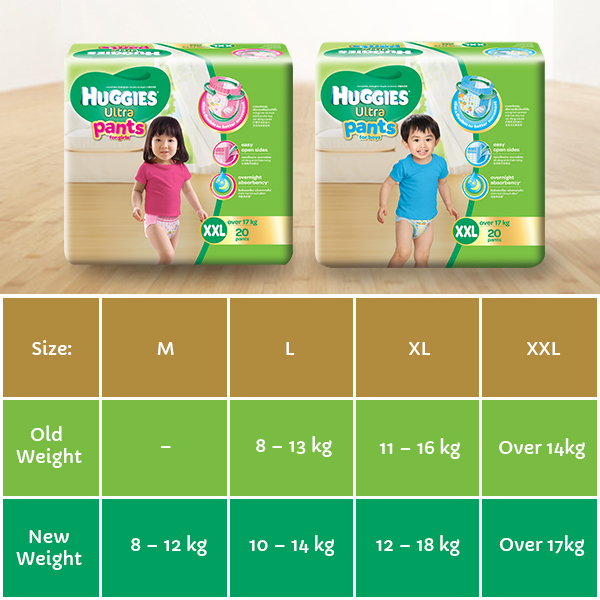 Huggies are giving away 1 female hamper and
1 male hamper

of Huggies Ultra Pants!

You can submit some of the entries more than once a day, so come back tomorrow to get more entries in the draw.

Giveaways will run from 21-27 Mar 2014 inclusive.
Each hamper includes 2 bags of Huggies Ultra Pants in M size (36 diapers in each bag).
Winner may collect their hamper from the Huggies office.
Winner's entry(s) will be verified according to the entry criteria(s).
 (click here to get yours sent to your door)

Includes 3-pcs of Huggies Ultra Pants diapers, and a S$5 discount voucher to redeem at all FairPrice Super/hypermarkets for every 2 packs of purchases of Huggies Ultra Pants or Diapers
Thanks Huggies!