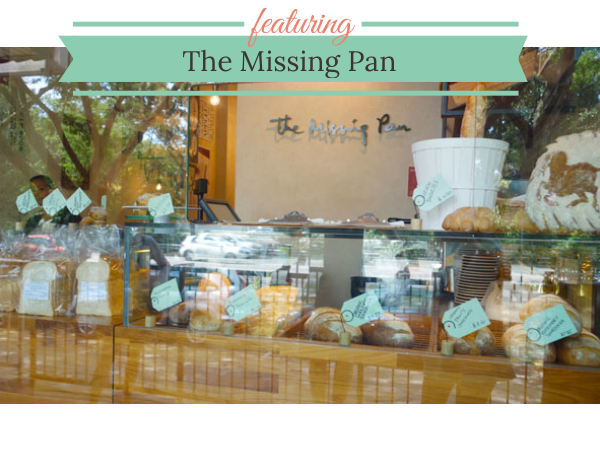 We've been on a bit of a hiatus recently. Between birthday parties, a trip to Perth, and Chinese New Year shennanigans, it's been a really busy past few weeks!!
But, we hope to get back in the swing of things ASAP 🙂
It's with great delight that I bring to you The Missing Pan, a gorgeous cafe that opened just three months ago. Located next to Coronation Plaza along Bukit Timah Road, the cafe has me ecstatic because THEY OPEN AT 9AM!! I do love my breakfasts, and rarely do I find cafes that are open this early (if you know of any more, please give me a holler).
When we stepped in, we were a bit confused as the place was tiny. Turns out that that's just their first/entry level, which showcases their freshly-baked breads and pretty cakes. We were ushered into a lift and brought up to Level 2, where the sit-down area was.
The soft grey, tan and turquoise colour palette of the cafe had me swooning. Doesn't it look so pretty and relaxing?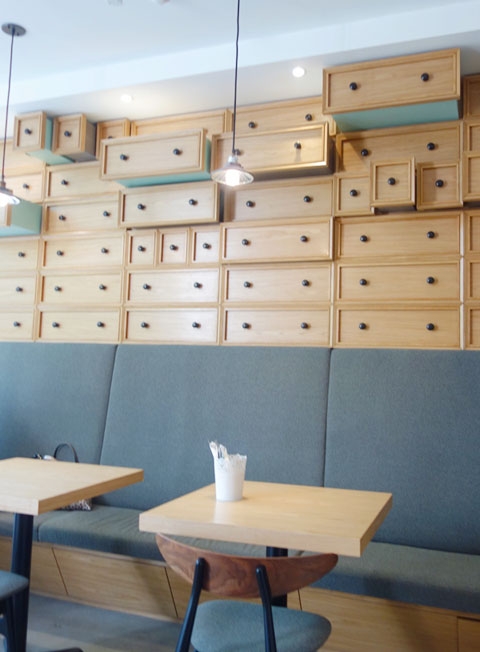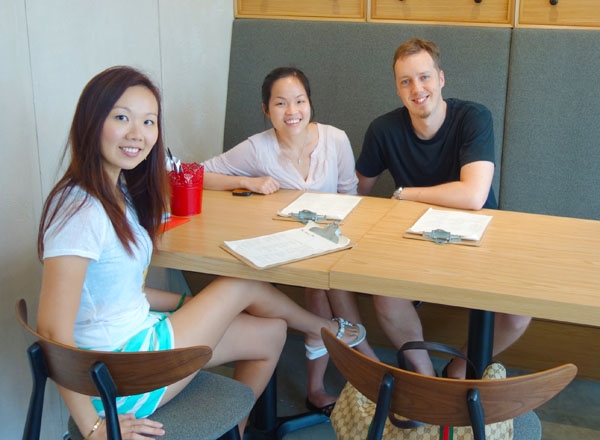 Their menu is, surprisingly, pretty extensive. And WOW, it also looks pretty spectacular. You will not find the standard brunch dishes here, but unique twists to regular dishes as well as new ones. The menu itself will take you a good few minutes to pore through!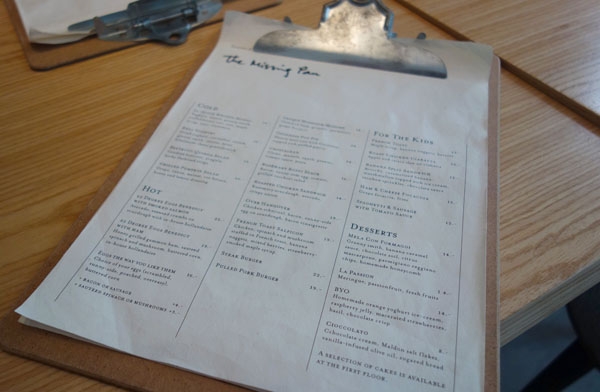 I was pleased to see that they had a kids menu, which looked really enticing: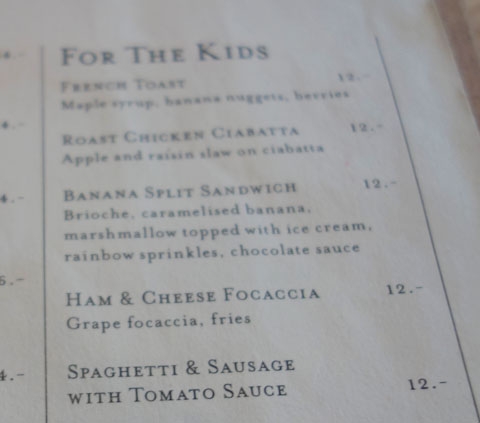 We kicked off with a rich Latte ($5.50) and a giant-sized Lychee and lemon mint homemade soda ($6):
And this is my favourite dish, their 62 degree eggs benedict with smoked salmon ($22). The Missing Pan's rendition is absolutely superb, and very different to regular Eggs Benedict dishes I've had in other cafes. Served on homemade sourdough, the free range eggs were slow-cooked at 62 degrees, resulting in an extremely creamy egg with a molten gooey egg yolk – it was absolutely luscious.
The smoked salmon was like nothing I've ever had. Normally, smoked salmon is sliced thin, and very salty. You know, just the regular stuff. Their smoked salmon was FAT chunks of salmon, that was meltingly tender – almost like a sous vide salmon. It was nowhere near as salty as regular smoked salmon, so the delightful creaminess and sweetness of the fish came through.
Frankly, I thought this dish was outstanding and would get it again.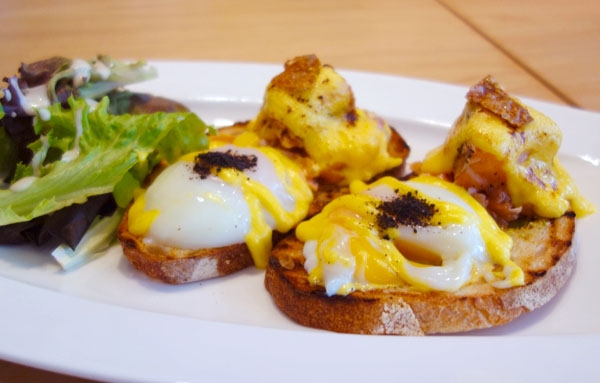 The Over Hangover (chicken schnitzel, bacon, sunny-side up egg on sourdough and bacon vinaigrette) ($19), I hear, is recommended for hearty eaters. And they'd be right – this will fill you right up. Using the same home-baked sourdough bread, the mountain of eggs, bacon, chicken and salad greens impresses when it arrives.. not to mention the tumble of crisp fries next to it.
At first, we thought the chicken would be dry and tough because the crumbed exterior was so dark. However, once we tried it, we realised the chicken was so succulent and juicy on the inside! It was actually perfectly cooked.
Two thumbs up for this dish, especially if you prefer your brunch to be fried 😉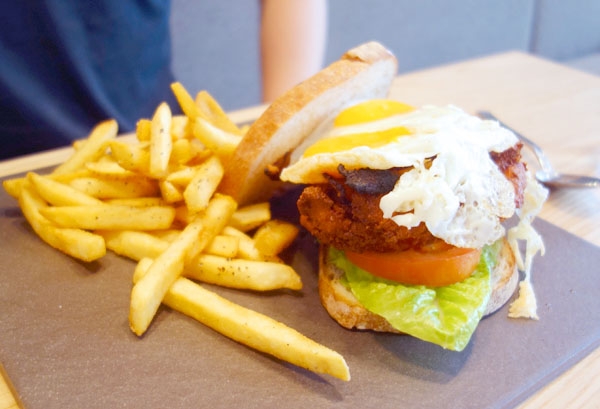 I personally found the Rosemary rosti stack with bacon, sunny-side up egg, tomato, grilled zucchini salad ($16) to be least interesting. The potato rosti was cooked perfectly and the egg was delicious, but I just found the dish a bit boring because it's just a whole lot of potato. Perhaps it would have been even better served with some of their fat chunks of smoked salmon, just to create variety?
That said, this is a winner if you're on a bit of a carb fix.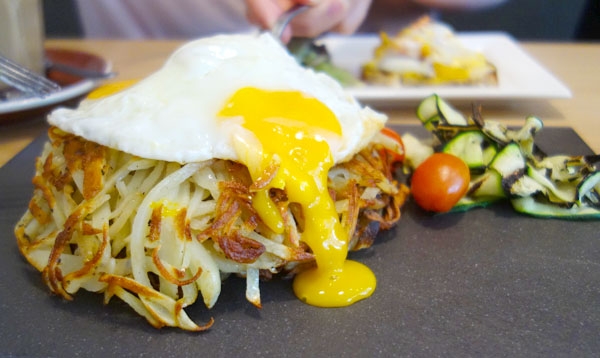 I adored the Brownie bite, which was going at $2 a pop. The brownie was rich and fudgey, and I loved how it was encased in chocolate.
The BYO (homemade orange yogurt ice cream, raspberry jelly, macerated strawberries, basil, chocolate crisp) ($14) didn't interest me, as I'm not a fan of any type of fruit-based dessert. But, the large chocolate crisps on top were delicious!!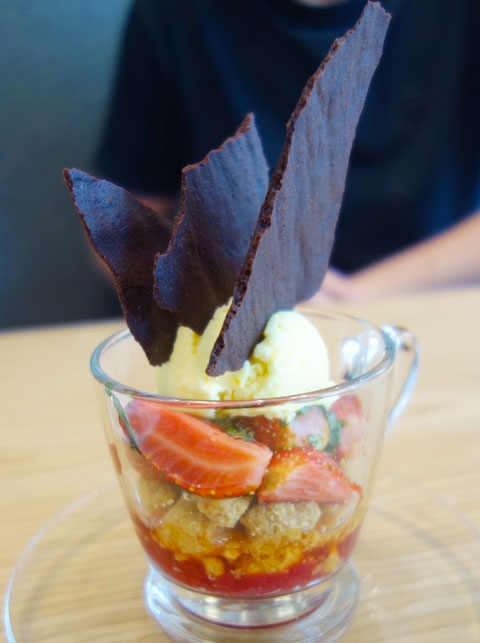 Last Bite: The Missing Pan has only been open for a few months, but nails their unique menu. The food is excellent, as is the service and ambience. Plus, it's open at 9AM for breakfast!

Highchairs: Yes
Easy access: Yes
Change tables: No
Kids' menu: Yes
The Missing Pan
619D Bukit Timah Road
Singapore 269724
Phone: 6466 4377
Prices: $$
Hours: Tue – Sun: 9:00 am – 10:00 pm