Today's Brunch Special is courtesy of Brianne Manz, the writer/blogger behind Stroller In The City. She's mom to three kids (Ryder, 5, Siella, 2, and Gemma, 7 months), and lives in Battery City with her husband, Jason.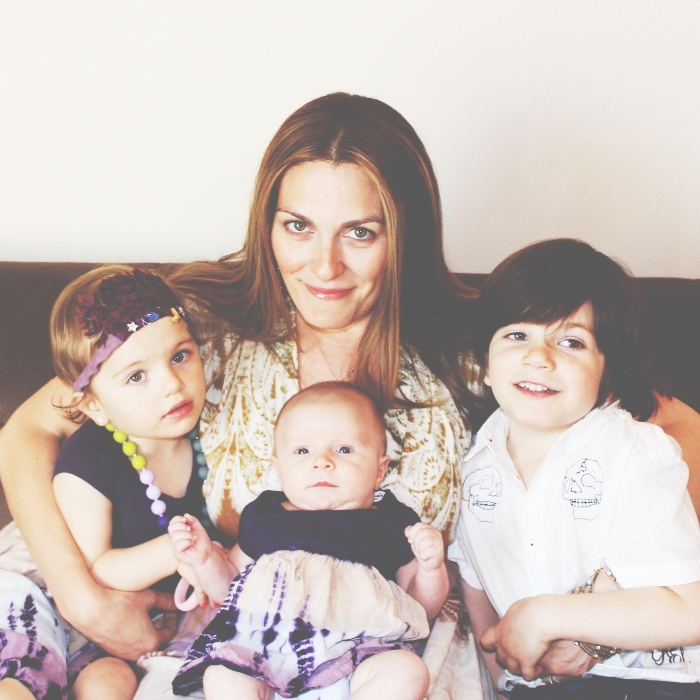 Tell us a bit about your pre-baby career.
I was once a fashion showroom owner for women's apparel. The showroom was based in NYC and represented about 10 designers. We sold the brands to stores all over country. When my son was born I wanted to focus on being a mom and sold my company.
How did you make the transition to writer/blogger?
The whole process happened organically. I started this little blog at the time to write about the adventures I was having while being out about being a mom. I was also determined to find clothing for my son that wasn't baby blue. Now, five years later, things have changed dramatically in the fashion world for kids.
How has life changed with three kids?
It has changed 100%. Three has definitely been a game changer for sure! You just do not have enough hands. Plus I also did it the opposite way of most by having my second and third pretty close in age (21 mos). My middle daughter is full into her terrible twos, so I pretty much have my hands full. Not to mention the sleeping for all has been extremely hard for us because now the baby (7 mos) is teething.
Fashion-wise — you used to work in fashion, and always look amazing on your site. What do your readers NOT see?
Why thank you! I would say my readers do not see me sitting behind my computer catching up on work in my pj's; which consist of non matching leggings, sweats, or tanks.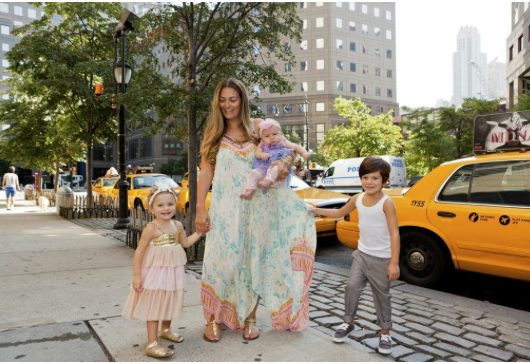 How hard is it to pull together a look now that you have three kids? What do you always make time for, what parts of your beauty and styling routine have you dropped?
I have a big archive in my closet from working in fashion for so many years, so putting an outfit together for me is easy, like second nature. Asking me to pick out furniture, is a whole other ballgame. Interior design is so hard for me.
As for beauty — this is so bad I know, but the one thing I really try to do for myself once a week is get a blow out. I was never able to blow out my own hair, and this is a little "me" thing that makes my life easier when I literally have 5 minutes to shower. I did however drop most of my beauty regimens, like facials or night time masks which I should totally make time for.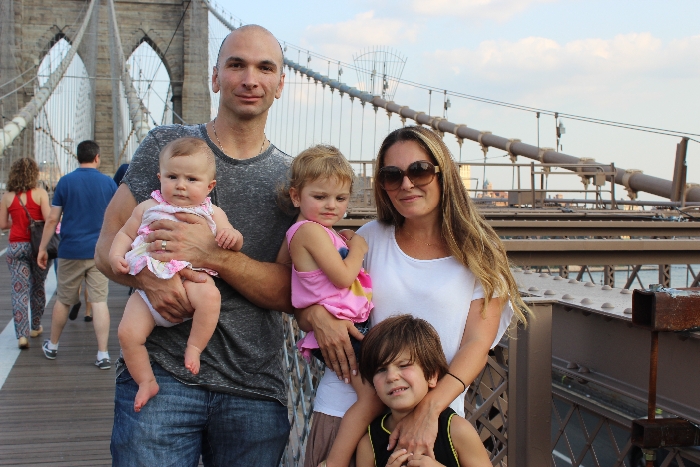 What are your key ways to dress stylishly when you're with the kids — how do you put together an outfit that's kid-friendly but still looks fantastic? 
I think comfort is key especially when with the kids all day long. I am usually wearing comfy shoes or boots with little or no heel because pushing a stroller can take a huge toll on your feet. Summertime I live in long dresses and thong sandals; it's easy yet chic.
Tell us a bit about your neighborhood: A few of your fave places to go with the kids.
We live in Battery Park. It's like suburbia of NYC. We have so many amazing playgrounds here, it's pretty easy to change up the scene. Some of our favorite parks include: West Thames Park, Pier 25 on the Hudson, and Washington Market.
We have so many restaurants down here now, and pretty soon even more will be opening. Although I do like to cook, some days its too much. The kids will usually choose Inatesso Pizza or Shake Shack.
Brianne Manz is a fashion shownroom owner turned mom and blogger/writer. She lives in NYC with her husband and three children. Her blog Stroller In The City boasts about city living, kids fashion and all things that are mommy. Follow Brianne on Facebook, Twitter, Instagram and Pinterest.