Today's Brunch Special is courtesy of Marissa Zitka Abruzzo, President of Hip & Healthy Kids. She's also a Board Certified Health Counselor, member of the American Association of Drugless Practitioners and a local New Jersey Mom to a 3-year-old cutie.
Remember the days of running out the door with your tiny purse full of only your wallet, phone, lip gloss and mints?  Neither do I. With kids, those days have been long replaced by feeling like a pack mule. However, with a little bit of organization and picking some super cool products, you will feel hipper and lighter than your four-legged equine friend.
The Bag
Let's start with the bag. When selecting a diaper bag, I look for something waterproof and/or washable. A ton of pockets are not as important to me as long as there's an easy way to organize.  I also look for a bag that makes a statement. Personally, I am not into bags with butterflies and flowers galore.  Instead, I want something that is fashionable, unique and socially responsible. This bag by Malia designs fits that bill. This fair trade messenger bag is not only socially conscious, but also environmentally-friendly. It's made from recycled Vietnamese feed bags!   
Diapers
Next, I stock it up with my diapering selection. Perhaps you are a cloth diaperer?  If so check out this article to figure out how to make it work in a big way.  If you go the disposable route, select diapers that are free of chlorine processing, fragrances, and petroleum-based lotions like Seventh Generation Diapers. Also select wipes free of chlorine processing, fragrances, dyes, and alcohol like Seventh Generation Free & Clear Wipes.
Nursing Cover
I toss in my nursing cover next. I have one of these beauties from Udder Covers. 100% cotton, breathable and washable, these covers are a nursing mother-on-the-go must have. If you want one of your own, Hip & Healthy Kids has a deal for you. Check out their site and at enter in promo code "hhk" to get a free nursing cover (you only have to pay shipping and handling).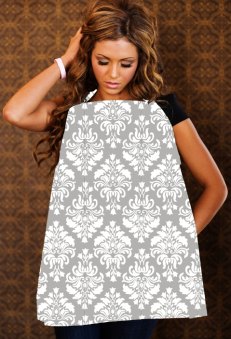 Food Containers
While we're on the topic of eating…  If your little one is on to solids, pack up a ThinkBaby bento box. This eco-friendly, air tight, on-the-go travel container will keep your food fresh for hours. It's a perfect size to throw into lunch boxes, baby bags, purses, and backpacks. It is BPA, PVC, Lead, Phthalates and Melamine free with a sleek stainless steel interior.  You will also be helping the environment with your reusable container instead of using harmful plastic baggies.
Hip & Healthy Kids readers can get their own bento box right from the online storefront (look under Kid's Gear for the ThinkBaby products).
Sunscreen
For sunny days, I toss in one of my non-toxic sunscreens. Read more here to figure out what chemicals to avoid and how to select a non-toxic sunscreen. (Cheat sheet oxybenzone = bad.)
Hand Sanitizer
Lastly, I place my CleanWell thyme-based, biodegradable, and alcohol-free hand sanitizer in an easily accessible pouch.
Baby Carrier
For a child 45 lbs. and under, be sure to also bring along your Ergo Carrier. These carriers are made from natural fabrics, and the ergonomic design is key for parent and baby comfort. Ergo allows baby to be positioned in a natural cradle, so excessive pressure on the hips (which may result in hip dysplasia) is avoided. A bunch of fun colors/designs allow you to express yourself, since your cute shirt is likely concealed from public viewing.
Now gaze down into those beautiful little eyes, throw on your diaper bag and smile knowing that you are more than ready to take on the day in style.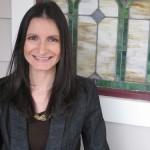 Marissa Zitka Abruzzo, MS, is a Board Certified Health Counselor, member of the American Association of Drugless Practitioners, and President of Hip & Healthy Kids. Hip & Healthy Kids is THE place for information on how to maximize your family's health while keeping things fun and hip. Marissa has transformed her holistic, eco-friendly, and nutritionally-focused vision into a fresh resource for modern families. Follow Hip & Healthy Kids on Facebook and on Twitter @HipHealthyKids.