Today's Brunch Special is courtesy of Kopal Goonetileke, co-founder of PishPosh Mommy—creators of stylish products that help you organize your life with a baby. Kopal lives with her husband, Malcolm, and her three children, Hariel (age seven), Kanya (age five) and Kyelle, (age three and a half). The family currently lives in Westchester, after having moved from San Francisco five years ago.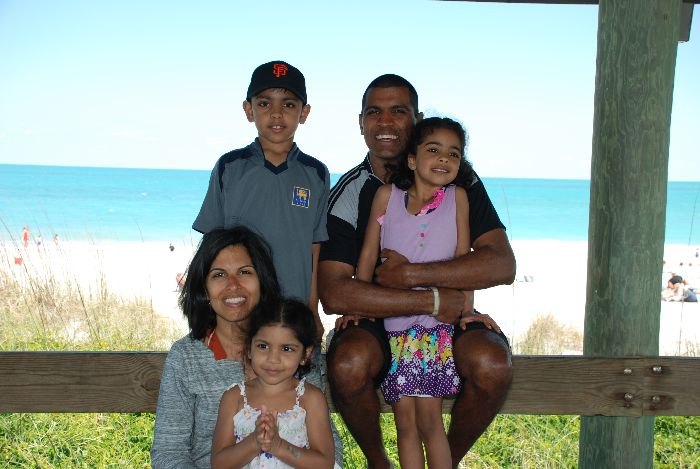 How would you sum up PishPosh Mommy?
We design and develop products that provide functional organization for stylish moms.
How did PishPosh Mommy begin?
The PishPosh Mommy vision began in San Francisco in 2007 when I met my now business partner, Jenny Hong. We were two new moms who were equally frustrated by the lack of stylish solutions for carrying and organizing baby gear.  We loved our new lives as mothers, but we didn't want to feel sentenced to years of lugging around bulky, unattractive diaper bags! We created the Carryall, an innovative bag organizer that transforms any bag into a diaper bag. We sourced fun, modern prints for our bags and named them after our favorite neighborhoods in San Francisco.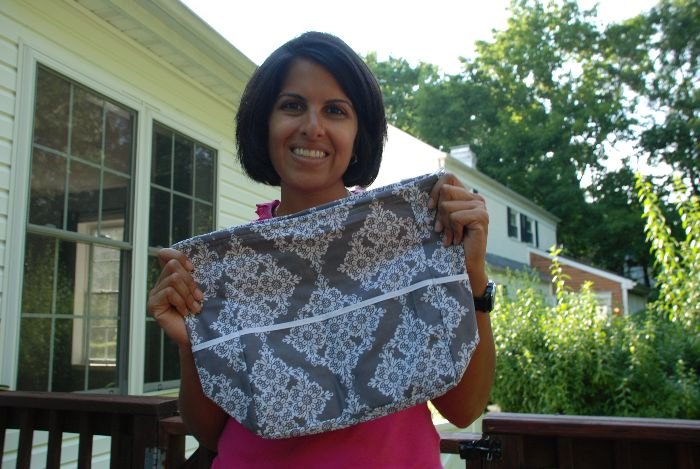 Tell us about your products—why do you consider them "must-haves" for moms?
Our signature product, the Carryall, allows your favorite handbag, tote or beach bag to function as a diaper bag. The Carryall also adds simple, stylish organization to any bag or stroller.  We have a variety of chic prints to suit the tastes of any mom.
The PishPosh Wet Bag is our multi-purpose solution for all things wet. And with kids, let's face it, something always gets wet! The bag's uses grow right along with your child, from infant cloth diapers to toddler training pants to big kid swimsuits. The front pocket holds dry items while the water-resistant, leak-free main pocket keeps wet things contained. Moms can even use it to store make-up or toiletries for travel or quick trips to the gym.
Other great accessories by PishPosh Mommy include the Diaper Clutch, PishPosh Pad and arriving this fall, the Changing Clutch, Nursing Cover and large size Wet Bag.
You have the perfect gear for taking kids out and about. When did you start taking your kids out to eat in restaurants?
We've been taking our kids to restaurants since within a few weeks of bringing them home from the hospital. It became a little more challenging once we had our third, but we believe it's important for them to experience different cuisines and also to understand how to sit and wait, especially when sometimes they are the only kids at the meal and Malcolm and I are socializing with other adults.
What have you found are the easiest/hardest ages to eat out with your kids?
When we had only one child it was always pretty easy to eat out. Then when our daughter came along it became a little more challenging especially since she is a pickier eater. From the age of about six months until three there were a lot of really quick eat-and-run-type meals in restaurants. Now that our kids are all over the age of three, dining out has become enjoyable again and we strive to avoid electronic devices to entertain the children unless the dinners run more than an hour.
Any stories of an especially successful eating out experience with your kids?
Choosing a restaurant that is kid-friendly, or going at a time when the restaurant isn't busy has always worked in our favor. Of course, a good server is always a bonus. We had one experience where our server actually took the kids back into the kitchen so that they could see their meal being prepared and it was fantastic! Not only were they excited to eat but they had so much to talk about during the entire meal.
Fave local restaurants/cafes to eat out with the kids?
Landmarc in the Time Warner building is a great place to take kids. We also love Mary's Fish Camp but it's small so better to go during off hours.
Fave spot to stop for treats?
We love 16 Handles Frozen Yogurt where the kids get to pull the handle and then add the toppings, so it's like make your own sundae every time!
Do you have any eating out traditions with your family?
We love to eat out on Saturday mornings after soccer. Lunch time menus usually offer more kid-friendly choices, and there are less crowds, making it a stress-free way to start our weekend!
Fave spot to go for special family occasions or events—but where kids are still welcome?
Southern Hospitality has great brunch, and if you can get the back room for your event it's perfect with kids so that they can run around while the adults relax.
Number one tip for other parents when eating out with kids?
Fill your Carryall or Diaper Clutch with coloring books, crayons, stickers and don't forget the wipes! If your little one is still in diapers then don't forget your PishPosh Diaper Clutch. It looks just like a regular clutch but fits diapers and wipes, and even comes with a changing pad so toting your little one—and his/her gear—into tiny NYC restaurant bathrooms becomes a little more manageable. And, finally you will definitely need your PishPosh Wet Bag in case there is a food or drink spill. The dry pocket will hold that extra change of clothes and you can safely hide away the soiled clothes in the wet pocket until you can get home to wash them. The Wet Bag has a snap wristlet so that you can attach it to your stroller or to another bag easily.
Check out the PishPosh Mommy range below. Order your favorites at the PishPosh Mommy online store and enter the code "BWMB25" for 25% off your purchase, valid until 7/31/2013.
[metaslider id=3254]