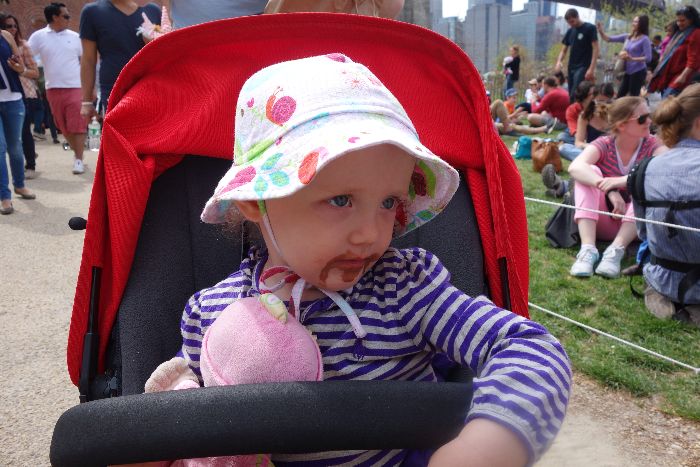 Hope you're planning to enjoy the beautiful spring weather that looks like it's FINALLY here to stay. (We know Cheese is ready for more ice-cream outings.)
The Brunch With My Baby team is looking forward to relaxing with our families – and checking out more kid-friendly restaurants to review. Alexis plans on taking Baby J and Big J to try someplace new in the city (that will be her reward for driving out to New Jersey today AND Saturday to visit friends and family). Christine and Co. might just be forced to sample more treats from Smorgasburg. For work, you know.
We hope you enjoy your weekend and have a chance to enjoy some of the many delicious places and sights NYC has to offer. Here are a few fun links from around the web to help inspire you:
Brooklynites, check out these great dishes, and where to eat them.
Want suggestions for fun weekend outings?
This great new website for stylish new mamas and mamas-to-be is a must-see.
OXO Tot's awesome new cutlery, plate, bowl and cup for toddlers that want to be big kids. Genius.
Ever wonder how much you should be eating? (On second thought, maybe we shouldn't click…)
Bare Burger just opened in Cobble Hill! Ahhhhh!
Healthy eating for your family is made easy with these wholesome, nourishing meal plans.
Have a good one!
Christine + Alexis