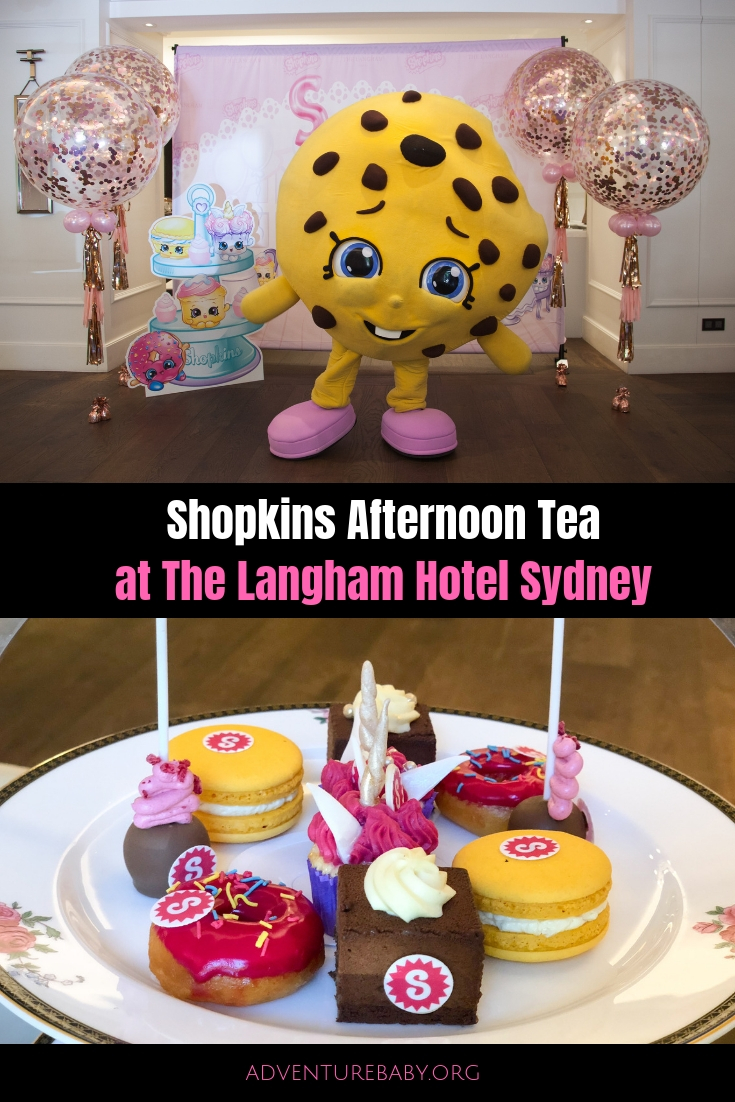 Do you have a Shokins fan in the house? We do! I don't know who was more excited to head to The Langham Sydney this weekend to check out the new Shopkins Afternoon Tea, me or the kid!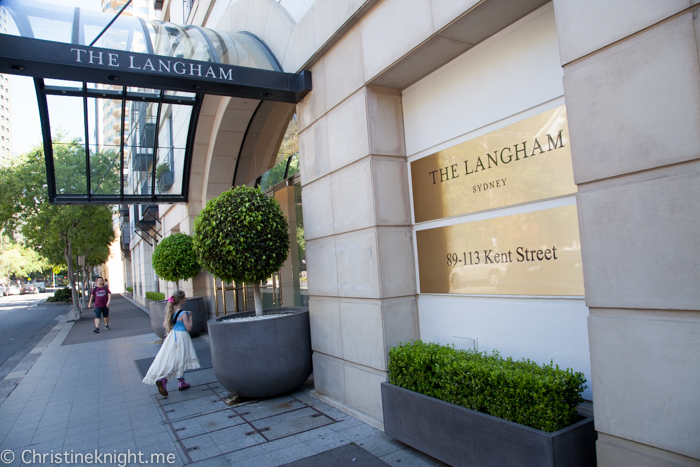 The Langham is renowned for their excellent high tea (or afternoon tea), which is always elegantly served on tailor-made "Langham Rose" Wedgwood teaware made exclusively for the hotel.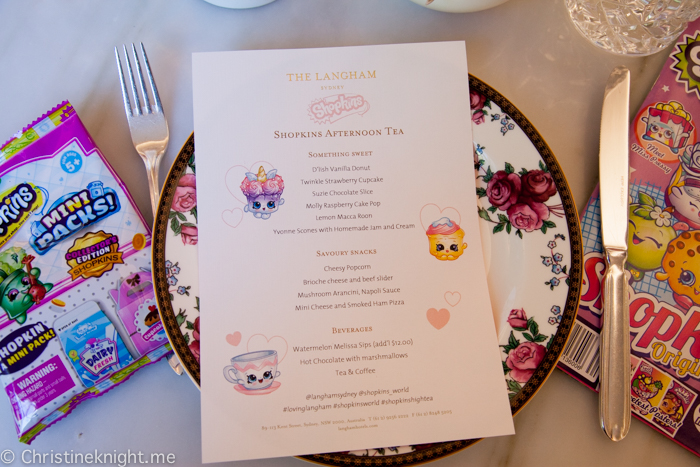 I love so much when hotels such as The Langham put on a special kids' afternoon tea or kids high tea. They give families a chance to experience a high tea with the pressure off. No one expects kids to be perfectly behaved when the tea is especially put on for them! The kids' high teas also give kids a chance to dress up in their fanciest outfits and spend quality time with their parents, while feeling very grown up and sophisticated.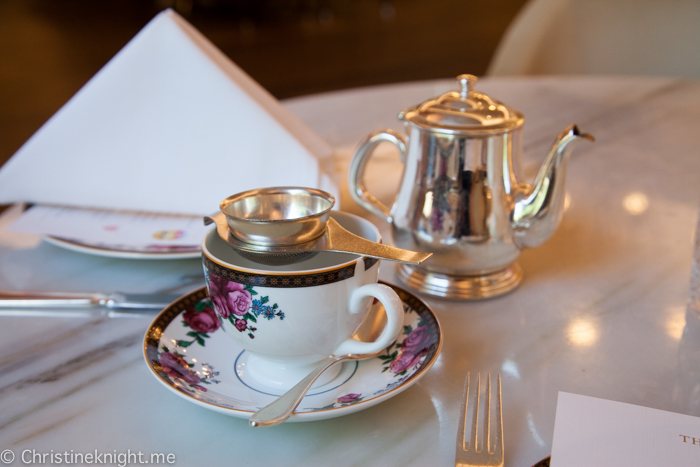 For a short time only, kids can get fancy and head to The Langham Sydney to enjoy the special Shopkins High Tea.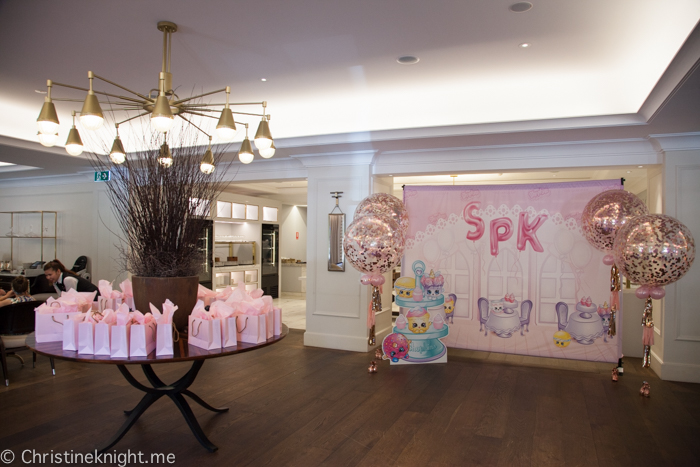 The afternoon tea is adorably designed to feature beloved characters in sweet form! Kids will get such a kick out of trying a D'lish Donut, Twinkle Cupcake, Macca Roon, Suzie Slice, Molly Cake Pop and many more delicious treats.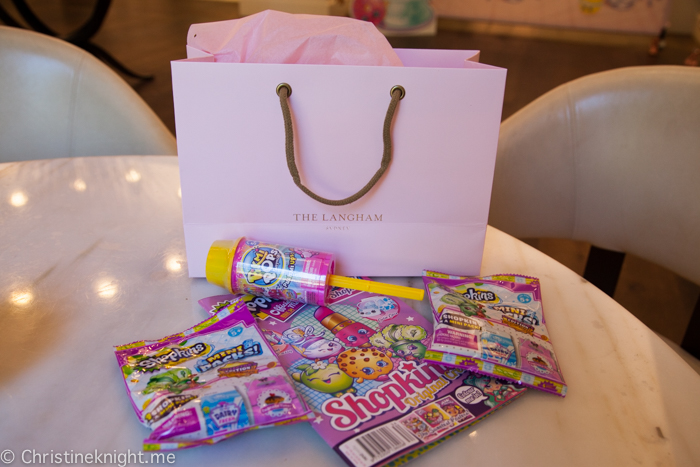 Kids are presented with a special Shopkins gift bag on arrival, which includes two special edition Shopkins, a Shopkins magazine and a Pikmi Pop.
Shopkins-themed colouring-in supplies are available, too. We didn't need them because we brought our own Shopkins from home to play with.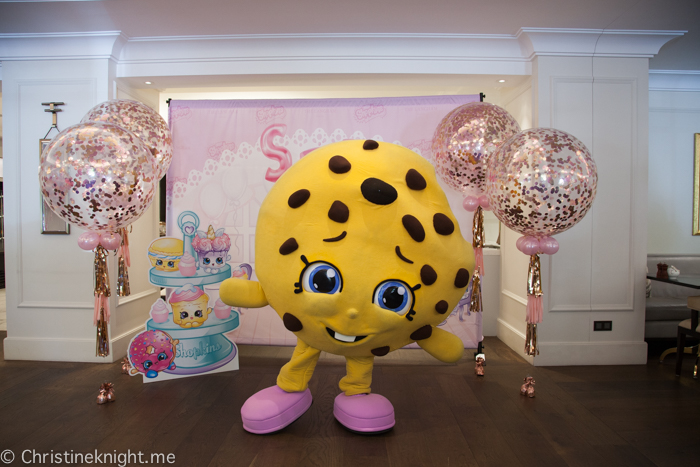 The really special moment of the high tea for most of the kids was the Shopkins character meet and greet (available between 1pm-4pm). We met Kooky Cookie when we entered the tea room and then again when she came around the room to each table to say, "Hello".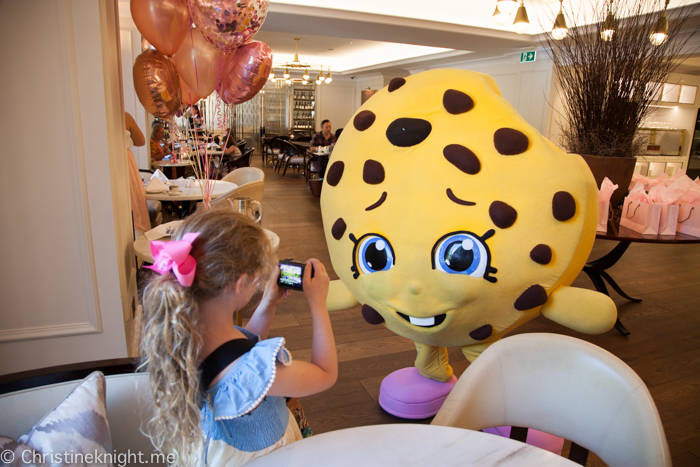 Kooky Cookie and her good natured minder entertained the kids for a solid half an hour with an impromptu dance party and answering some of the kids' pressing questions. "Can Kooky do a cartwheel?", "Can she stand on her head" and "Who took a bite out of her?" featured highly.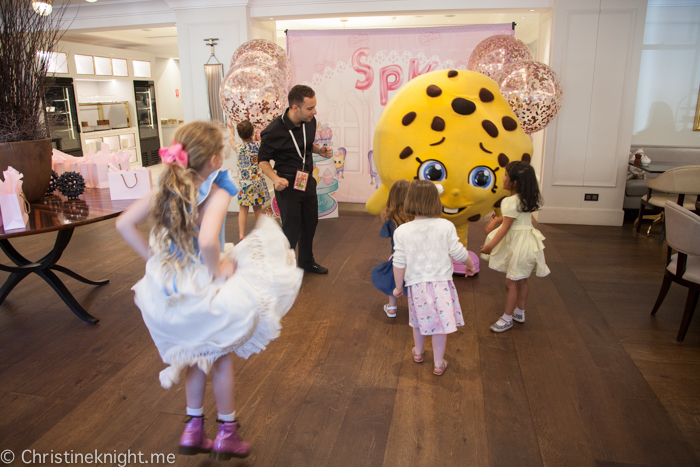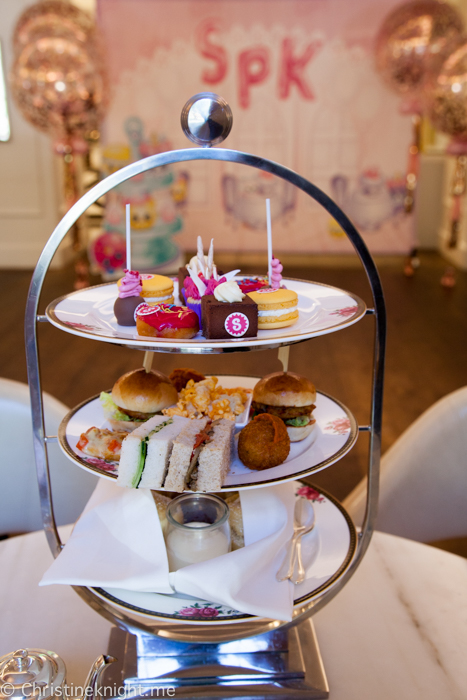 Savoury Snacks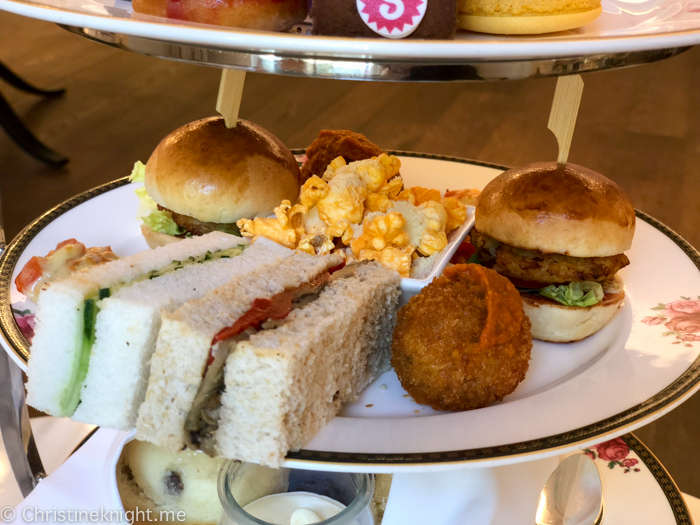 Cheesy Popcorn
Brioche cheese and beef slider *
Mushroom arancini, Napoli sauce
Mini cheese and smoked ham pizza *
* We received the following vegetarian substitutes:
Cucumber sandwich
Veggie burger
Mushroom sandwich
Something Sweet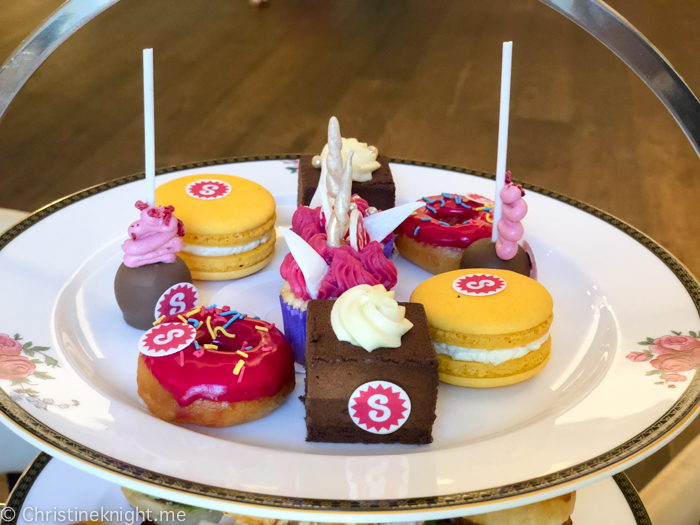 D'lish Vanilla Donut
Twinkle Strawberry Cupcake
Lemon Macca Roon
Suzie Chocolate Slice
Molly Raspberry Cake Pop
Yvonne Scones with homemade jam and cream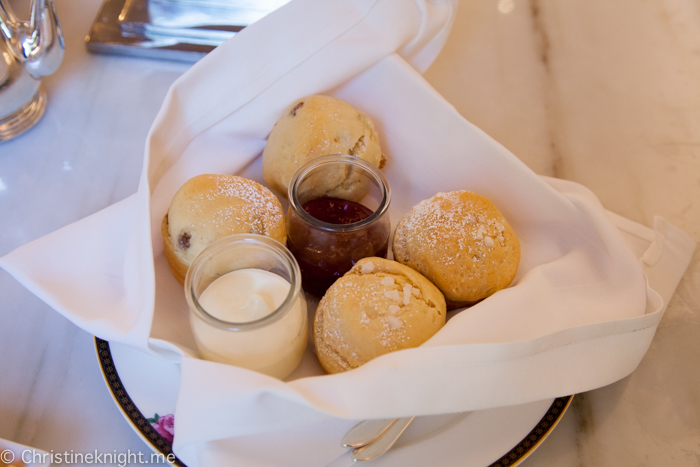 Beverages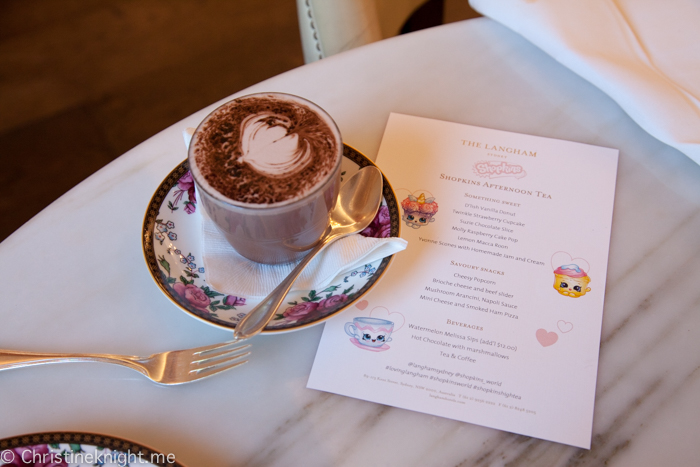 Watermelon Melissa Sips (add'l $12)
Hot chocolate with marshmallows
Tea & coffee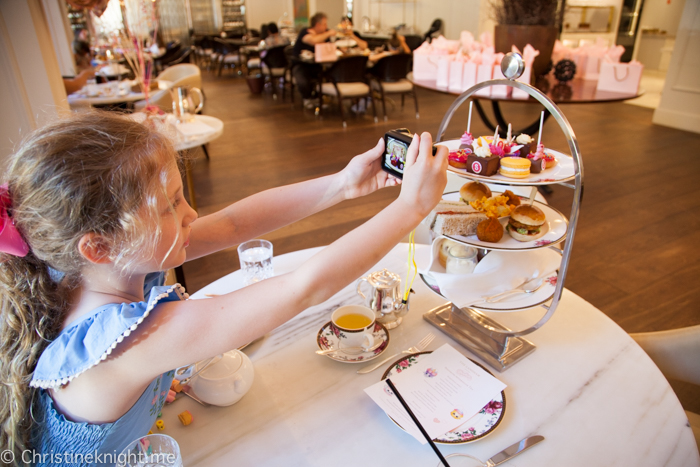 The food is delicious and absolutely suited to adults as well as the kids. I thoroughly enjoyed the fresh sandwiches on light, fluffy bread, little sliders, warm scones and mini pizzas.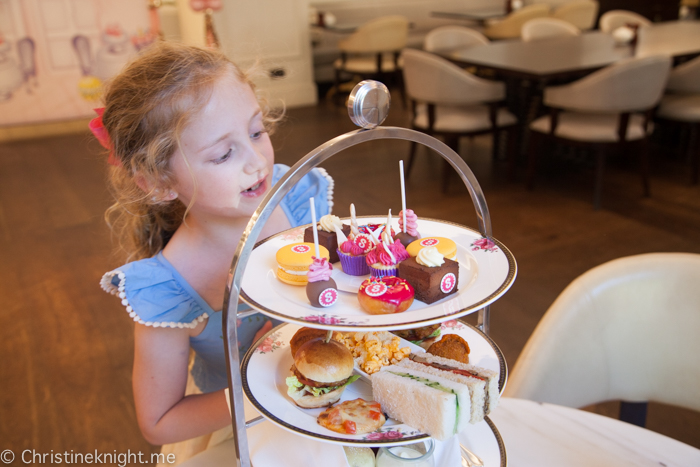 With our stomaches groaning we tried one of everything, including the sweets. They're so delicate and delicious, and particularly adorable for this tea with the beautiful theming.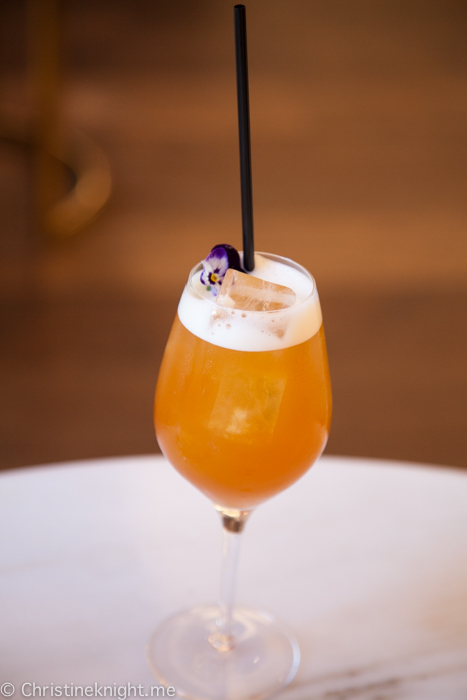 For my tea I ordered an iced tea, which was delicious and refilled as part of the package. Cheese chose chamomile which was served in a delicate silver pot with real chamomile flowers inside, and later a hot chocolate.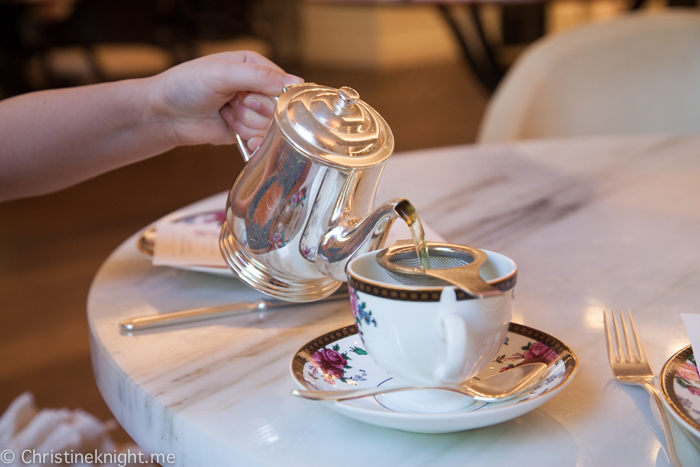 As always the tea never looks "that big" but we struggled to finish it all.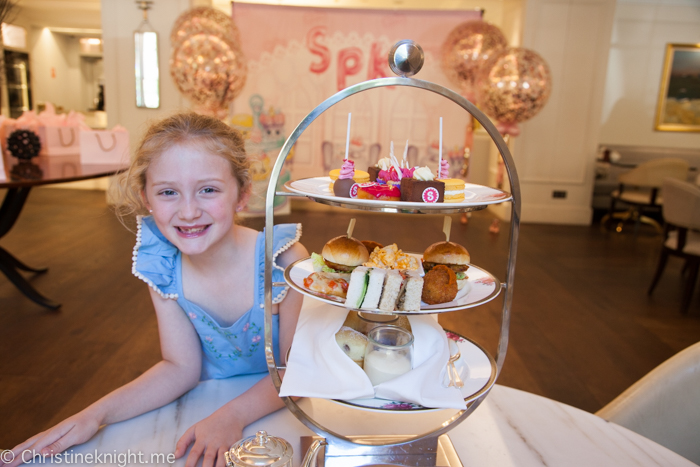 Adults young at heart (ahem like me) can indulge in the Shopkins Afternoon Tea or choose to enjoy Palm Court's Spring Afternoon Tea.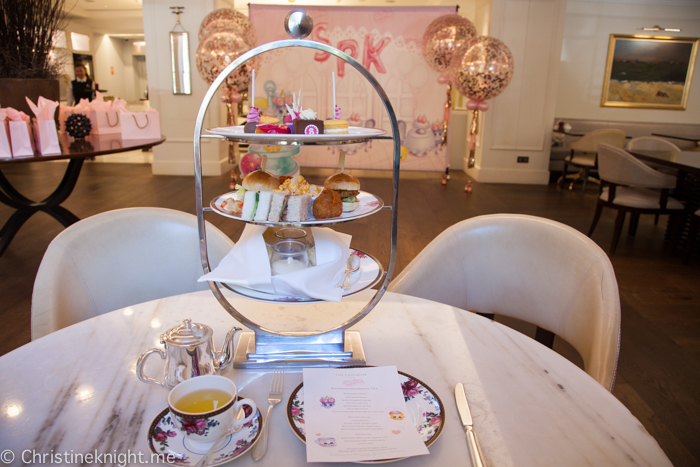 The Shopkins Afternoon Tea is only available on Sunday 18th November
Session 1
12pm-2:30pm
Session 2
3pm-5:30pm
The Shopkins High Tea costs $45 per child includes Shopkins gift and activities and $80 per adult. $95 per adult includes glass of sparkling on arrival.
To make your booking or for any enquiries please contact Langham Service on +61 (2) 9256 2222 or email tlsyd.rsvn@langhamhotels.com
http://www.langhamhotels.com/en/the-langham/sydney/offers/dining-offers/shopkins-afternoon-tea/
We were hosted by The Langham Sydney. All opinions and cake-eating antics are our own. We genuinely love high tea at The Langham.