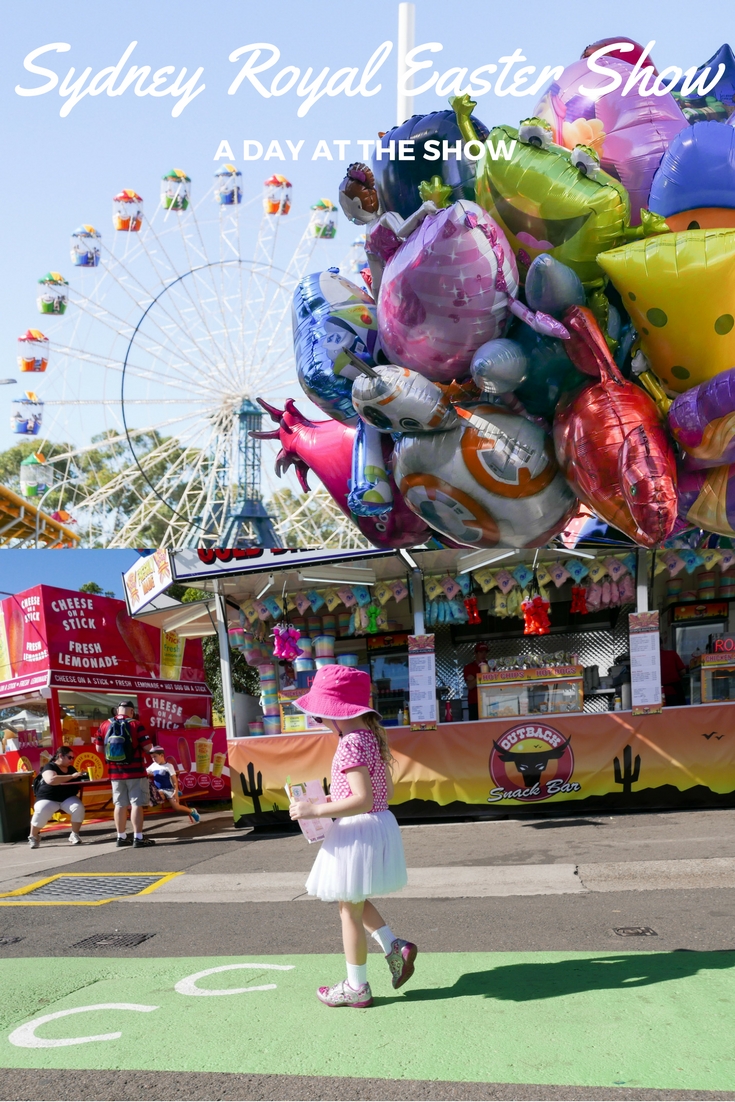 It's our third year bringing Cheese to the Sydney Royal Easter Show, and I've lost track of how many times I've been since I was a kid. It's a highlight day for us every year and previously I've written my tips for the show with a little kid.
This year I wanted to share how we spend our day at the show.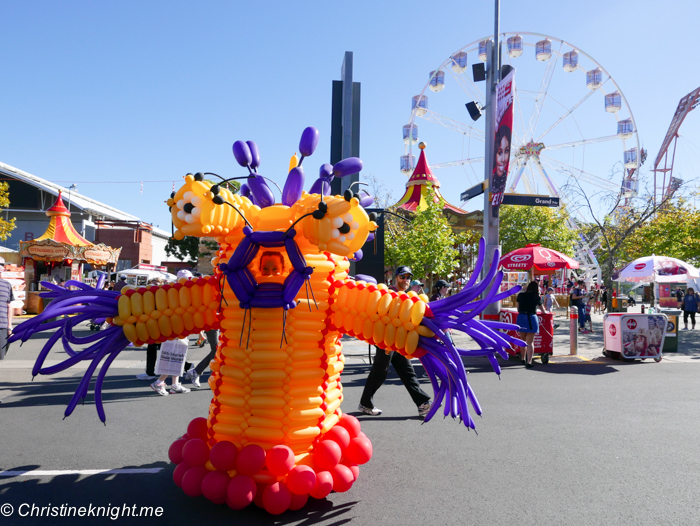 9:15am: Park in P8. I wish we could manage the public transport because it's included in the ticket price, but it's just too hard from the area where we live. The $25 parking fee is a necessary evil for our day at the show, and it always makes me happy at the end of the day when I have a super tired kid to know we can just jump in the car and get home quickly.
9:20am: We already have our tickets (buy them in advance for a bit of a discount) so we head in. We try to get into the Woolworths Dome to use the bathrooms but discover everything is still closed! It's the first year we've been too early to get into anything.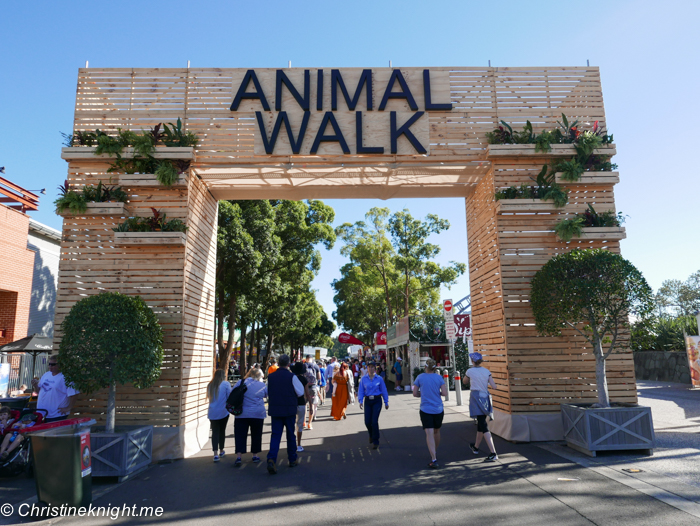 9:30am: The Animal Walk is a fave of ours so we head there first, and line up at the first animal pavilion waiting for the doors to open. We stroll past the sheep and into the chicken pavilion where we make a beeline for the freshly hatched chicks in the incubator. Cheese wants to pat a chick, but it doesn't open until 10am so we tell her we will come back and keep going.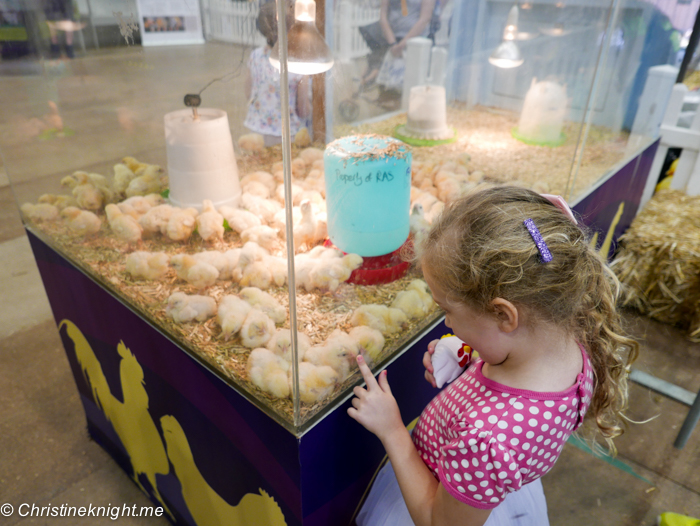 9:45am: In the goat pavilion we stop to watch the goats being judged. "Why is one better than another" Asks Cheese. "Why did that one win?" We have no idea about the intricacies of goat judging so we do what any good parent does and ask her, "Why do YOU think that one won over the rest?".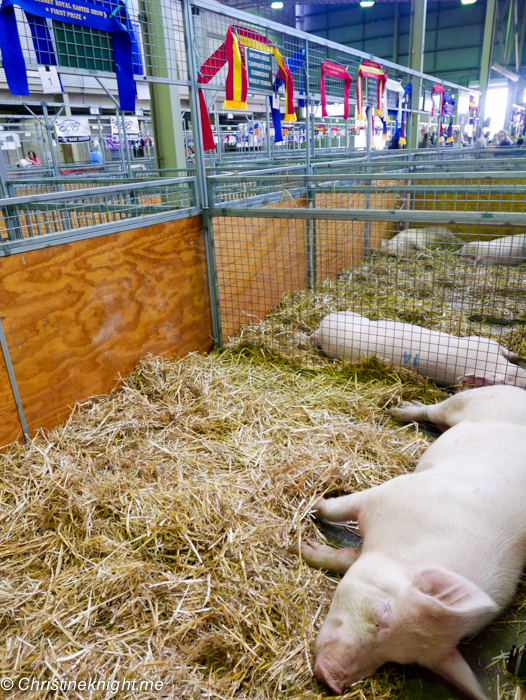 9:50am: In the pig pavilion we are a few minutes early to pat the baby pigs. The benefit of being early – it's so empty everywhere! The downside – nothing's open! We wait for the pigs since it's only 10 minutes.
10am: Pat a pig time! We sit down and a herd of piglets charge towards us in search of food.They like to nibble on shoes and bare toes, so be quick with your feet.
10:15am: We enter the Woolworths Food Farm pavilion. It's one of Cheese's favourite places at the show. We spend the next hour and 15 minutes grinding wheat, shaping dough, watching pies back, "pollinating" flowers, climbing into the giant tractor and playing with the farm toys. She doesn't want to leave. I buy a cored apple in a coil ($2) and a pear smoothie ($4) for us to share.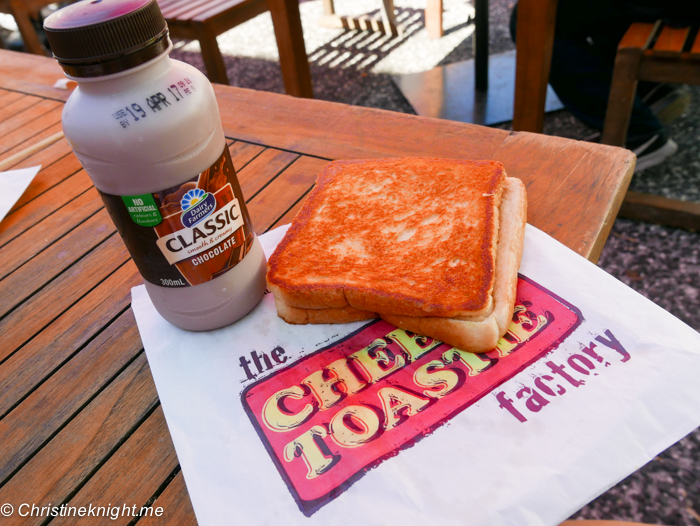 11:30am: It's off to meet the in laws for lunch near the Woolworth Fresh Food Dome. They've managed to grab a prime table in the shade while they were waiting for us, which is a massive score. We all have the same meal for lunch – a cheese toastie and flavoured milk ($5) and corn on the cob ($5). Alec buys a $5 coffee then moans about the price.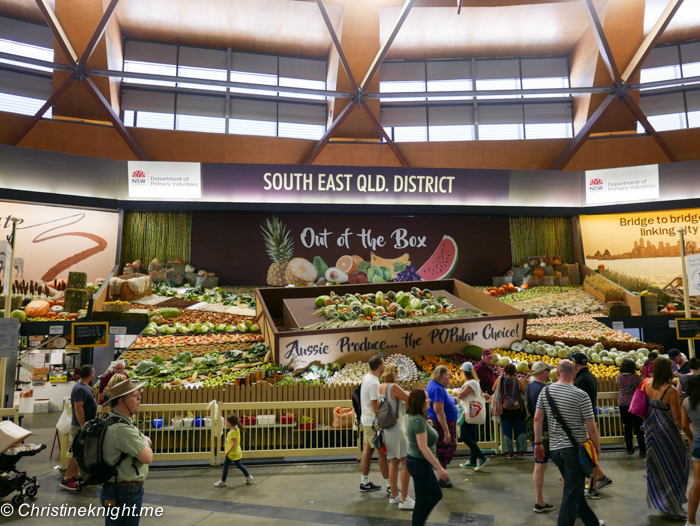 12:15pm: Cheese gets restless so we head off to explore more and leave her dad chatting with the grandparents. We head into the Woolworths Fresh Food pavilion to check out the fruit and vege displays. Cheese can't quite believe that they're all made from food and you can eat them.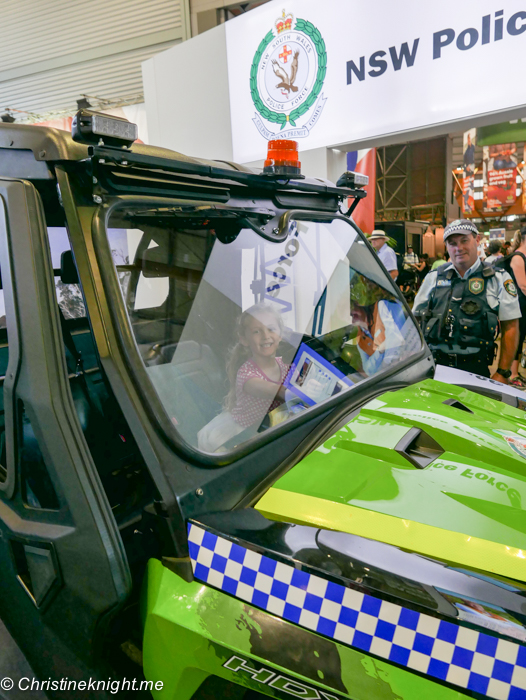 12:30pm: We walk into the Home, Garden & Lifestyle pavilion next door. Cheese climbs into a police car with glee then makes a beeline for the Artline stall where we stock up with textas each year. It takes a good 15 minutes to get her to finish her drawing so we can leave. We keep walking through the new Pet Pavilion next door but we can't see much. The cats are behind a high barrier and a net. Better for the cats' stress levels I'm sure, but hard for us to see anything.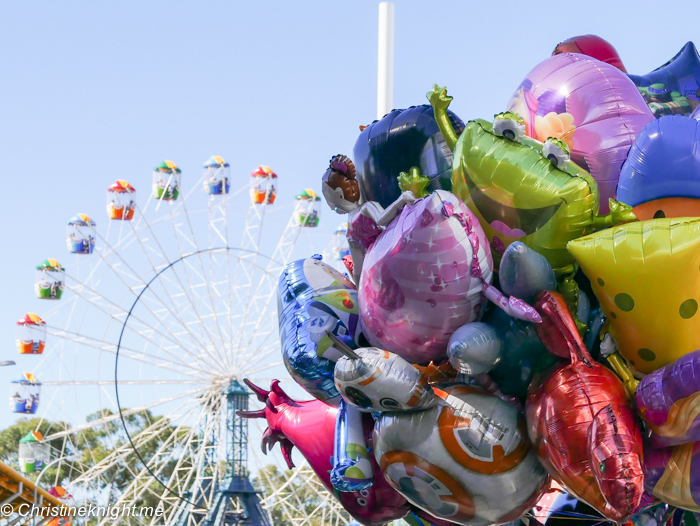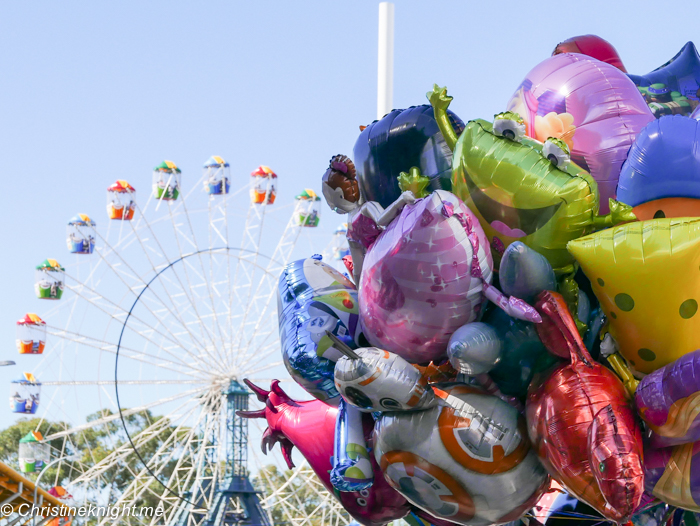 1:15pm: We exit the pavilion and I see what I think is a great photo opp with balloons and the ferris wheel in the background. I beg Cheese to stand in a spot while I take photos and she counters me with a bargain: "I'll stand in front of the balloons if you let me have one." I say OK without checking the price, then spend the rest of the day hauling around a $20 BB8 balloon that attacks people we walk past thanks to the strong breeze.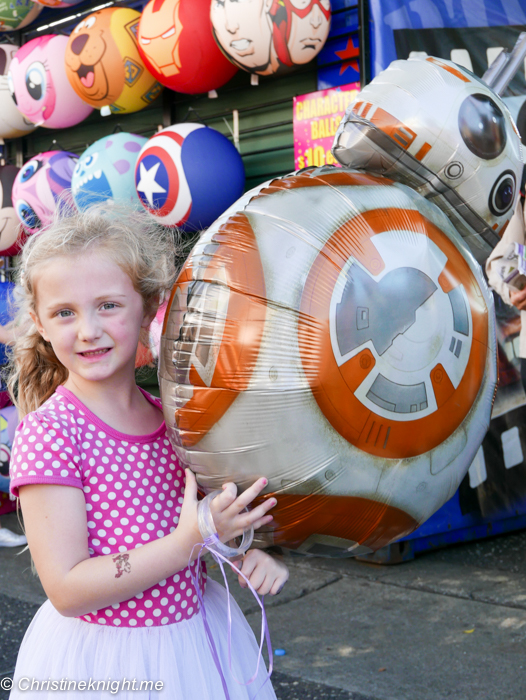 1:30pm: We head back to the Pat a Chick station in the chicken pavilion and line up. There's lots of lining up this year as it seems like every Sydneysider also thought today would be an excellent day for the show. The chicken display is put on by Steggles and they ply us with merchandise. It's a bit awkward being vegetarian and just wanting to pat a chicken, not eat one.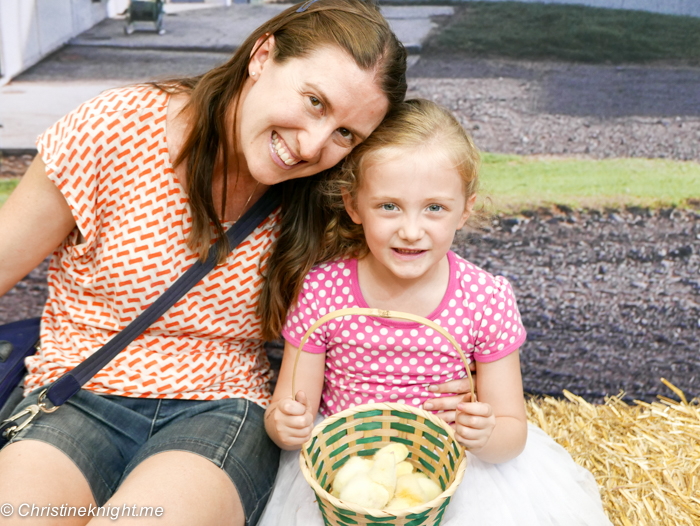 1:45pm: We finally make it to the front of the line and meet the chicks. They're only three days old and cheeping like mad. I hope we don't freak them out too much. The photographer is super kind and not only takes a really lovely photo on her own camera that gets emailed to us and sent to their print station for free printing but also takes one on my camera too. You can never have enough photos with everyone in them.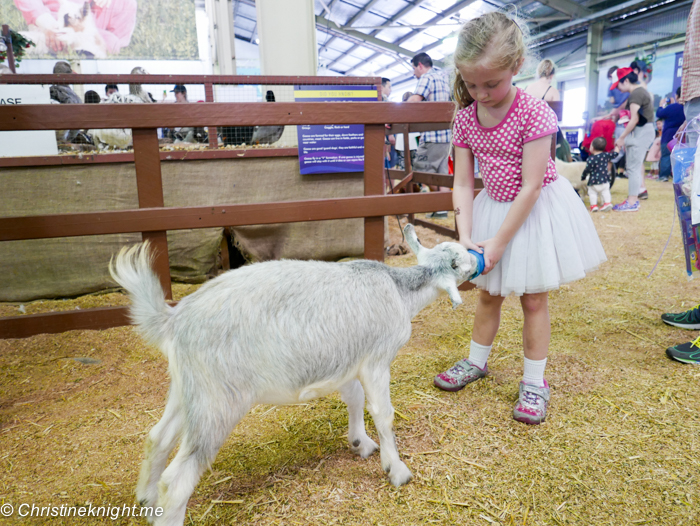 2pm: Lining up again, this time at the Farmyard Nursery. The line moves quickly though and we are in the nursery buying a $1 cup of animal feed before too long. The pavilion is absolutely jam packed with people – so many it's literally impossible to move without running into people, sheep, goats or chickens. The big goats are aggressive and freak Cheese out. We run interference for her so she can feed the smaller animals that don't headbutt.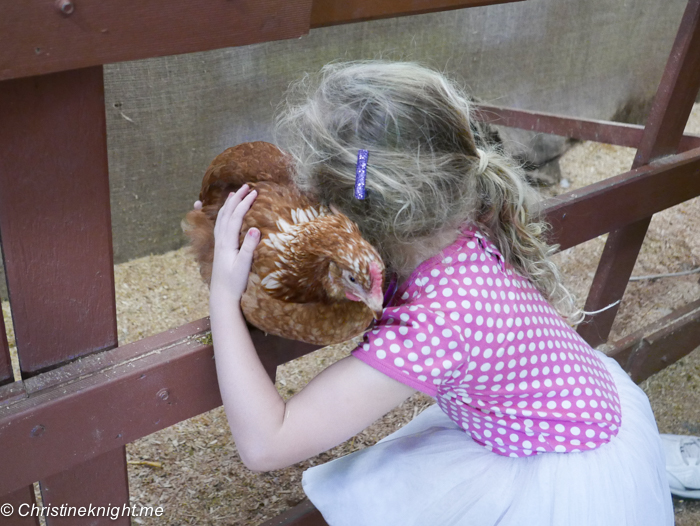 Cheese just wants to hug everything – no goat or chicken is free from her hugs this year, even though I'm sure they wish they were.
2:30pm: We keep going on the animal walk through the dairy pavilion and to the horses. We see cute calves, cows being blowdried and and majestic horses being led past.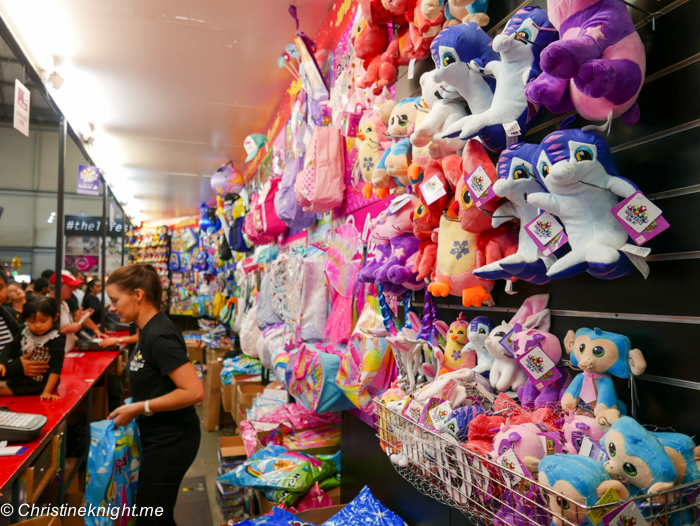 3pm: It's showbags time! The pavilion is teaming with people and I pick up Cheese so she can see the displays above the heads. I know it's a better idea to get the showbags first and then dump them in a locker for the day, but the anticipation of the show bags being at the end of the day is just too much fun to do it any other way. We have a two showbag rule each year. Cheese likes the character bags and chooses two very expensive bags filled with various types of plastic and paper: The Littlest Pet Shop ($28) and the Tokidoki bag ($26).
3:30pm We sit down at the dog pavilion for some rest. Cheese empties out her showbags to play with while we watch the dogs being judged. It's a blissful half hour watching shiny dogs trotting past. We need more food so delve into the snacks that I had brought with us – pistachios and Vita-weats with Vegemite, and drink our water that we brought in refillable bottles. It's crazy hot so I buy us a Gaytime ($4) and chocolate Paddle Pop ($3) to share.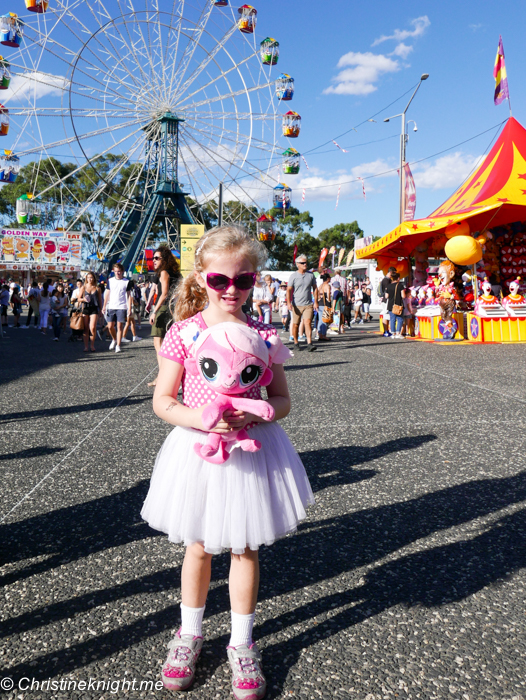 4pm: We are all shattered and decide to hobble back to the car. My Fitbit tells me I did about 11K steps but honesty it feels like more! We've spent the whole day here and I still feel like there is more to see than we were able to get around to.
4:15pm In the car we are happy we forked out the $25 for an easy trip home. Cheese says, "That was the best day I've ever had!" which makes the sore feet, empty wallet and crowd navigating all worth it.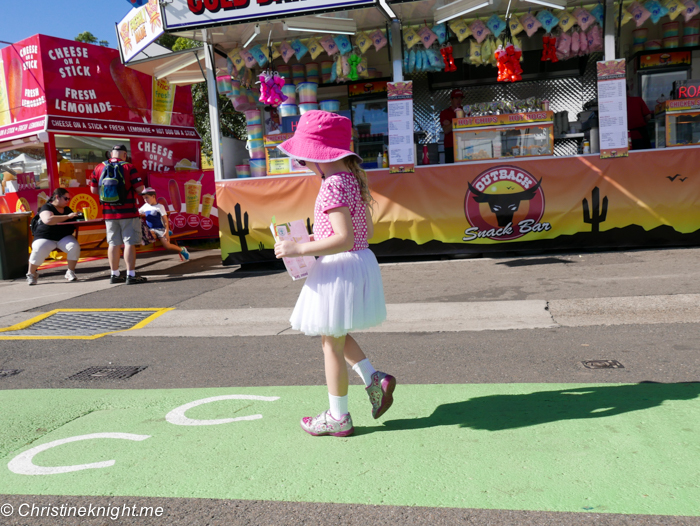 The Sydney Royal Easter Show is on at Sydney Olympic Park until Wednesday, April 18, 2017.
1 Showground Rd, Sydney Olympic Park
Online
We received media passes to attend the Sydney Royal Easter Show. All opinions are my own.