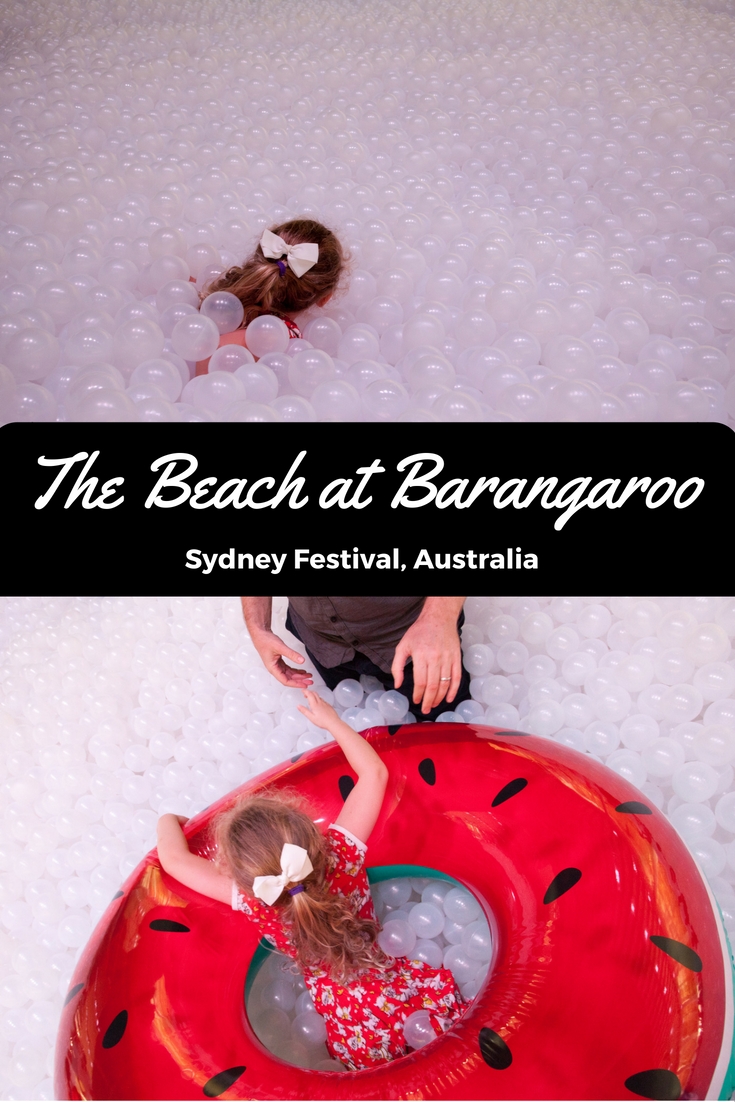 This summer in Sydney, you can visit a beach where you won't get a sunburn or sand in your cossies. For the first time in Australia, The Beach, an interactive art exhibition, is available for Sydney-siders to play in an ocean made up of 1.1 million recyclable polyethylene balls, gently lapping against a 60-metre wide shoreline free of sand.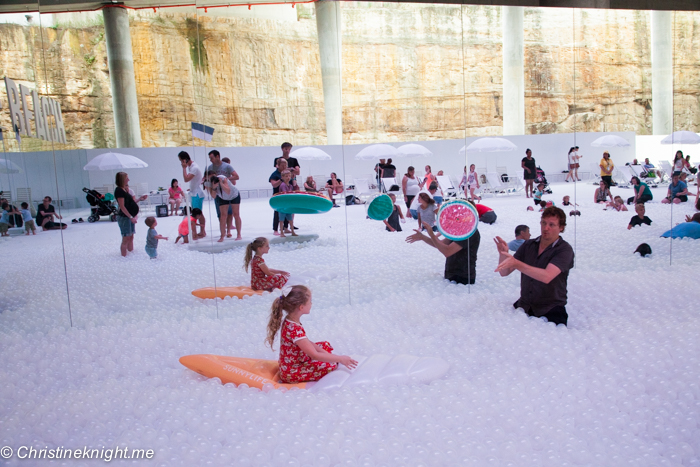 The Beach is the creation of Snarkitecture, a New York-based art and architecture collaborative practice, whose name is drawn from Lewis Carroll's The Hunting of The Snark, a poem describing the "impossible voyage of an improbable crew to find an inconceivable creature." In its search for the unknown, Snarkitecture creates architectural-scale projects, installations, and objects.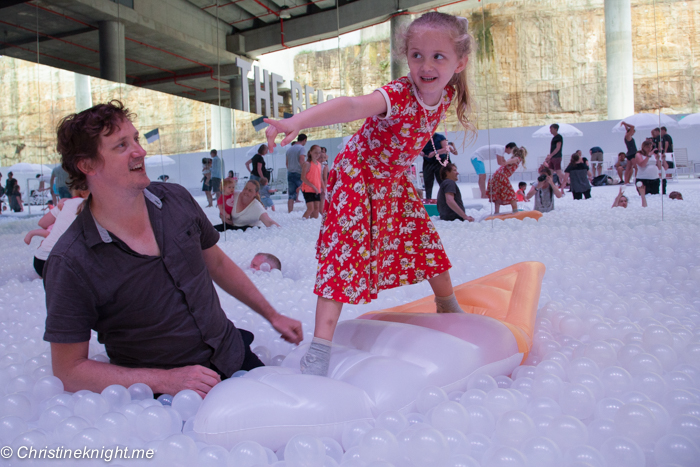 By transforming the familiar into the extraordinary, Snarkitecture makes architecture perform the unexpected – which is exactly what we experienced at The Beach.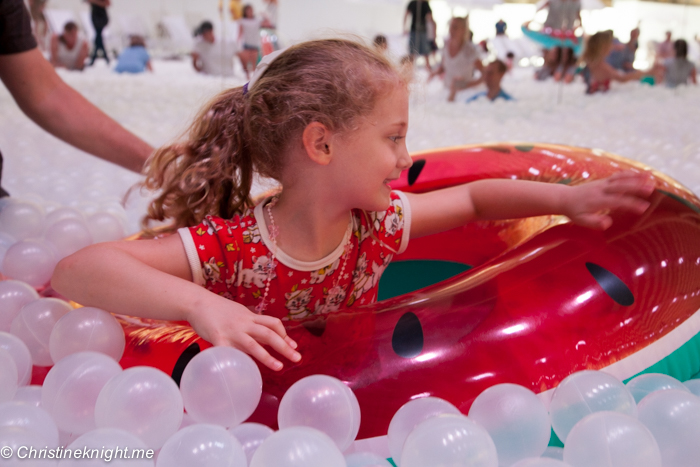 To take a dip in The Beach, you can either do what we did, which is visit between 10am and 5pm and get free access, or skip the queues with one of their paid ticketed sessions. Every morning there is an all-ages ticket session from 9am-10am as well as an 18+ only session on Friday and Saturday nights.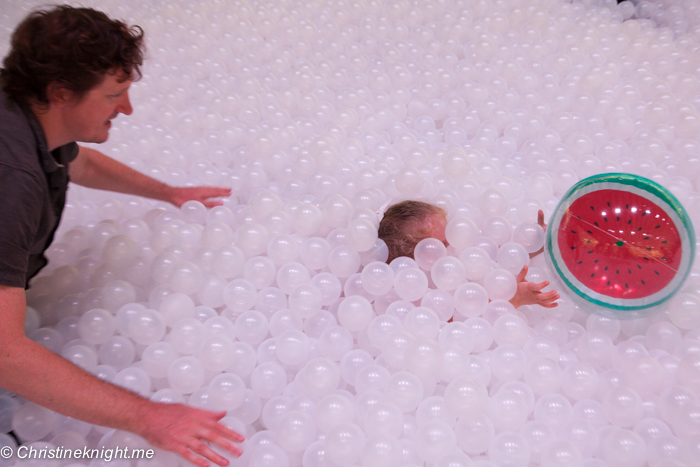 We decided to arrive at 9:20am on a Sunday and thought we might be the first people there – how wrong we were. The line already had a lot of people in it, but we took turns waiting in the line and taking Cheese rock climbing around the Cutaway so time went fast.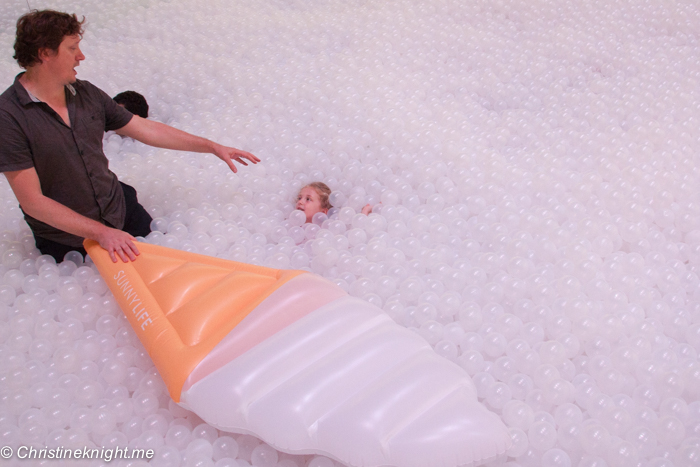 At 10am on the dot we were ushered in and made a beeline for the area next to the shallow end. We had hoped to grab a giant floatie but sadly were too late. You are permitted to bring your own, but who can fit a huge flamingo on the train? People tended to latch on to the equipment and not let it go even when they'd stopped using it, so I had no problem asking someone who had finished playing with the one they'd held on to for a long time if we could have a turn, and similarly was happy to pass ours on to other people when we'd had one for a good amount of time.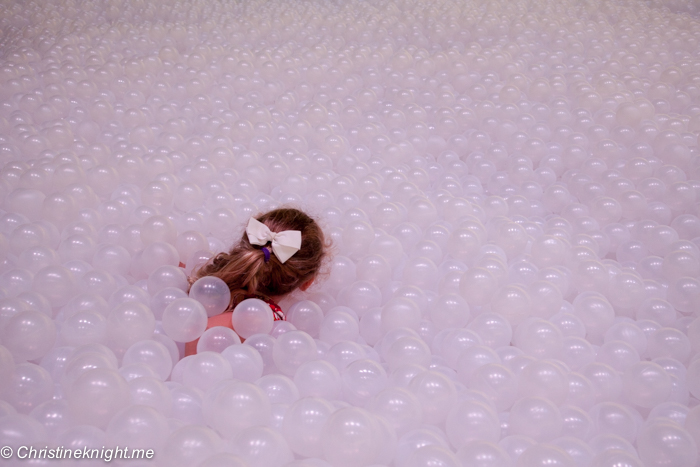 At first leap in, the ball pit was somewhat scary for Cheese. At its deepest the ball pit is one metre deep, which is pretty much as high as she is. Initially it was a frightening experience for her to sunk under the balls and not be able to get back up again, but after she realised she wasn't going to get hurt if she was swallowed by them, she started to really have fun and didn't want to leave.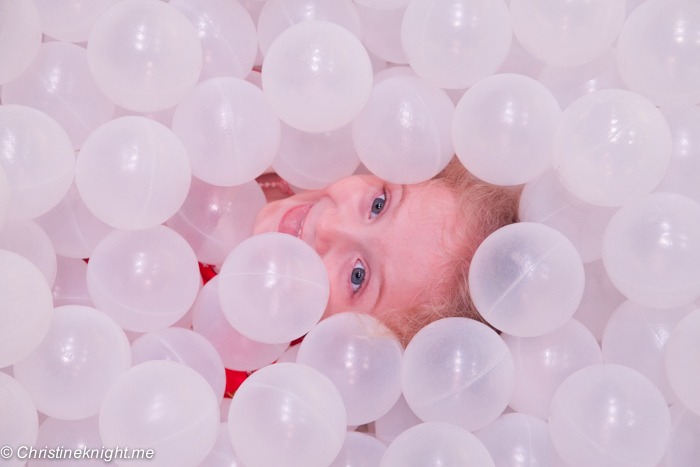 The ball pit was a lot more work than I had expected it to be! Once your feet are swept out from underneath you, it takes a massive amount of effort to stand back up and haul yourself out. I would say that's my gym work out done and dusted for the entire week.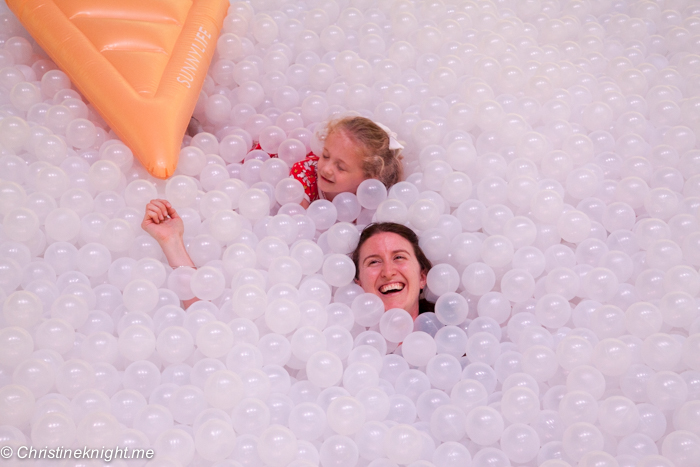 We had the most fun jumping into the pit both front ways and also backwards, and playing catch with the giant blow up balls. Cheese tried surfing on a huge ice cream cone floatie and found a bucket to fill and move balls around, including dumping them over her head, our heads, anyone's heads.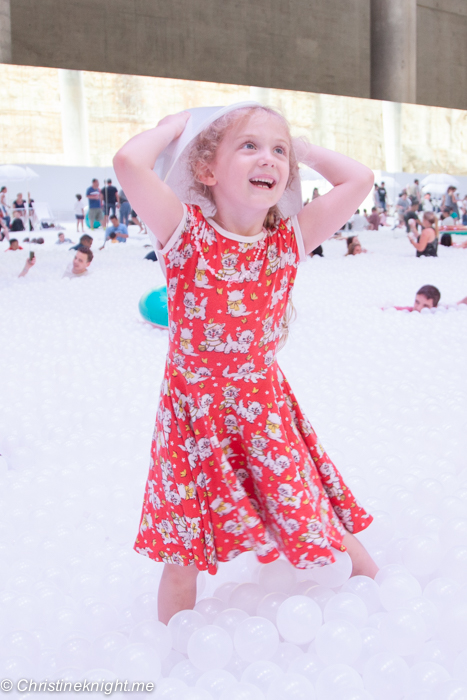 There is a great little shallow end at one side of the beach that is perfect for wheelchairs and little kids. It's nice for small ones to be able to sit and play with the balls without sinking to their heads, which is what happens in the main area.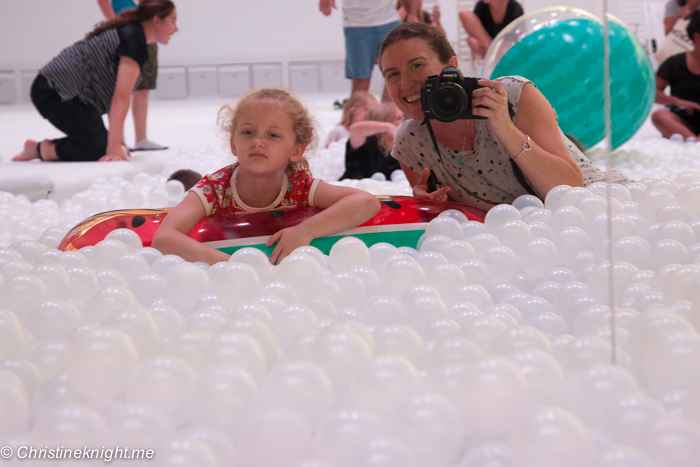 Tips for visiting The Beach
If you lose something in the ball pit you will have to wait until they drain it at the end of Jan to retrieve it, so leave all valuables like phone, keys, loose jewellery in the buckets provided.
It's pretty hot in the ball pit, and sweaty work getting in and out. Take lots of water and leave it with your bag on the beach.
If you arrive early for the first session you will wait the least amount of time during the day as once you are in you can stay as long as you want. Most people stay around 45 minutes, but we stayed for an hour and a quarter.
There is no pass to leave and return, so go to the bathroom beforehand.
There are baby changing facilities available in the restrooms outside, opposite the elevator.
You can take your phone/camera into the ball pit but be very careful not to drop it. I would suggest taking a camera with a neck strap.
There is a coffee cart and food vans outside for before/after snack attacks.
Strollers must be left in the designated parking area outside The Beach.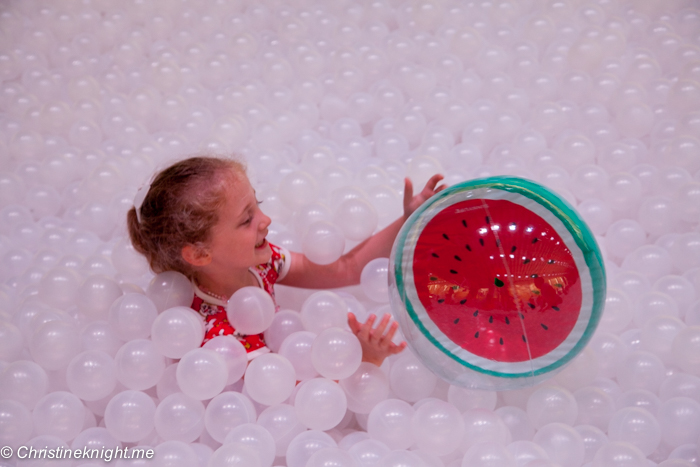 Final important Q&A thanks to the Barangaroo website
ARE BALL PITS UNHYGIENIC?
GermBLOCKTM antimicrobial balls have been used to create The Beach. This safe, powerful agent provides antimicrobial protection for everyone against 50 different germs and bacteria for the life of the ball. It cannot be rubbed, scrubbed, or wiped off. Each ball is moulded from 100% recyclable nontoxic materials.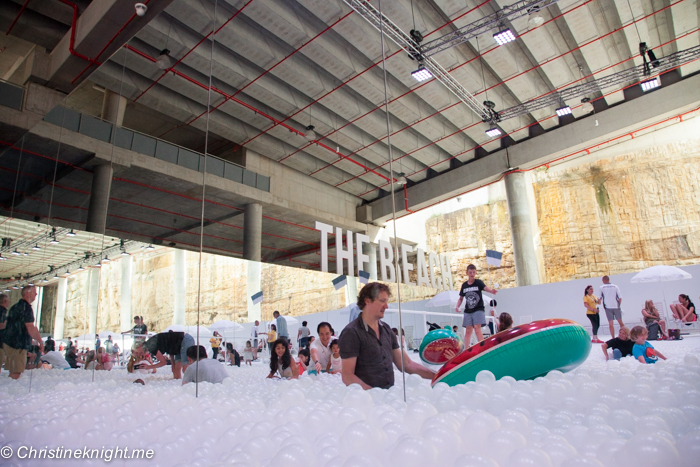 CAN THE BALLS BE RECYCLED?
Yes, in fact The Beach balls have already been recycled once thanks to the generous assistance of the Vinik Family Foundation and The Beach Tampa. The Sydney Festival is working with local plastic recycling services to make sure every single ball is recycled after the event. They are composed of a nontoxic Low Density Polyethylene (LDPE) which makes them a "Type 4" Plastic for recycling purposes.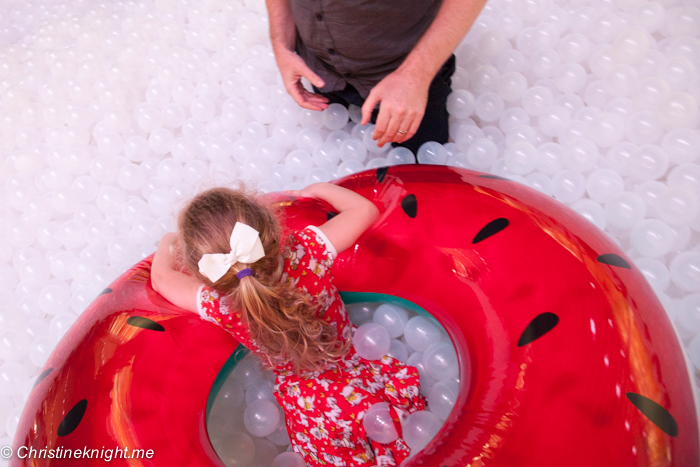 ACCESS
The Beach provides wheelchair access by way of an accessible ramp that can accommodate guests using a push or electric wheelchairs. Guests will have full access to all areas of the shore, out onto the piers and onto a shallow ball area along one of the mirrored walls. This area is clearly marked with white and grey flags. Between these flags, the balls have a maximum depth of 250mm. This will allow guests to remain in their wheelchairs and move around the balls. Check out this great blog post on Have Wheelchair Will Travel for more info.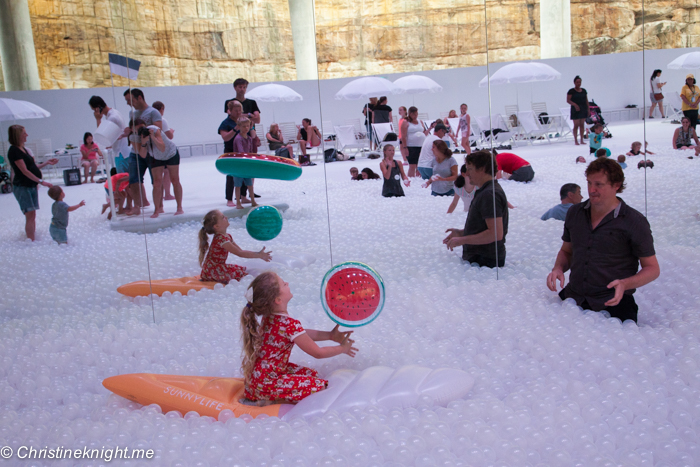 HOW DO I GET THERE?
There are entrances to Barangaroo Reserve from Towns Place, Hickson Road, Munn Street Reserve and Merriman Street. The entrance to the Cutaway is near Hickson Road and Nawi Cove.
Public transport: Catch the train to Wynyard and Circular Quay and walk (approximately 1.1km). The closest bus stops are on Hickson Road at the Nawi Cove entrance, and are serviced by routes 324 and 325, which depart from Town Hall; and route 311, which runs between Central Station and Argyle Street.
By car: An underground carpark is located off Towns Place. You can also park on Hickson Road.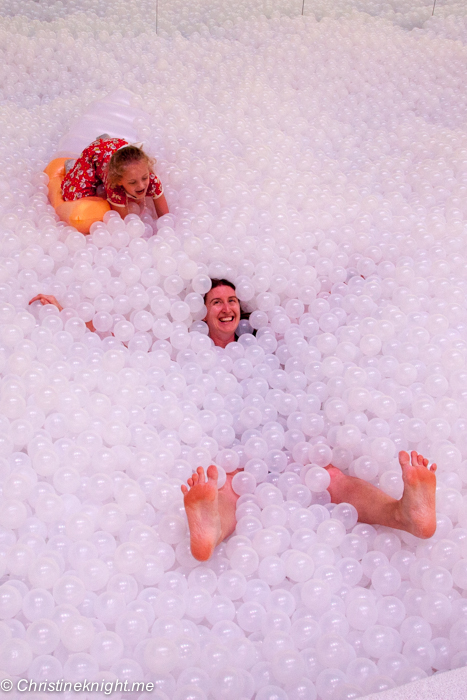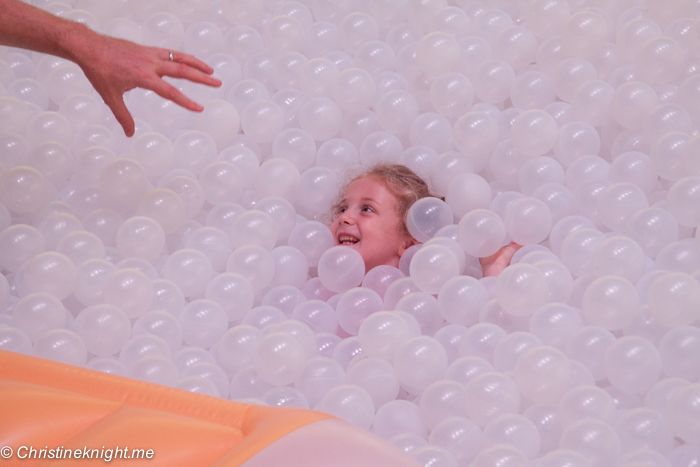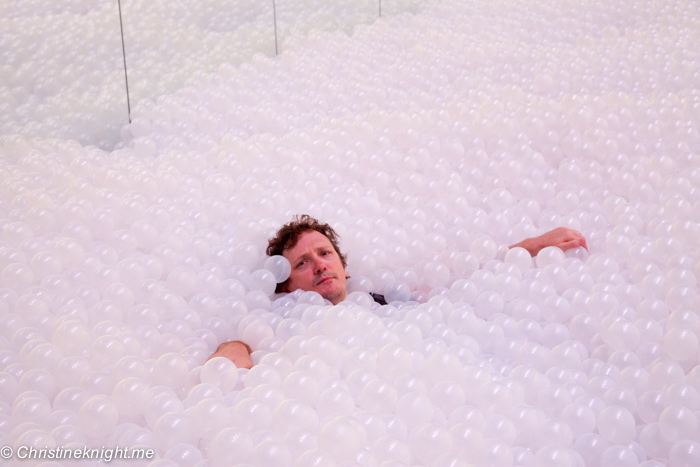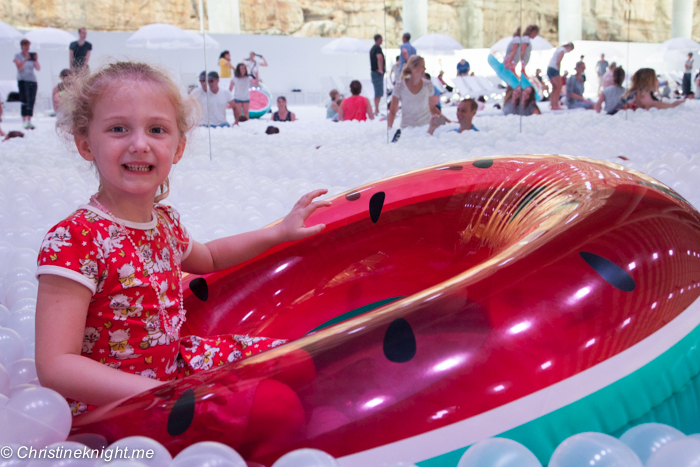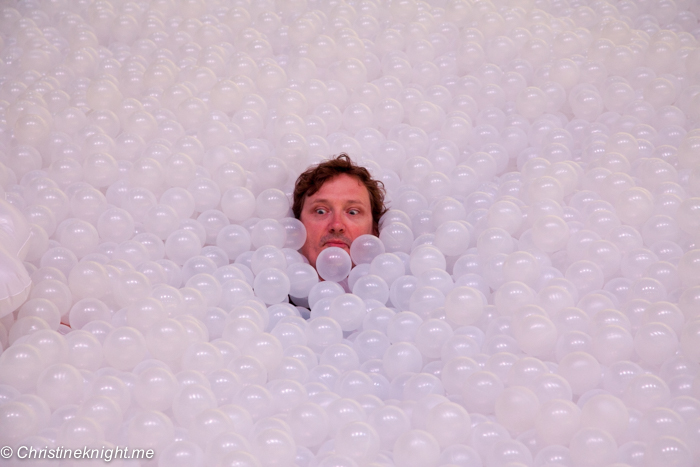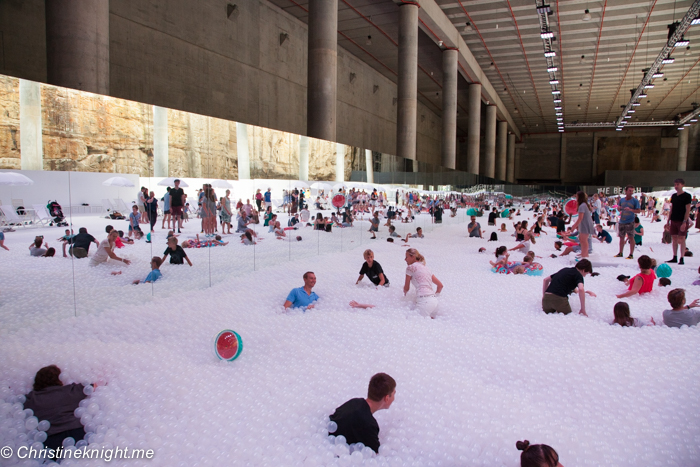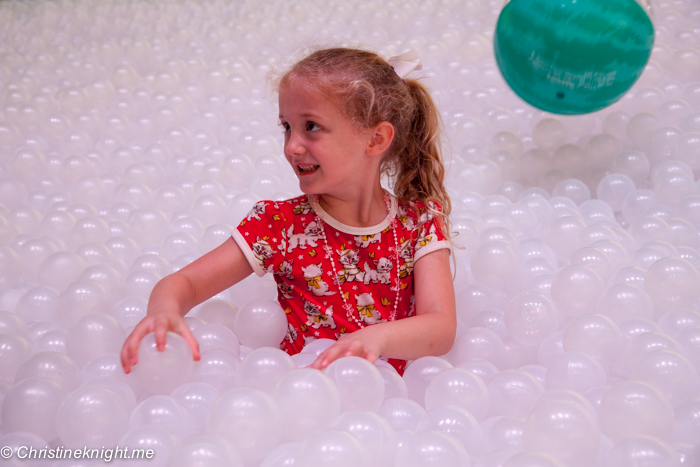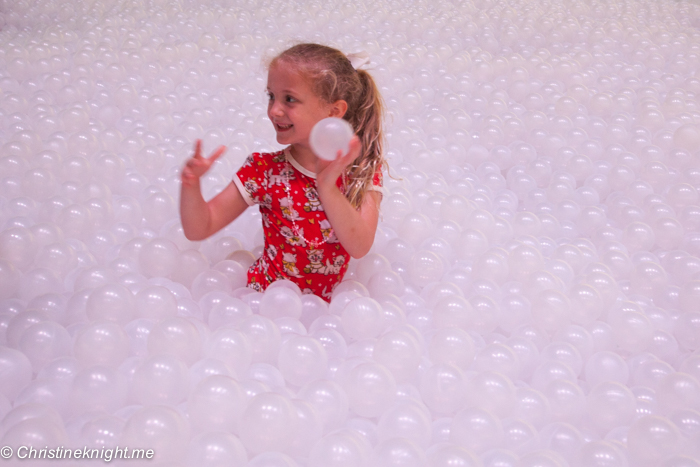 The Beach at the Cutaway, Barangaroo Reserve
Dates: 7–29 January, 2017

Free Entry
7–8, 10–15, 17–22, 24–29 January from 10am–5pm
Tue–Sun, closed Mondays
Last admission for free entry at 3:30pm
All Ages Ticketed Sessions
7–8, 10–15, 17–22, 24–29 January at 9am-10am
Tue–Sun, closed Mondays
Tickets only valid for stated session times
Cost: $15 pp
The Cutaway at Barangaroo Reserve
Hickson Road Entrance
Barangaroo 2000