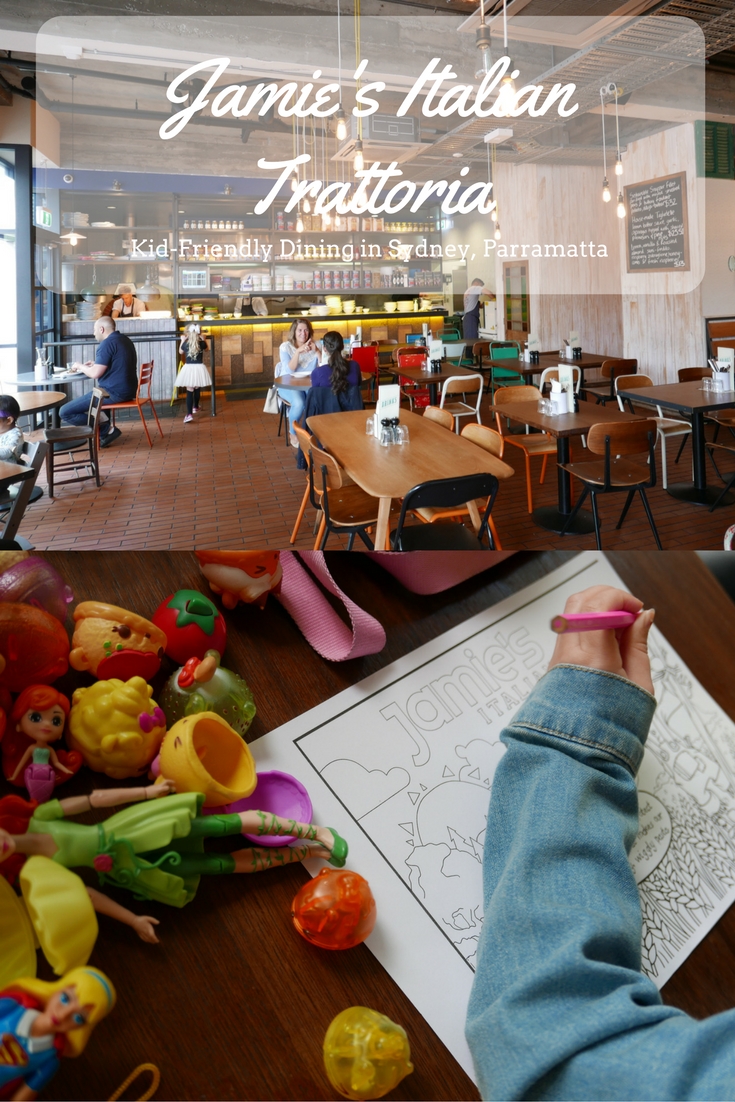 JAMIE'S ITALIAN TRATTORIA PARRAMATTA IS NOW CLOSED
This branch of Jamie Oliver's popular dining chain is an excellent spot in Sydney's South-West region for dining with the whole family. We've been to Jamie's Italian Trattoria Parramatta a few times now, for both date nights and family lunches, and always enjoy the food and ambience of the restaurant, as well as it's top location in Centenary Square, right next to the fountain.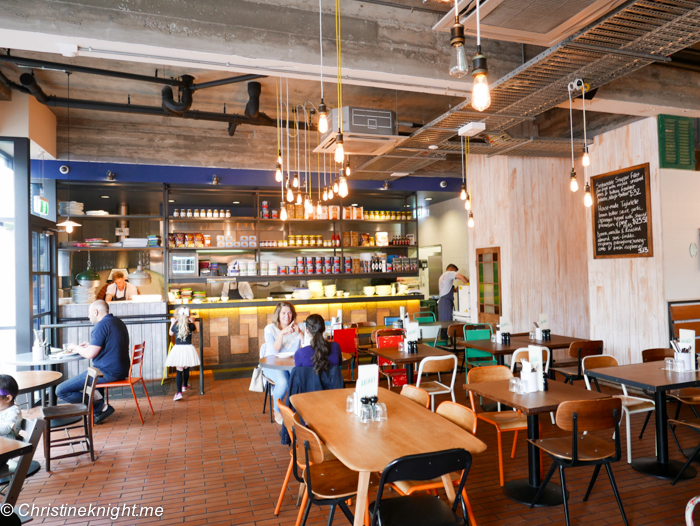 The first Jamie's Italian opened in Oxford, England, in 2008. Since then the brand has expanded to open more than 40 restaurants worldwide. The restaurant chain is designed to be accessible and affordable, providing "good food for everyone", as is Jamie's ideology.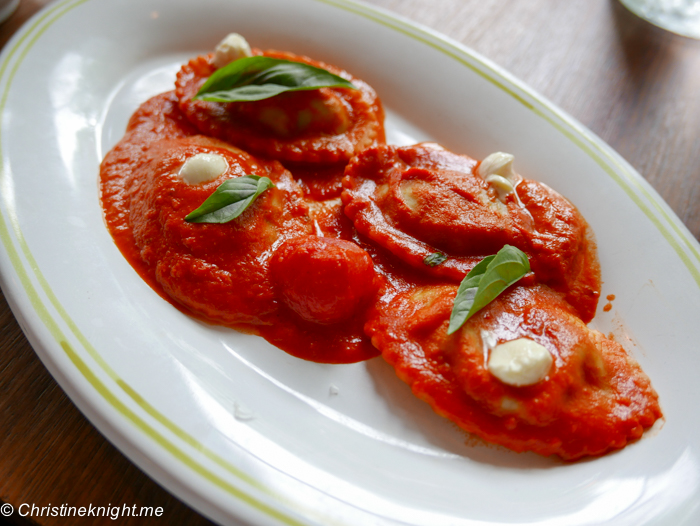 We most recently dined with our family and enjoyed a number of dishes: the Mezzaluna Caprese (Buffalo ricotta & spinach ravioli tossed through tomato sauce with torn mozzarella & sweet baby basil – while I ordered a small size, a large portion is $23.50), Turbo Rigatoni Arrabbiata (A fiery tomato sauce with garlic, basil, Scotch bonnet chillies, vegetarian pecorino & herby breadcrumbs – this was also a smaller portion, with the regular sized priced at $19.90), Italian Hot Pizza (Crushed tomatoes, buffalo mozzarella, spicy pepperoni & wild oregano, $24.50) and the Italian Steak & Fries (Flash-grilled prime beef steak with Italian-spiced skinny fries & rainbow slaw, $26.50).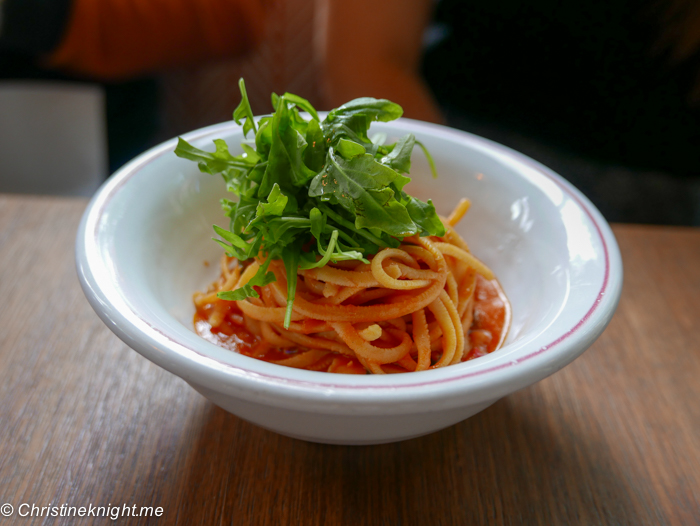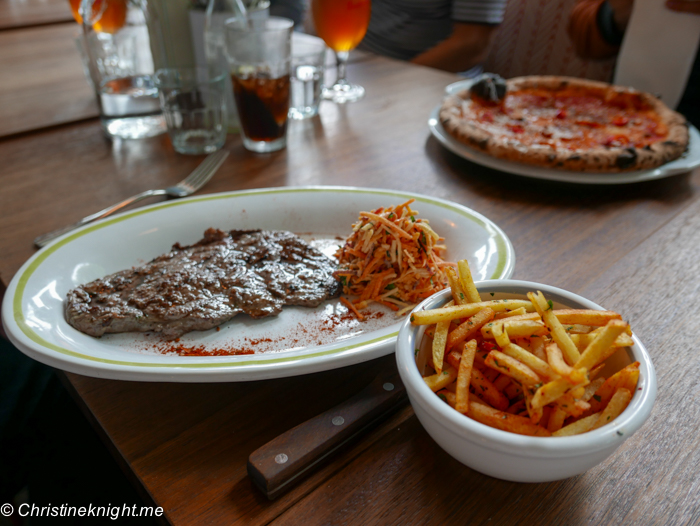 Jamie's Italian is renowned for their excellent kids' menu. We ordered the Secret Seven Tomato Pasta (Homemade curly wurly pasta in Jamie's seven-veg tomato sauce with pecorino cheese & crunchy, herby breadcrumbs).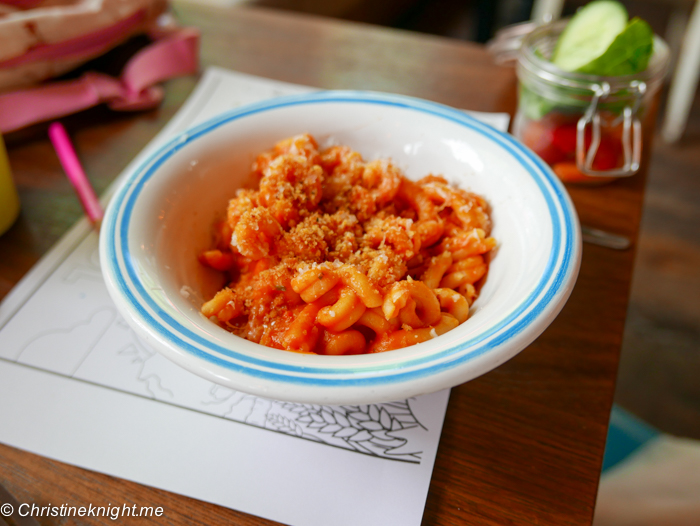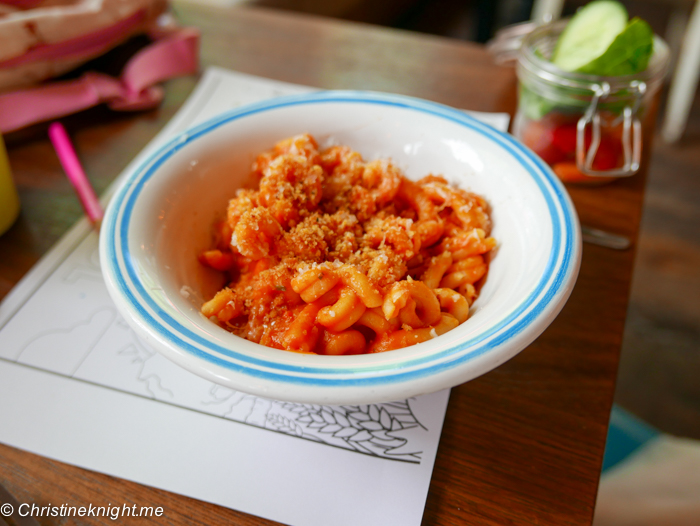 It's available in two sizes for kids of different ages and appetites and priced at $9.50/12.50. The meal came with a drink (my daughter chose milk) and the cutest salad. She was so delighted by how adorable the salad was that she actually ate it, which is a miracle for anyone who knows my vegetable-hating daughter.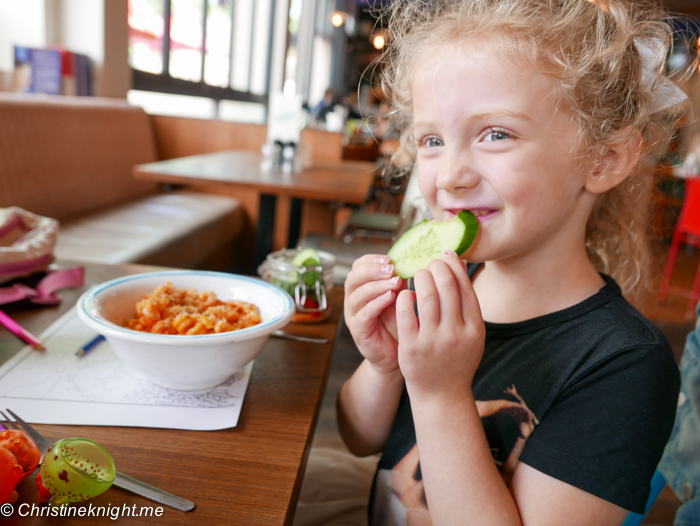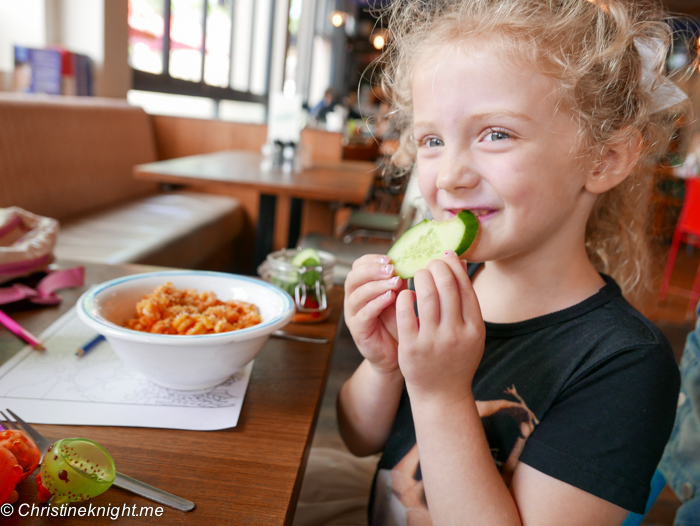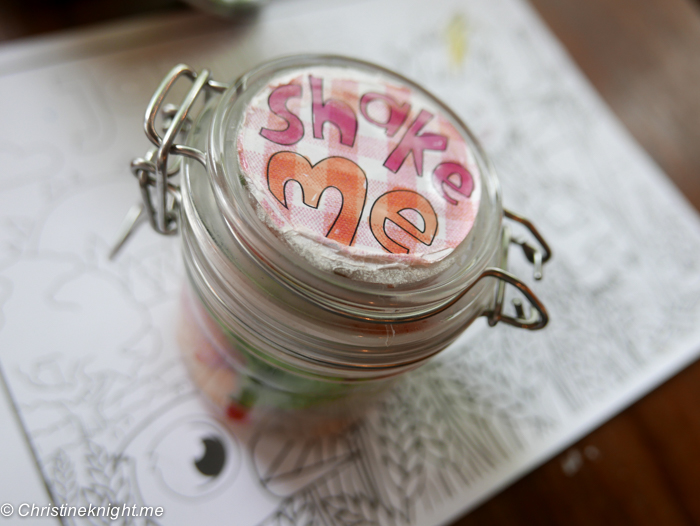 If you want to order dessert, which we didn't, they have some good and reasonably priced kid's options worth mentioning: Ice Cream or Sorbet ($2.50, served with an Italian cookie and chocolate sauce), Seasonal Fruit ($2.50), Gooey Chocolate Brownie ($5, with vanilla ice cream, crunchy toffee popcorn & chocolate sauce).
We booked a table for our large group well in advance, but the restaurant is quite large so I would think you would be able to waltz in and grab a table for a small group at any time without a booking.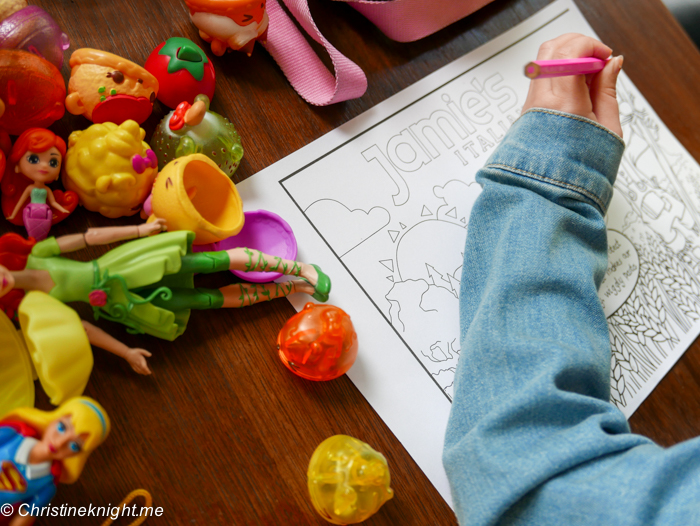 As well as the excellent kid's menu, Jamie's delivered the kid a really cute colouring in sheet and pencils. I really like when restaurants put in the little bit of effort to print their own colouring in sheets for some reason – maybe the effort shows they care that little bit more?
Anyway, while the salad was a hit, our fussy daughter wasn't overly keen on the pasta. It was clearly handmade and while I thought it was delicious she prefers the store-bought kind she's used to. I'll have to take her to more places serving freshly made pasta!
As noted in the list of dishes above, Jamie's Italian lets you order a small portion of the pasta dishes instead of the main size that is listed on the menu. I didn't know this was an option as it wasn't listed on the menu, but my cousin had dined there previously and let us know, which I appreciated. My Mezzaluna Caprese was excellent and I will order the larger sized version next time I go in, for sure. Creamy filling inside perfectly cooked pasta sheets. Delicious. The pizza didn't get the best wrap, with the recipient saying it was a bit bland despite being spicy. Hubbie had the steak and liked it enough to hover it before I could ask him any questions, so that was clearly a success.
There are many restaurants in Parramatta, several Italian ones too, but Jamie's Italian manages to hold its own among them, in part because of their excellent brand name, but also because the food is of a high quality while being decently priced. It will remain out go-to restaurant in the area, with and without our munchkin, but particularly with her, as it's one of the best kid-friendly restaurants we've found in Sydney.
Want to let the kids run off some energy afterwards? The Parramatta CBD River Foreshore Park is nearby.
Jamie's Italian Trattoria
Highchairs: Yes.
Stroller storage: Yes.
Easy access: Yes.
Change tables: Yes.
Kids' menu: Yes.
Jamie's Italian Trattoria Parramatta
Centenary Square, Church St,
Parramatta NSW
Phone: (02) 8624 6800
Prices: $$$
Hours: Mon-Thur 7:30am-11am, 11:30am-9:30pm, Fri 7:30am–11am, 11:30am–10pm, Sat 8:30am–10pm, Sun 8:30am–9:30pm
Get Directions