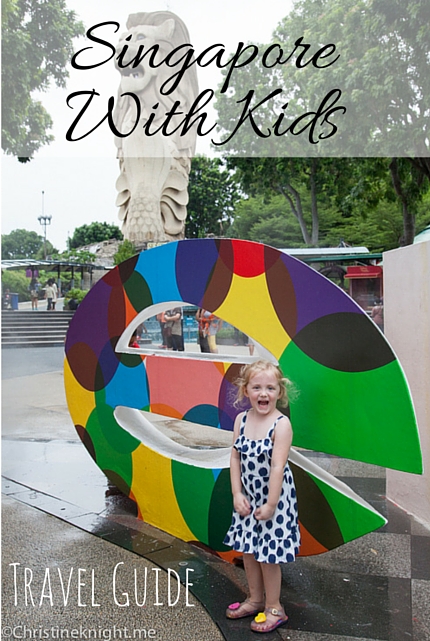 We had a brief three days in Singapore on our world trip. While we barely scratched the surface of what there is to see and do in the city, we do have some tips on things to do in Singapore with kids.
Things to do in Singapore with kids
If you have an extra day to spend in Singapore, this is a handy four-day itinerary.
Getting around
The best way to navigate Singapore is by taxi. They are very cheap and fast – but do not have children's car seats. We took a Boostapak travel booster seat with us (it doubled as a backpack) to use in taxis. While it's not as safe as a booster seats with a back or a five-point harness, it's better than the alternative of nothing. Or, if you're staying close to public transport, try that instead.
Climate
Singapore is hot and sticky all the time. Pack light clothes and a hat and sunscreen. The locals spend a lot of their leisure time in pools for a reason.
Where to eat
Singapore is extremely kid-friendly, including a lot of the restaurants. For ideas on where to eat out with kids, check out local Beverly Burgess' blog. She eats out with her two young children extensively.
Where to stay
This post has an excellent selection of places to stay as well as ideas on things to do with kids in Singapore.
What to do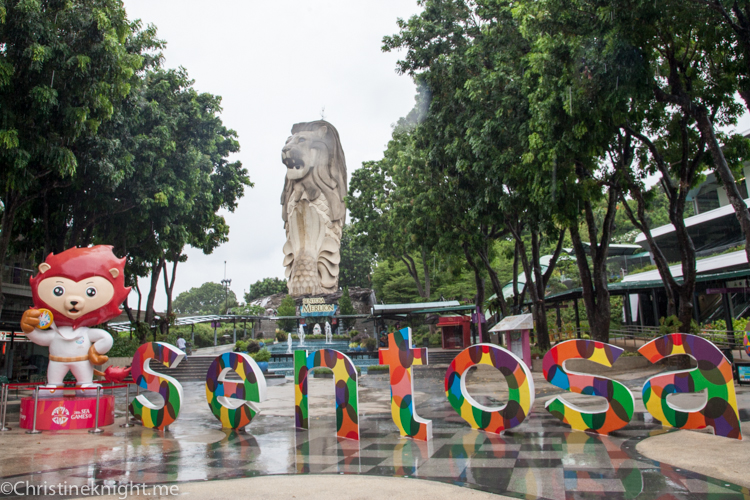 Sentosa
Sentosa Island is where Singaporeans go to play. The resort island is visited by around 20 million people each year, with attractions like beaches, golf courses, Universal Studios Singapore, Adventure Cove Water Park, Marine Life Park, the Merlion, hotels and restaurants.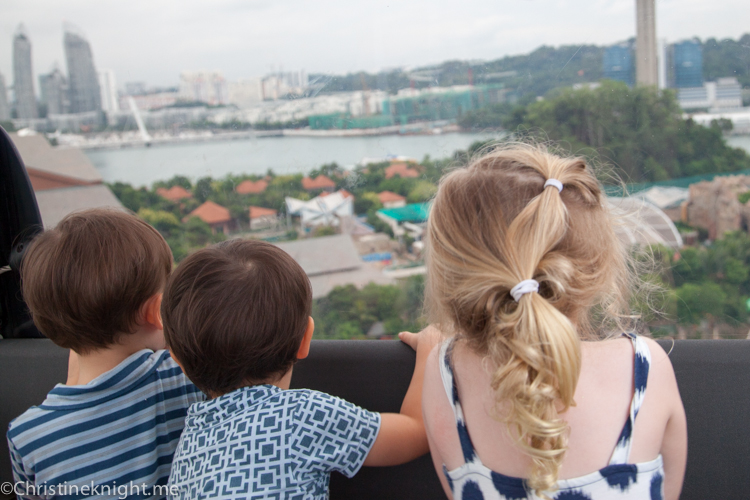 Sentosa can be reached by monorail or cable car from Mount Faber – the most scenic option. You could probably spend a good five days just on Sentosa with kids.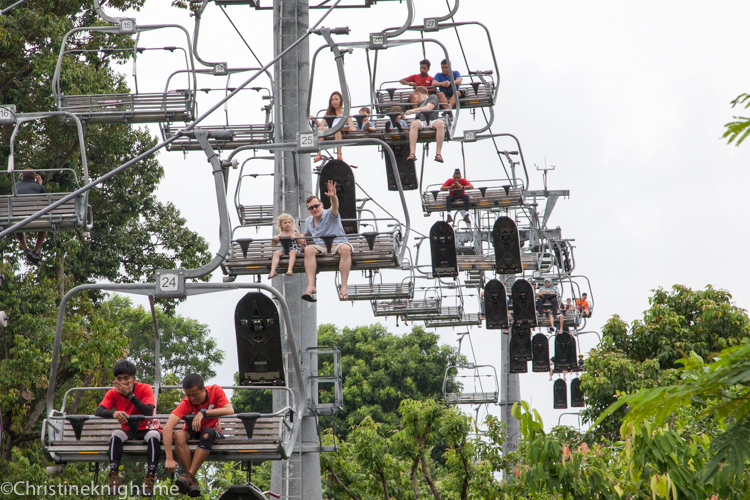 On our outing, we took the kids on the Sentosa Skyline Luge, which was a big hit. The luge ride goes downhill, then, after the ride, a chairlift brings riders, luge carts, and the helmets back to the starting point.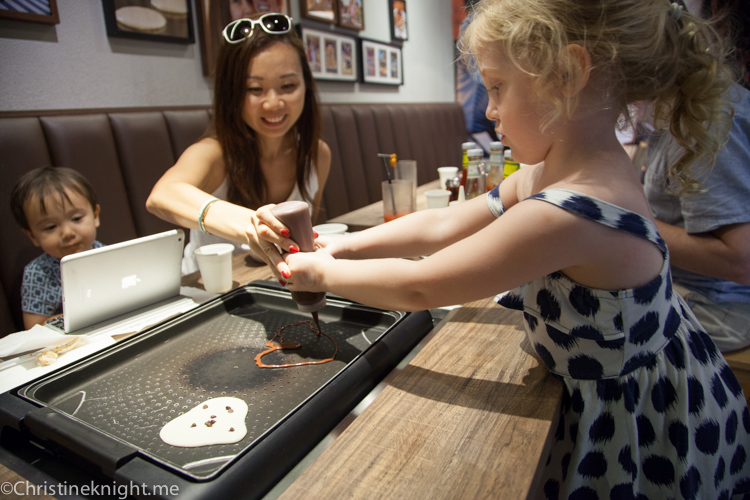 We ate at Slappy Cakes at Resort World Sentosa, where pancake mixture arrives in squeezy bottles so kids can make their own creative pancakes.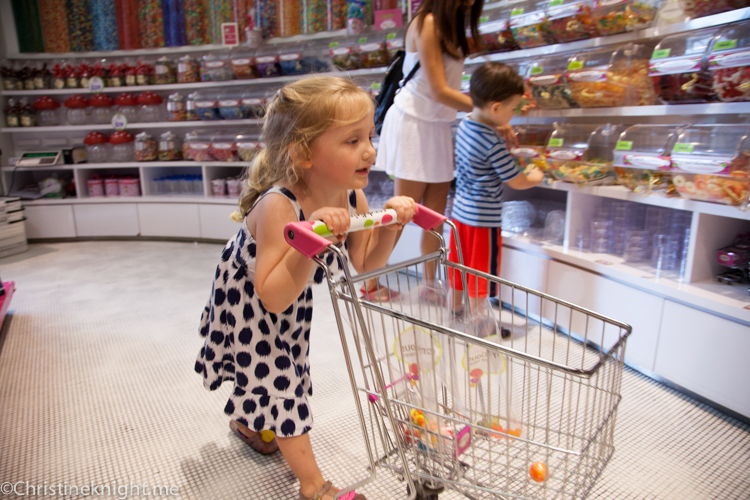 A brief stop at Candylicious sent the kids into a sugar frenzy. They pushed mini carts around the store and picked a few small items each to take home.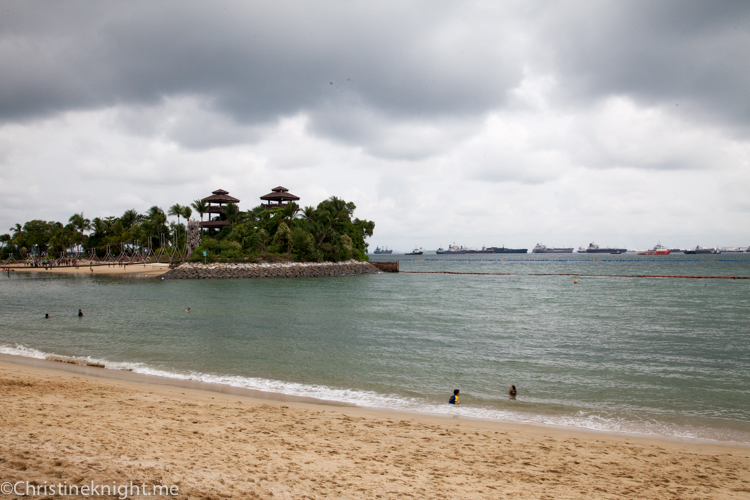 Cool down at Palawan Beach – the most kid-friendly beach on Sentosa. it can get very busy on weekends, but it's a great spot regardless. Clean bathroom facilities, shallow, calm water, play equipment, and a Playmobil area with toys the kids could play with.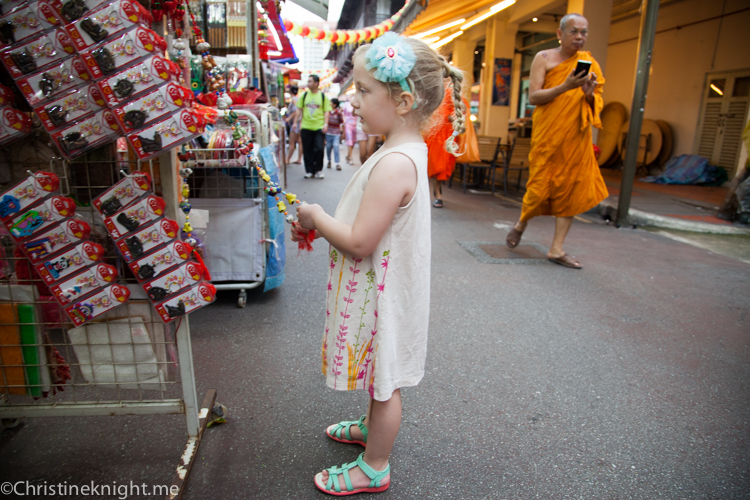 Chinatown
A walk through Chinatown is a colourful experience. Market stalls assault the senses and kids can choose cheap trinket souvenirs. You might have a monk-sighting like we did (check out his giant phone!), and try some local food.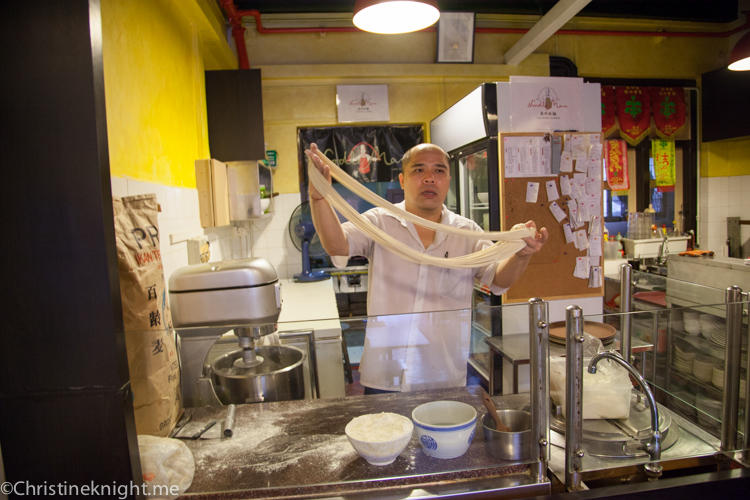 We stopped by the Noodle Man, renowned for his authentic, hand cut noodles.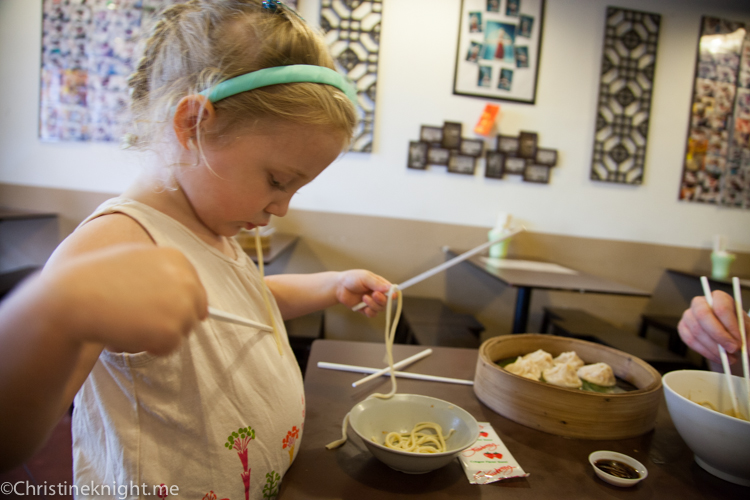 Kids can watch him make their noodles from scratch. They taste so good you'll order a second bowl.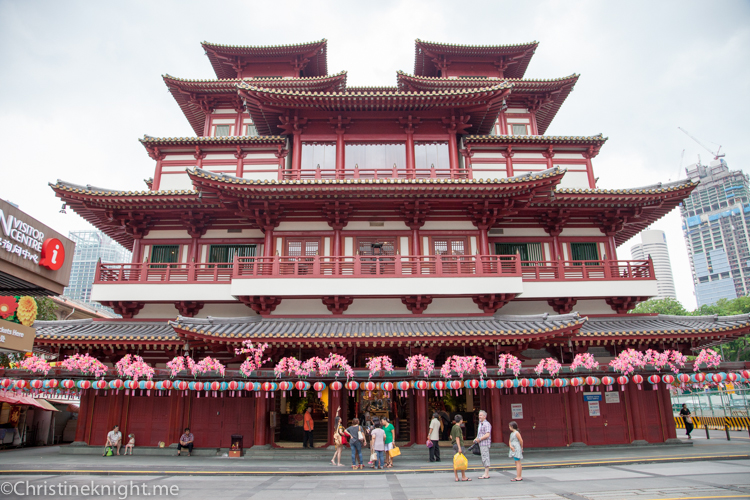 Buddha Tooth Relic Temple and Museum
A Tang Dynesty-styled Chinese Buddhist temple in Chinatown that gets its name from the Sacred Buddha Tooth Relic it houses. The temple overwhelms the senses with colour, incense and the chanting of buddhist monks.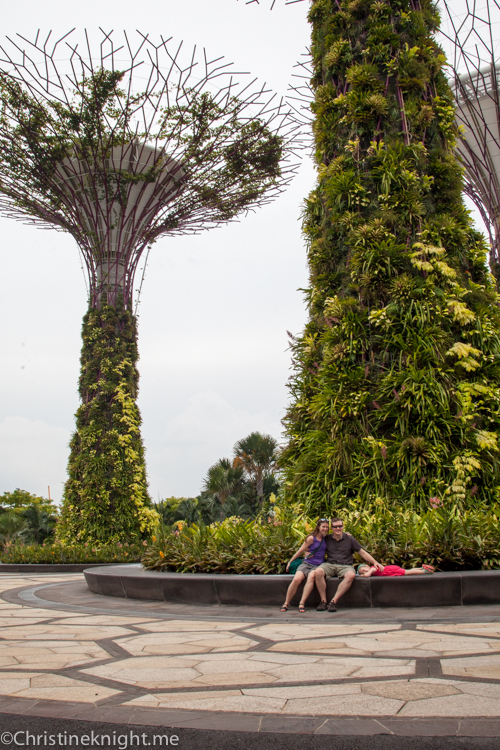 Gardens by the Bay
This attraction requires a full day to see everything. Consisting of three large garden areas, the main, and most popular, being Bay South garden, which houses the Flower Dome, Cloud Forest, Supertrees Grove and Children's Garden.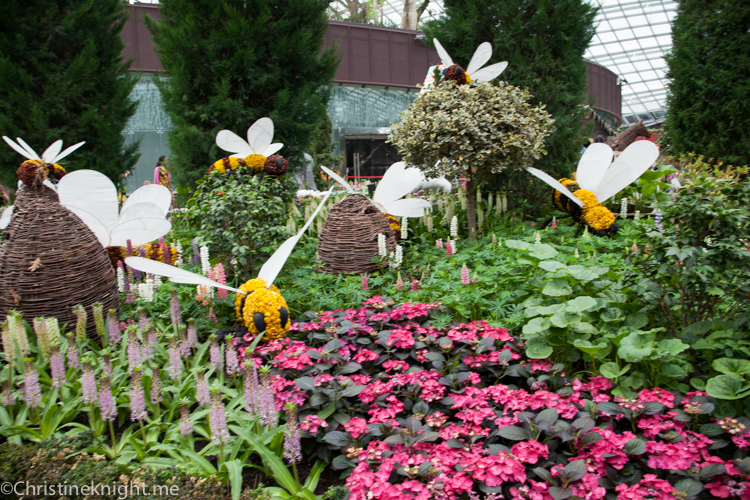 The Flower Dome is an indoor hothouse bursting with manicured gardens right out of a storybook.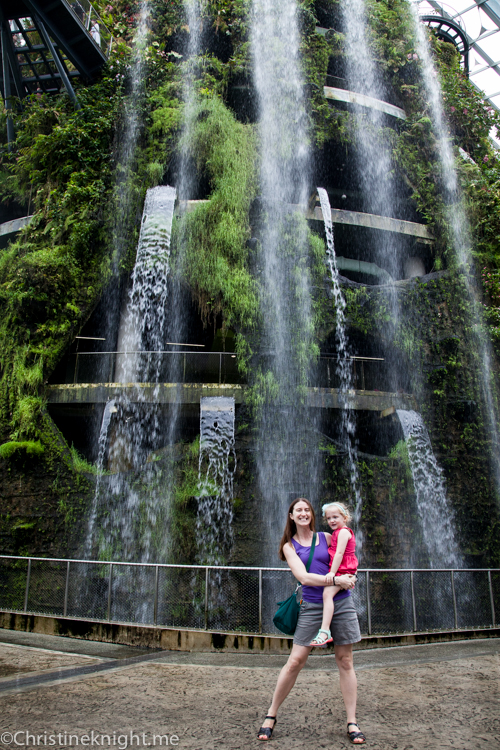 The Cloud Forest takes visitors up an indoor mountain through a circular path, behind a waterfall.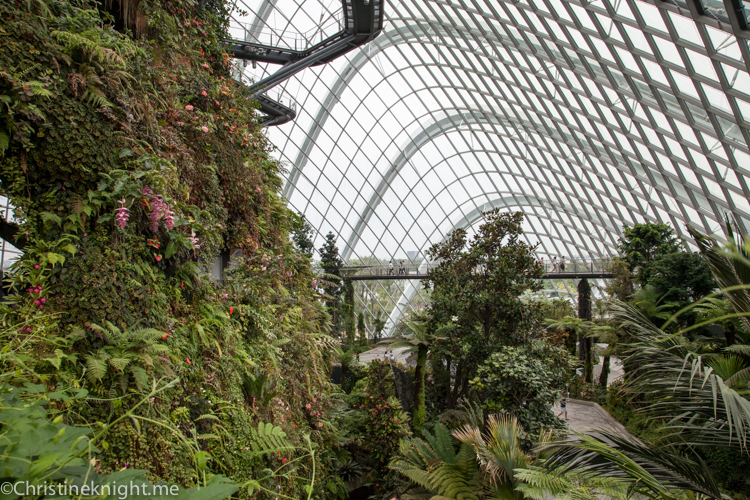 The "mountain" is clad in beautiful epiphytes such as orchids, ferns and peacock ferns.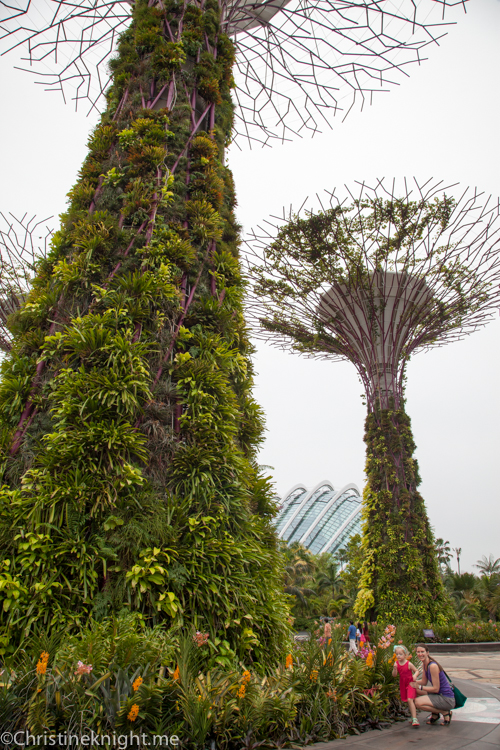 The Supertrees Grove is filled with tree-like structures with heights that range between 25 metres (82 ft) and 50 metres (160 ft). They are vertical gardens at the top of which is an elevated walkway, the OCBC Skyway, between two of the larger Supertrees, giving a panoramic aerial view of the Gardens. The Skyway closes in inclement weather, which is unfortunately what happened on our visit.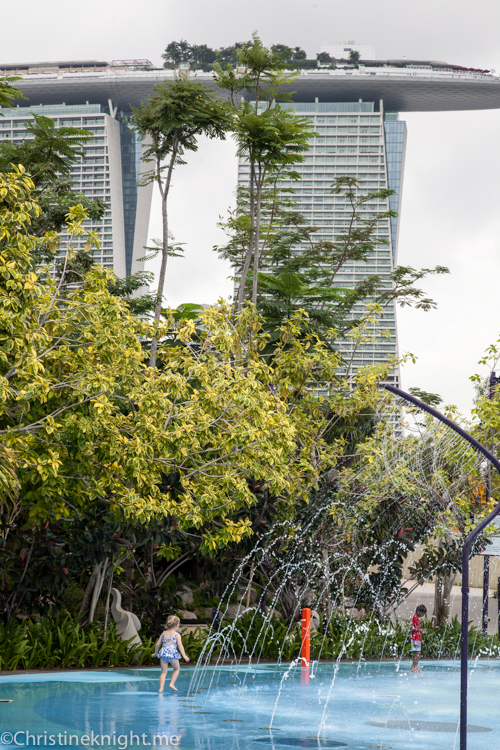 While kids will enjoy all of the features of Gardens by the Bay, a trip to the Children's Garden will be a highlight of your trip. Perfect for kids aged one and up, the children's garden is renowned for its fabulous water play area.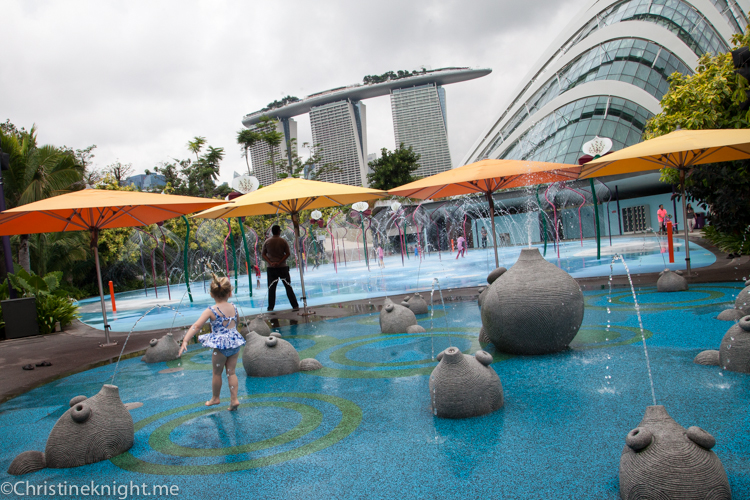 There is a toddler zone for kids under 5, and a larger area for children 6 and over. With clean bathroom facilities and a shaded amphitheater, it's obvious why this is a hot spot for families. Kids aged 6 -12 will also enjoy the Rainforest Tree Houses and the Adventure Trail nearby. You can visit this area for free, which is an added bonus in very pricey Singapore. Read more about our experience here.
Want more ideas on what to do in Singapore with kids? Singapore Zoo is one excellent option, as is Universal Studios Singapore.
Find more cool things to do over here, or where the locals go to play and the best hotels to stay in here. Get an easy three-day itinerary here. Find more things to do in Singapore with kids here.