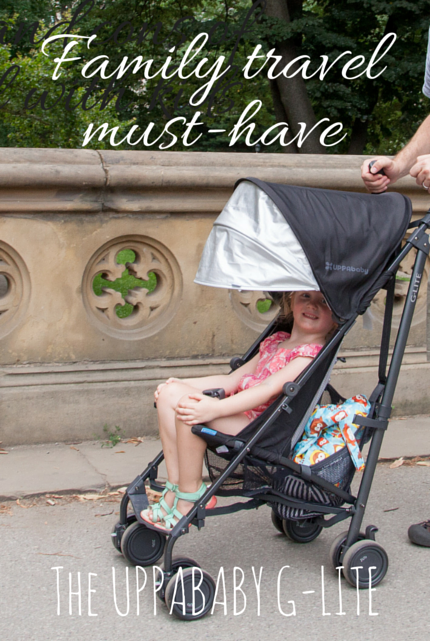 When you're travelling with a little kid, a good umbrella stroller is a must. We made the mistake of not taking one with us when we started our trip, thinking Cheese was big enough to walk everywhere. Big mistake. I forgot that when we travel we walk a lot – like upwards of 10km a day. Way too much for little legs to handle. So when we reached New York, I was so incredibly thankful to have the UPPAbaby G-LITE  to get around town.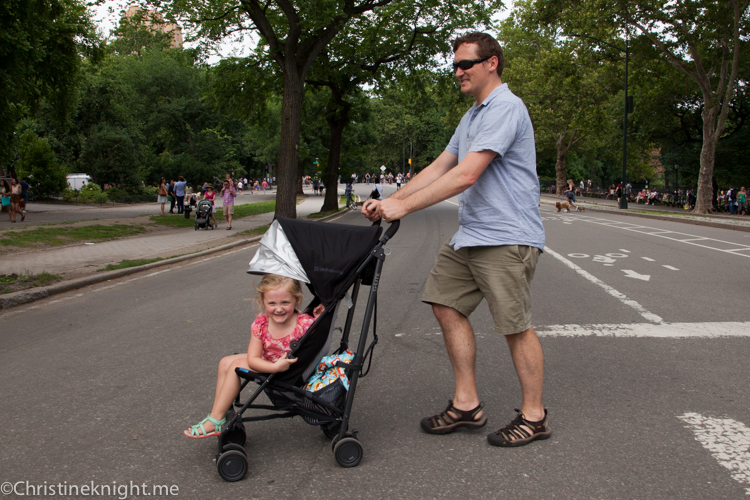 I've previously spoken about my love for the UPPAbaby series and have listed another of their models, the G-LUXE as a travel must-have on this blog post. The G-LUXE was a great stroller when Cheese still napped as it has the full recline feature that is important to nap on the go. Now that Cheese doesn't nap anymore and the main purpose of the stroller is to get from A to B with the most ease, what I primarily want out of a stroller is for it to be as light as possible and extremely easy to maneuver.
The UPPAbaby G series dominate the lightweight stroller market for a good reason – they are excellent, affordable strollers. I've listed the reasons why I just love their strollers, especially the one I'm using at the moment, the G-LITE.
Lightweight and easy to carry
The G-LITE is their lightest model, at 11 pounds (4.9kg). This makes it so light that I can collapse it and carry it around easily on my shoulder. I can also lift it with the child still in it, up and down stairs.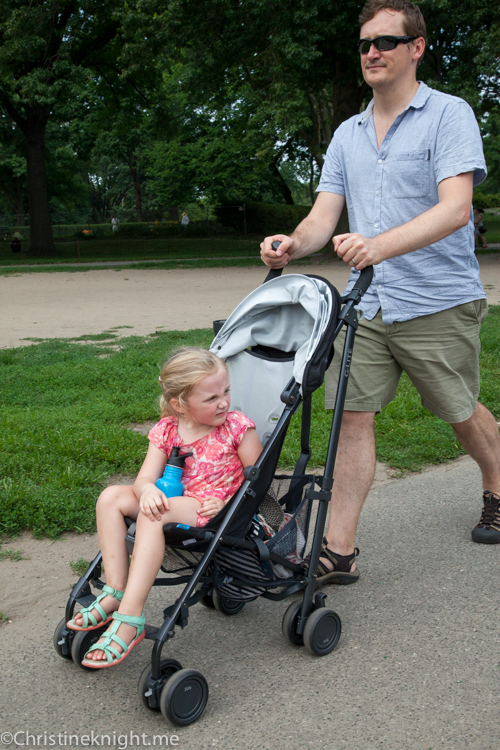 Easy to collapse
The stroller does need two hands to collapse but it's so quick and easy to fold down. Simply push a button near the handle and pull the ring on each side of the handles at the same time and the stroller folds down and clips into one piece.
Stays closed
The stroller has a neat little clip that automatically snaps the top and bottom of the frame together when it's folded, so when you pick it up, it stays closed.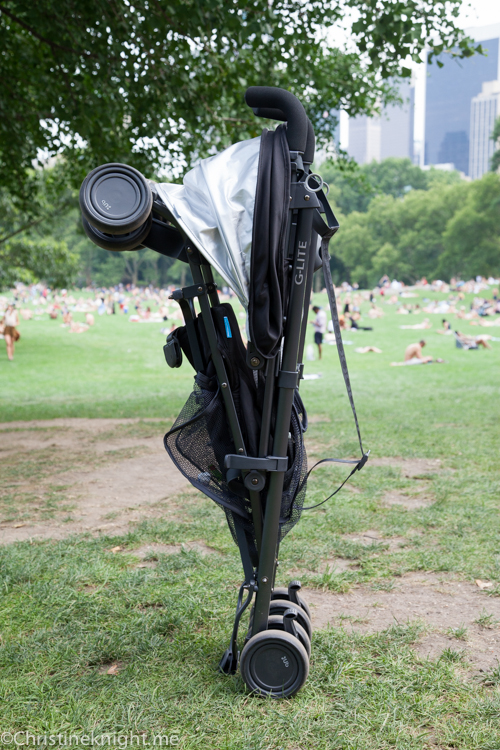 Stands on its own
The stroller has a little stand under the wheels so it stands upright on its own when closed.
Easy locking breaks
Little locks over the wheels are easy to push up with a flick of your toes.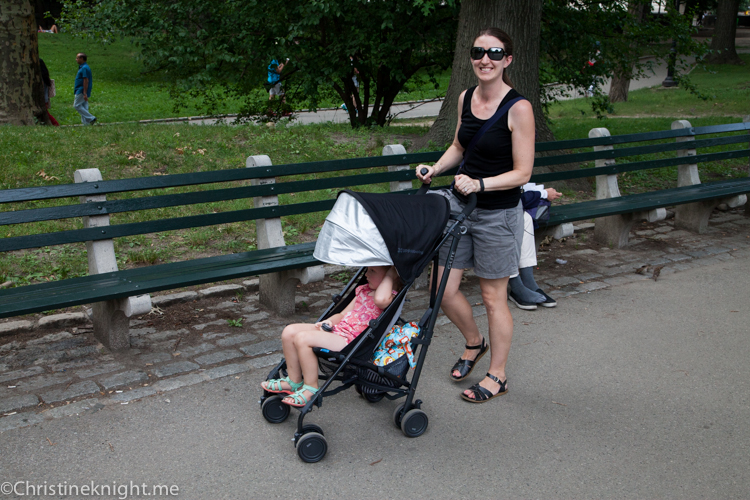 Easy to maneuver
This stroller is made for fast walkers like me who like to dodge and weave among slower pedestrians. It's also tall enough that I find it very comfortable to push, with no pressure on my lower back. My husband, who is 6 feet tall, loves pushing this stroller for the same reason.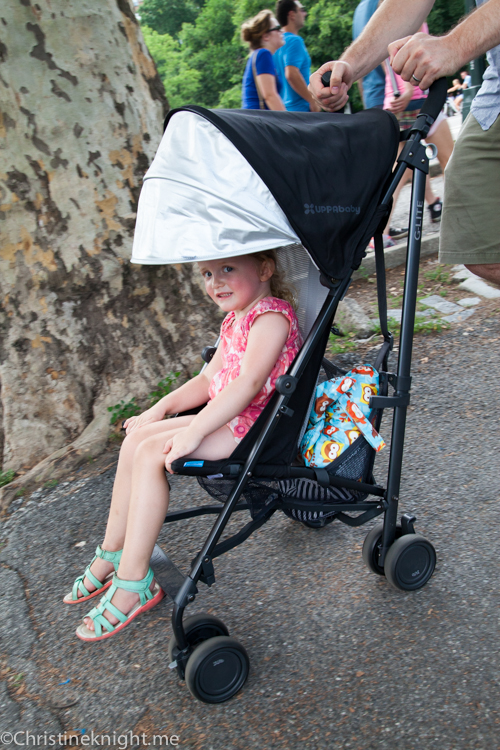 Big canopy
As well as the regular canopy that folds down, the UPPAbaby strollers have an additional section inside, the UV canopy, which folds down to provide protection from the elements.
Decent basket
The basket under the stroller is roomier than you'd imagine. I can fit a fair amount of stuff and with the high edges nothing falls out.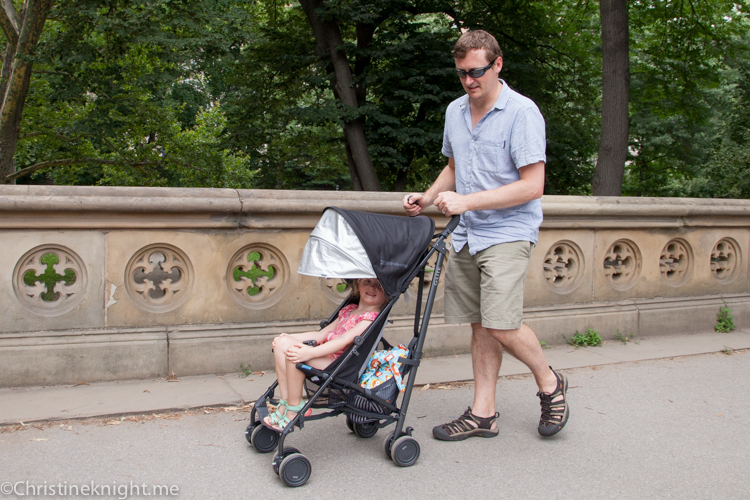 Comfortable ride
Cheese is approaching 4, and 17KG (37.5 pounds). The UPPAbaby G-LITE is suitable for kids from 6 months to 55 pounds /25kg. It has to be said, Cheese loves this stroller. She finds is incredibly comfortable and is happy to sit in it for long periods. The seat length is perfect for a child of her size, letting her feet land on the foot rest at the right angle. Other strollers we borrowed had the foot rest at an angle where her legs couldn't fold to touch it, leaving her legs to hang and feet to get caught on the ground.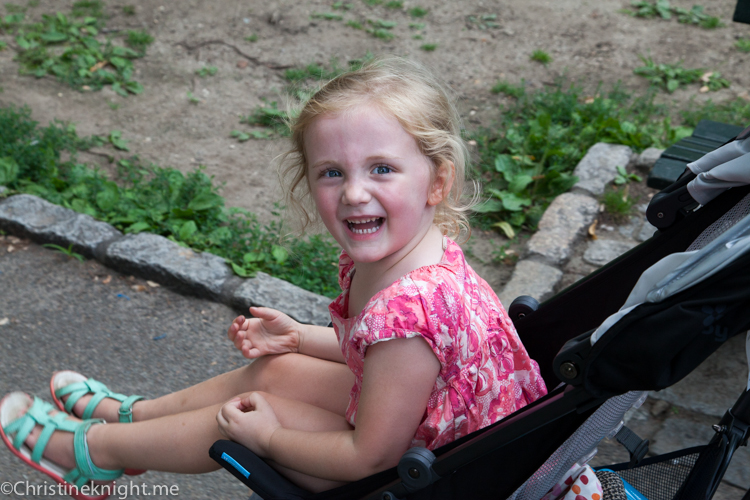 Some extra info on the UPPAbaby G-LITE from their site:
Tall ergonomic handles for easier pushing
Hand level triggers for quick fold – no foot action required
Lockable front wheels for added stability
Shock-absorbing, 4-wheel suspension
Easy-open, removable canopy
Extendable SPF 50+ sunshade
Lightweight aluminum frame
Stands when folded
Stain + water resistant fabric
Removable, machine-washable seat pad
High-performance, 4.5" diameter wheels
Convenient carry strap
5-point harness
Large easy-access basket
Removable cup-holder
Weight: 11lb / 4.9kg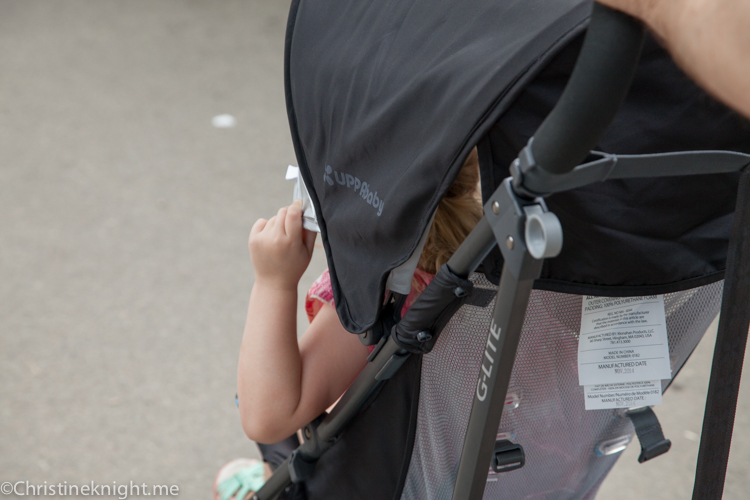 Thank you to UPPAbaby for sending us this stroller for our around the world trip. I'm a loyal UPPAbaby stroller user and all opinions are, as always, my own.