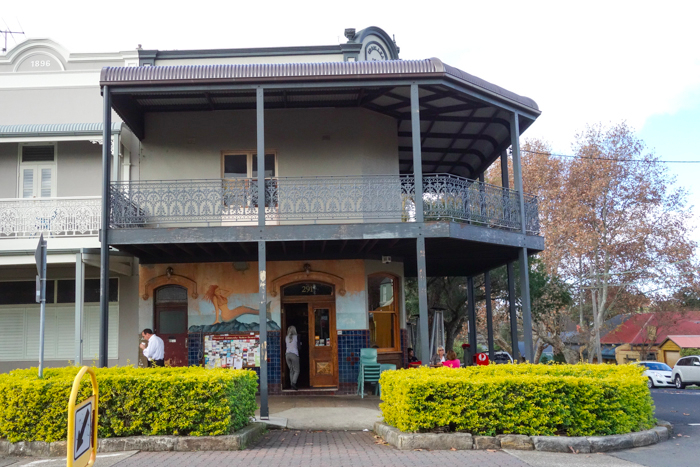 One of the Inner West's best cafes, Revolver, lives in the historic 'Craiglea' building on a quiet street in Annandale. Built in 1893, the Craiglea was originally intended to be a pub, but instead opened as a corner store that traded until 2005. After a three-year refurbishment, the run-down shop reopened as Revolver — a super kid-friendly cafe with absolutely delicious food.
We visited on a quiet weekday, and were surprised to see the majority of tables full. Locals told us that on weekends you can expect to line up for a table.
So what makes Revolver so special? Firstly, the staff. They were so incredibly welcoming and friendly to us, particularly to our smallest diner. When we ordered food for her, they suggested modifications of traditional menu items to suit her better. Secondly, the food. It was so good. Not surprising when we learn that Revolver really focus on fresh, quality ingredients, many of which are free range and organic. They have plenty of vegetarian and gluten-free options, and source ingredients from quality suppliers like Feather and Bone, Mirrool Creek Lamb, Morgan's Handcrafted coffees and Riverina Fresh milk. To be honest, they had me at the Sonoma Sourdough.
As well as their eat-in menu, the cafe offers a great range of locally hand-made pastries, cakes and biscuits.
Lastly, Revolver is very reasonably priced. With all boxes on our list ticked, Revolver is cafe that we will be returning to over and over again.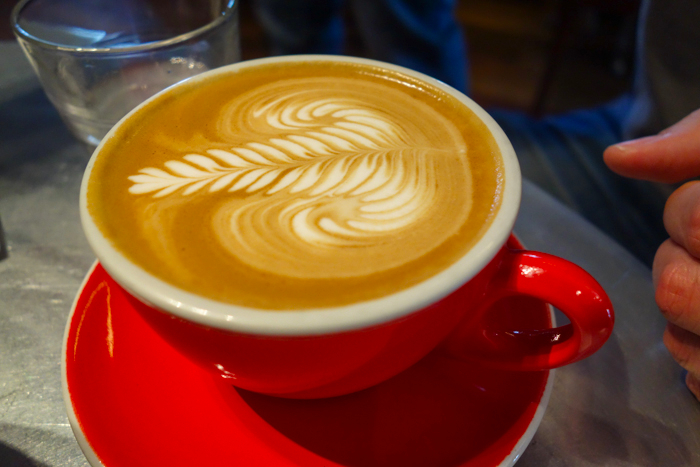 So on to our visit. After recently returning to Australia from New York, Alec was excited by his flat white ($3.50), which he proclaimed to be as good as the best coffee he was able to get while in New York. The way to this boy's heart is through a good coffee. Since Missy E enjoys talking coffee with her daddy, we ordered her a Babycino with marshmallow ($1.20). This was the second time we'd tried her with a babycino and this time was a success. She loved the marshmallow and sipping her "coffee" after "cheersing" coffee cups with Daddy.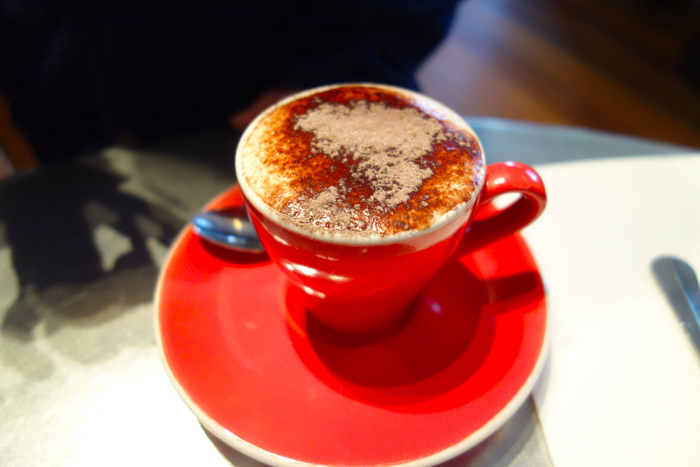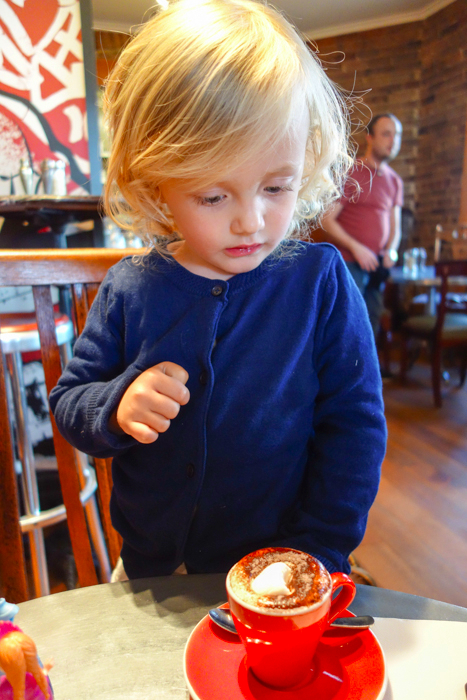 I ordered a vanilla malt Old School Thickshake (large $6.6) to share with E. The staff very thoughtfully divided it into a large glass for me and a smaller cup with lid and straw for her. Delicious.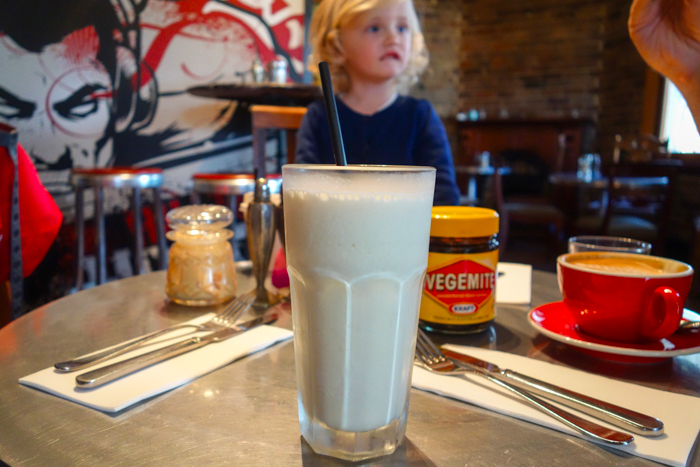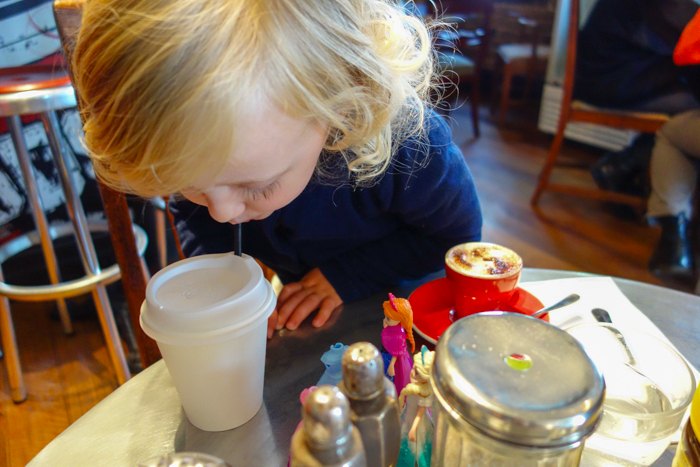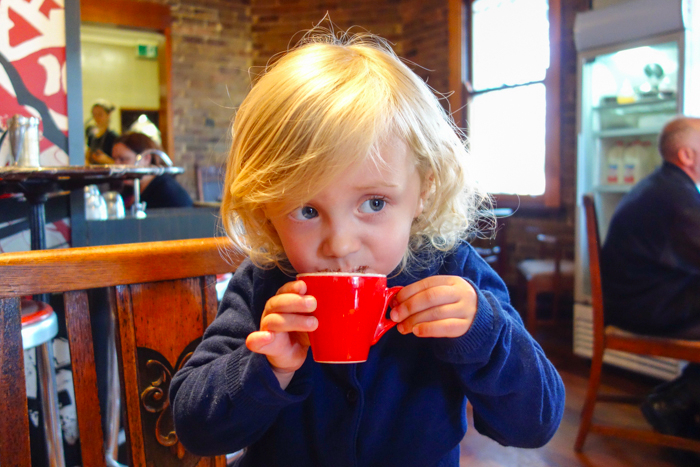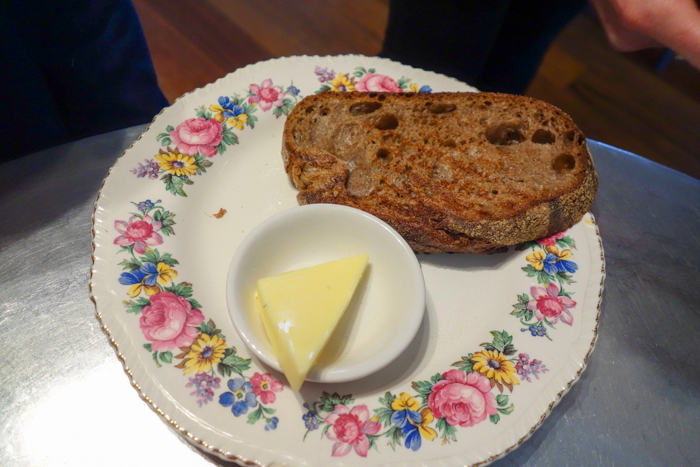 For our late breakfast we ordered Toast (Sonoma Sourdoughs: miche, soy and linseed, currant and apple, or white
Brioche Bakery: Gluten free, $6) for Miss E. It comes with the option of house-made jams, vegemite or peanut butter. We were offered the option of a half-serve (one slice) for our toddler. Again, super thoughtful.
I had the Avo Eggs (Scrambled eggs, avocado, roast tomato, Danish fetta, rocket, salsa verde and sourdough toast, $15.50 ). Every mouthful was like the best thing I'd ever eaten. Flavorful ingredients, and a mix of elements that I wouldn't have though of myself, but that went together just so well. And the BREAD! The Sonoma Sourdough soy and linseed was dense and chock full of grains.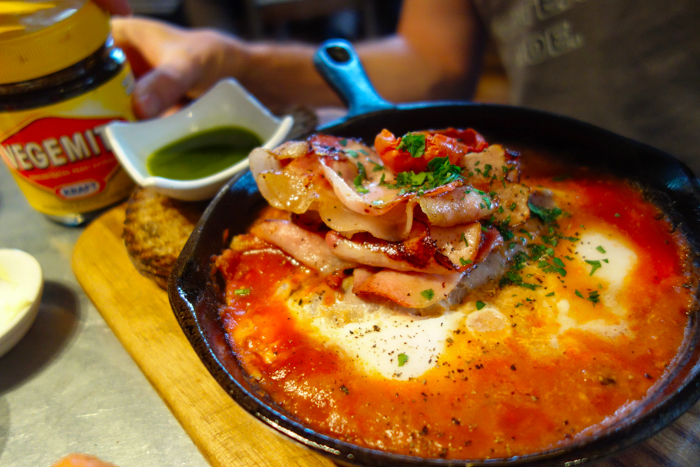 Alec's Big Breakfast (Free range bacon, pork and fennel sausage, pork shoulder, baked eggs, roast tomato, roast field mushrooms in beans with sourdough toast, $18) was a hearty meal, all baked in the one pan.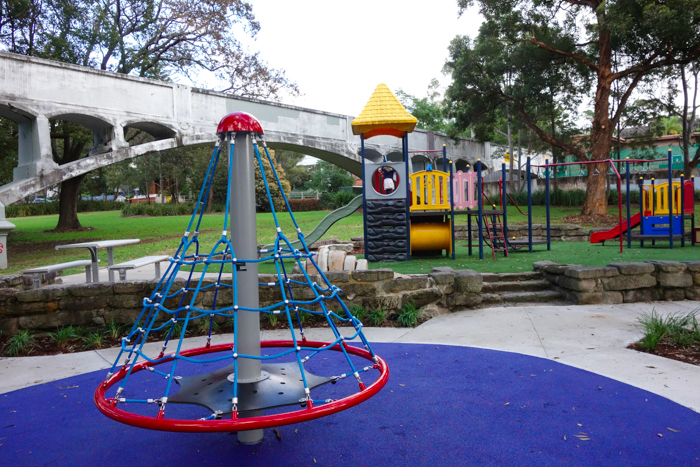 After gorging ourselves on breakfast, we walked to a nearby playground to let E run off some steam. There is a small park on Annandale street, and a larger one in the reserve on adjacent Young street.
Last Bite: Revolver Cafe ticks all the boxes — delicious, affordable food, in a kid-friendly environment.
Highchairs: Yes.
Stroller storage: Minimal.
Easy access: Yes.
Change tables: No.
Kids' menu: No.
Revolver
291 Annandale St,
Annandale NSW
Phone: (02) 9555 4727
Prices: $$
Hours: Daily 8am-4pm
Get Directions