Stand out at your Thanksgiving gathering (and fight off the hordes of hungry masses) by bringing a dessert that's not a pie. You might want to buy extra — these Thanksgiving treats are so delicious they may not make it all the way to your party.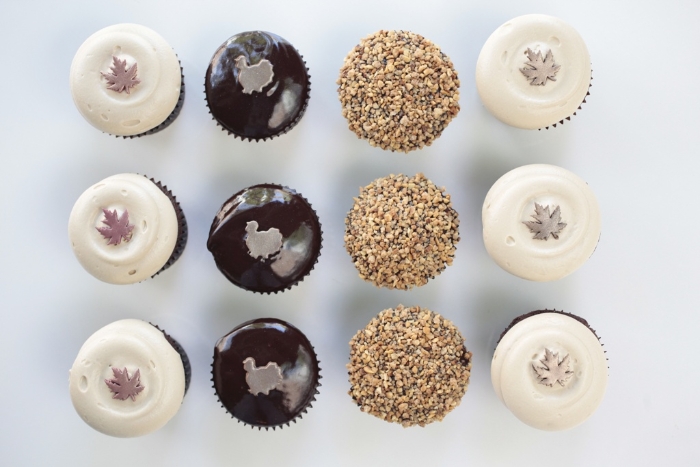 Georgetown cupcakes
The cupcake masters always have something special for the holidays. Order these babies online or stroll in and grab one for an afternoon (or morning!) snack. The Thanksgiving dozen includes three Pumpkin Spice cupcakes, three Caramel Apple cupcakes, three Chocolate Hazelnut cupcakes, and and Maple cupcakes. $29 a dozen or $2.75 each.
Georgetown Cupcakes: 111 Mercer Street (between Spring and Prince) New York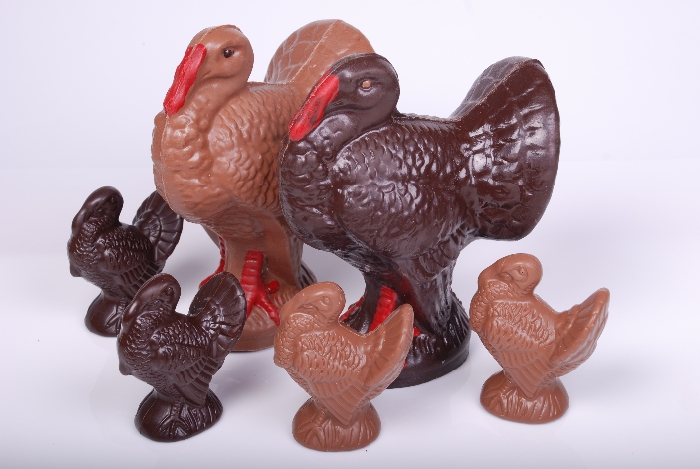 Jacques Torres
It's always the right time of year for chocolate! Move over, Easter Bunny, because you can now get a chocolate Thanksgiving turkey from Jacques Torres, in various sizes from the Giant Turkey (a five pound beast made from dark or milk chocolate and hand decorated with feather accents,$98), to the Small Turkey (molded in milk or dark chocolate, $4 each). Searching for an even more unique gift for your host? Try the Turkey Puzzle, made from milk and dark chocolate ($8.50).
Jacques Torres: various locations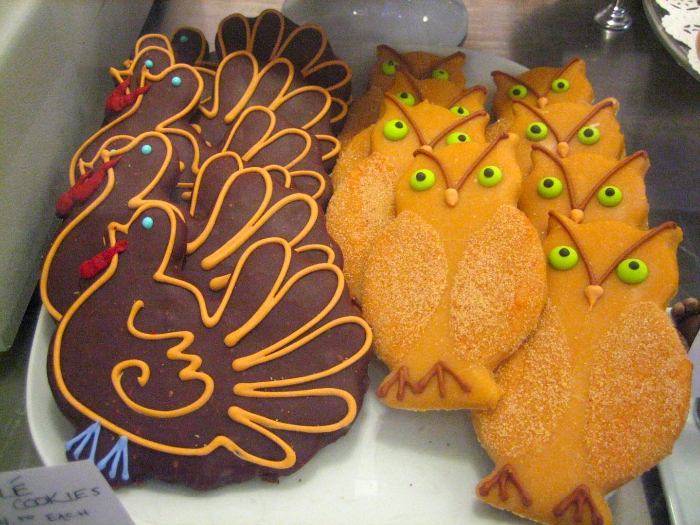 Betty Bakery
Drop by this Brooklyn bakery to pick up hand iced and decorated cookies in the shape of turkeys, owls and pumpkins ($5.25 each). They also have Thanksgiving-themed cupcakes decorated with autumn leaf sprinkles ($2.95 each), and assorted small cookies in flavors and shapes like chocolate-almond leaves ($21/pound).
Betty Bakery: 448 Atlantic Ave (between Bond St and Nevins St), Boerum Hill
Treat House
Inspired by a charitable school bake sale, Treat House is a gourmet rice crispie emporium. Their Thanksgiving flavors are Pumpkin Spice, Maple Pecan, Caramel Sea Salt and Cranberry Orange ($2.25 per treat; $24 for 12 pack). And you can feel good about yourself while you're chomping down on your treat: ten cents of every treat purchased is donated to the Food Bank for New York City.
Treat House: 452 Amsterdam Ave, New York
Happy Thanksgiving. Gobble gobble (all that chocolate)!!!