The combination of a florist and café, Flowercino is a perfect mix for a stunning little café in the heart of Sutherland Shire. With added quirky elements such as the hanging display of pots and pans, and the veggie garden out back there is something for even the most discerning little foodie to enjoy.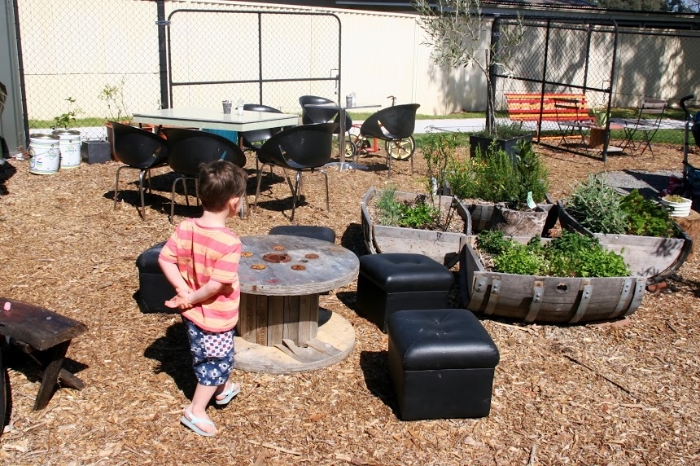 Arriving on a warm morning we were still in time for the breakfast menu which offers both sweet and savoury options. We quickly claimed the shadiest table out in the garden before making our selections. The locals seemed to have made residence at the shop front, giving the café a buzzing vibe, whereas the back garden is the place to be for visitors with children, or those needing a little extra space (or prefer the pleasant view over to Castlenau Park).
After we placed our order Jenson went about exploring the herb gardens, mismatched garden furniture and chalk board for budding artists to create their masterpieces whilst waiting for the food to arrive. I ordered the Turkish with bacon, egg, tomato & avocado ($9.50) whilst Ross went for the specialty of Turkish with Za'atar, baked eggs, spinach, smoked ham and tomato ($12.50) and personally I think I won as my meal was delicious, very generous and excellent value. Jenson insisted on having a sandwich before we left home so didn't order a meal, although there are plenty of child-friendly options from toast, muesli, sweet breads and bacon and eggs to choose from. Instead a mini milkshake ($3.00) and tea-cup biscuit ($4.00) were his selections.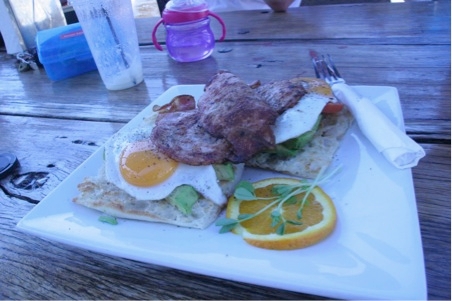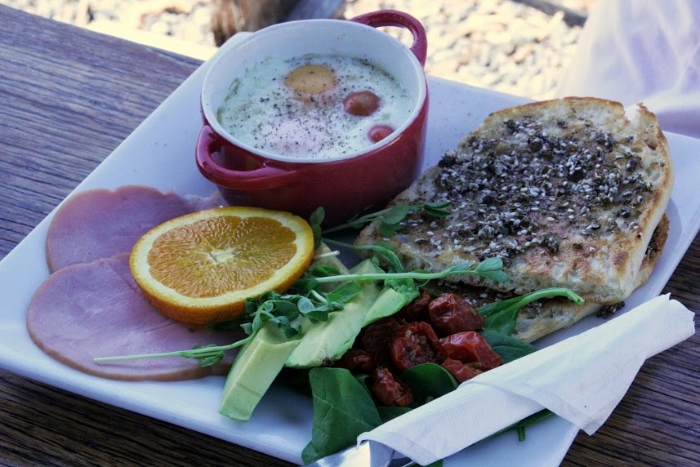 Drinks are served in take-away friendly cups for customers who are sitting in the garden, perhaps for safety – however a brilliant decision in case you need to make a quick exit to prevent or manage a mini meltdown. Thankfully both Jenson and Isla were well behaved and Ross and I managed to finish our drinks (banana smoothie $5.90 and iced coffee $4.50) without a mad dash.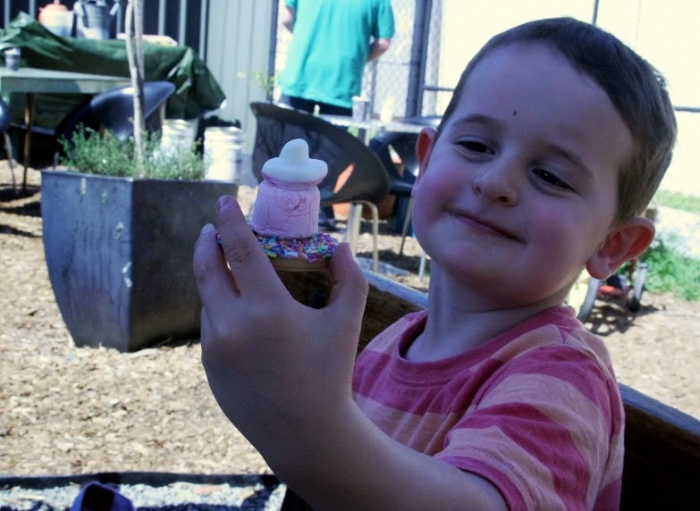 A promise of a play at Castlenau Park afterwards was suffice for Jenson to maintain his composure throughout brunch although he did prefer standing on his chair rather than sitting, well you win some you lose some!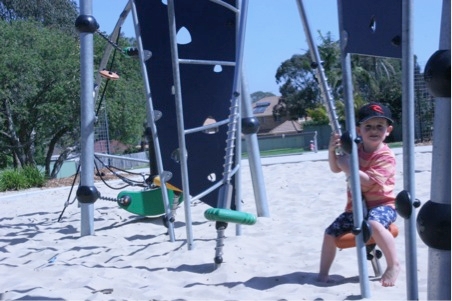 Last Bite: Flowercino is a quaint kid-friendly café offering great value food and service, welcoming to families with delightful staff, tucked away in suburban Caringbah. The added bonus of being located near an excellent park also helps appease active little people!
Highchairs: No.
Stroller storage:Yes, plenty of room in the garden, inside the shop might be a squeeze.
Easy access: Yes.
Change tables: No.
Kids' menu: No, but plenty of easy options to choose from
Flowercino
487a Port Hacking Road
Caringbah, NSW 2229
Phone: 02 9531 7435
Price: $-$$
Hours:
Mon-Thur: 5:30am-5:30pm, Fri 5:30am-6pm, Sat 5:30am-4pm, Sun 6am-2pm
Get Directions