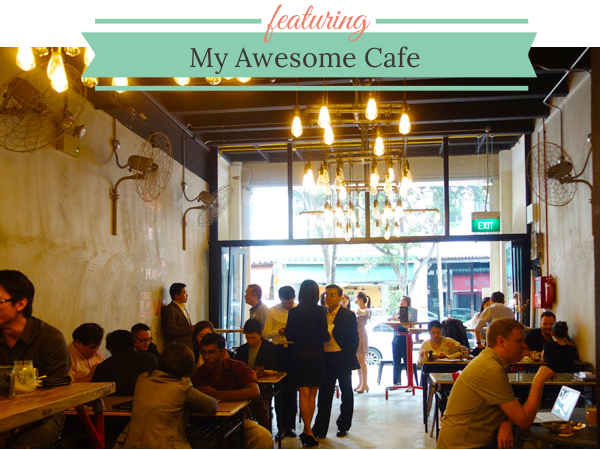 I always walk past this cafe after my training at Bodytec each week, wondering why it's always so bustling (mostly with office workers in the late-morning when I walk past), and why there is no signage except for some big Chinese letters on the white walls and columns outside. It's actually completely confusing, and this is what makes it the ultimate hipster hangout.
It's called My Awesome Cafe 真棒堂.
Even more surprisingly, it's owned by a French guy! And a super beefy one at that. I imagine he looks far more 'normal' looking in a gym, than running around serving food and drinks in a cafe 😉 He is SUPER nice, as is the rest of his staff. I've been there three times now, and all three times, I've left so delighted with the service that I'm already planning my next trip back.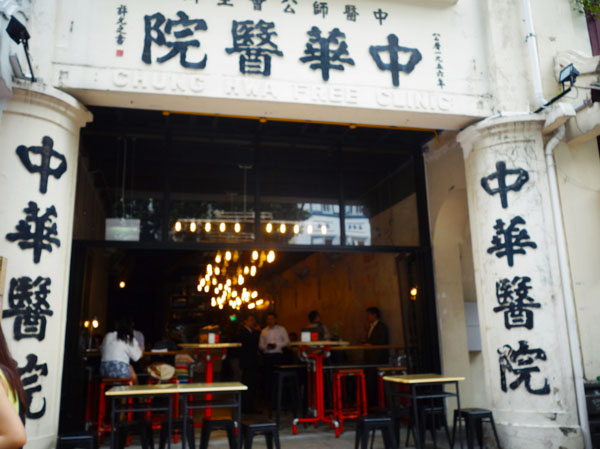 The interior is dark. And, oddly, it's even dark when it's bright daylight outside. It adds to the moody, hipster atmosphere of the cafe… and actually makes it look really underground-trendy when I went back at night with Chris and it had a bit of a nightclub vibe with pumping music and beers and wine galore.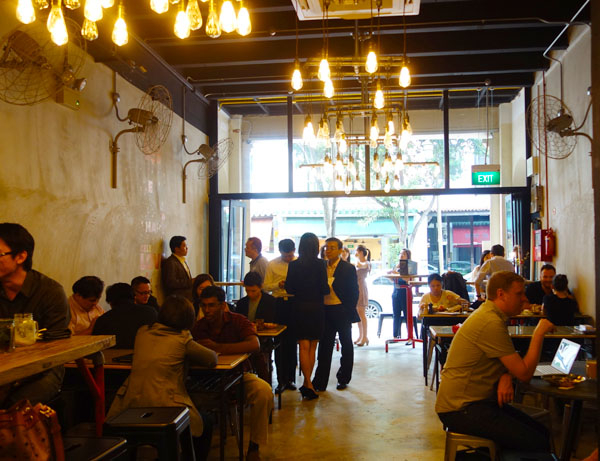 The outside benches and chairs are made from wooden planks on top of red-painted pipes. It adds a pop of colour to the cafe and is pretty cute.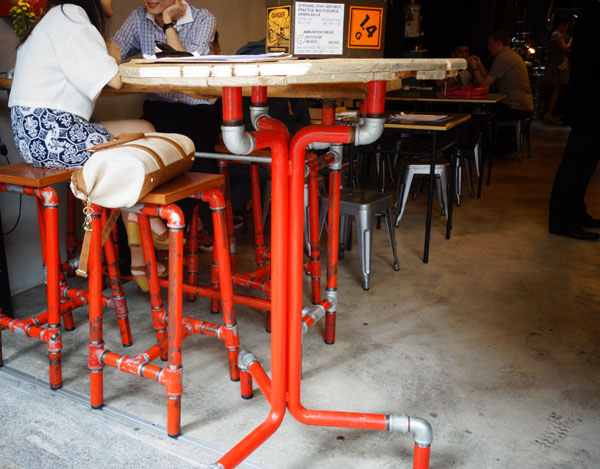 So… is the self-dubbed My Awesome Cafe any good?
The menu contains many various of similar items, and prices are all very affordable.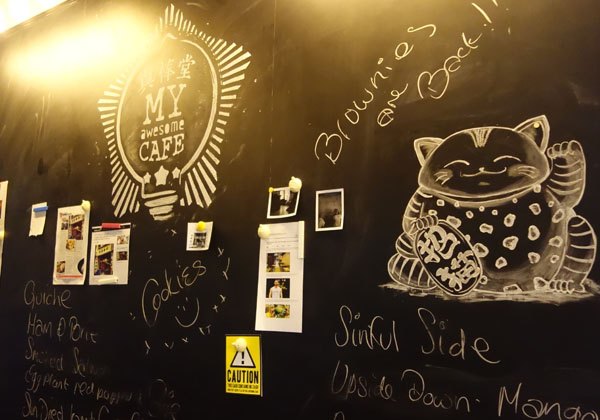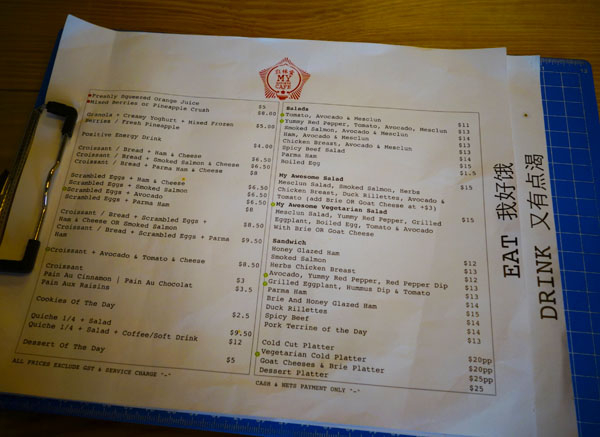 I kicked off with a surprise (and complimentary) juice shot… of which contents I am not sure of, because I've forgotten! I've never had a free shot of anything in a cafe in Singapore – ever. What a way to delight your customers!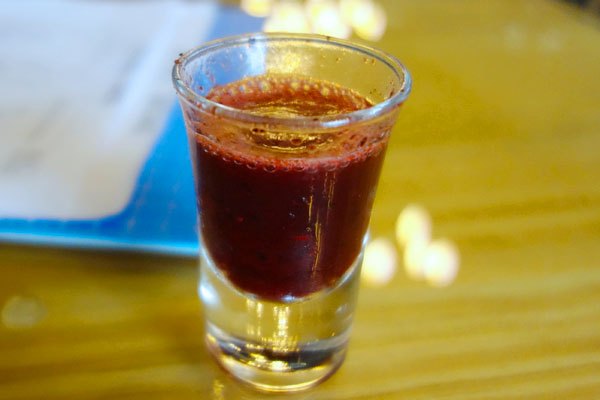 My Croissant with smoked salmon, scrambled eggs and cheese ($8.50) was quite a deal IMHO, when many other cafes charge double the price for the same thing. The croissant was a little on the tiny side, but I loved the chilled smoked salmon and creamy scrambled eggs that came with it. It was excellent comfort food and the salmon added a perfect tinge of saltiness to the subtle flavour of the eggs.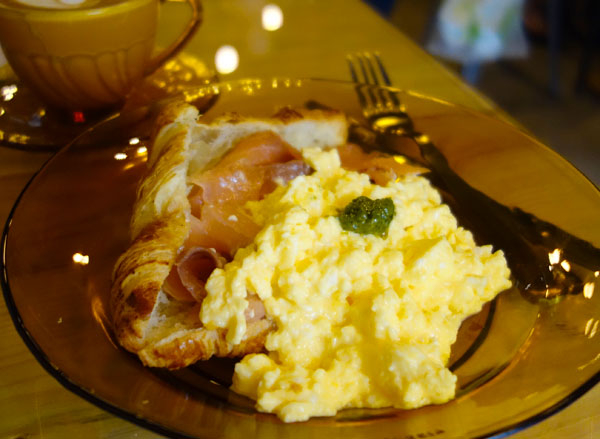 On a side note, I've also had their Duck Rilettes Sandwich ($14) which is perfection. The duck is just salty enough, but balanced well against the crisp baguette. Fresh mixed greens are added, as well as a generous spread of pesto, which brings the whole sandwich together into a delicious symphony of tastes. Would order this again any time!
I also love their Upside-down Pineapple Cake ($5), which has that perfect crumbly cake texture that is still moist, topped with sweet pineapples. Could be the best rendition I've tried in Singapore.

My Flat white arrived with very curious coffee art. Can anyone figure out what it's supposed to be??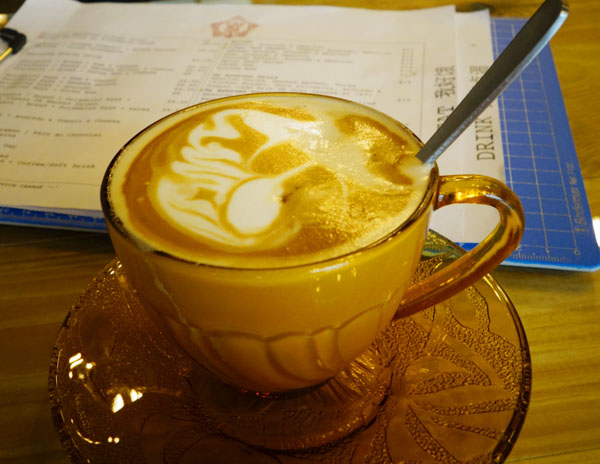 The coffee was rich and delicious, and I really love the vintage glassware that is used in this cafe. It's a bit of a hole-in-the-wall, yet is so crowded during the day (and late into the night), so obviously people that know about this place, know!


Last Bite: My Awesome Cafe doesn't look like much from the outside, but houses a hipster cafe serving up superb food and coffee. Their croissant dishes are great, as is their duck rilettes sandwich!

Highchairs: Yes
Easy access: Yes
Change tables: No
Kids' menu: No
My Awesome Cafe 真棒堂
202 Telok Ayer
Singapore 068630
Phone: 8428 0102
Prices: $$
Hours:
Mon – Tue: 7:45 am – 9:00 pm
Wed – Fri: 7:45 am – 12:00 am
Sat – Sun: 10:00 am – 3:00 pm