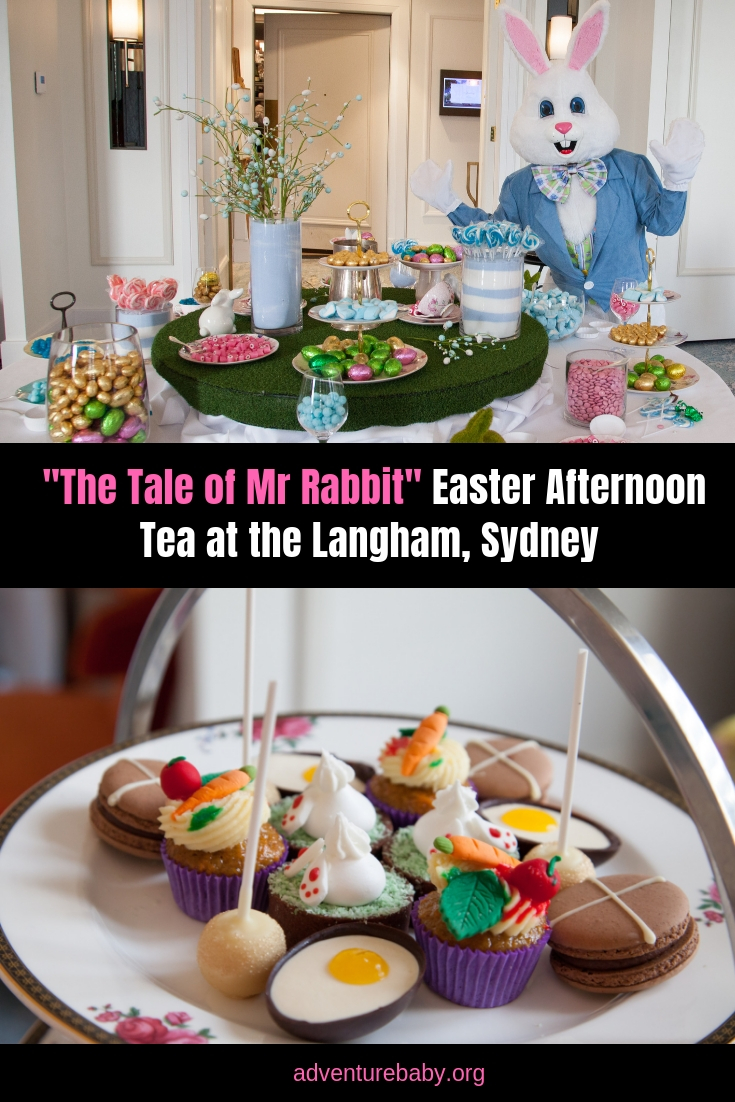 Hop into Easter with "The Tale of Mr Rabbit" Afternoon Tea at the Langham, Sydney
These April school holidays, treat kids with a delightful Easter-themed afternoon tea at The Langham, Sydney. "The Tale of Mr Rabbit" Afternoon Tea is an enchanting experience involving decadent treats, a stunning chocolate Easter egg display and a visit from Mr Rabbit himself.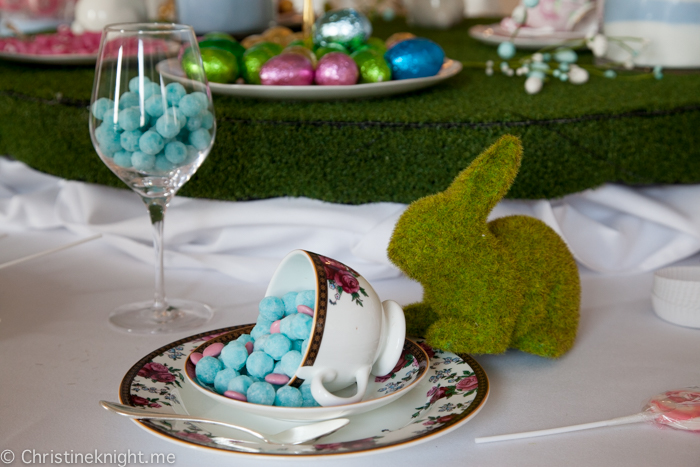 "The Tale of Mr Rabbit" Afternoon Tea is on offer over three consecutive weekends only, from Saturdays and Sundays from 13th April to the 28th April, excluding Easter Sunday. Seating times are 12pm-2:30pm or 3pm-5:30pm.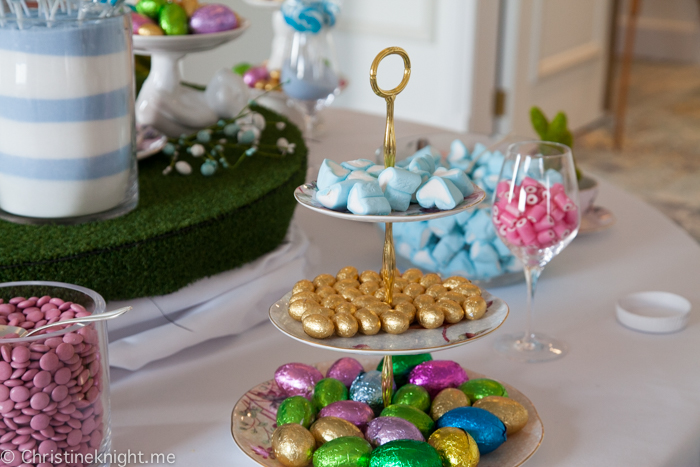 Executive Chef Dave Whitting has prepared a fantastic afternoon tea that tastes as good as it looks. The tea is available for adults and kids – it is the same menu for both, with a reduced price for kids.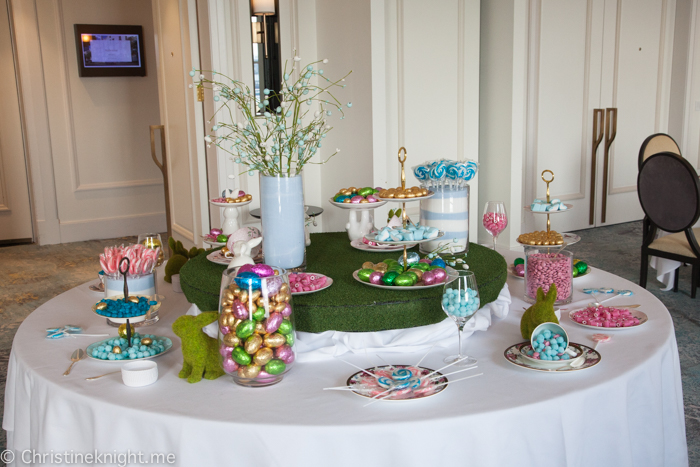 When we arrived we were delighted to see the beautiful Easter table set up in the middle of the room, overflowing with treats. About 30 minutes into our dining session the staff poured liquid nitrogen into the centre of the table which made the kids (and adults!) squeal with delight. What an extravagant table!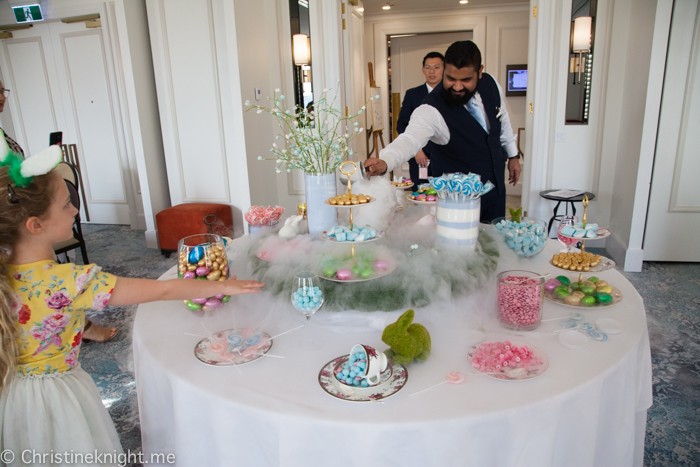 Mr Rabbit himself arrived just after and proved to be a dab hand at entertaining the kids. He handed out little pouches with two tiny Easter eggs in them to each child and happily posed for photos. I was delighted to see Mr Rabbit hung around for the next hour or so and happily entertained the kids. Thank you Mr Rabbit!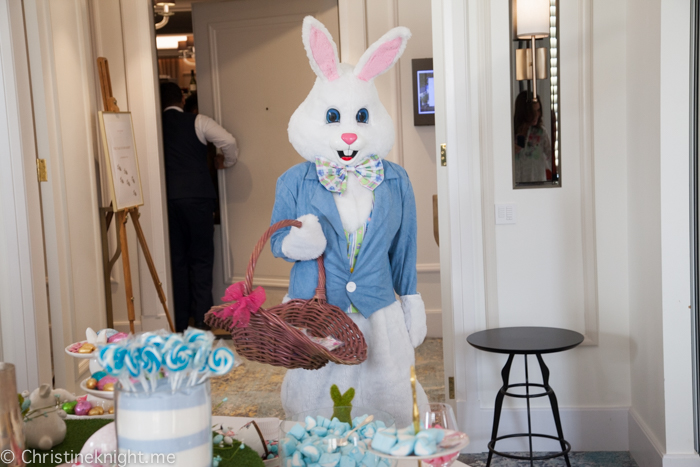 Also on hand to entertain squiggly little ones are colouring in sheets and plenty of coloured pencils.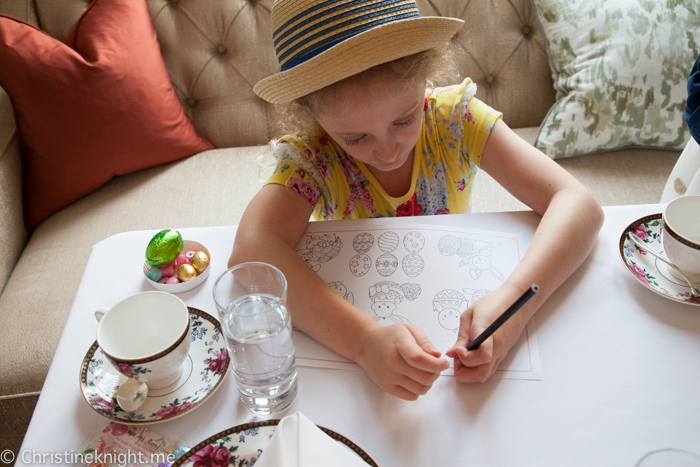 Savoury
Beef and potato pie *
Mushroom and gruyere cheese puff
Tuna, creme fraiche and caviar tartlet*
Kingfish tartare, lime, coriander, charcoal cone*
Chicken tarragon and spinach finger sandwich*
Curried egg and rocket finger sandwich *
(As a vegetarian I received vegan substitutes for these items.)
Homemade pastries and tea cakes
Mr Rabbit tartlet
Mandarin and white chocolate egg
Carrot and ginger garden bed
Golden egg bon bon
Hot cross bun macaron
Carrot cake and vanilla scones with homemade jam and cream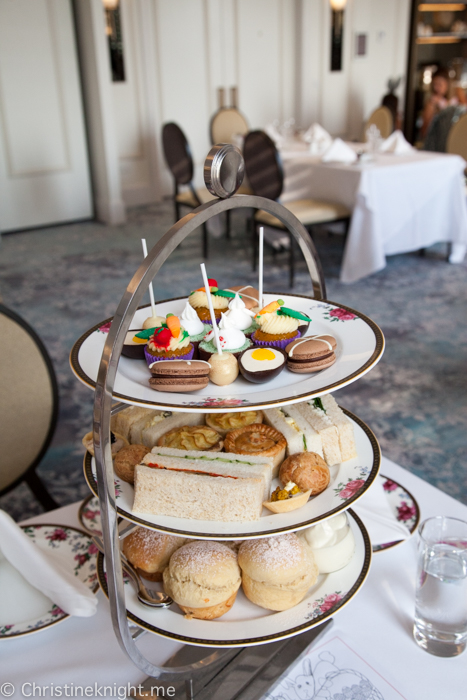 The tea also includes a selection of tea or barista coffee including an optional hot chocolate with marshmallows for children.
As always, the food at The Langham, Sydney was of exceptional quality. The fresh bread on the sandwiches and perfect, fluffy scones made me extremely happy, as these are often hard to get right.
I particularly enjoyed the curried egg sandwich and my cauliflower tartlet which was a substitute for the tuna one.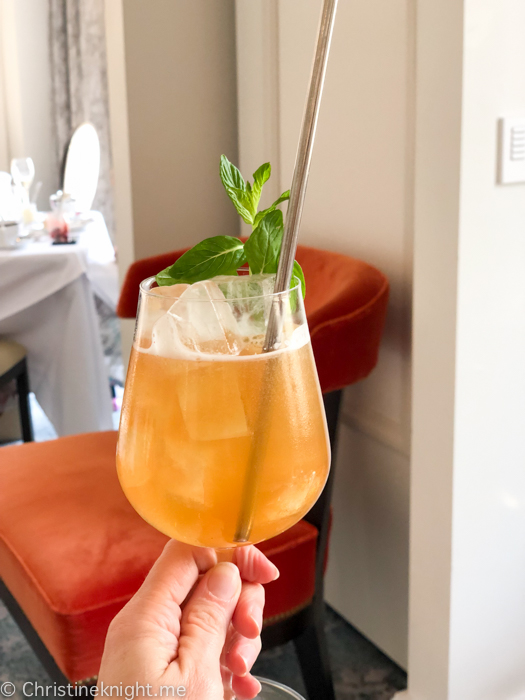 I ordered the peach iced tea for my beverage and I really could drink these all day, they are so sweet and refreshing.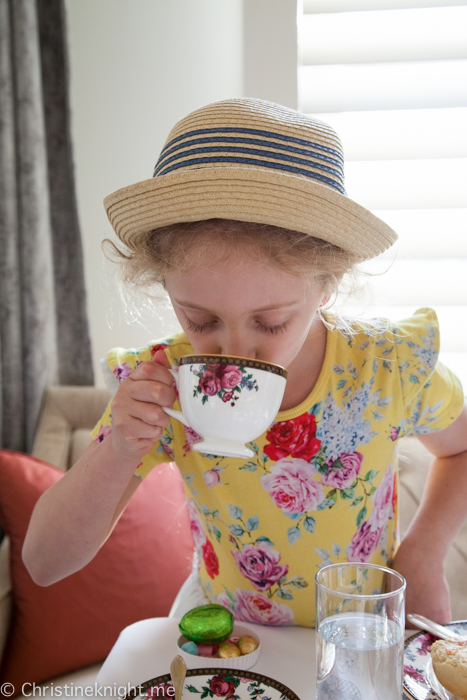 Our junior diners couldn't get enough of the scones, with both the plain and carrot proving extremely popular. While they were offered a hot chocolate, all three chose chamomile tea.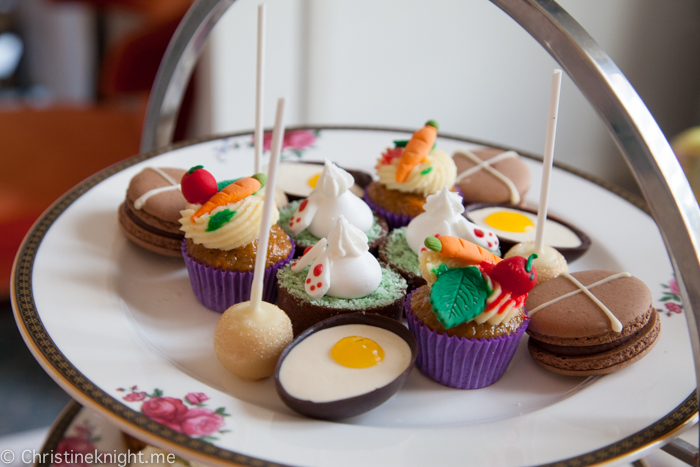 My favourite pastry was the golden egg bon bon, which has a crisp chocolate coating with a lemon centre. A little bite of heaven.
We attended on opening day and it felt like some of the kinks were still being ironed out with the tea, such as the advertised complimentary glass of sparkling on arrival which we didn't receive, but this may have been because we attended on the first day when staff were getting the hang of the new menu and package.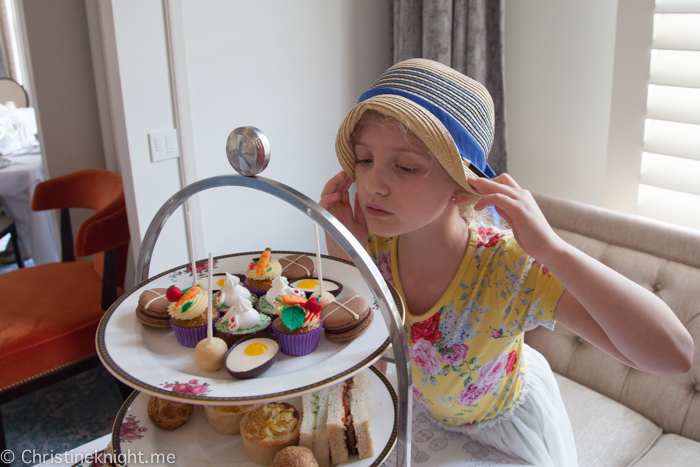 The servers as always were kindness and courtesy personified. They were efficient and helpful and as always, a credit to The Langham.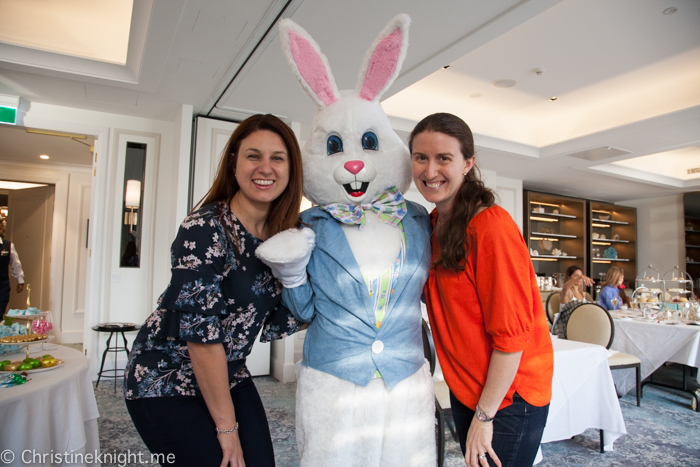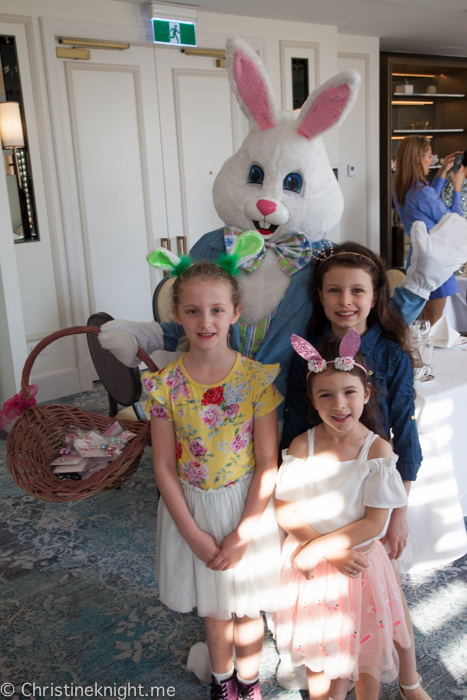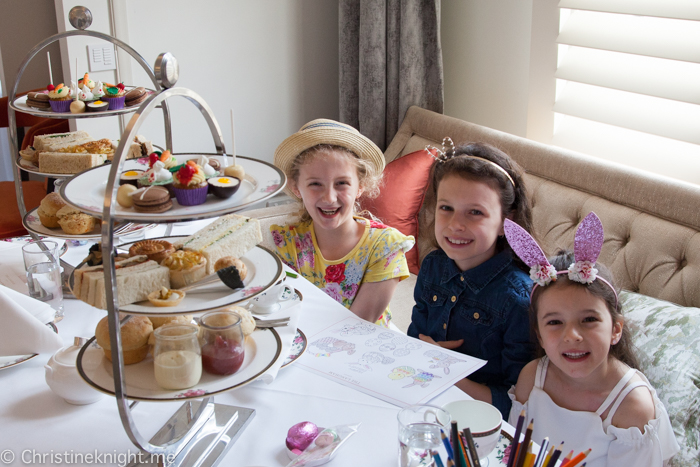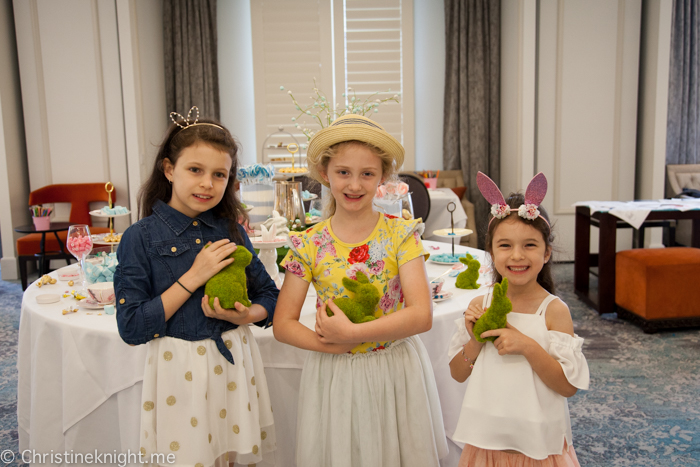 All Bookings can be made by contacting tlsyd.rsvn@langhamhotels.com or by calling
directly on 02 9256 2222.
Easter at The Langham Hotel
89-113 Kent St, Millers Point,
Sydney NSW 2000
Prices: $$$ (Children aged 4 -12 $45 and adults $95)
Hours: Seating is from 12pm-2:30pm or 3pm-5:30pm.
Bookings are available on all Saturdays and Sundays from 13th April to the 28th April, excluding Easter Sunday.
Phone: 02 9256 2222
Get Directions
We were guests of The Langham, Sydney. All opinions are my own.