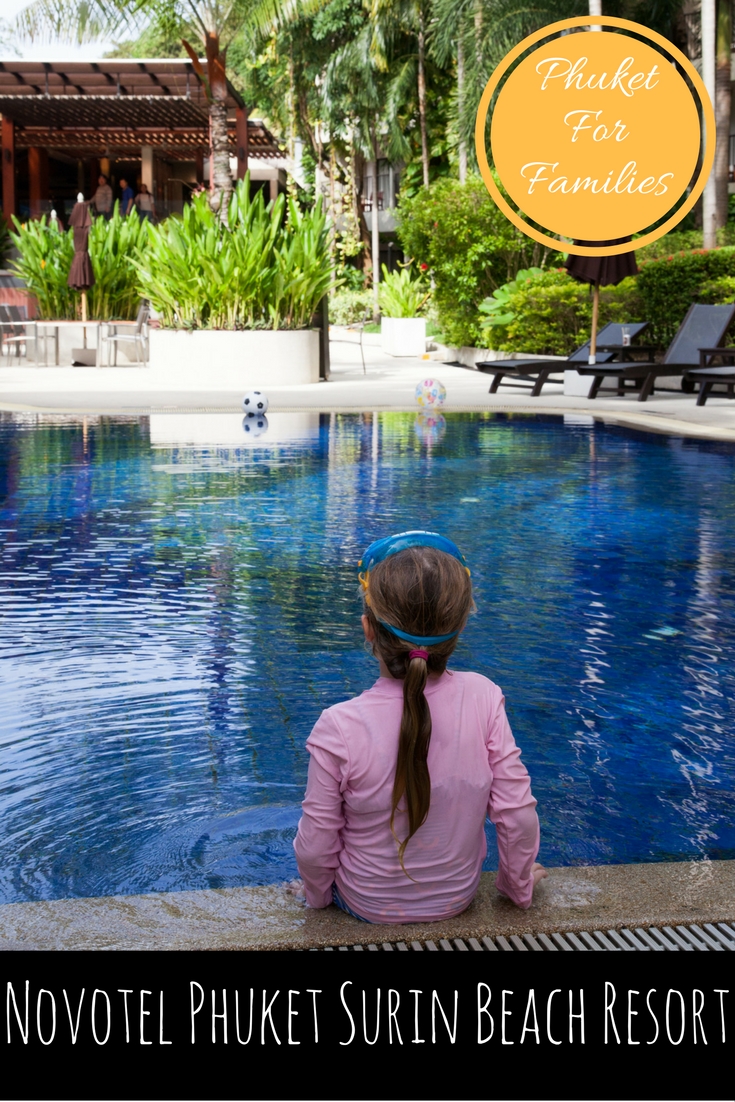 For first timers to Thailand like us, the Novotel Phuket Surin Beach Resort is a great place to stay. The 4-star resort is a short walk from Surin Beach, a quiet beach area about 25 minutes from Phuket airport.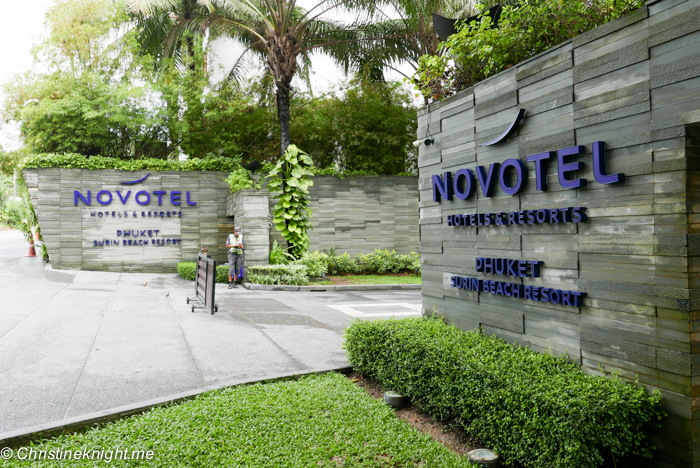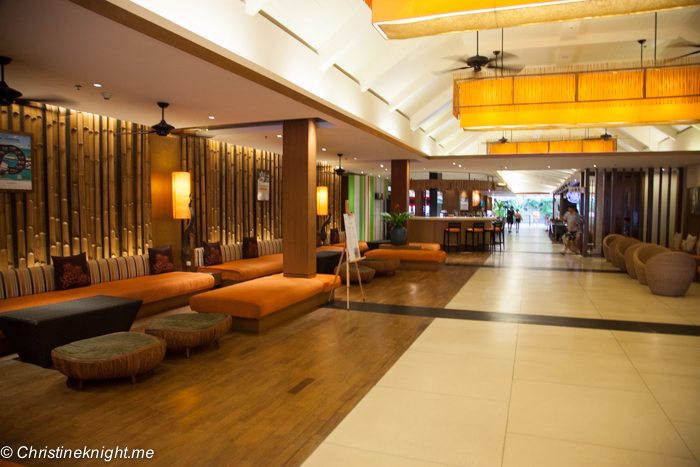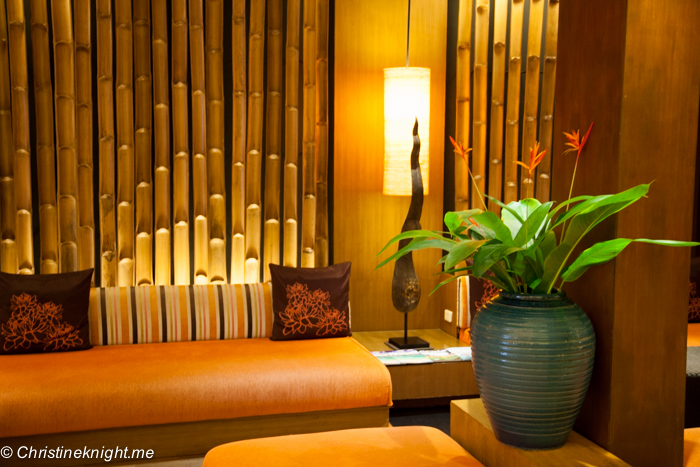 The resort is large without feeling overwhelmingly huge – it's big enough to have a lot of great facilities, but small enough to get to know the staff and for them to learn our names.
The 254 rooms, ranging from standard rooms to two-bedroom suites, are airy and light, with polished wooden floorboards, tea and coffee making equipment, mini fridges, flat-screens and free WiFi.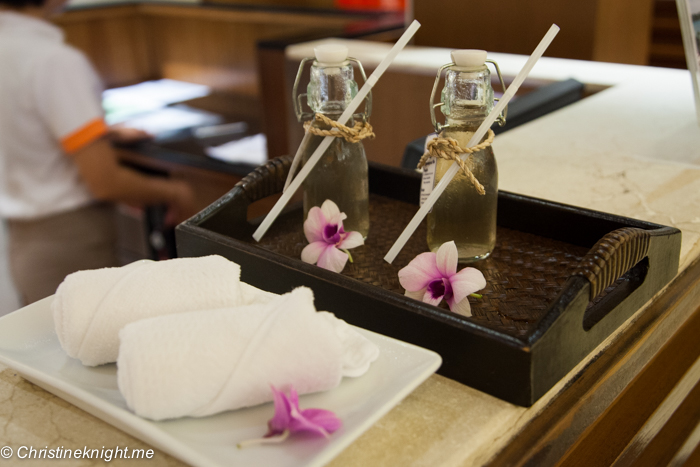 We arrive after a long flight from Sydney, extremely tired and ready to lie down. The staff meet us at the lobby with friendly, welcoming smiles, a special welcome drink and the sweetest smelling flower bracelets. It's clear from the start that the caring staff at the Surin Beach Resort will do anything they can to make our stay happy and memorable.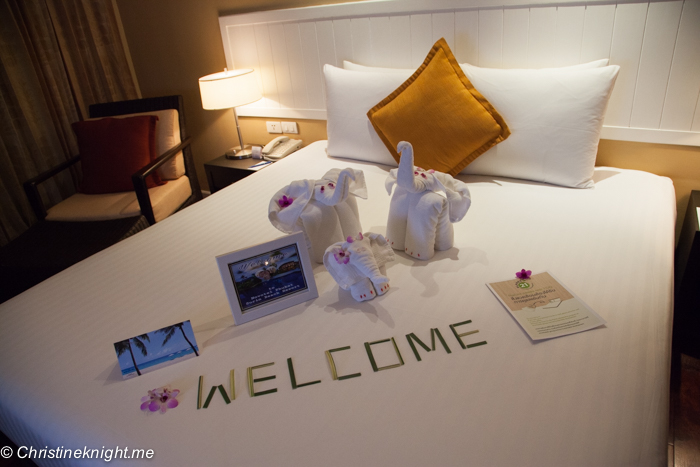 In our rooms await surprises that make us forget our exhaustion. Adorable towel animals on the beds, pastries to revive us and a little surprise for Cheese to excite her about the activities that await her the following day.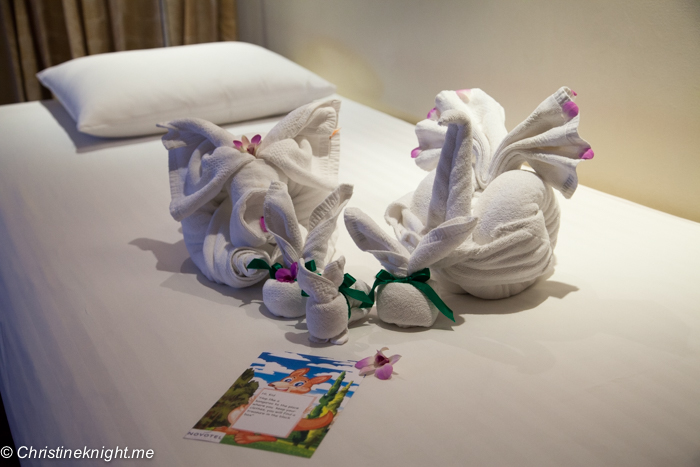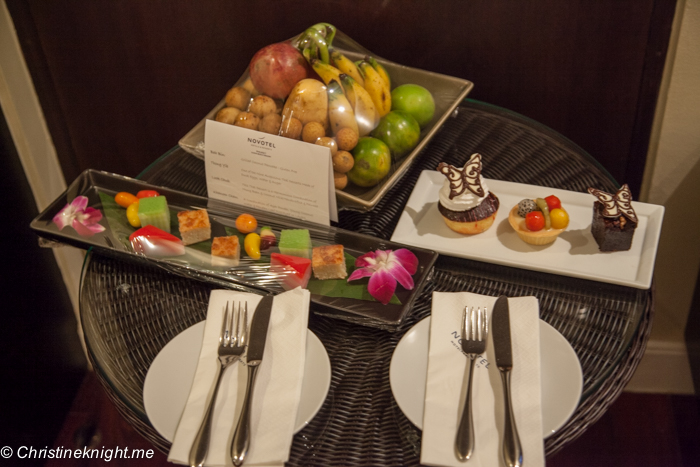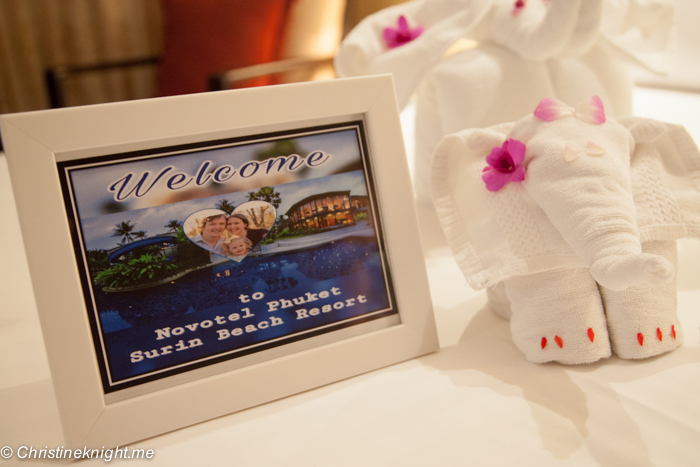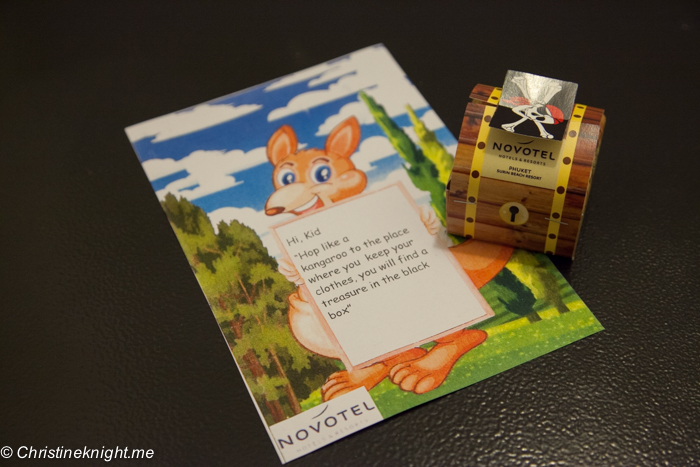 Our room is huge – so much space for our luggage, and then even more for us to all spread out. We have a poolside terrace suite that has direct pool access and a sitting area that doubles as a second bedroom. It's light and bright and has very powerful air conditioning.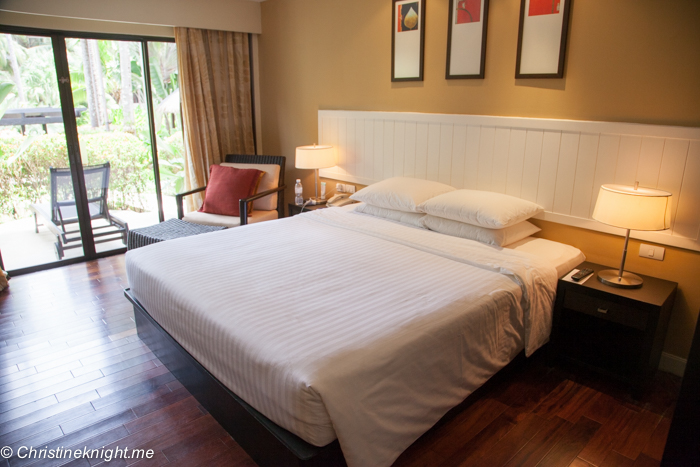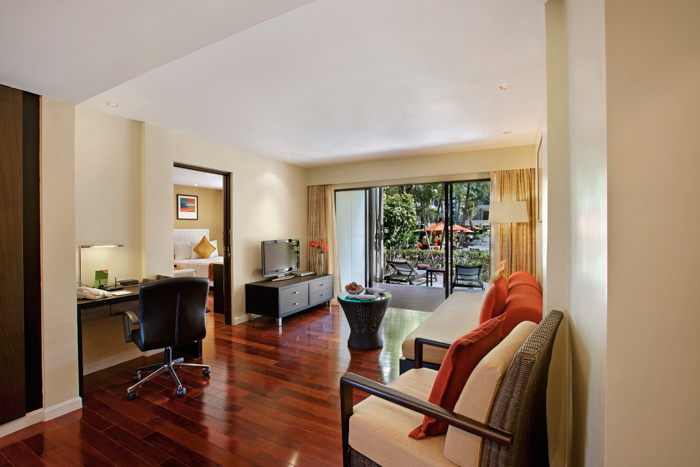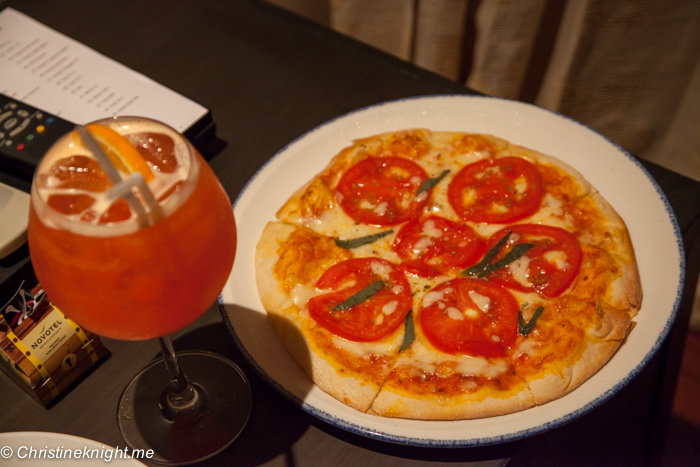 While we have the option of dining at one of the hotel restaurants, we order from the 24-hour room service menu because we are too tired leave our room.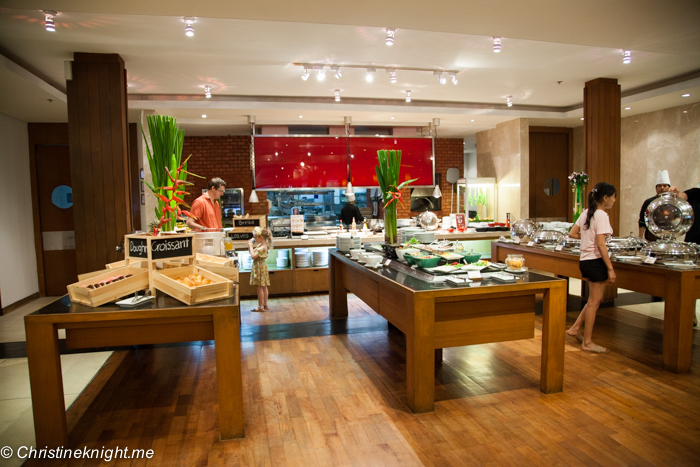 We are up before sunrise the next morning and are the first to the breakfast buffet. It's an incredible spread that includes food of various ethnicities – something to make everyone feel at home.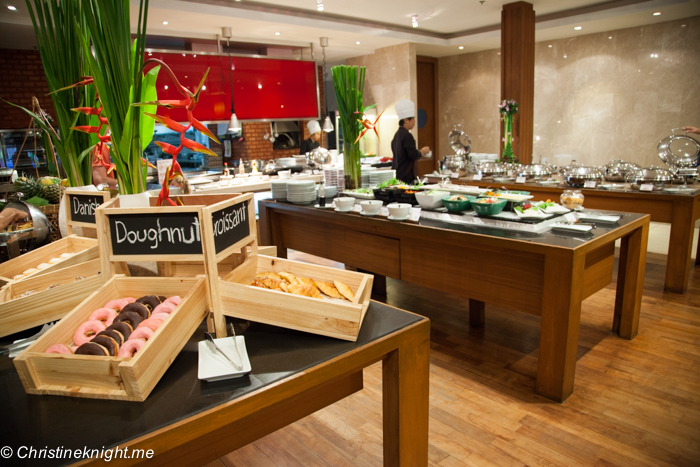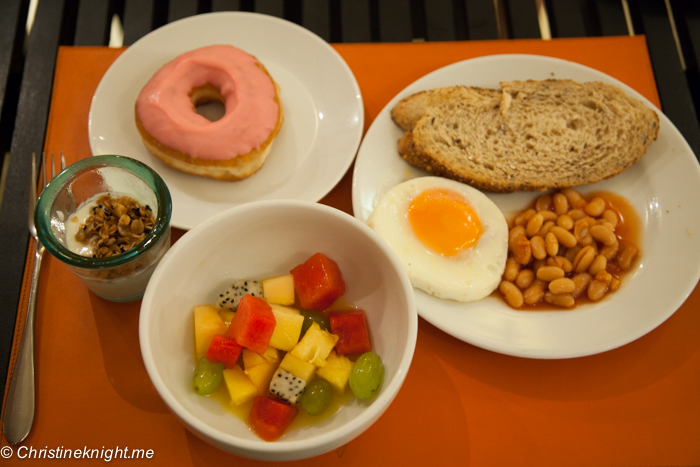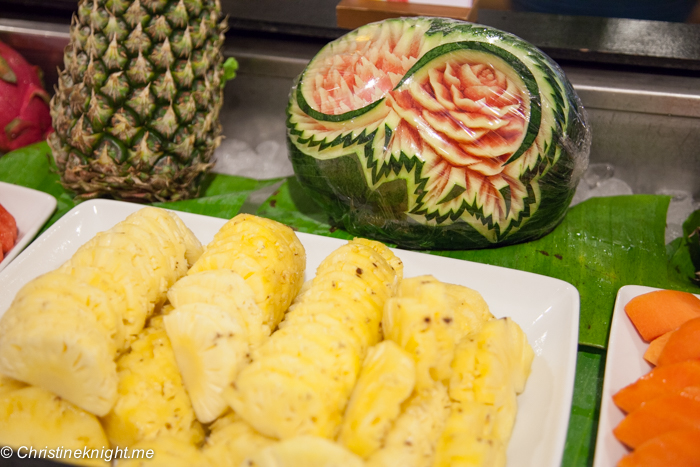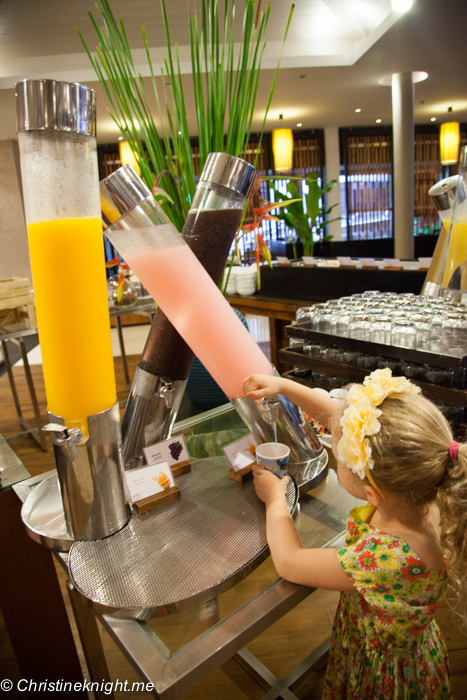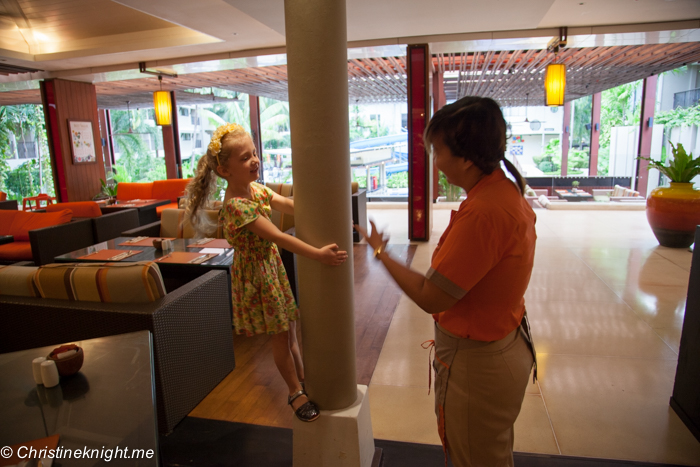 We sample dishes from every table. The "Popcake" mini pancake machine is a favourite with my daughter, while I love the fresh fruit, yoghurt and eggs. Alec tries the Asian breakfast options and loves the noodle soup, and we all try the donuts (who can resist?!).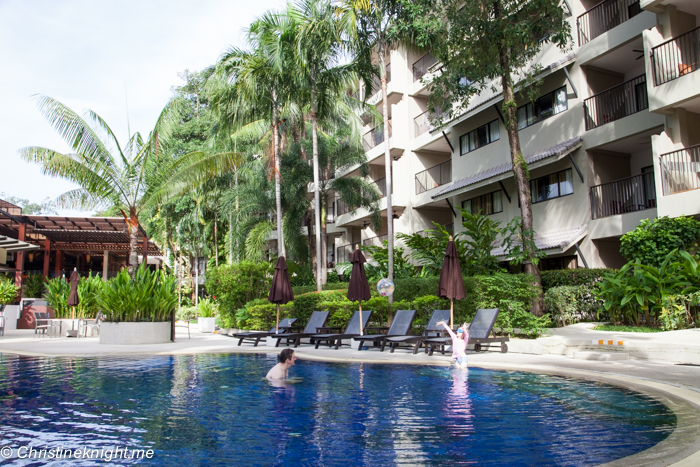 Since we're done with breakfast by 7:30am, the pool is the next stop. We spend almost five hours straight in the various pools, swimming, playing and enjoying the slides. The pools are just gorgeous – large enough to accomodate lots of people without feeling crowded, and of varying depths so kids of all ages can find an area suitable for them and their swimming abilities. While there is no actual shade cover, the plants surrounding the pools throw plenty of shade so we never feel too hot.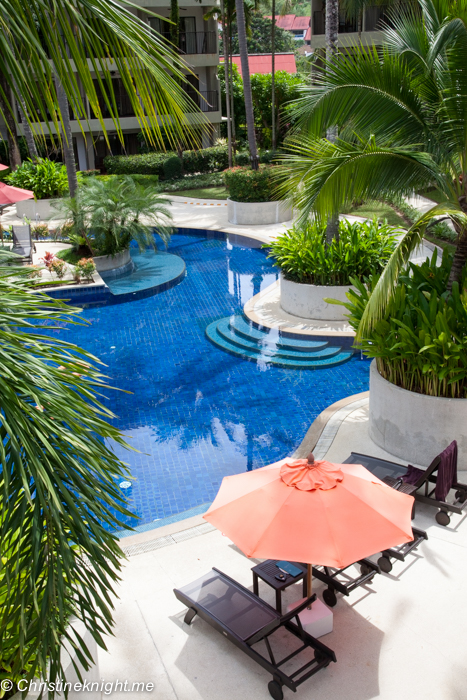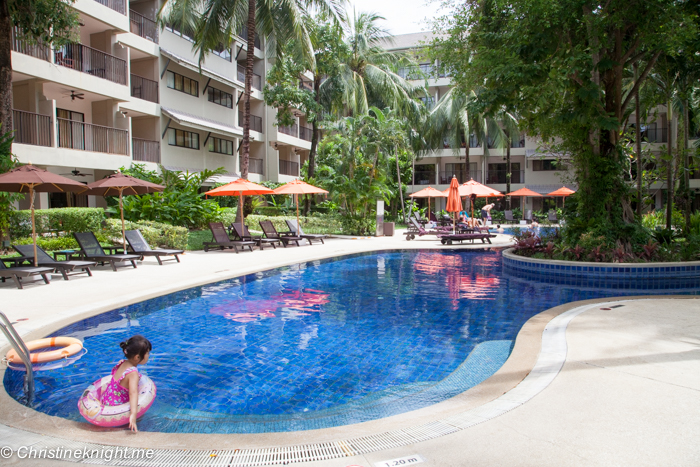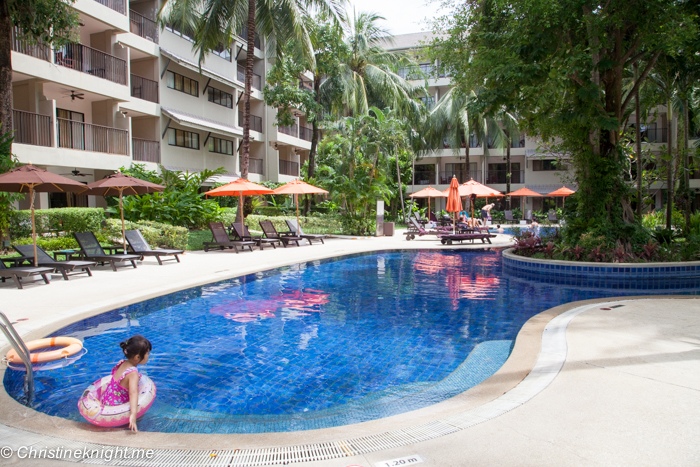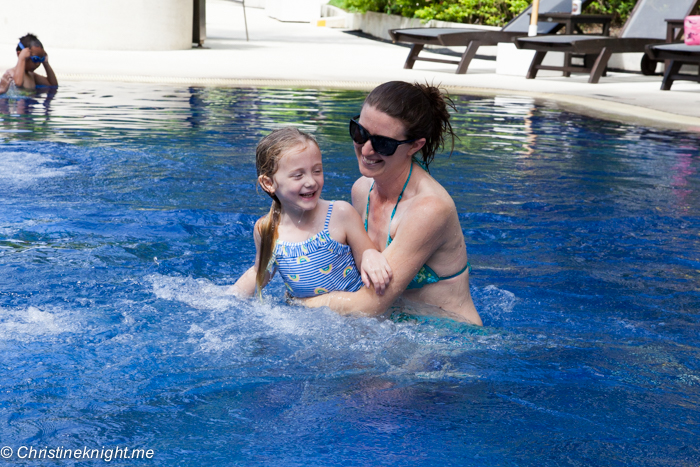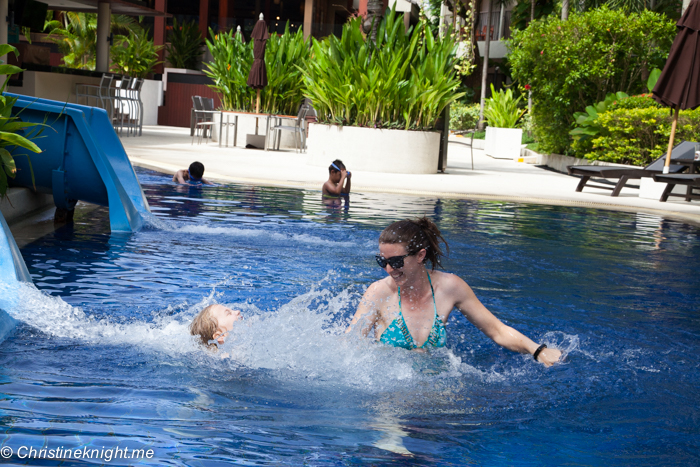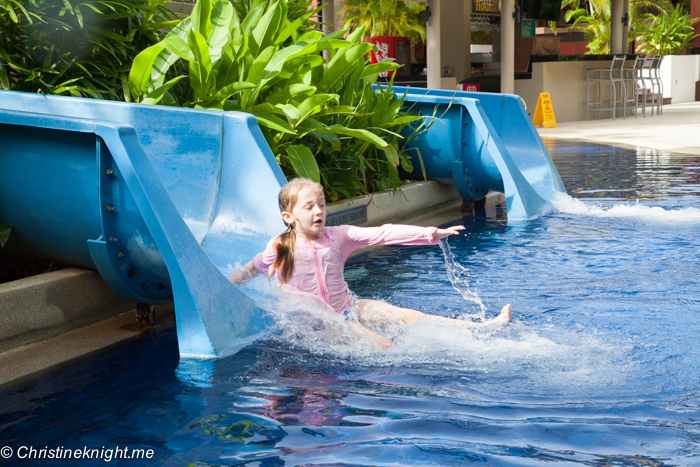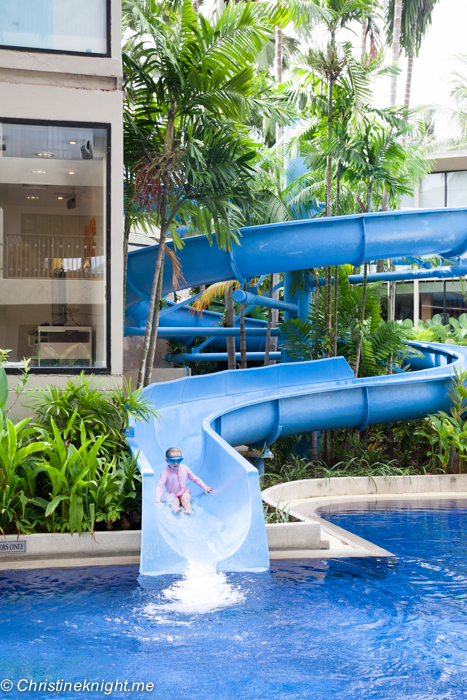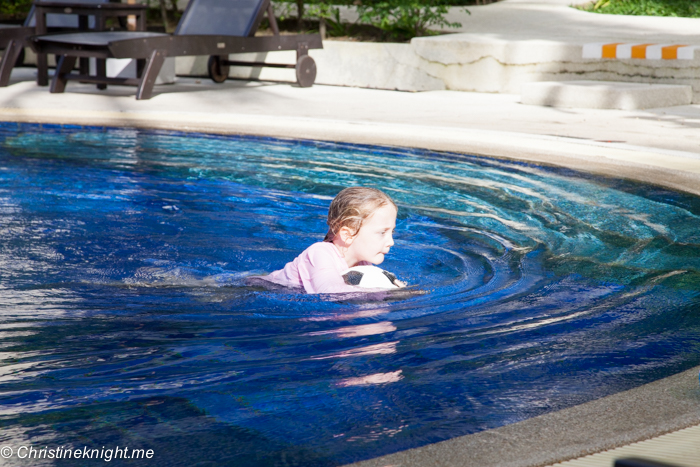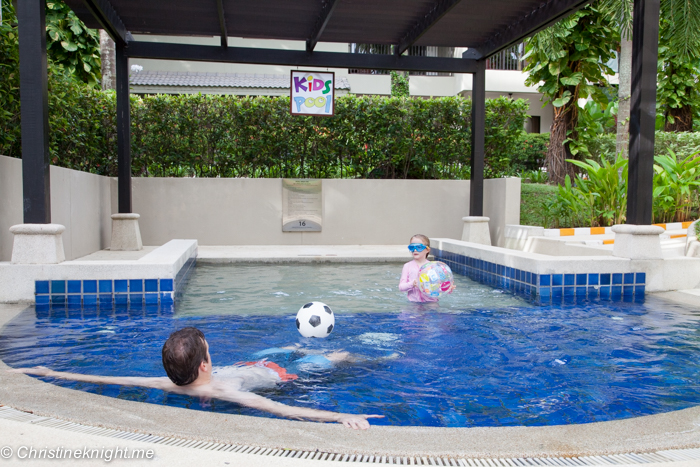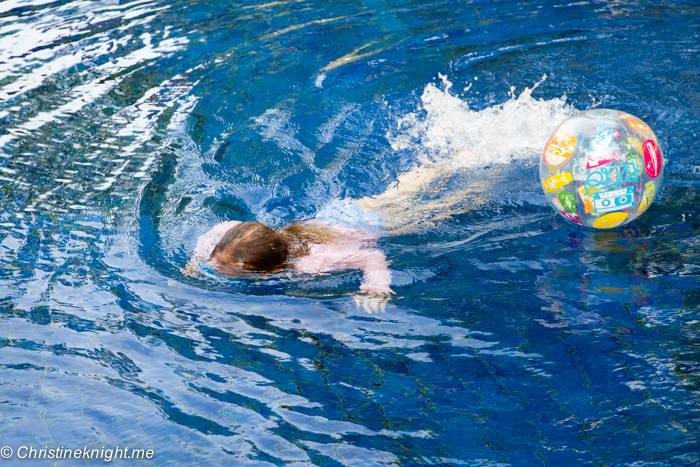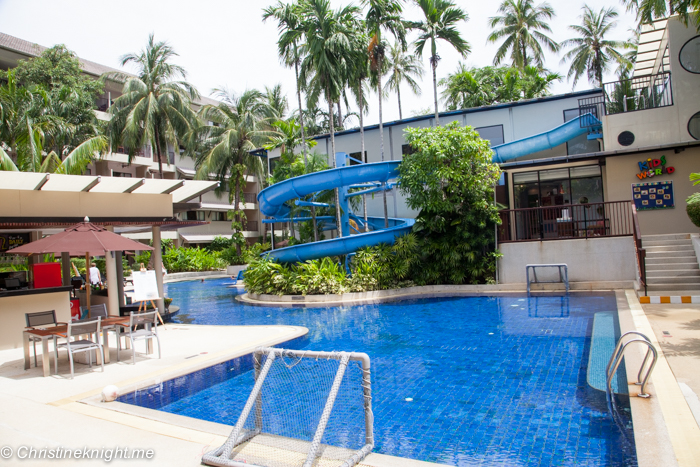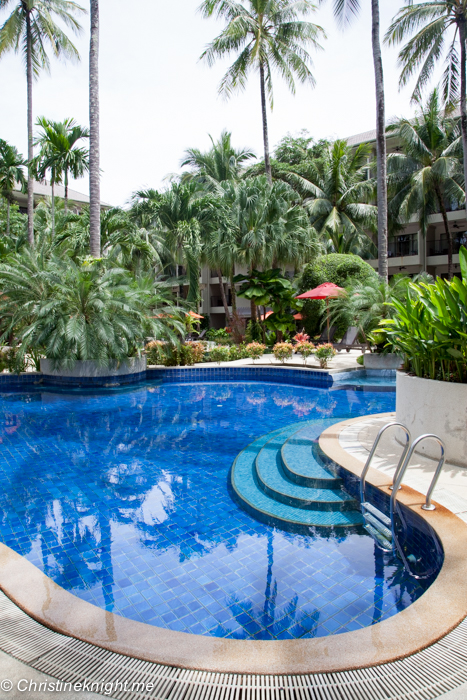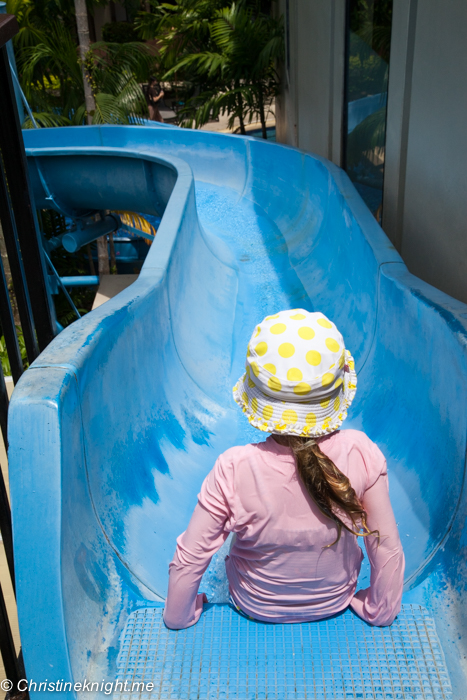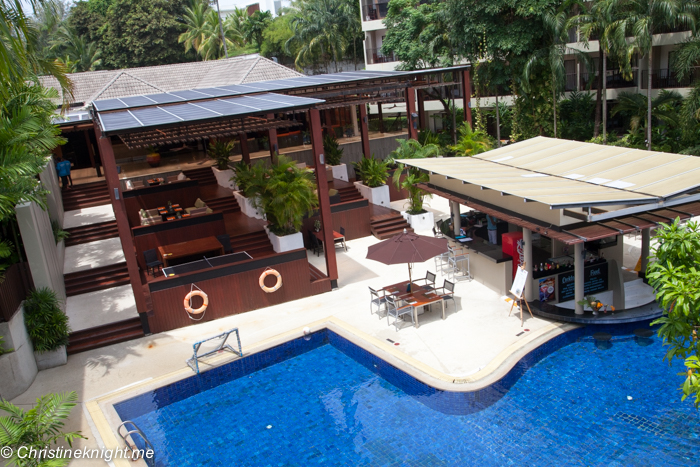 We are supremely waterlogged after the morning and we take Cheese in the afternoon to the kids' club, called Kids' World, for activities that don't involve getting wet. The staff are delightful, incredibly sweet ladies who are very accomodating and help us find fun things to do.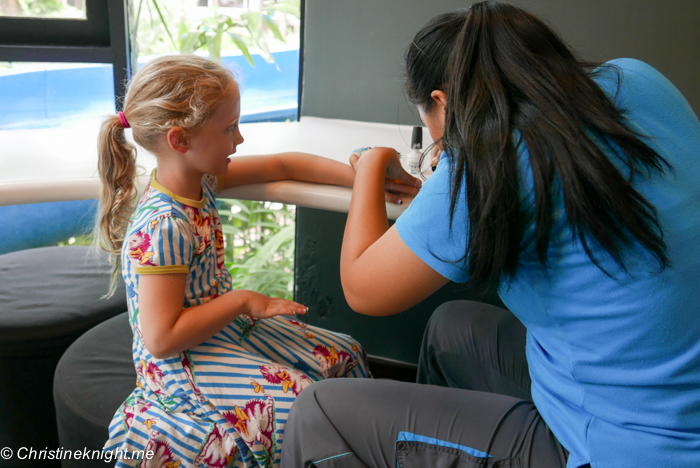 There are scheduled activities hourly every day for kids to enjoy, and we try nail painting (Cheese gets cupcakes painted on her nails) and then painting on what I think was rice paper, which was our favourite.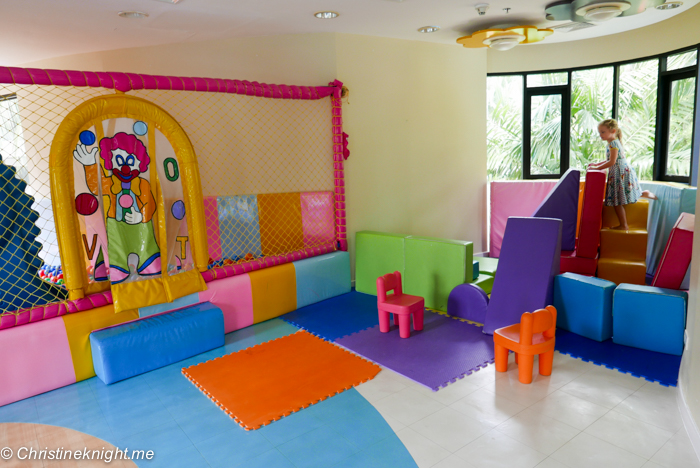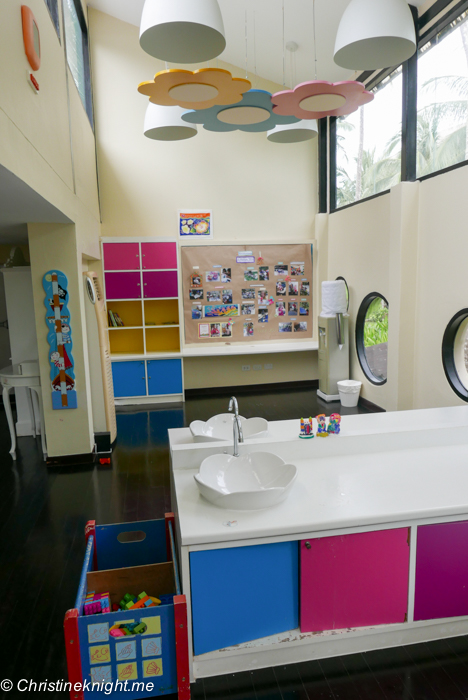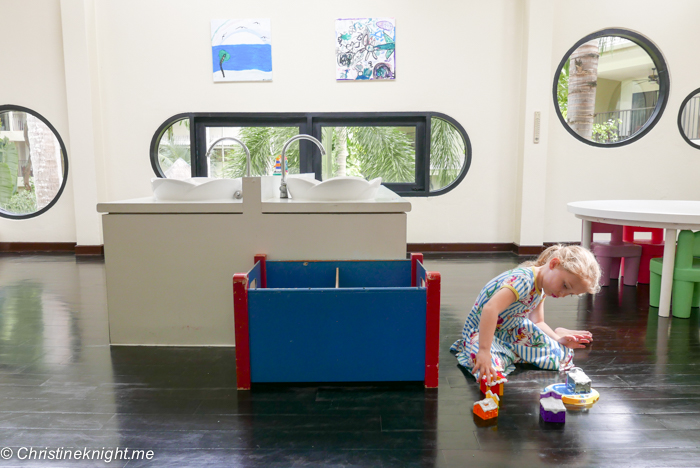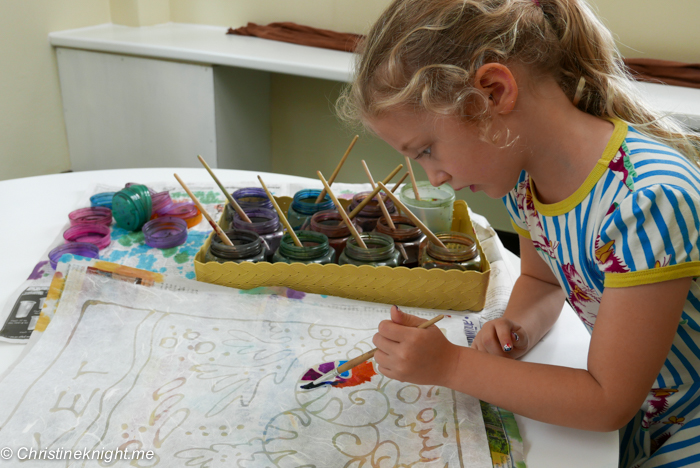 The facilities include an area with computers and games, a TV room with bean bags to relax in, and a large upstairs section with a ball room, soft play area and craft tables. Kids can be dropped off at the kids' club, or parents can accompany their kids to play and relax together.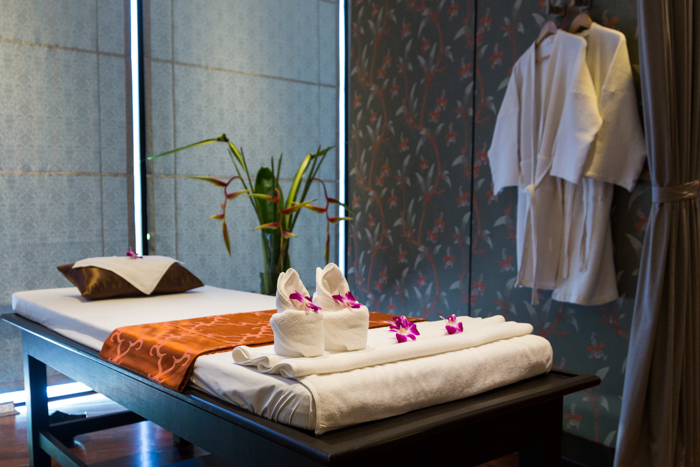 While Cheese and her dad continue to play games at the kids' club, I take a well-earned break at Breathe, the spa facilities at the resort. I choose a 90 minute relaxation massage that is such heaven that the time just races by (900TBH or $33 AUD). It's completely affordable bliss and I wish it would last forever!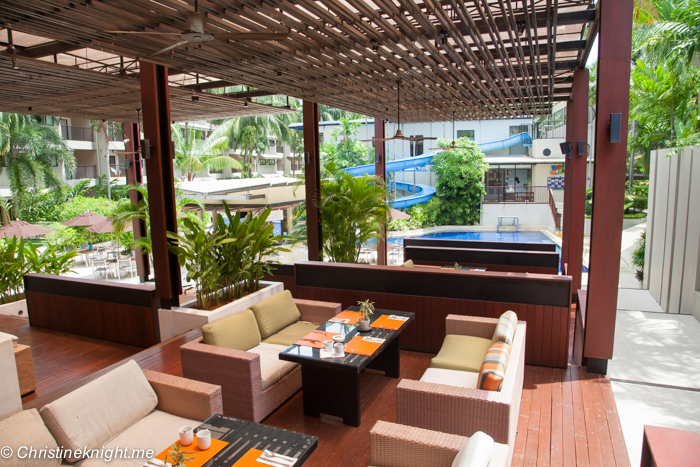 We stay three nights in total at the Novotel Phuket Surin Beach Resort, and during our stay we enjoy dining at their main restaurant, Asia Alive. The head chef, Jason, is a friendly American who is happy to chat about the local dishes, and is especially accomodating to vegetarians, which I highly appreciated.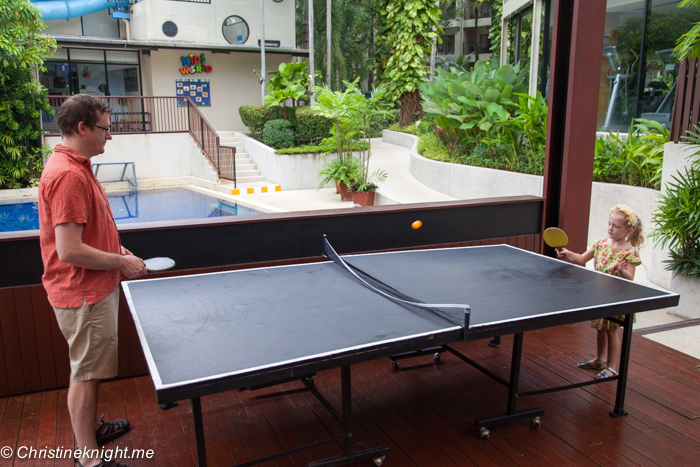 On our last night we enjoy delicious two-for-one Mai Tais at happy hour while Cheese watches a Barbie movie in the kids' entertainment area next to the bar, followed by divine local dishes at the restaurant – spring rolls, deep fried corn fritters, Pad Thai and a beef and asparagus dish that had my husband swooning.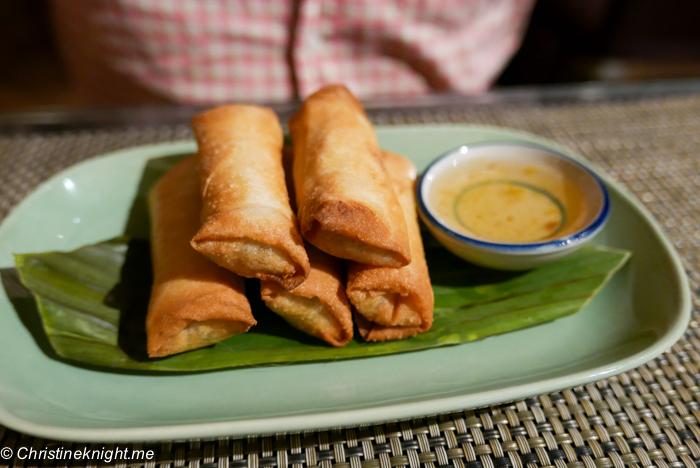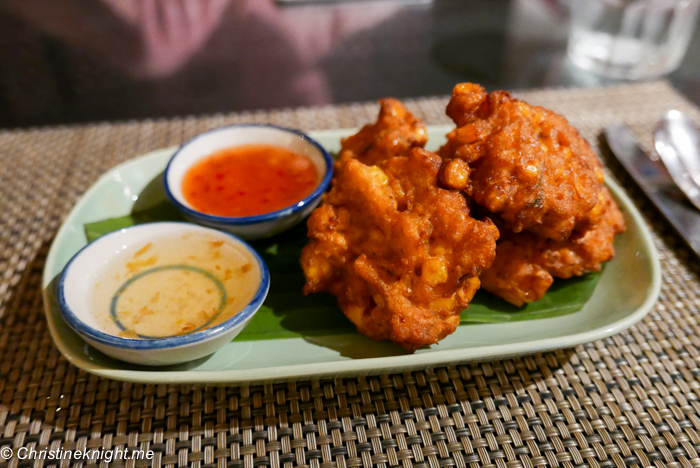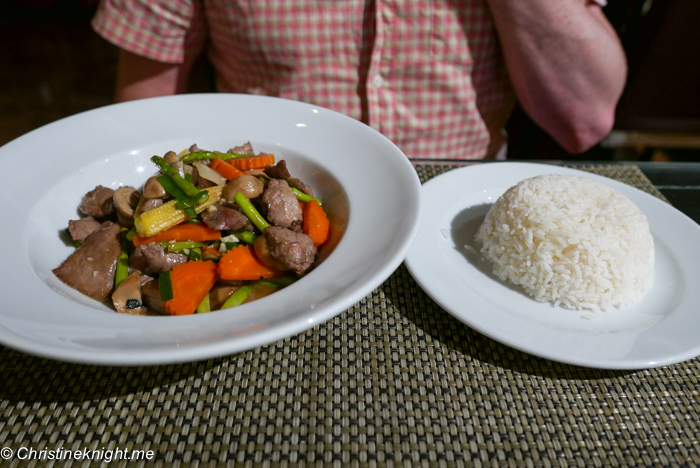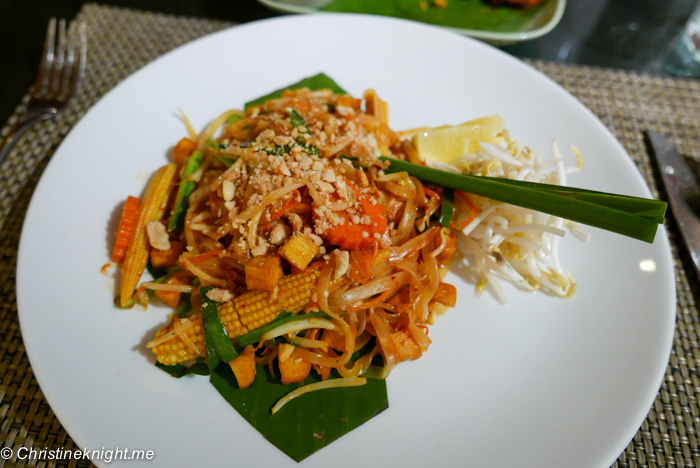 Cheese chooses a Pokemon-themed dish that was a cleverly disguised plain pasta noodles and tomato sauce with parmesan cheese on the side, and was presented with an incredible dessert that looks like a monkey.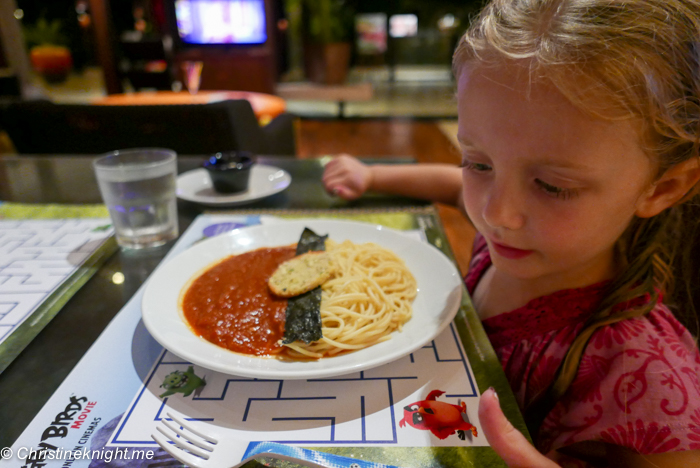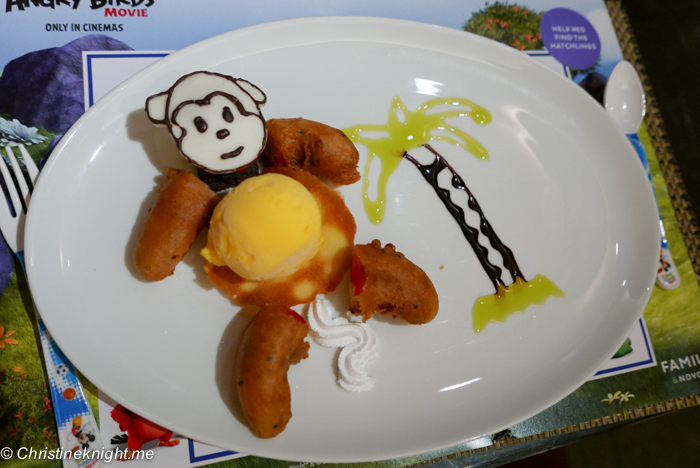 Other dining options include the Champion Bar & Grill (which serves American-style food like burgers and has a pool table that we can't keep Cheese away from), and the Board Walk Pool Bar, which has a great range of light meal options great for lunch and afternoon hunger attacks.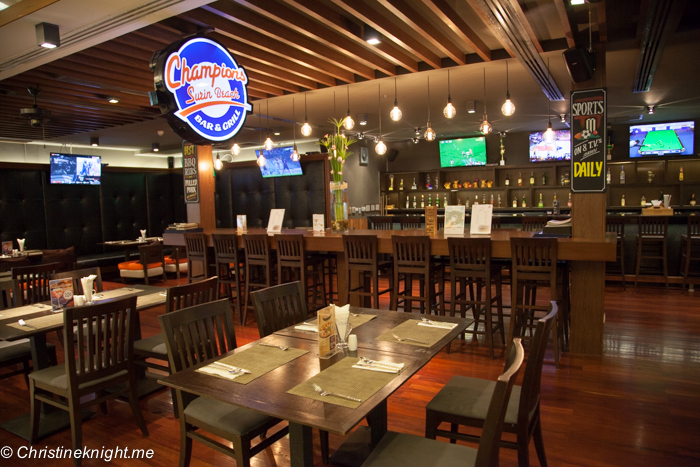 If you desperately need something light or sweet to keep you going, there is also the food store in the lobby, which serves pastries, salads and other take away food, plus has a variety of toiletries for sale that travellers usually forget to pack.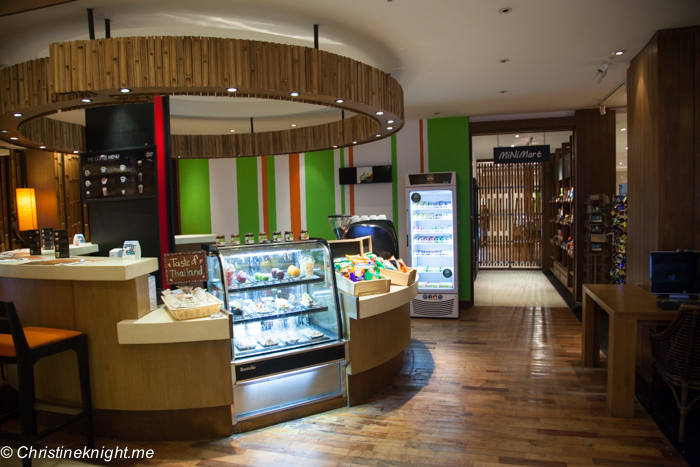 The Novotel hotels pride themselves on being family-friendly, and this Novotel was no exception. For 299THB per child per day ($11AUD), kids at the resort can enjoy an all-inclusive kids' menu, smoothies and soft drinks, a welcome surprise and daily treats (we found milk and cookies to wish us sweet dreams one night!), kids' club and in-room kids' movies and daily kids' activities at the hotel including handkerchief batik painting, jelly candle making, photo frame making, hair braiding and bracelet making.
While a lot of guests enjoy staying at the resort and don't feel the need to go anywhere else, the resort offers a free daily shuttle to Patong, the largest area for dining, shopping and entertainment – one round trip per day with pick up at 11am and return at 4pm (Advance reservation is recommended).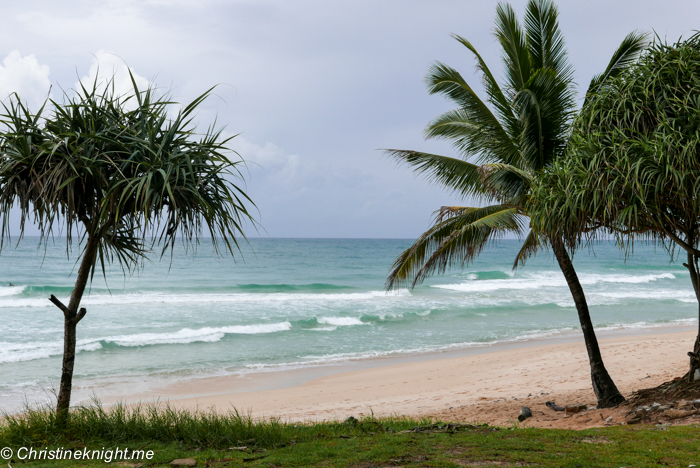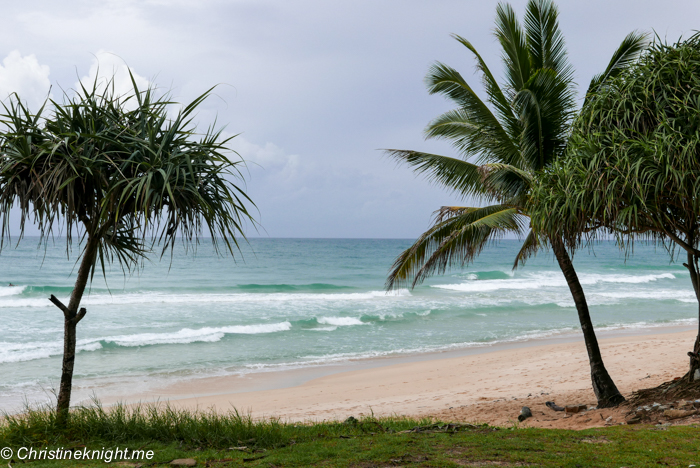 If you want to get some beach action, Surin Beach, across the road from the resort, is a very quiet spot with stunning clear water and soft sand. It's too dangerous to swim while we are there, unfortunately, due to the large waves, but it's still a gorgeous, quiet spot.
If you're after a quiet taste of Thailand, with plenty of amenities and at an affordable price, then the Novotel Phuket Surin Resort can't be beat.
Our stay was over far too quickly, and we were sad to leave such a friendly and welcoming resort.
When to visit Thailand:
We visited Phuket at the end of monsoon season (early October), and did experience quite a lot of rain. The rain was mostly in the mornings and late afternoon/evening, however, so there was still enough of the day that was try to get out and enjoy.
What to pack:
Mosquito repellant
Sunscreen
Loose, light layers that offer additional sun protection and also cover knees and shoulders if you are planning on visiting any of the temples.
Hat, swimmers, sunglasses, goggles
Thinking of visiting the Novotel Phuket Surin Beach Resort? See their current promotional offers here.
Novotel Phuket Surin Beach Resort
106/27 Moo 3, Cherngtalay, Talang, Surin Beach, 83100 Phuket, Thailand
PHONE +66 76 303 300 FAX +66 76 300 303
E-mail : info@novotelphuketsurin.com
novotelphuketsurin.com

Thank you to the Novotel Phuket Surin Beach Resort for hosting our stay. All opinions are my own. Additional images thanks to the Novotel.