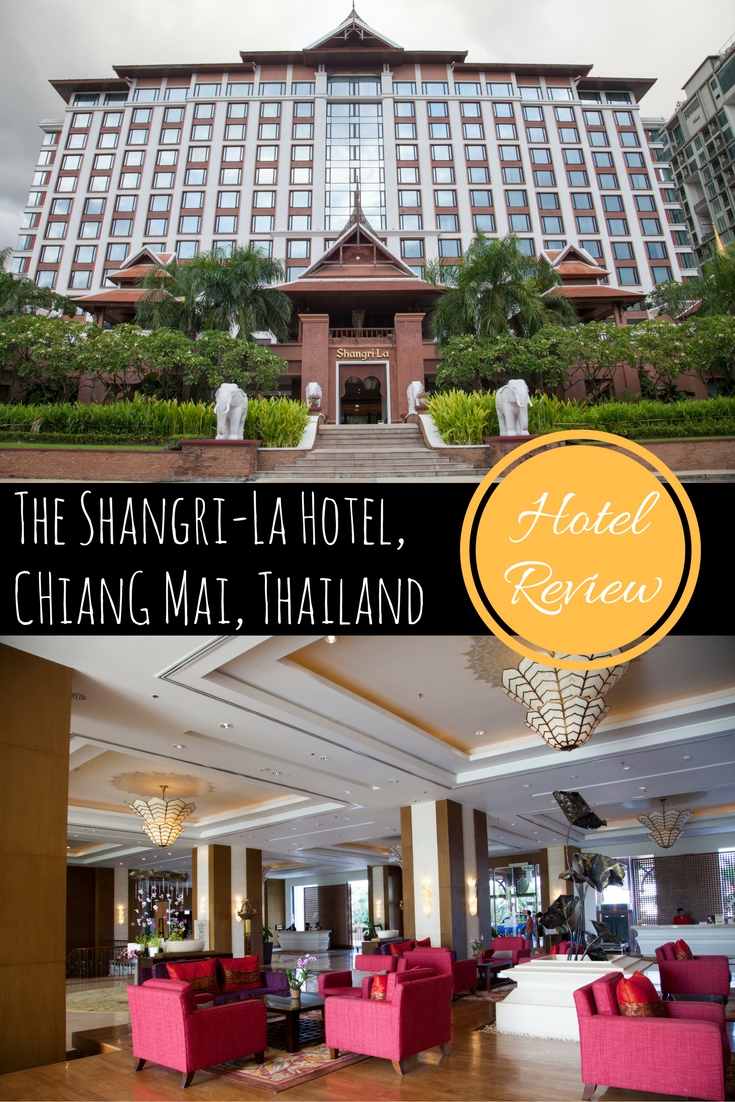 The lobby of the Shangri-La Hotel Chiang Mai smells like heaven. There is no other word for it. As we walk in from the hot Chiang Mai street outside, the blast of air conditioning hits us, fragranced sweetly with we-have-no-idea-what, but boy does it smell incredible. We take a deep breath, sigh, and know that we are going to love this hotel.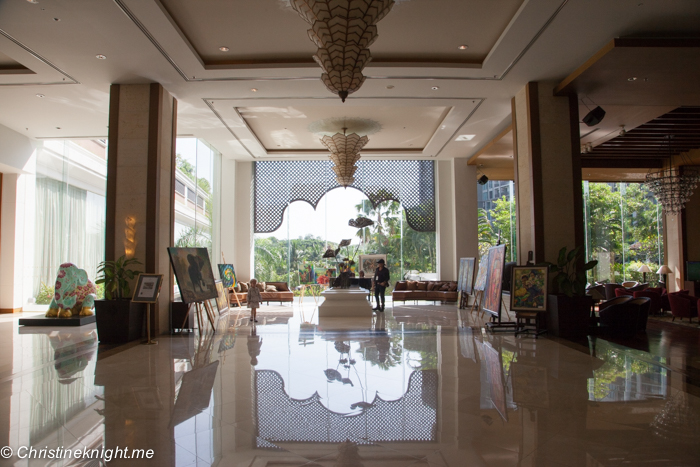 A 5-star hotel situated perfectly near to Chiang Mai's old city and night bazaar, the Shangri-La is paradise for the weary traveller. Decorated beautifully in a contemporary Northern Thai style, the hotel is luxurious, elegant and feels completely indulgent.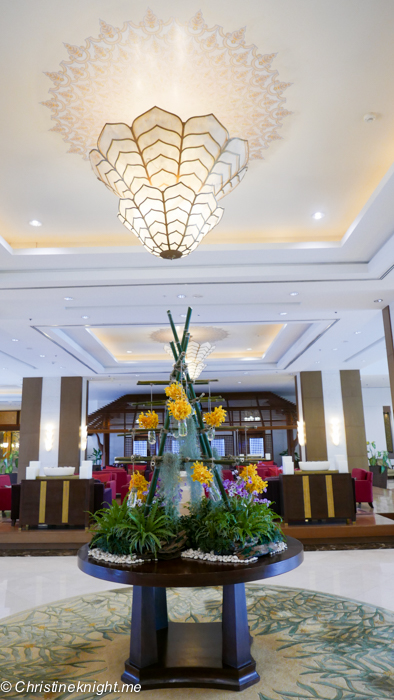 Our room is the most basic available, with a king bed and rollaway. It's spacious, bright and airy, with a gorgeously big bathroom including shower and full-size bathtub. The complimentary wi-fi is fast and easy to use.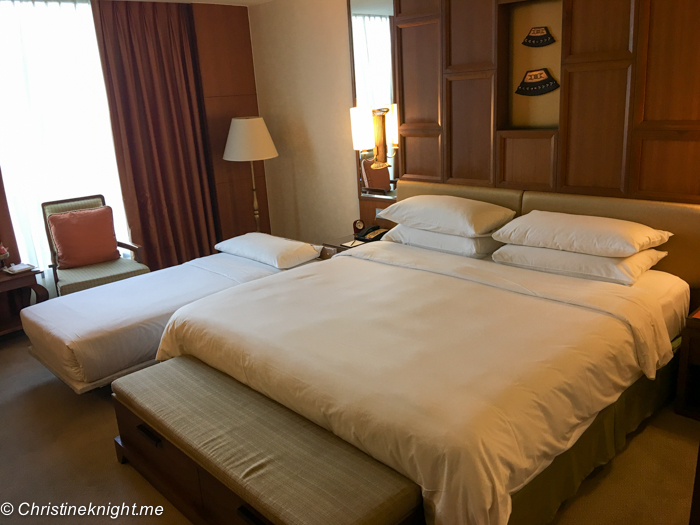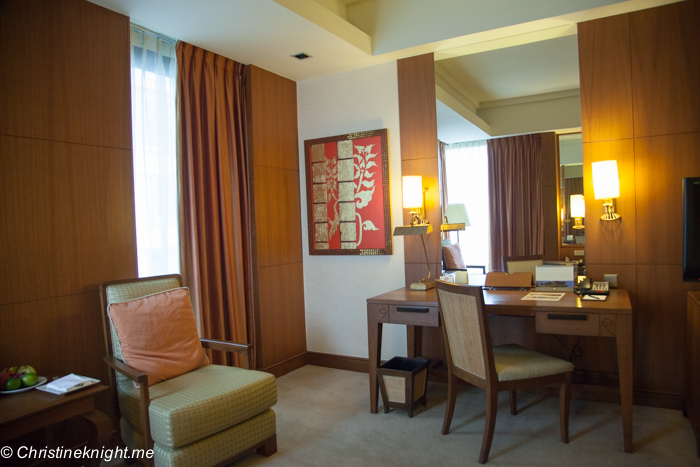 The package we booked includes daily buffet breakfast, which we enjoy every morning in Kad Kafe, an impressive room with soaring ceilings and bold lighting fixtures.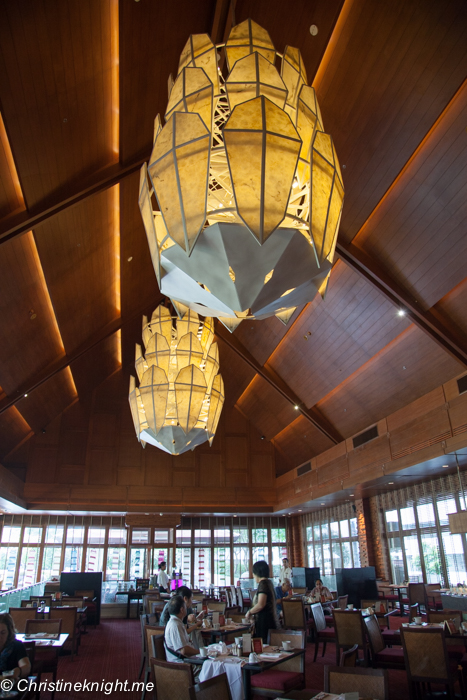 The buffet offers a wide assortment of Western and Asian cuisines, with our favourite stations being the made-to-order omelettes (mine), the made-to-order noodle soup (the husband's) and the pastry and pancakes (the child's).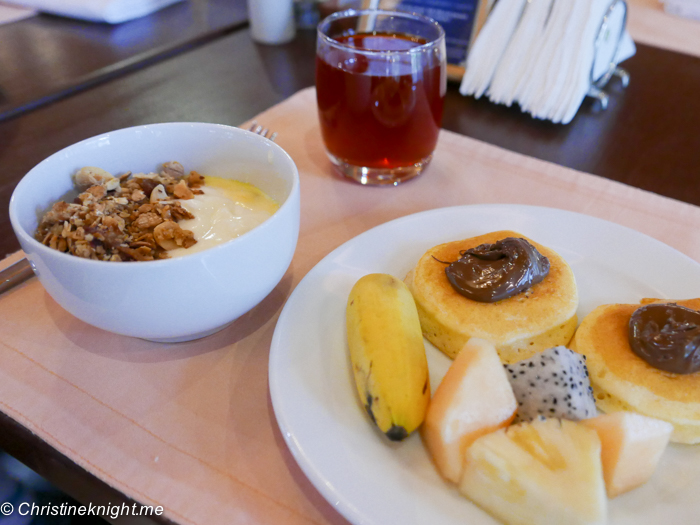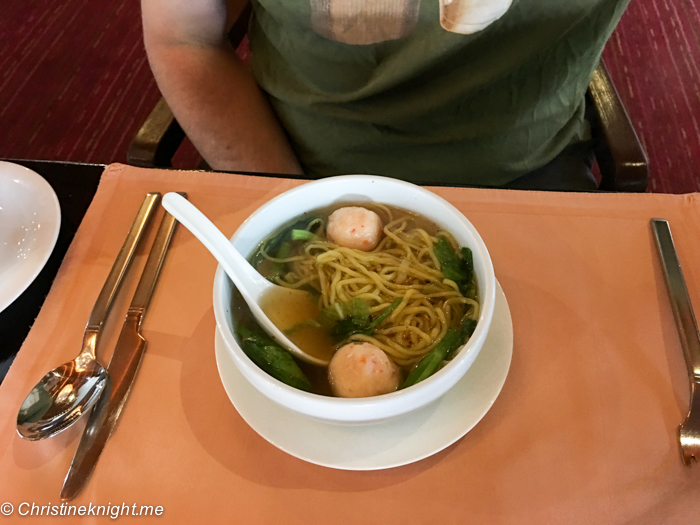 The chef in charge of the pancakes makes Mickey Mouse-shaped pancakes for my daughter every day and she almost squeals with excitement – especially when he adds a bow one morning and turns it into Minnie Mouse for her.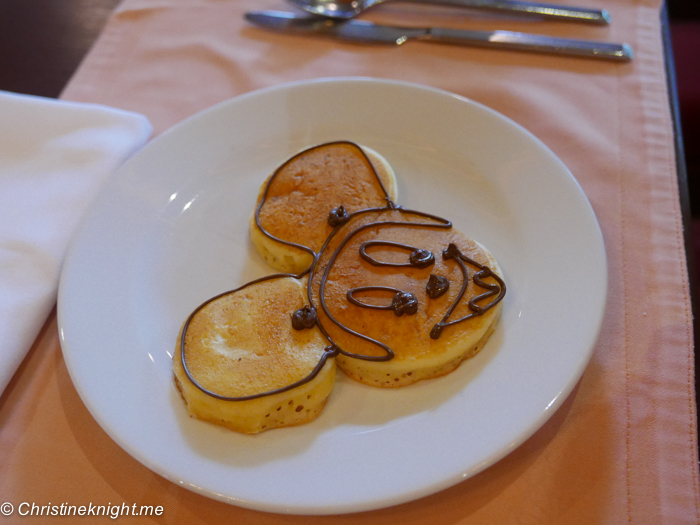 The staff offer us endless delicious drinks – tea, coffee, hot chocolate and special Thai juice made from a local flower that is especially good to get the digestive system going in the morning.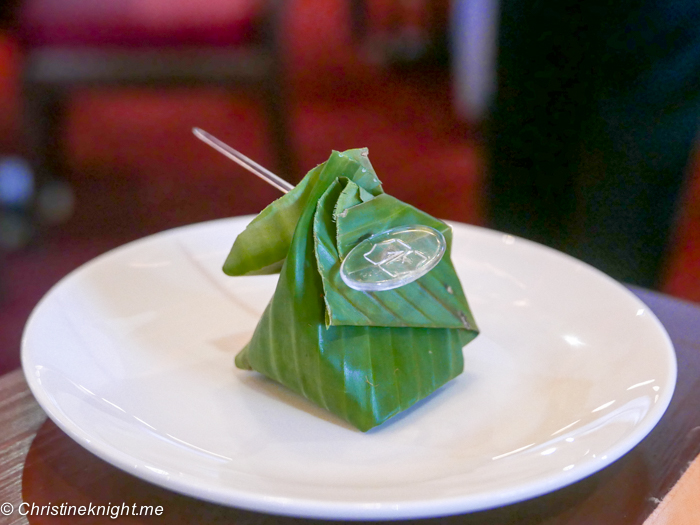 One of the chefs pops by our table with local dishes to sample – sticky rice wrapped up in leaves. They offer Cheese colouring in sheets and crayons to occupy her while we are savouring our meals. The food is delicious, the atmosphere relaxing, and we are in heaven.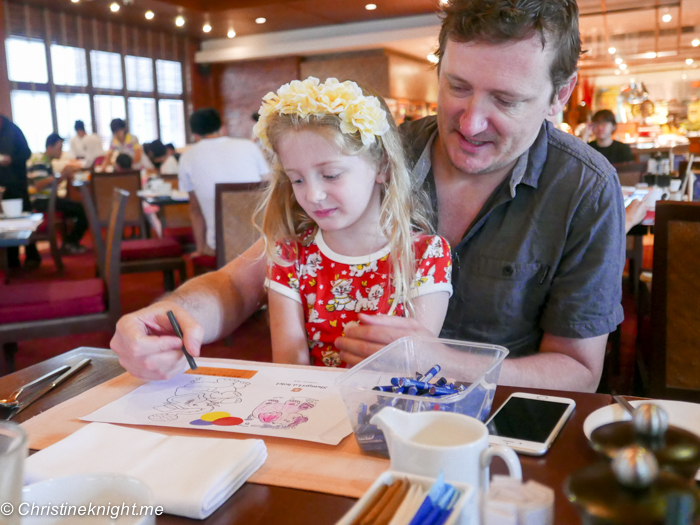 If you're planning on dining frequently at the hotel during your stay, you can select the Children's Meal Plan, which gives kids under the age of 6 complimentary buffet meals in All Day Dining and Pool Cafes when accompanied by a paying adult, up to a maximum of 2 children. In excess of 2 children under the age of 6 and for all children above 6 and below 12, a 50% discount of the buffet price will be given.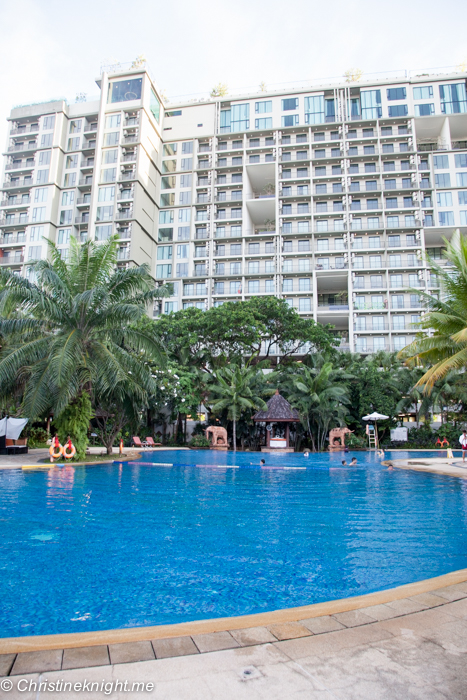 The Shangri-La is known for it's gorgeous pool, so we head there as soon we can to check it out. The one large pool is set in grounds with plenty of lush greenery surrounding, giving it a distinctly jungle feel.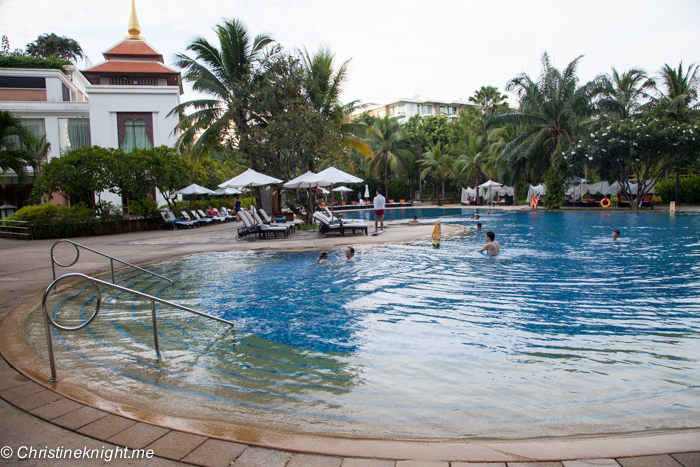 There is a large shallow end in the pool, perfect for our preschooler, and a small kiddie pool nearby for babies and toddlers. If you're not the designated swimming parent, choose from plenty of plenty of beach chairs to relax in.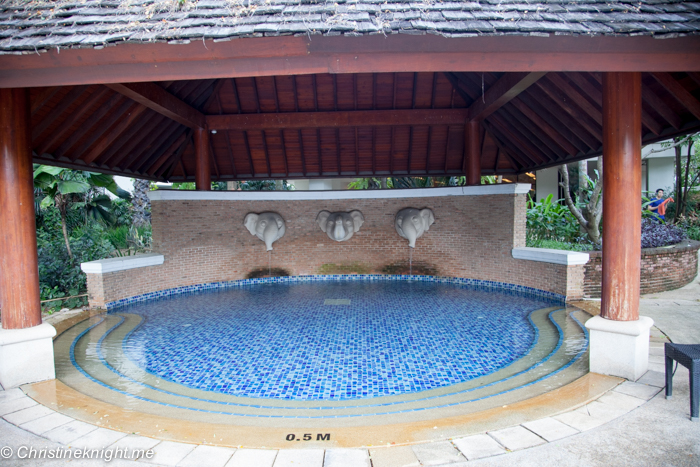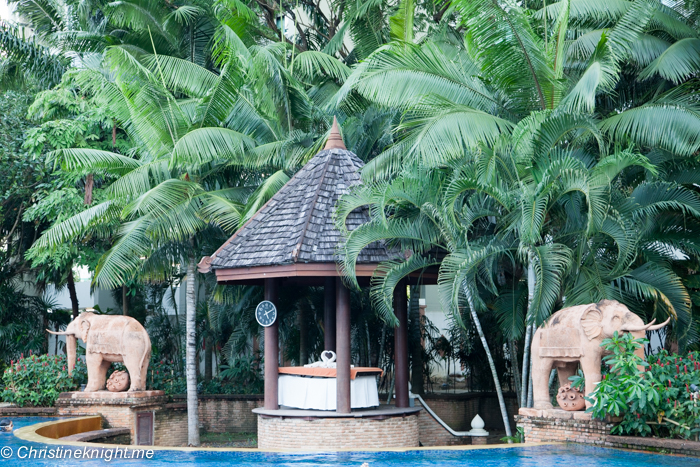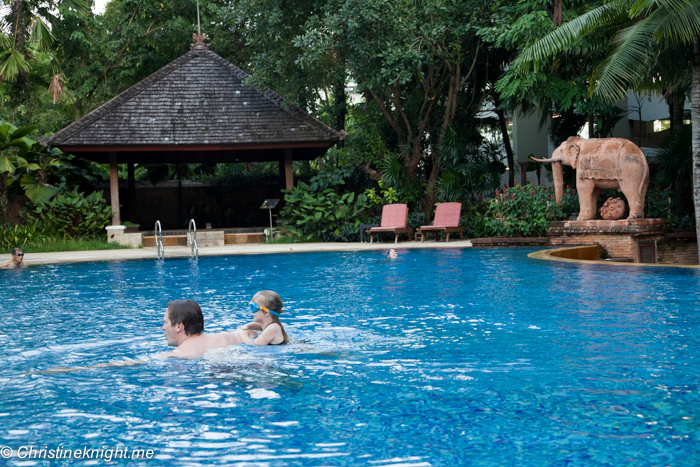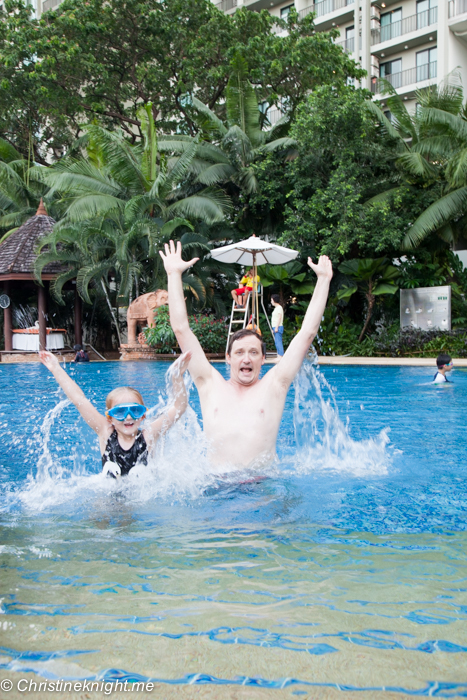 If the weather turns foul there is a decent sized kids playroom inside the hotel. There is no child minding, however – the room is available for parents to take their kids and stay with them while they play.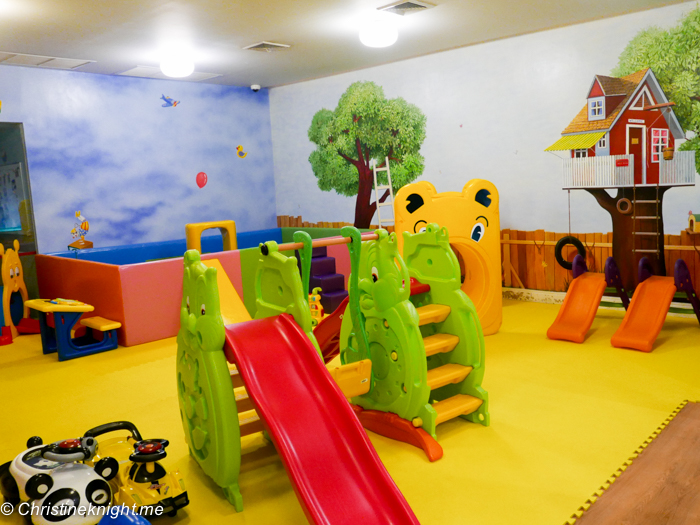 We use the hotel as our base over the next two days to explore Chiang Mai. It's about a 25 minute walk to the Thapae Gate of the old city, which is now pedestrianised and most people's starting off point for exploring the historic part of Chiang Mai. With little legs in our part, we catch a cab to the gate and walk from there (160THB or about $6AUD). To get back to the hotel, we catch a tuk-tuk (100THB or around $4AUD).
The hotel is also close to Chiang Mai's airport, so on our last morning we take a quick 15 minute cab trip to catch our plane home. Three nights wasn't anywhere near long enough to explore this gorgeous city.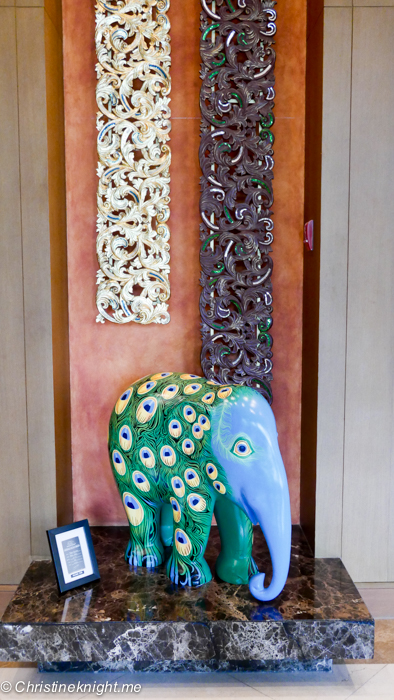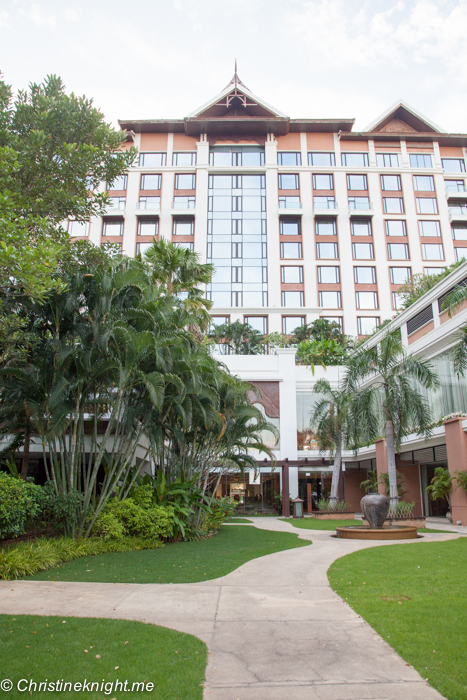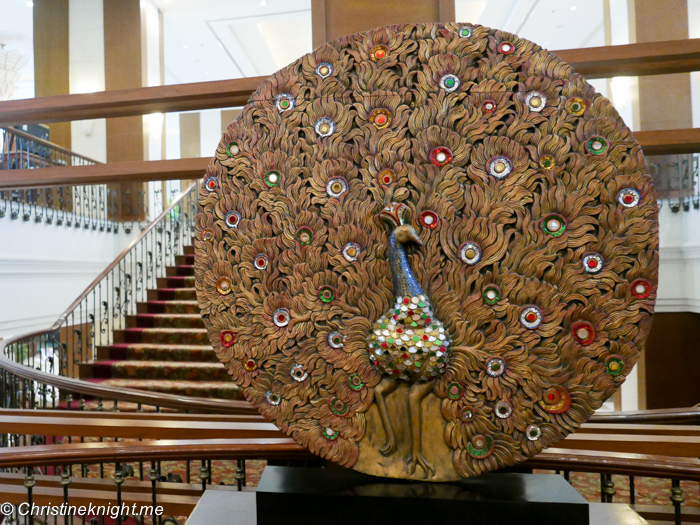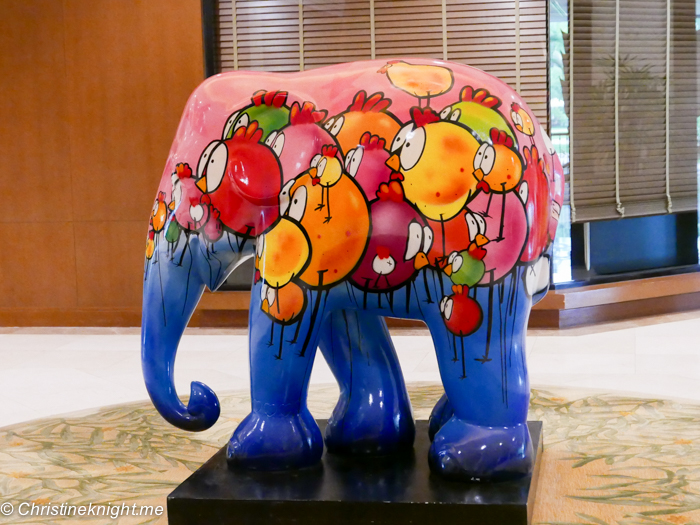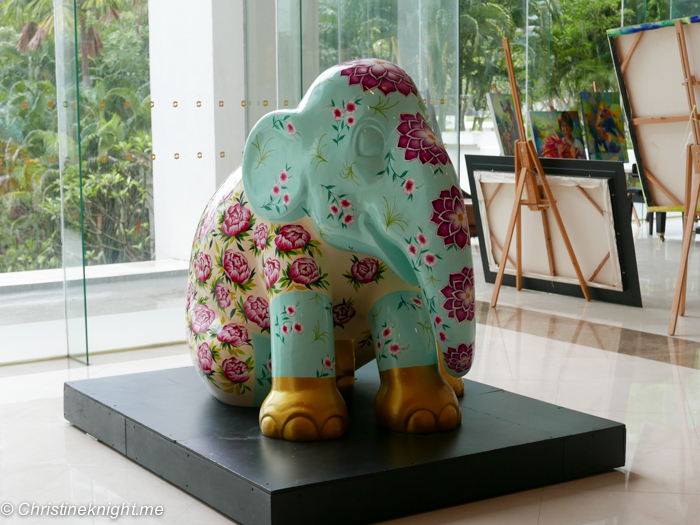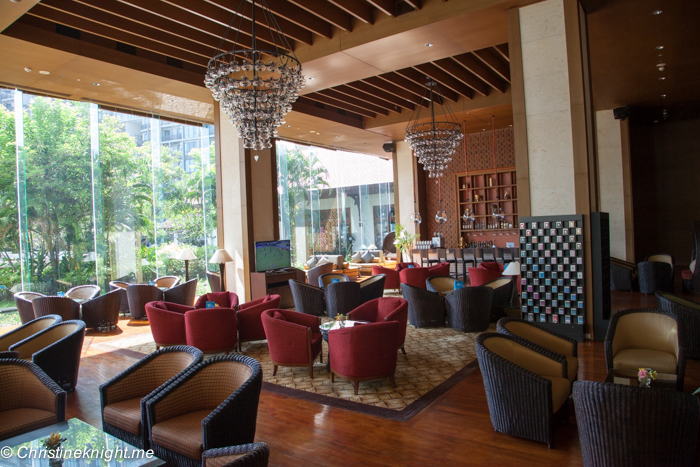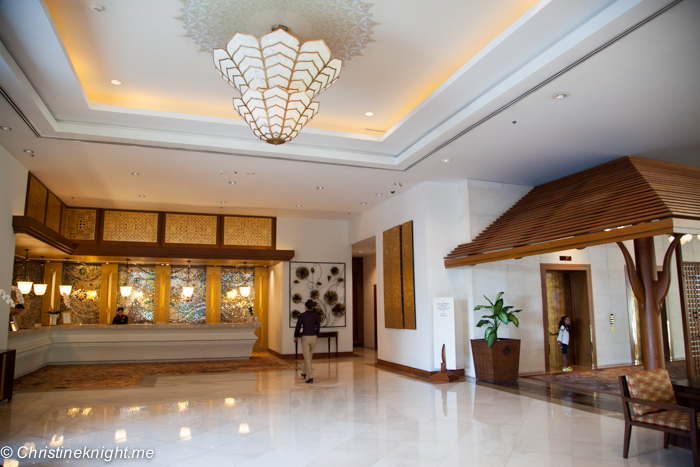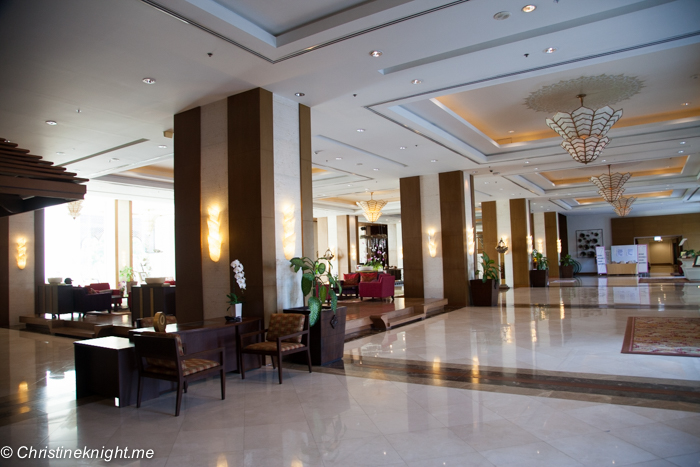 Shangri-La Hotel
89/8 Muang, Chang Klan Rd, Chiang Mai 50100, Thailand
Shangri La Hotel Chiang Mai, Chang Khlan, Chiang Mai, Thailand
We booked their current best rate package including room plus breakfast, from 4,500 THB per night. This offer is available from 4 Mar 2016 through 20 Dec 2016. Rates are subject to 18.7 % service charge and government taxes.
This post contains affiliate links. If you book a room through my link I will receive a small commission. Our stay at the Shangri-La was self funded. Thanks for supporting me and my site!