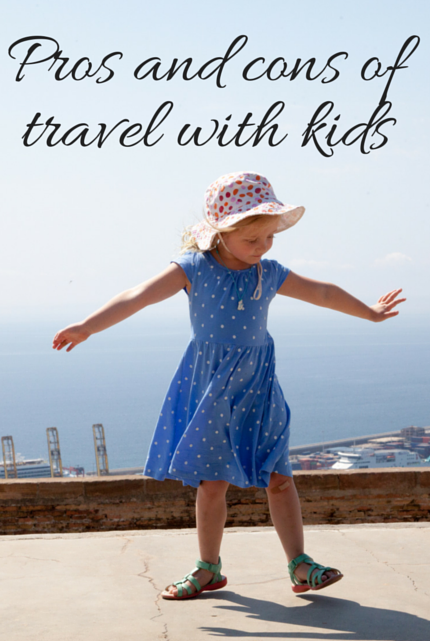 As we've done a lot of travel with Cheese since she was only 3 months old, this is something I get asked a lot. We travelled for necessity – from New York back to Australia and Hawaii to see family, and to Canada to get our visas renewed. If we hadn't needed to travel so much we would have probably been too scared to do so, as Cheese was a really tough baby, toddler, and, let's face it, a tough preschooler. Being forced to travel was actually great because it made us get out and experience the world and create wonderful memories instead of staying home and just keeping to local, easy experiences. I wanted to share a few pros and cons of travelling with little kids.
PROS:
You still get to travel
My husband and I love travelling passionately. It's an integral part of who we are. We were determined that when we had a kid that our travel would resume as soon as possible. We didn't expect parenthood to be as hard as it was, but we are getting on with the difficulties while still seeing the world. We don't want to wait until Cheese grows up to see everything we want to see – we want to experience as much as we can while we are also still young and fit enough to enjoy it. As I write this, we are in Barcelona, about to head out for tapas lunch. Travelling with a little kid is obviously a lot different than pre-kid (goodbye lazy mornings and romantic nights fueled by sangria!) but it is still incredibly enjoyable. If it wasn't, we wouldn't do it. Adapt to the changes and travel is still wonderful, with kids of any age.
Your kid grows up a world citizen
Cheese is an American and Australian citizen. As well as significant travel in these two countries, she's also been to Canada, Mexico, Spain and soon London. And she's only 3. She already adapts to different cultures easily and speaks handfuls of Italian and Spanish. She understands what different languages mean and is able to confidently interact with people no matter what they look like or what language they speak. She is already a world citizen.
The memories are priceless
The years we spent in New York are among the best in my life. Each trip we have taken has been challenging, but has created memories that I will cherish for the rest of my life. Cheese at 1.5 yrs stroking a dolphin in Hawaii. At 2.5 yrs dashing down a beach in Mexico. At 3.5 yrs dancing in a rainbow inside the Sagrada Familia in Barcelona.
Young kids are cheap
The younger your kid is, the cheaper it is to travel with them. Babies are free for everything, and kids up to a certain age get free transport/entry/hotel pull out beds. This trip to Barcelona, we've only had to pay for Cheese's flight and food.
CONS:
It's exhausting
I won't lie, it's really hard work travelling with a little kid. Jetlag is a killer – the first few mornings in Barcelona we were all up at 4am. Having a little kid means there is no such thing as a relaxing time either, it's constantly go go go to keep them entertained.
You see and do less
Travel with a little kid means changing your expectations of what you're going to see and do in any location. Less galleries and historical walking tours and more playgrounds and kid-friendly outings like castles.
All in all, it's worth it to us to travel while Cheese is still young. We have such itchy feet that we can't seem to live any other way.
What about you? Do you travel a lot with young kids?