The Sydney Festival is on right now (it runs 8-25 January) and they have some really fun events for families. We've checked out the Waterfall Swing in Darling Harbour, the Festival Village in Hyde Park, City of Sydney Lawn Library and The Very Hungry Caterpillar Show. Next, I'm looking forward to Family Week (Jan 20-25) in Hyde Park, with its free workshops, art and music for kids.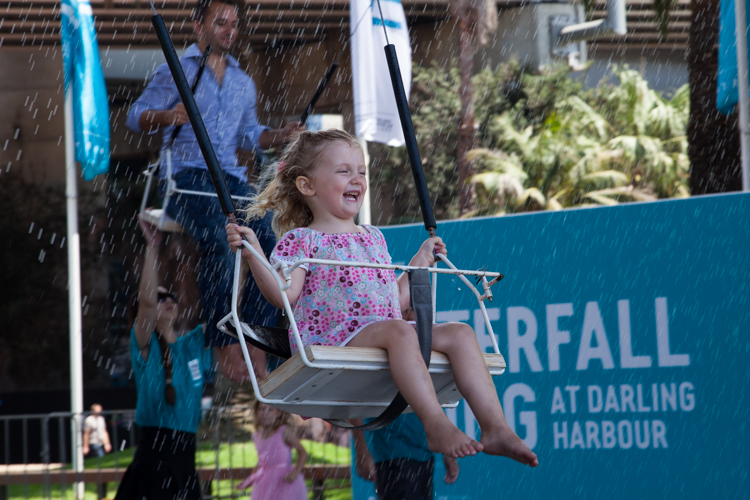 The Waterfall Swing in Darling Harbour is super fun for kids and adults. In fact, when we were there, I saw about 50% kids, 50% adults enjoying the swing, so don't be shy! The intelligent swing creates a cascade of water that opens just in time for the rider to pass through. Be prepared to get soaking wet! (8–24 January, 9am–9pm, daily)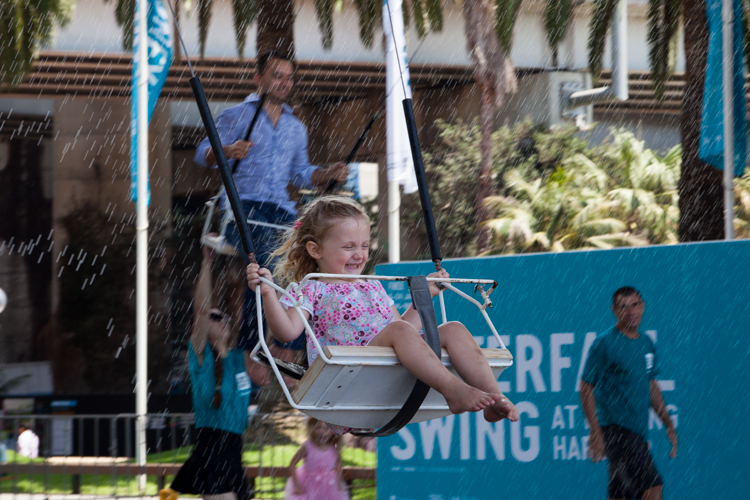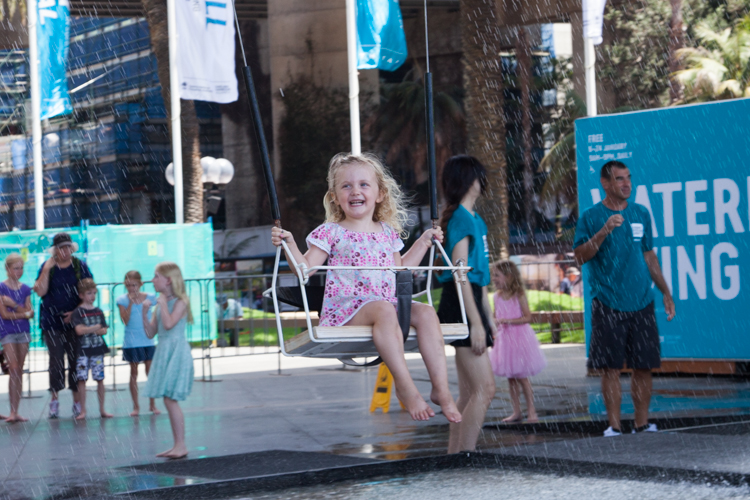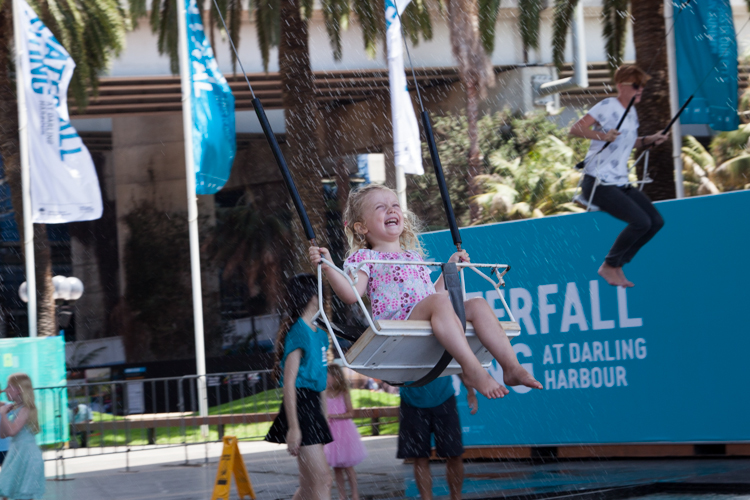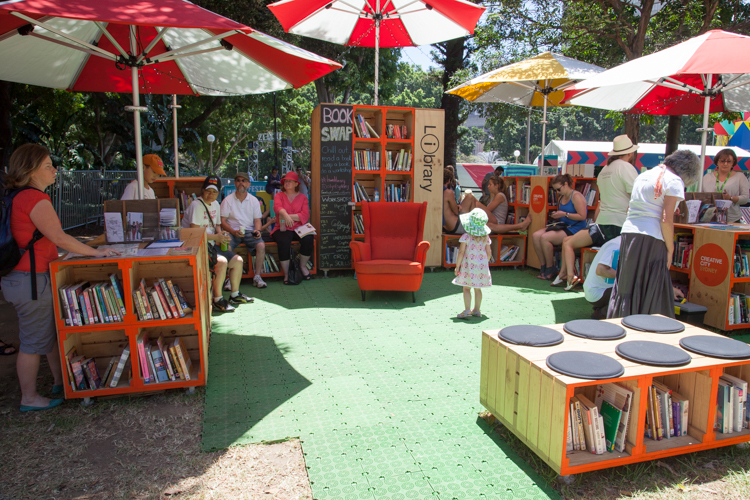 We also stopped by the City of Sydney Lawn Library, which is home to a lot of activities for all ages like calligraphy, circus skills and pop-up crafts. The kids particularly enjoyed the big Jenga-style blocks.
(8–25 January 2015 ,11am–11pm Daily, Closed Mondays)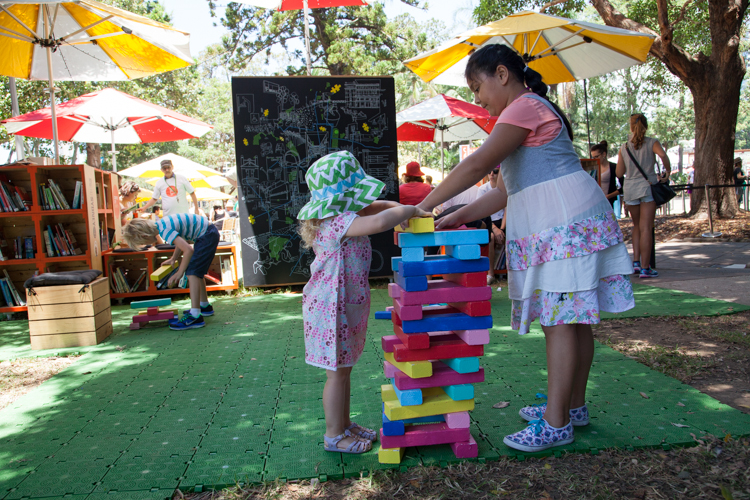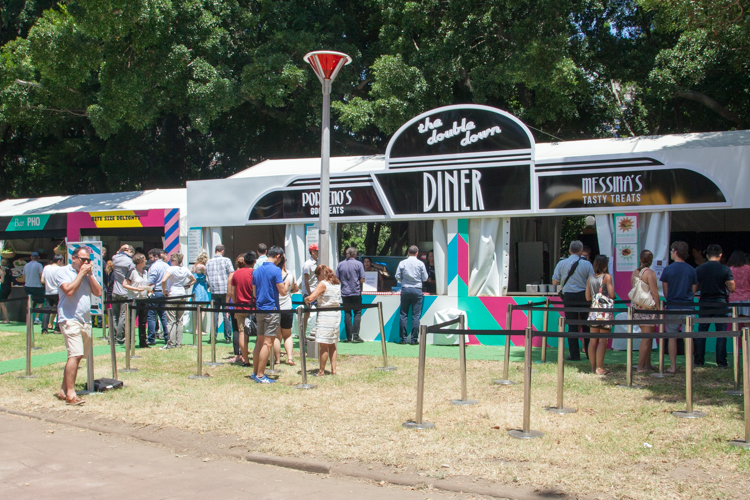 The Festival Village in Hyde is home to delicious (albeit a bit pricey) eats and treats. Restaurants include Bar Pho, Harvest Trader & Co, Puntino Trattoria, Bite Size Delights, Bar Coco Milk Bar, Jafe Jaffles, the Village cheese shop Cheesesmith, and Porteno and Gelato Messina have joined forces to create The Double Down Diner.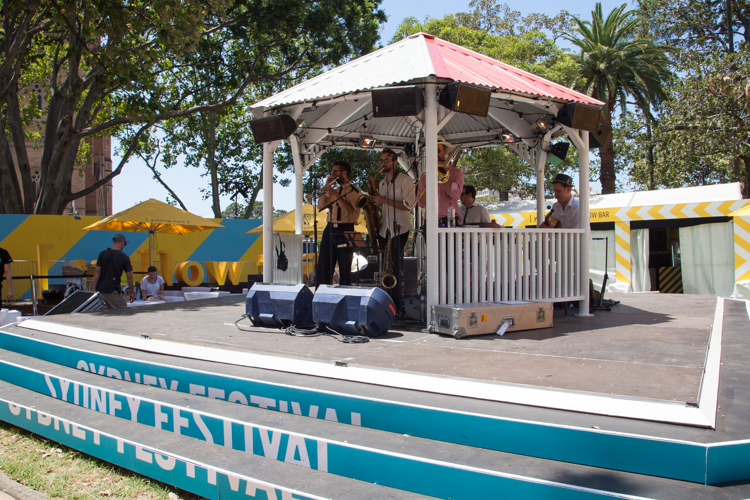 There are also a variety of free and paid events on during the festival. Freebies include live music playing, such as this band.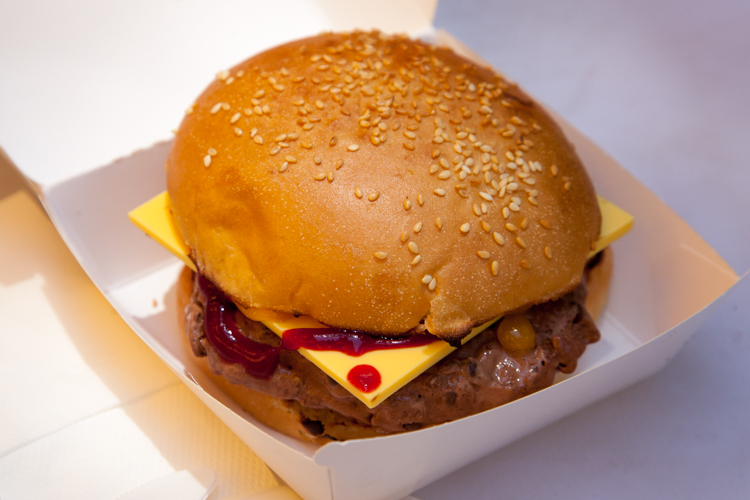 Gelato Messina "The Royale With Cheese" ($10). The Messina "gelato burger" – milk chocolate gelato patty layered with white chocolate cheese, passionfruit "mustard" and raspberry "ketchup" served on a warm brioche bun. Honestly, I didn't like this one. The bun was a bit weird and not sweet enough for me. I would have preferred some kind of fake bun made out of biscuit .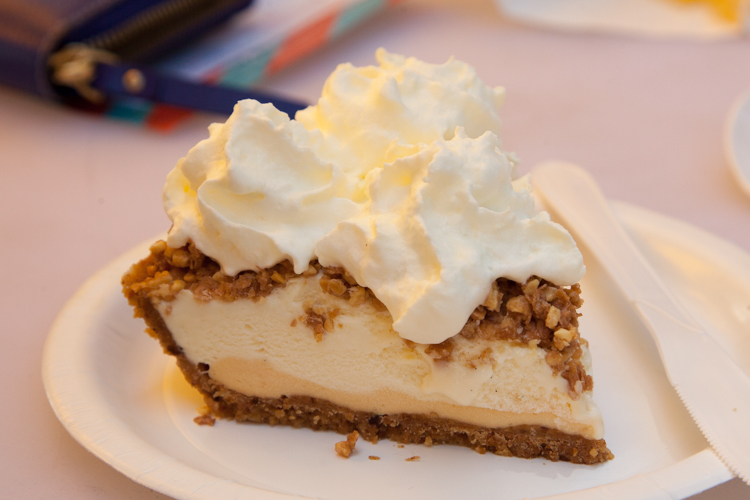 Gelato Pie ($8) "The Nutty Professor" – peanut butter biscuit base layered with peanut custard, vanilla gelato, peanut crunch and topped with whipped cream. Pretty tasty, but I'm not a huge nut fan.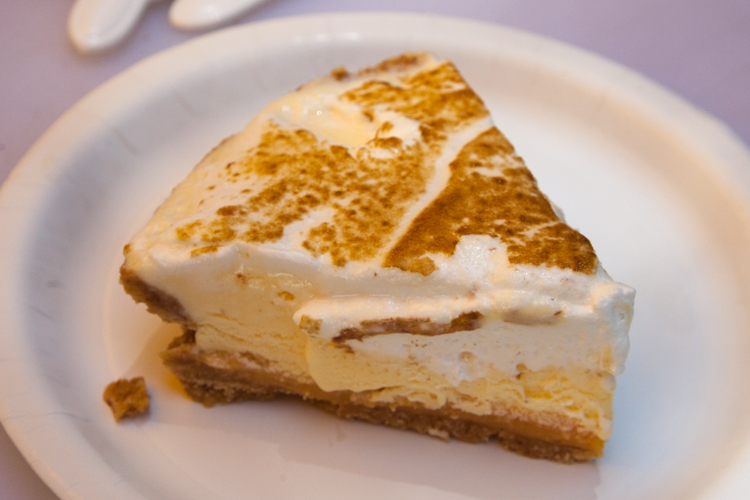 Gelato Pie ($8) "Lemon Meringue Pie" – Buttery biscuit base layered with lemon custard gelato, lemon curd and topped with torched lemon meringue. This was my favourite of the three. Really lemony and delicious.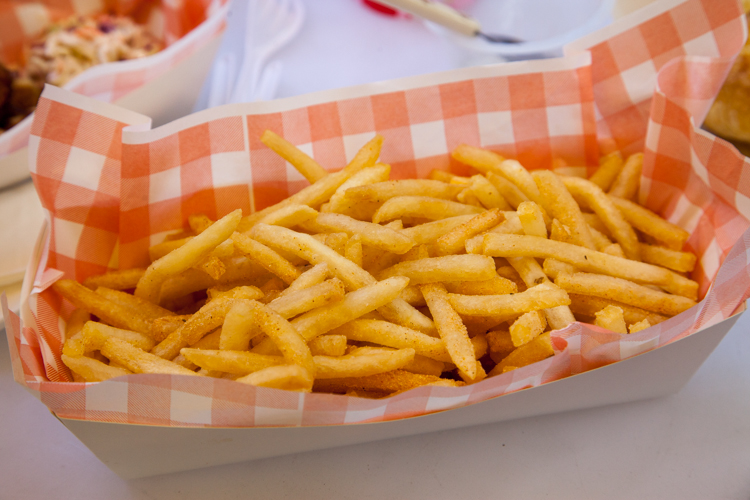 Basket of fries $10. Really good and a big serve to share.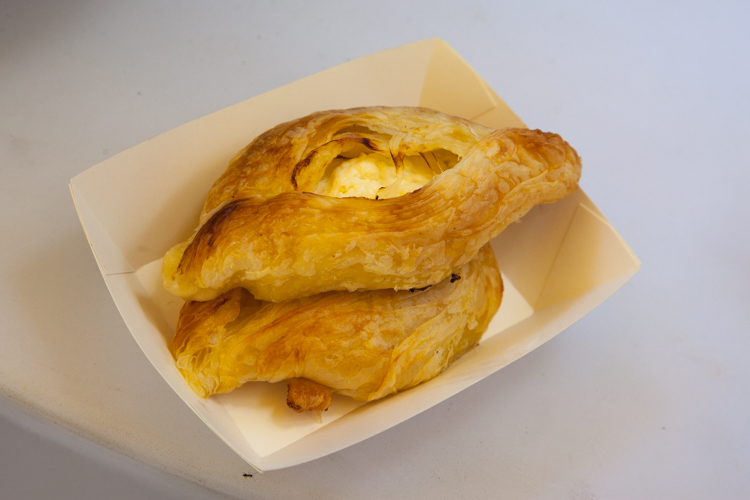 Ricotta and spinach pastizzi ($4 each). They were huge and really tasty. Zero spinach weirdly.
(8–25 January, Closed Mondays. Free entry until midnight, food available from 11am.)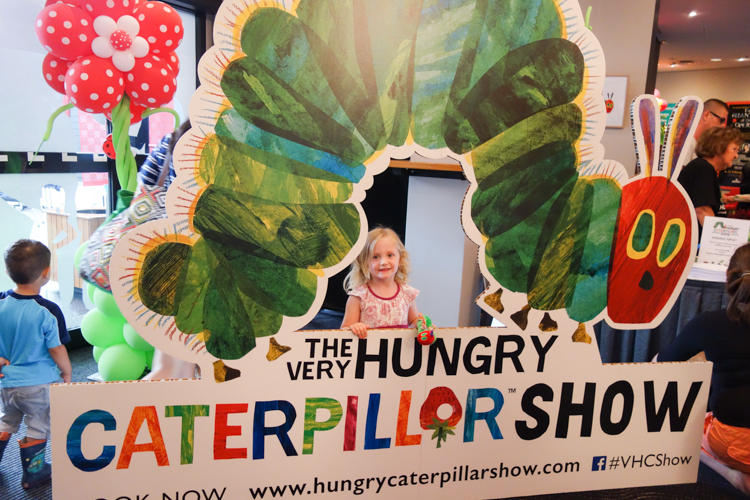 The Very Hungry Caterpillar Show has got to be one of the best kids' shows I've ever seen. The show features four stories by Eric Carle, combining 75 beautifully constructed puppets  with the timeless charm of Carle's famous stories and illustrations. At 50 minutes it was the perfect length for the attention span of small children. The seamless mix of storytelling and puppetry was mesmerizing for adults and the kids alike.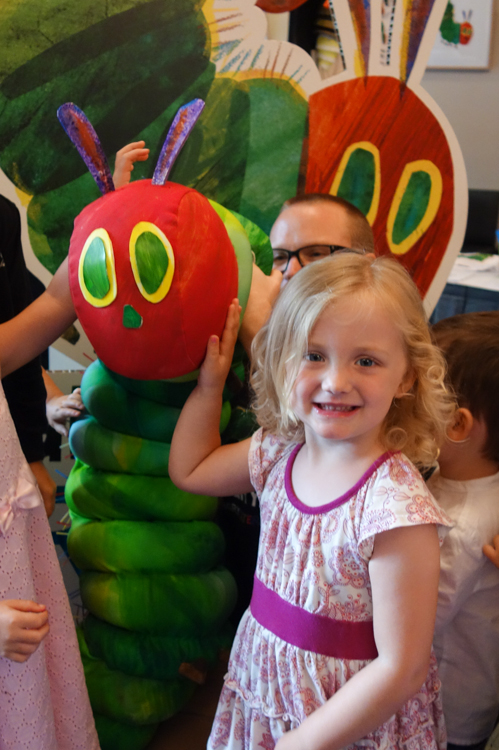 Stick around after the show to meet the Very Hungry Caterpillar himself. (8–18 January at 10am & 12pm Wed & Sat at 10am, 12pm & 3pm).