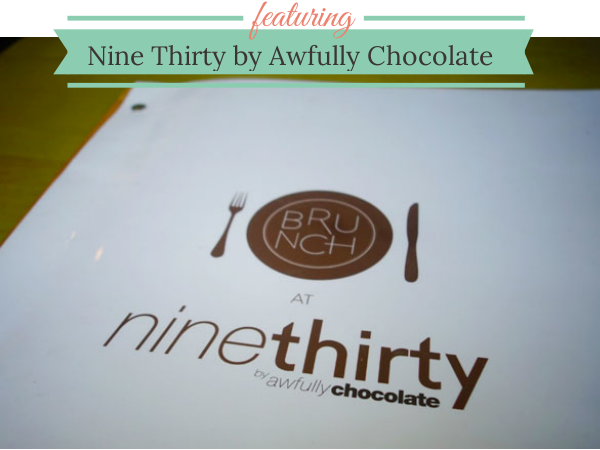 I've been to Nine Thirty three times now.
The first time was with a gf, and I had both kids in tow. It was my UNlucky day and both were creating a ruckus, so zero photos were taken, thanks to them. The second and third times were a lot more chill (read: well behaved), so I can finally write a review!
Opened by Awfully Chocolate, what I particularly like about Nine Thirty is the fact that this lovely restaurant is sunlit and spacious. It's also mostly empty (it's in the Esplanade Mall, so not many walk-ins, I'd imagine), which is simply brilliant if you have a kid that's napping in the stroller, or if your kid wants to wander around a bit.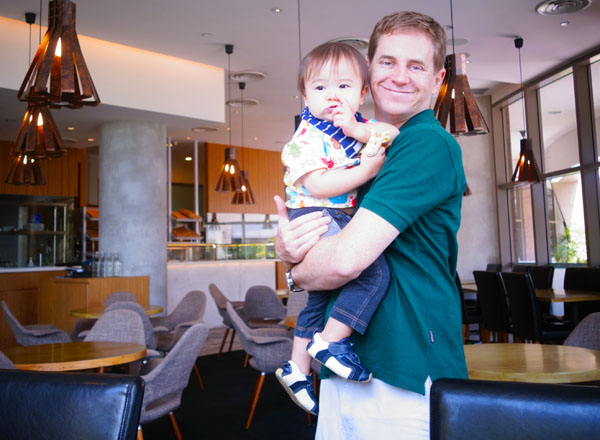 What had me so delighted (and salivating) was their pictorial menu! They obviously had an AMAZING food photographer do it, because everything looks enticing. It actually makes the process of deciding what to order reaaalllyyyyy difficult.

The Iced Latte ($8) was well-made and was not as watery as many iced lattes out there. That said, it's pretty steep for $8 (plus gst, plus service charge) so I'm not sure I'd order it again.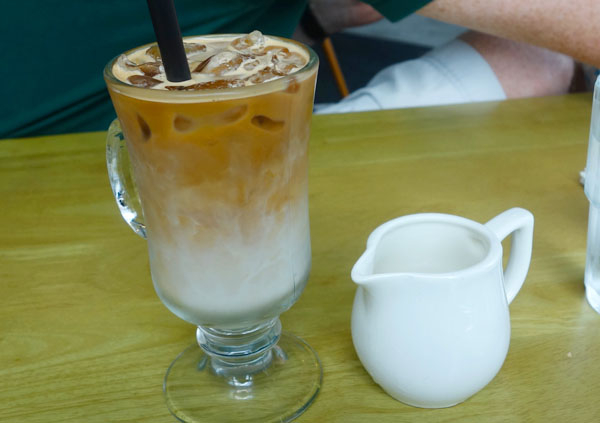 We were delighted with the Corned Beef Benedict with caramelised onions, poached egg and hollandaise sauce ($18). It was brilliant!! The corned beef lended a saltiness to the dish that wasn't overpowering, and it was beautifully matched with the soft and mild flavour of the egg. Oddly, despite having two slices of bread, only one poached egg is plopped on top. It would have been much better with two eggs.
Note: apologies for the really strange photos below. My camera flicked onto some setting and I didn't realise it til much later!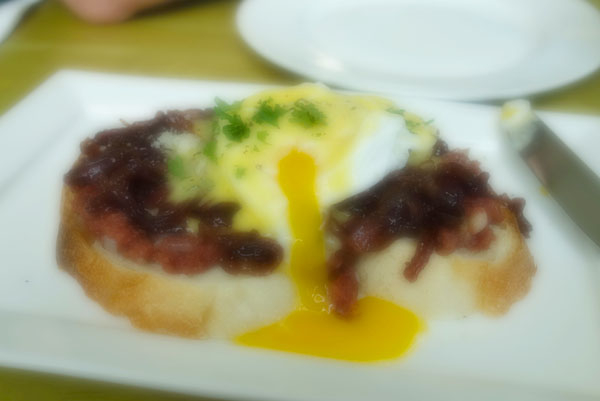 Isn't the Croque Madame ($15) a beauty? Served in a skillet, this dish was BIG and well worth the money. It had just the right amount of silky sauce to make the bread soft and moist, but not too much so that you really felt the calories. The crispy fried egg was delicious!
Impressively, they didn't use 'standard' shaved ham, but rather FAT slices of ham-off-the-bone. It was fantastic.
Interestingly, the dish was paired with a small pot of sauerkraut and another of olives. They both complemented the dish well. We particularly liked the sweet potato crisps – they were so thin and crispy!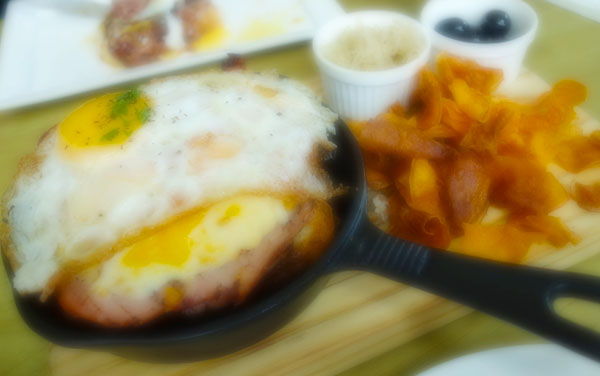 These dishes below are featured on the Lunch menu.
We weren't very impressed with the Chicken Noodle Soup ($11). We'd expected it to be enough for a small eater or for a kid's meal, but it was so tiny it can't even be considered a dish. There was ONE noodle in there. It was a thick one, but still, it was one noodle. The shredded chicken in there seemed suspiciously cooked earlier via the boiling-to-death method, and was tough, chewy, dry and tasteless. The broth was nice, but nothing spectacular.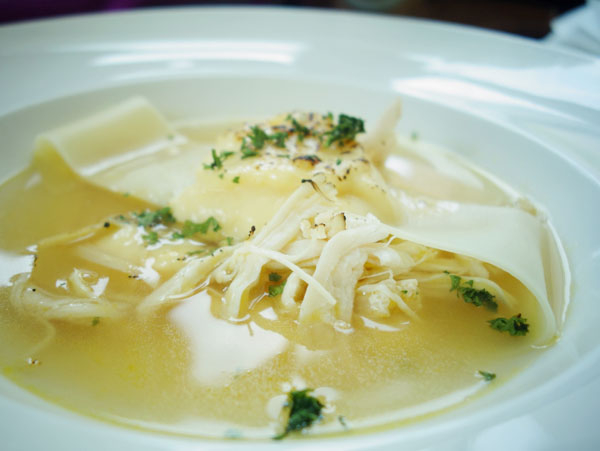 The lunch menu was waved by the Beef Bourguignon with mash ($23). It was pretty pricey, but at least it was lovely. The beef was fork-tender, all plump and moist. The carrots could have been cooked a little longer (they were a bit hard) and there could have been double the amount of potato mash, but overall, the beef was an absolute winner and both kids lapped it right up!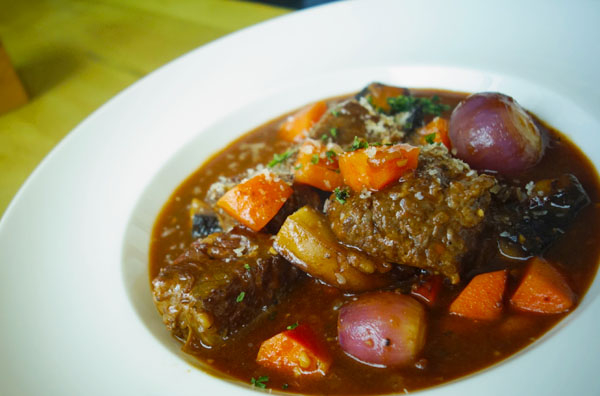 The Spaghetti Marinara ($18) came out looking very basic and home-cooked. Looks aside, however, it was cooked very well. The sauce was not too sour, and the seafood tasted fresh. It was a very small portion, so avoid this if you're a big eater.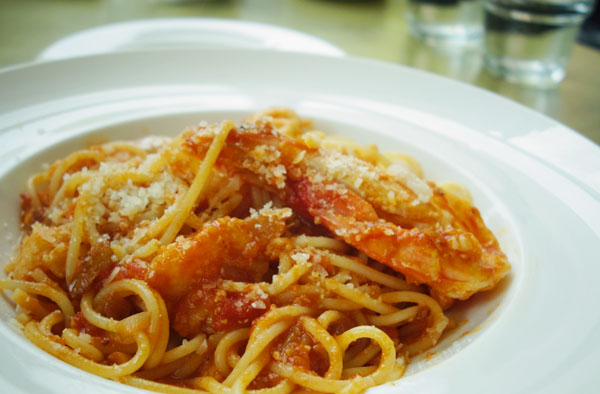 Ahhhhhh, their winner, the Salted Butterscotch Brownie from Awfully Chocolate! The brownie was so moist it was more like a fudge cake – just the way I like it. The salted butterscotch was sweet but gave a different flavour to the plain chocolate brownie. My kids ADORED this. And so did I 🙂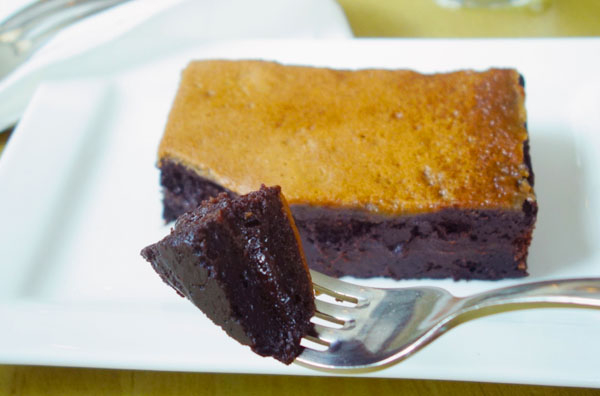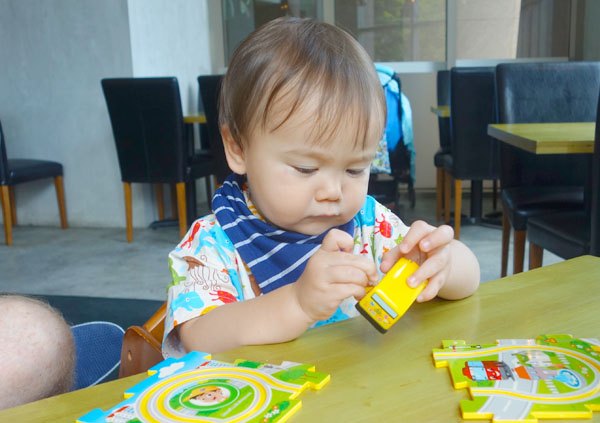 Last Bite: Nine Thirty has a stellar weekend brunch menu, and a pretty decent lunch menu too. Laid back and spacious, it's a great place to have a relaxed family brunch.
Highchairs: Yes
Easy access: Yes
Change tables: Yes (in the mall)
Kids' menu: No
Nine Thirty by Awfully Chocolate
Esplanade – Theatres on the Bay
8 Raffles Avenue #02-14
Singapore 039802
Phone: 6336 9563
Prices: $$$
Hours: Sun to Thu: 12:00 – 22:00, Fri – Sat: 12:00 – 00:00