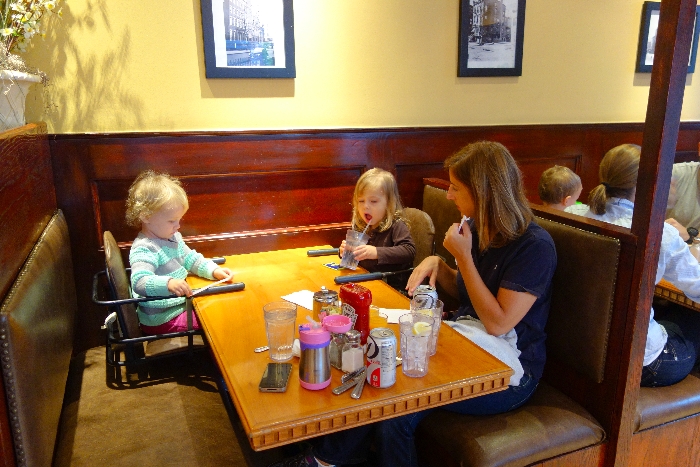 I know, I know, diners, right? Not exactly a foodie destination, but as any parent to a child under five knows, it is integral to survival. Ok, maybe I won't go that far, but I can safely say that it is comforting to have a low-key neighborhood place to go with the kids when you need to get out of the house and you want a fail-safe restaurant solution.
We have a standing breakfast date at Clark's Restaurant with our dear friends (pictured), now that the kids' schedules are not compatible for afternoon play dates. Even though it's called a "restaurant", Clark's is really a diner, and it's a super popular destination in Brooklyn Heights for families to enjoy breakfast. When we arrive at 8:30am, it's already busy with plenty of kids and tired-looking parents.
In the past we've ordered the kids their own food, but since they almost always take a tentative bite and then forgot about it, on this visit we decided they could eat off our plates instead. Good move, since that day, both of the kids were only interested in eating toast, after slathering it with butter and Smuckers Grape Jelly.
The high chairs are the clip-on kind plus the normal ones. I love the clip-ons in the booths since they really fence the kids in so they can't wiggle out and escape.  We both always bring umbrella strollers and don't bother to fold them because there is room at the front of the restaurant to park them, or you can bring them to the table. (My friend often brings her pretty large Bugaboo and parks it at the end of the table and no one complains). The staff couldn't be friendlier or more welcoming. Everything, including the strollers, which are absolutely in the way, is "no problem".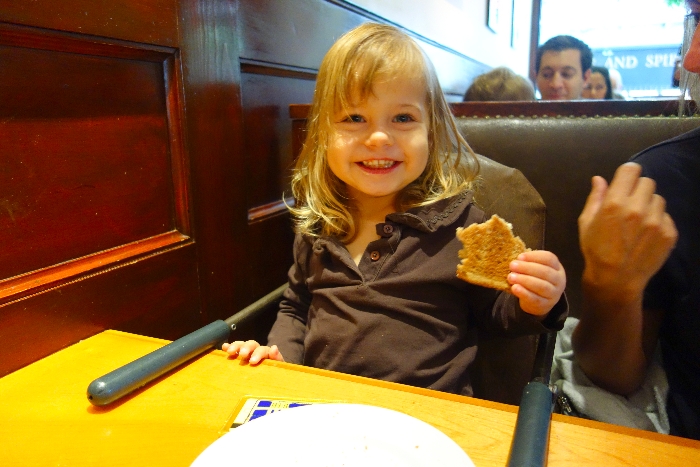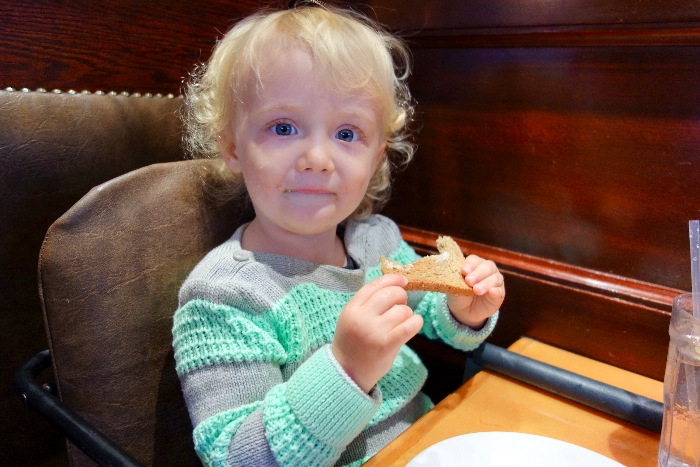 We order eggs with bacon and cheese on an English muffin ($9.25) and the Greek Omelet (with feta and tomato, $9.25) with home fries. The staff always gives us shots of complimentary orange juice, which I think were meant for the kids, but since we don't give the girls juice, we drank it ourselves. They also give us small plastic cups for the kids with water in it. Cheese dumped hers all over herself on this particular day, so I guess we're going to have to work on this at home before attempting it in public again.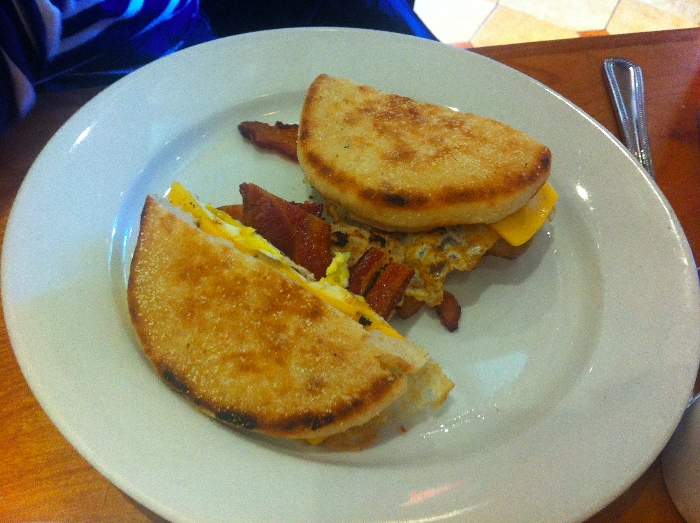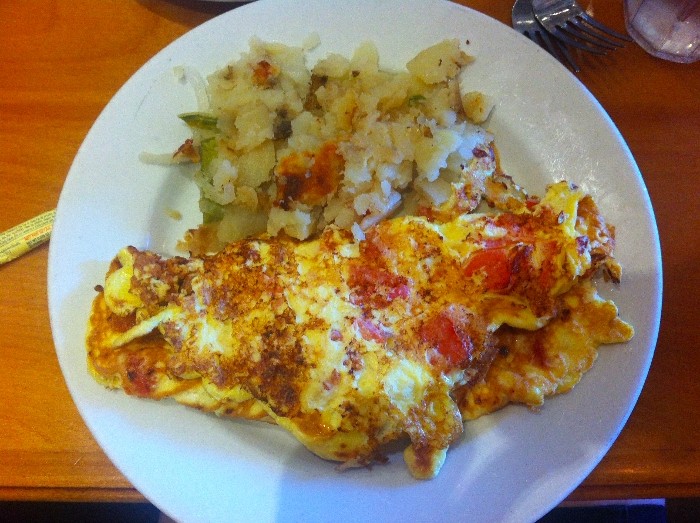 The service is a little chaotic if you need attention, which we often do with two squirmy toddlers. When we need things like extra cutlery or napkins, it's much faster and easier to get up and grab it yourself instead of flagging down busy staff and then hoping they remember to bring it back.
When the kids were about a year old, we liked going to Clark's because it was a great place to take kids when we wanted to eat out but when a fancier restaurant wouldn't have been ideal. It's a great place to take your (high-spirited?) child to breakfast or lunch because even if they're being the crankiest crank, and it doesn't matter, because at Clark's, no one cares.
As always, as we strapped our kids into their respective strollers and tried to wipe off some remaining crumbs from their clothes, the staff bid us all a cheerful adieu and we were already looking forward to our next breakfast together at Clark's.
Last Bite: A classic diner with a huge menu, plenty of basic breakfast items, and delightfully friendly staff makes this a staple morning hot spot for families in Brooklyn Heights.
Highchairs: No.
Stroller storage: No.
Easy access: No. There are a few steep steps to get in.
Change tables: No.
Kids' menu: No.
Clark's Restaurant
80 Clark St (between Henry St & Hicks St)
Brooklyn, NY 11201
Phone: (718) 855-5484
Prices: $$
Hours: Mon-Sat 7am-9pm, Sun 7am-3:30pm