Deep-fried pizza, deep-fried burgers, deep-fried chocolate. You want it, they fry it. Seriously. If this sounds like the sort of heart attack-inducing lunch you're after, step on down to the ChipShop for authentic British fare like Haggis, baked beans on toast, fried fish and British-style chips (thick wedges of potato – fried, of course), mushy peas and fried mac and cheese (the menu says "sounds weird but it's bloody lovely").
We ventured into the ChipShop after feeling homesick for some British-style chips. This divey little pub feels a bit grotty (sticky tables, sticky chairs, sticky everything!), but on the plus side, no-one cares if your toddler throws their entire meal on the floor.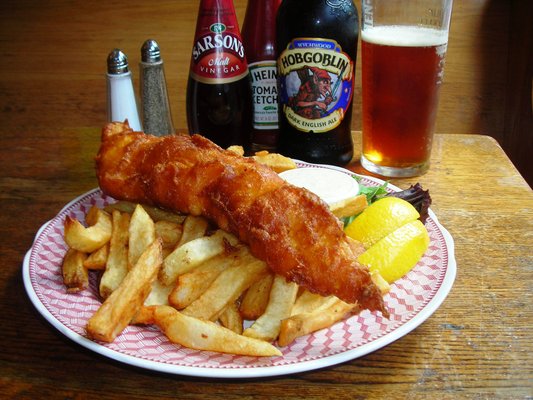 Highchairs: Yes. They also have booster seats.
Stroller storage: Yes – room for strollers. Bring a folding stroller, however, if you're coming at a busy time, just to be on the safe side.
Easy access: Yes – one step to enter.
Change tables: Yes.
Kids' menu: Yes.
The Atlantic ChipShop
129 Atlantic Ave (Between Clinton and Henry),
Brooklyn, NY 11215
Phone: (718) 855 7775
Prices: $$
Hours:
Mon-Fri 12pm-12am (bar until midnight)
Sat-Sun 10am-12am (bar until 12am)
Get directions.
Additional image thanks to Yelp.