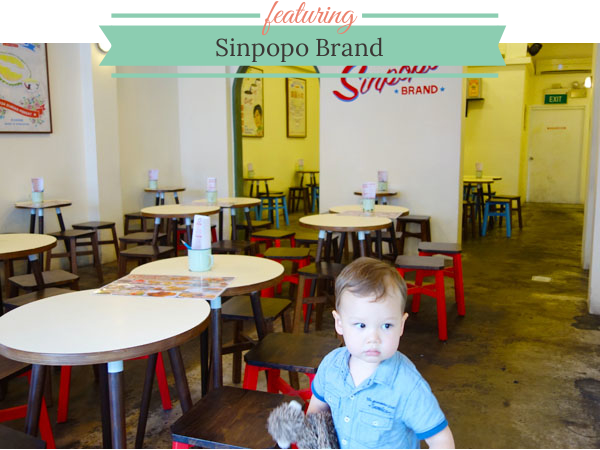 I made the epic journey from one side of the country to the other…. to check out the Ni-Night End of Year Clearance Sale earlier this week. It was a multi-brand market with loads of bargains, so my girl friends and I snapped up quite a few pieces.
Since we were in the area, we decided to pop by Sinpopo Brand, which was a 10 minute walk away, down Joo Chiat Road which incidentally is such a fun road to poke around in!
Decked out like an old-school eatery, it's kitchy but super cute. Everything is vintage inspired – from the cutlery and mugs, to the decor from Singapore's yesteryear. We had a bit of fun having a look around! They even had vintage posters of….. 'hot guys'? Famous celebrities from decades ago?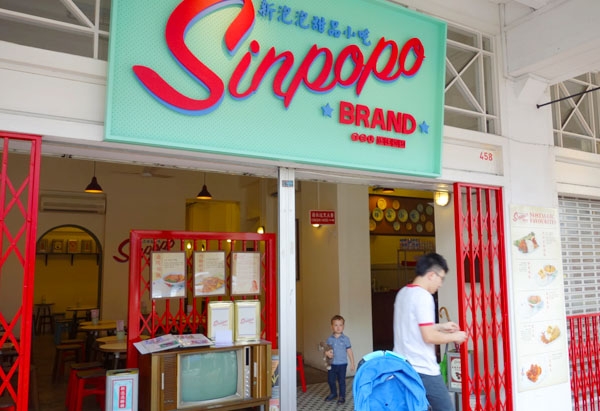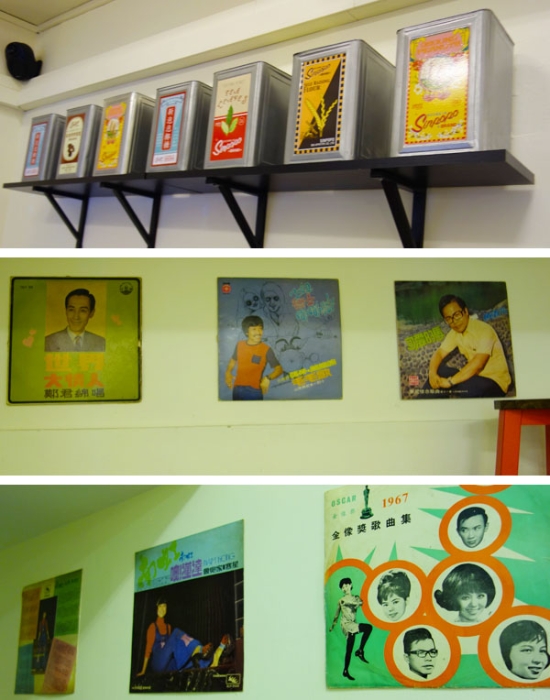 The staff there, especially our guy waiter, were SUPER friendly and helpful. We couldn't understand half the menu!!! I consider myself pretty savvy with local Singaporean food.. but I couldn't decipher a whole bunch of items there. So either I'm not as "down with it" as I thought, or they've cryptically named their dishes..
At least there's photos of some of their more popular items, which is a huge help!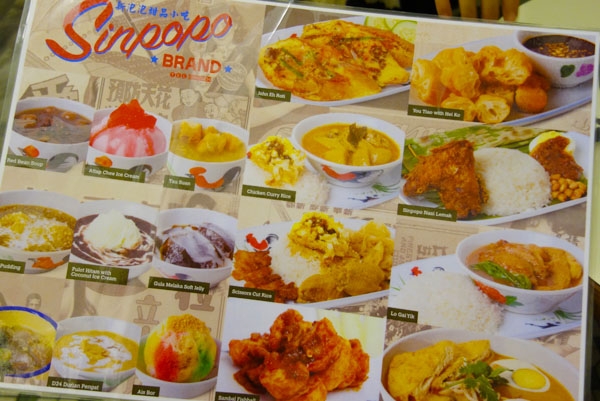 My unpronounceable Sng muay pop ($3.90) was explained to be "lime juice with sour plum in it". It initially turned me off as the thought of sour plum in there didn't sound appetizing. But I was pleasantly surprised – it was a very refreshing drink, like a sprite + lime concoction. I could barely taste the sour plum in it (though there were pieces lurking in the drink), so I was happy.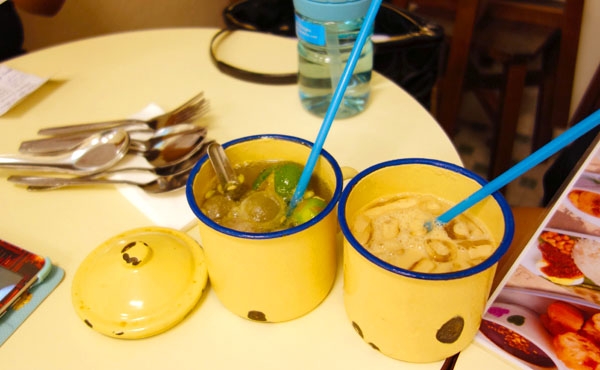 I will do a disclaimer here that the food photos look horrible. I'm sorry. We sat waaay at the back in the corner, and I didn't realise that they had horrid neon lighting that cast strange hues on the dishes and made it look.. awful. I should've sat near the front, where there was lots of natural light! Oh well.
So, yes, the Zi Pao Kai with bee hoon ($8.90) looks TERRIBLE in the photo below. It was tasty though, promise! The dish was described to me as "paper wrapped chicken, and true to their words, the chunks of boneless chicken meat came wrapped in parchment paper. The chicken was fragrant and went well with the plain bee hoon noodles, but there was copious amount of oil inside each little package, which I had to drain off.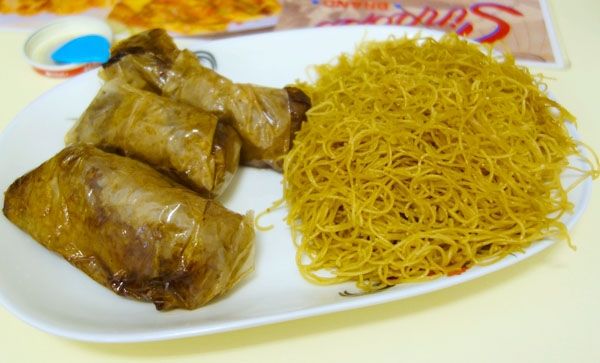 I thought the Black carrot cake ($6.90) was pretty superb. A carboholic's delight. The squares of… errrmmm.. what ARE those things?? Something like radish and something else. I guess almost like a rice cake in taste and texture. They are cooked beautifully – soft and slightly chewy. I love the topping – which included scrambled eggs and… something else. I apologise. I know I should be more informative in a food review and all, but I honestly have no idea what's in this dish, apart from the fact that it tastes yummy. 
This would be a re-order for me!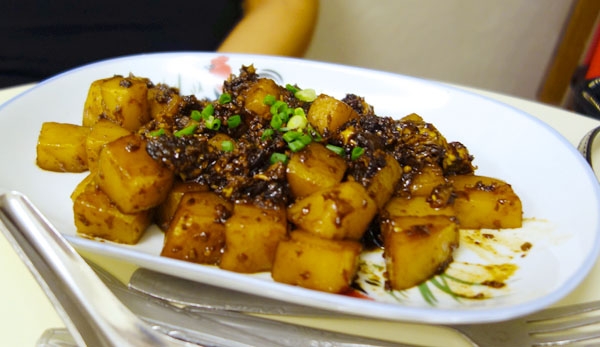 We weren't impressed with the John eh roti ($6.90). Large slices of baguette fried, french-toast style, with a small scattering of onions and mince beef. It was basically like filling yourself up with heavy-feeling bread.. with minimal taste, apart from the lashings of chilli sauce on top. The dish was more-ish and left us disinterested after a few bites.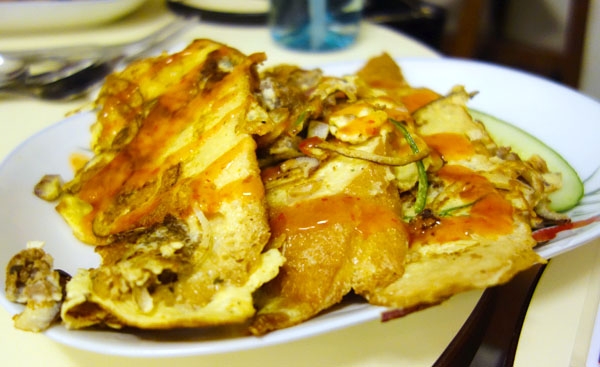 Big thumbs up, however for their Gula melaka soft jelly ($4.90). Silky smooth sweet jelly, with a rich caramel taste, smothered in coconut cream. This was light and a fun dessert to have. Hunter loved it!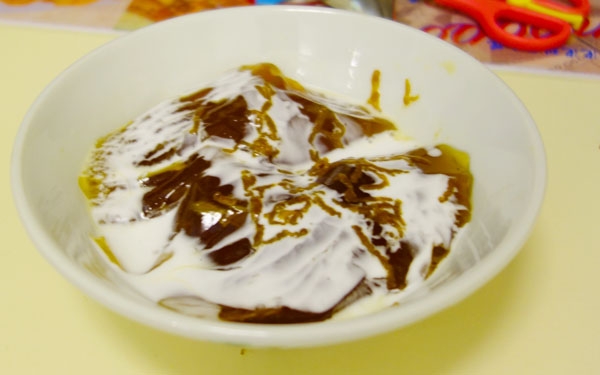 The Ais bor ($3.90) is basically a hard ball of crushed ice, covered in coloured syrups and housing atap seeds, and bits and bobs inside (I couldn't really identify them!). It's an excellent dessert to have on a hot day. Open it up gently with your spoon – you don't want to send the ice ball flying off to the next table!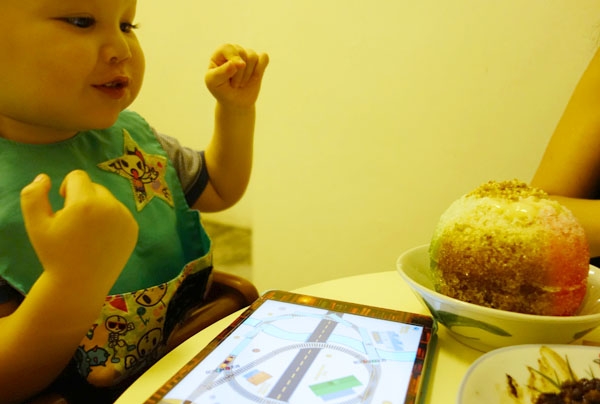 I loved the Cendol ($3.90). Served in a bowl, the green jelly 'worms' and red beans are smothered with lashings of shaved ice, and drenched with syrup and coconut cream. It's DELICIOUS. So refreshing and tasty, this was my favourite dessert. I'd definitely get this again!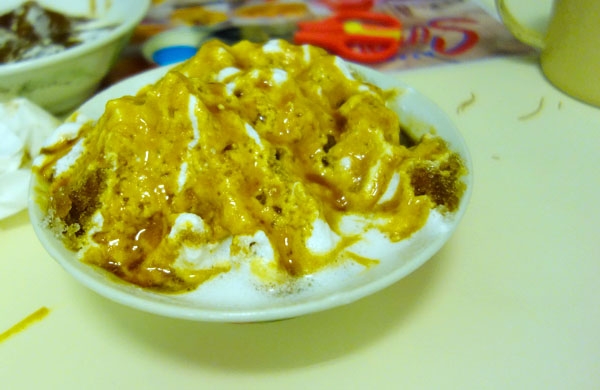 Last Bite: Sinpopo Brand is all kitschy-cute retro in decor, serving up local Singaporean dishes. The main meals are decent though, but it was their desserts that were the most enticing.

Highchairs: Yes
Easy access: Yes
Change tables: No
Kids' menu: No
Sinpopo Brand
458 Joo Chiat Road
Singapore 427671
Phone: 6345 5034
Prices: $$
Hours: Sun – Thu: 12:00 – 22:00, Fri – Sat: 12:00 – 00:00, Eve of PH: 12:00 – 00:00