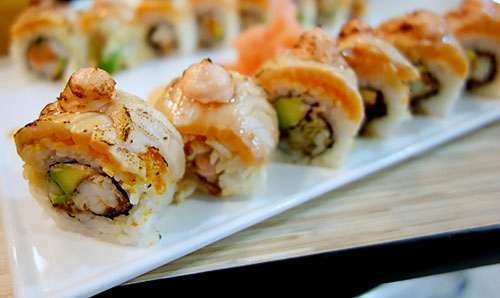 I am a total sucker for hole-in-the-wall type places. Places that are all squirreled away in a corner, and that are relatively unknown. You just feel so smug, thinking you know of something special that others don't. Ahem. Just sayin'.
So I was rather delighted when a friend brought me to The Sushi Bar, tucked into a random corner of Far East Plaza among manicure and clothing shops. Their prices are reasonable and the food is, simply, flat-out excellent.
But……………….. we weren't sure if THIS lil guy would taste that good:
Yeah, that's a lil crab you're looking at in the photo above! There were a whole bunch of these in a big bowl/tank by their counter. I asked "Are these pets or for eating?" and the guy replied that they will flash-fry them and serve them at 5 crabs for $14.
I was so incredibly intrigued!!
Buuuuut.. in the end, my fear factor won. I was just TOO scared, after seeing them scuttling around, to try to eat them. Plus, they are plain deep fried (ie. not dipped in batter first) so you reallyyyyy see everything. Too scary for easily-freaked me 😉 My lousy girl friends also didn't want to eat them (was trying to get someone to eat them and tell me what they what they were like)!
But on the topic of fried stuff, their Crispy shrimps were amazeballs. They have a proper Japanese name on the menu, but I've forgotten, sorry. Anyway, these are the teeny tiny shrimps that are lightly battered and deep fried, and served with a dollop of Japanese mayonnaise. They are a bargain, IMHO, and a must-order!
The prawns are fresh and crisp, and the batter isn't too thick. Would have liked double the amount of mayo (I do love my dip) but it's not a biggie as you can always ask for more.
I sneered at the girls ordering Daikon salad because, honestly, who orders salad when you're dining out? How miserable!!
Well, I ate my own words when it arrived.
It was YUMMY. I guess also due to the sauce it was covered in 😉 I liked the freshness of the slivers of veggies and it was really refreshing. The crispies were also a nice touch. This seems very much like the Chinese New Year yu sheng dish by the way, but with a different flavour.
The Salmon don was a STUNNER. I could've cried. When it arrived, the chef (owner?) told me that he was sorry that he ran out of salmon, and so replaced it with salmon belly instead.
FREAK OUT I LOVE SALMON BELLY!!!!
This was the perfect dish. Luscious slices of salmon belly (and so many of them for the price), all creamy and slippery. There wasn't a huge amount of rice though, as I do adore my carbs. I'd get this dish again anytime.
Seems like most tables order the Sirloin Steak, which arrives artfully laid out and is sliced delicately thin. The beef is seared on the outside and almost rare in the middle. It's executed very well and the result is a lovely marbling of tender beef that is so easy to pop into your mouth. An excellent dish to share.
I consider the Salmon Aburi Roll here the best I've had in Singapore. There's just no complaints. The avocado is fresh, the salmon is buttery and beautifully flame-grilled, and the dollop of sauce brings it all together into a creamy concoction with such a terrific flavour I couldn't stop eating.
But…. ridiculously.. the Soft shell crab Aburi Roll was even better IMHO! It was the same as the above, except with crispy soft shell crab inside. And I guess this is why I like it more – I really liked the contrast of the crispy crab against the creamy salmon. The flavours were also mild enough such that I could taste the sweetness of the crab.
The Sushi Bar is one of my top choices when I'm at Far East Plaza. It's reasonably priced, it's got great food, and it's all served very swiftly. Service is super friendly too.
Be warned though, it's not very baby friendly (due to the small space) so if you do have kids in tow, make sure you score a table near the outside (like we did!).
Last Bite: Excellent, fresh Japanese food in the heart of Orchard Road. It's very small, so go early. They provide high chairs but watch out if you go with toddlers, as there isn't space to run.
Highchairs: Yes
Easy access: Yes
Change tables: No
Kids' menu: No
The Sushi Bar
Far East Plaza #03-89
14 Scotts Road
Singapore 228213
Phone: 9625 0861
Prices: $$
Hours: Mon – Sat: 12:00 pm – 9:30 pm
This food review was first published at Beverly's Adventures!