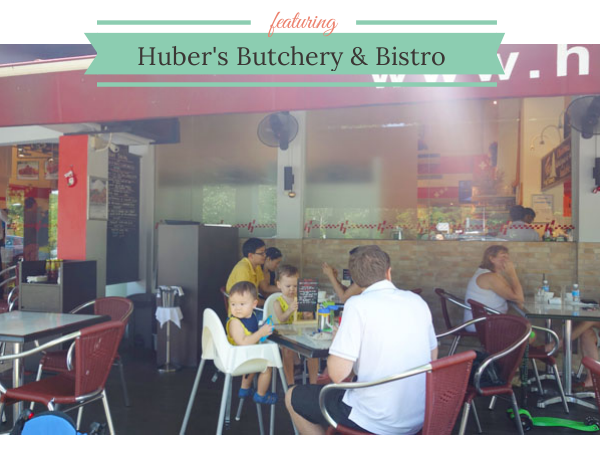 Trying not to sound stingy here…. but almost all the eateries around Demsey Hill are pretty pricey. You can easily spend $50 per person on a simple brunch! We do like our nice dining brunches, but sometimes, all we want is something cheap and cheerful.
Huber's Butchery and Bistro is, dare I say it THE best place for brunch at Dempsey Hill, if you want to spend less than $20 per person (for a meal + coffee).
The tables are all outside their butchery shop (which is huge, by the way), so come dressed appropriately. Eating outside is excellent when you have kids around – you're not as frantic about mess or fuss. Which was perfect for us, because for this particular meal, Carter decided to be Hell Baby and fuss and cry……. the entire time. (we realised later it was because we completely FORGOT it was his nap time, and so just thought he was being annoying!! Oops.)
Anyway, we kicked off with an Iced coffee ($4.40). Actually, I wanted the Iced latte but must've said "iced coffee", and it's a different drink here. So we got a brewed coffee, with ice, and sugar syrup and a pot of milk to pour in. To be frank, considering their Iced coffee is a few dollars cheaper, it's actually way better to order this!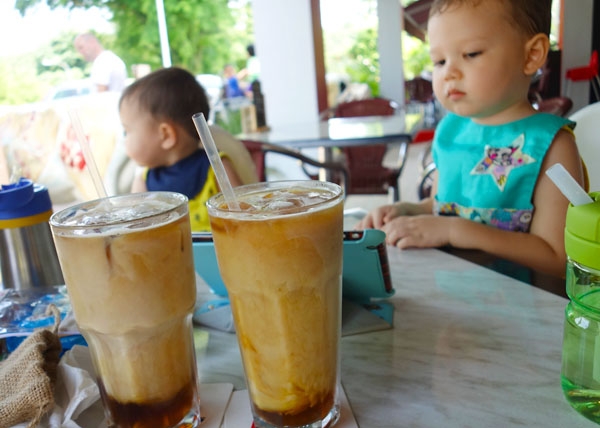 One of my favourite foods is the simple sausage. I think it's partly due to the fact that my parents are super against any sort of unhealthy/processed food, so sausages were completely off the table in our family until I was a full grown adult. Guess I'm making up for lost time, cos I LOVE it now! Huber's offer 4 variations on their menu, and I selected the Pair of Nurnberger sausages with sauerkraut and sliced rye bread ($9.90).
The sausages were not too salty and tasted fresh and juicy. They were a hearty portion, and paired so well with the generous portion of sauerkraut. I'm normally not into rye bread, but the slices I had were soft and moist, a great accompaniment of plain taste to balance the rest of the dish.
It was a superb dish. I'm craving for it now!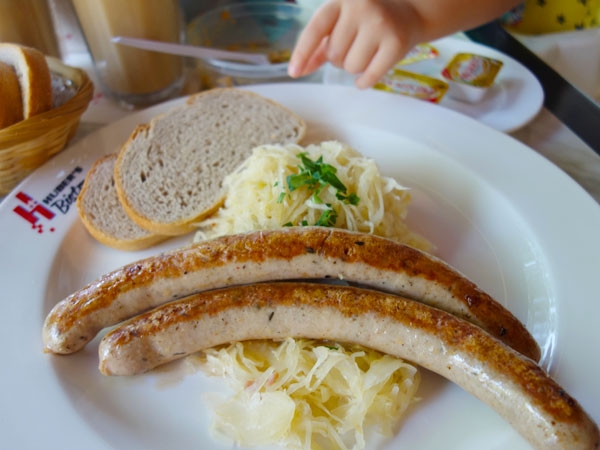 I was impressed with the size of the Warm roast beef sandwich ($12.80). It's enough to make a guy and/or big eater smile with pleasure 🙂 Normally, I'm suspicious of "roast beef" on the menu. It's often really dry, tough, and like chewing a piece of leather. Euuurggghhh.
So I was pretty delighted to find that the copious slices of roast beef in this sandwich were beautifully tender, and was devoid of any marinade to mask that delightful, true beef taste. It was served atop fresh lettuce, and with slices of parmesan as well as a drizzle of sauce. The bun was soft and fluffy (think gourmet hotdog bun).
But…. the FRIES!!!! The shoe string fries were obviously cooked in fresh oil, and for the exact amount of time. They came out hot and fresh, and were addictive.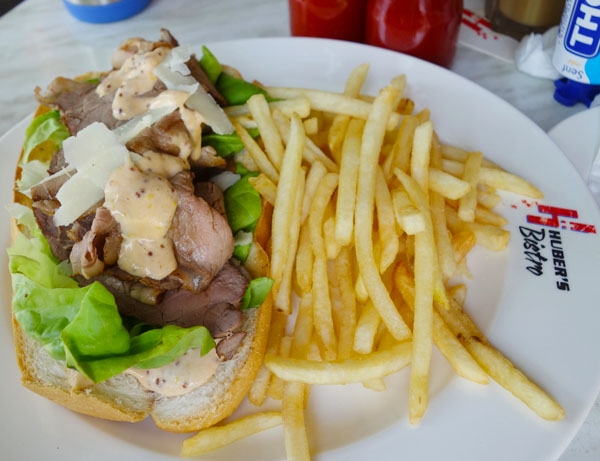 We were fortunate that, last weekend when we were there, the Artisan UpMarket Fair was being held at 22 Dempsey. We got to poke around, and I came away with a jar of Almond butter, and Cashew butter. Yum.
One of my favourite things to do on weekends is to check out fairs and markets around Singapore – preferably outdoors. The kids have fun whizzing around, and I love poking around the little crafts and interesting bits and bobs being sold. You get some really gorgeous finds here as well! A lot more fun than shopping in a mall..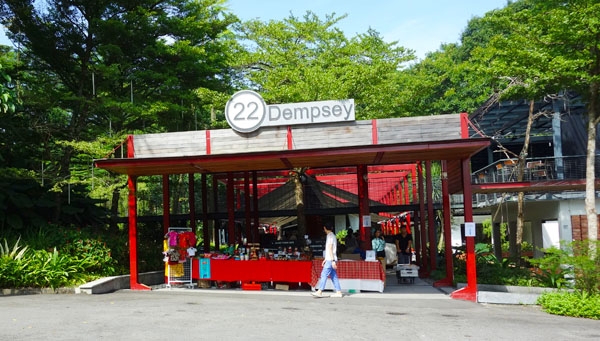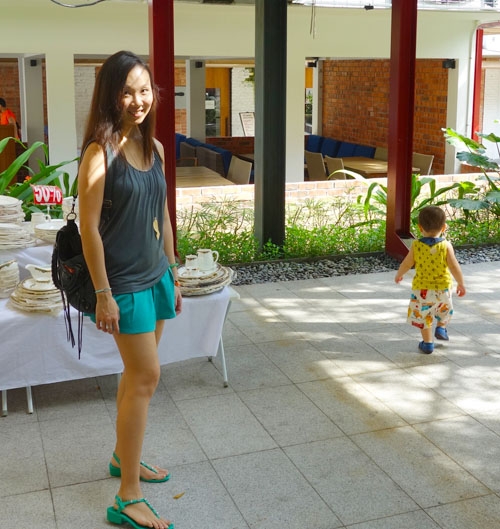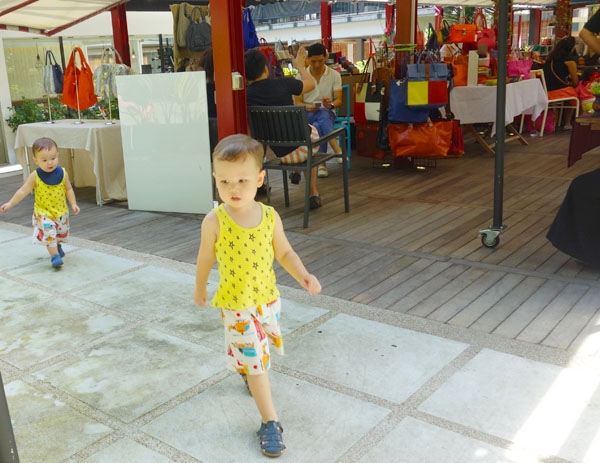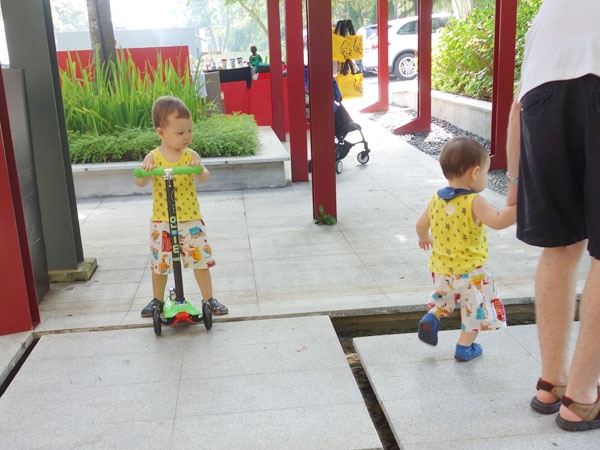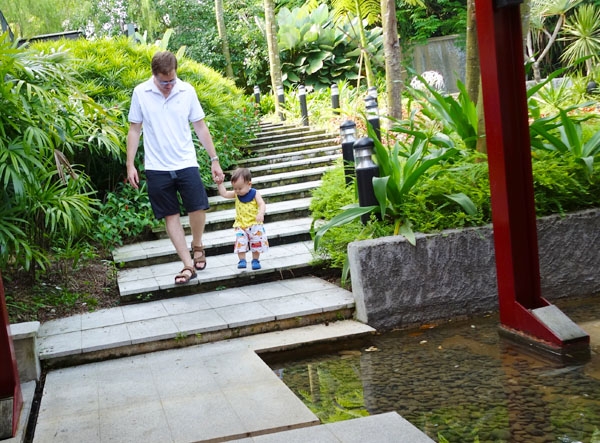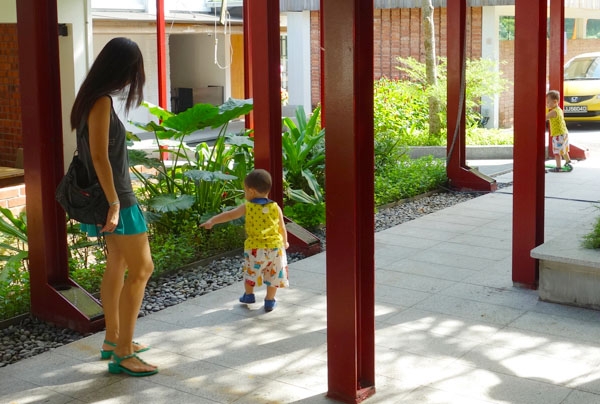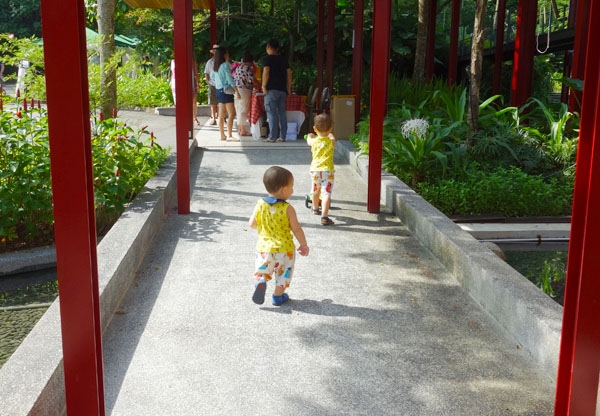 Last Bite: Huber's Butchery & Bistro is one of the best-value brunches you can find in the Dempsey area. The food is top notch, and seating is outdoors – great for families!

Highchairs: Yes
Easy access: Yes
Change tables: No
Kids' menu: Yes
Huber's Butchery & Bistro
18A Dempsey Road
Singapore 249677
Phone: 6737 1588
Prices: $$
Hours: Mon-Fri: 9.30am to 8pm, Sat, Sun & Public Holiday: 9.30am to 7pm