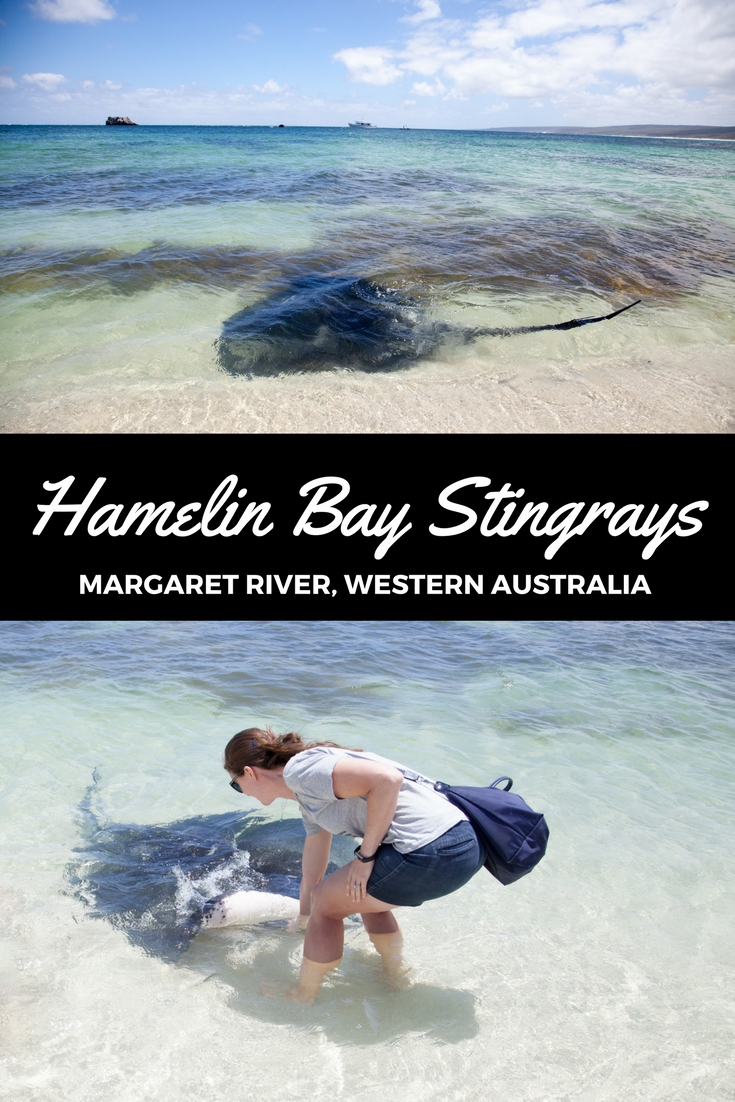 The Hamelin Bay stingrays are a major drawcard to this sleepy town south of the Margaret River region in Western Australia. Their size, speed, grace and beauty is remarkable – they truly are majestic, magnificent creatures, and a road trip to visit them in the wild is an absolute must for anyone visiting this part of the country.
Hamelin Bay Stingrays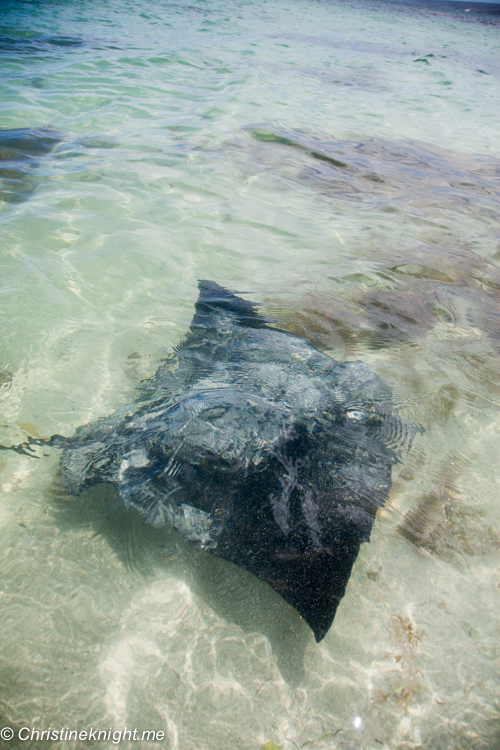 When I tell people that I met stingrays up close, they have reacted with comments like, "Wow you're so brave!", which made me realise that rays are misunderstood by many people to be dangerous, aggressive animals.
Stingrays have had a bit of a bad rep after the unfortunate death of Steve Irwin in 2006, by a stingray barb to the heart. He was incredibly unlucky as there have only been three recorded deaths in Australia due to stingrays, including Steve Irwin, with the other known stingray deaths in c.1930 and 1988 (also as a result of a direct sting to the heart). It is believed that there has only been 17 fatal stingray attacks worldwide, so your chances of being killed by a stingray are very, very, very slim.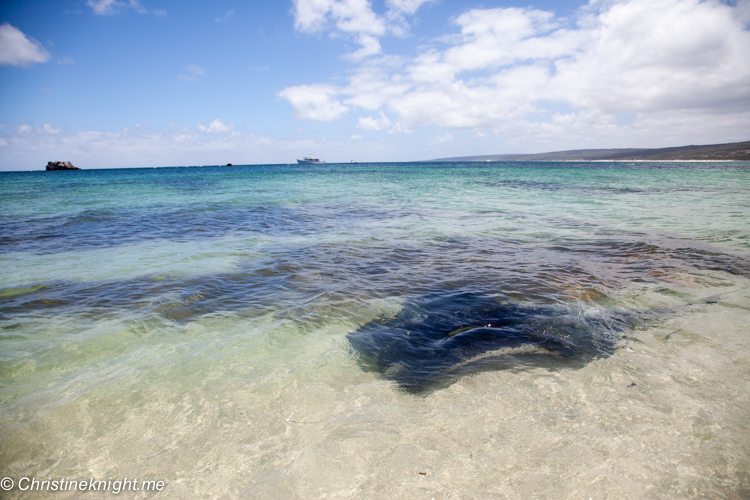 Stingrays are actually incredibly docile creatures and can be friendly and curious, as I found when I met the gentle wild rays of Hamelin Bay.
Hamelin Bay is located in the south end of Western Australia's Margaret River and is a popular place for families to come to stay at the nearby Hamelin Bay Caravan Park.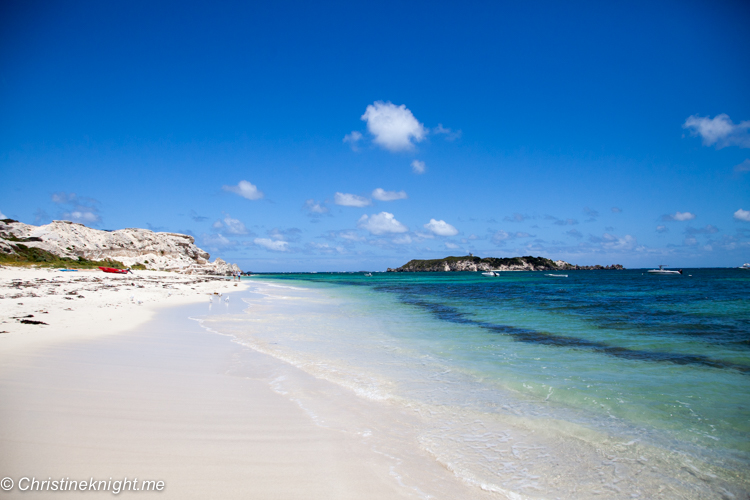 A group of stingrays has been visiting this bay for years, attracted by the scraps from the fishing boats that use the boat ramp and jetty on the beach.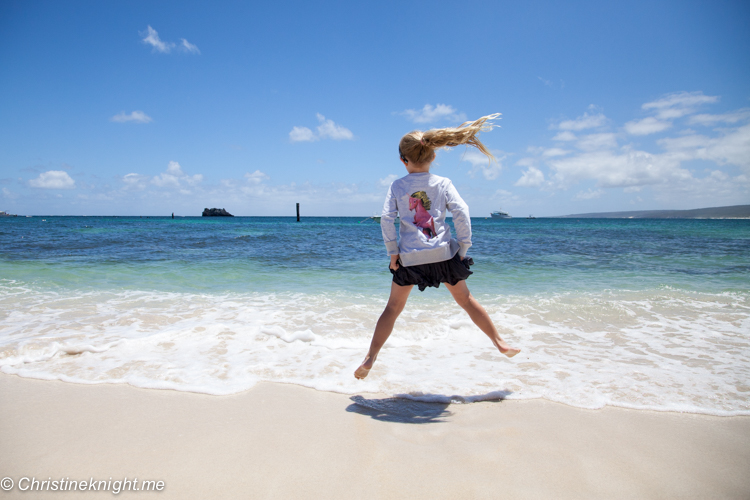 Your chances of spotting a ray are highest in summer but they are known to visit all year round. Groups range in size between 3 and 10 rays, swimming up and down the beach on patrol.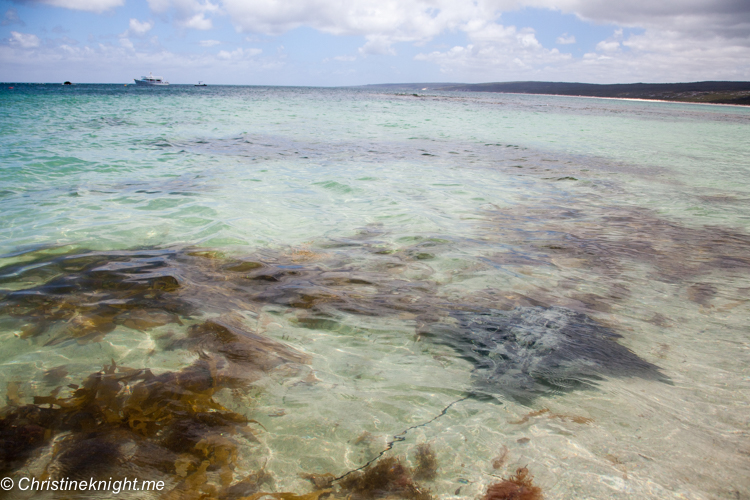 The stingrays are absolutely massive, with a wing span of up to one metre across. They are completely unafraid and swim right up to the shallows. As these are wild rays, there is no guarantee that they will be there when you visit, but the beach is so stunning that it's a good place to visit even if you don't spot a ray.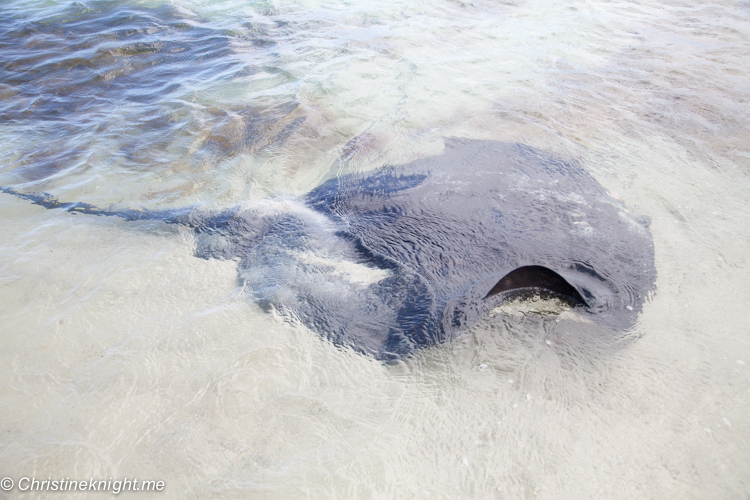 There are two types of stingrays found in Hamelin Bay. The smooth stingray is the largest of the world's stingrays and is dark grey or black and round in shape. Of the two stingrays, the smooth is the more likely to approach visitors on the beach.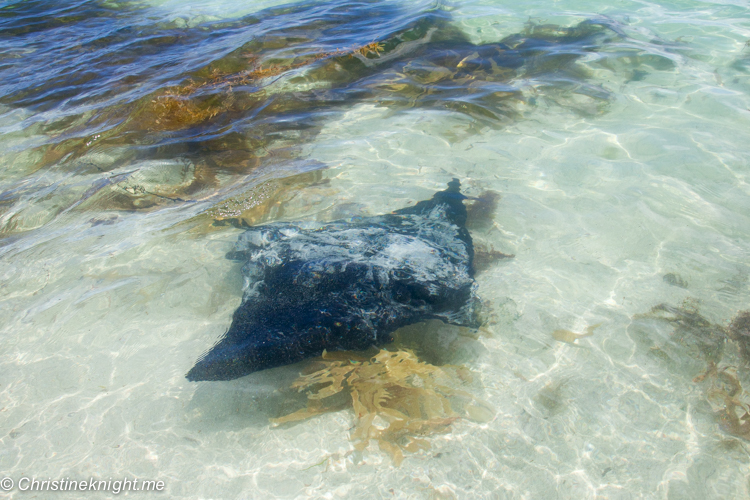 The eagle ray is diamond shaped with distinctly pointed wings and is often a paler shade of brown or browney-grey or even blue-grey rather than black.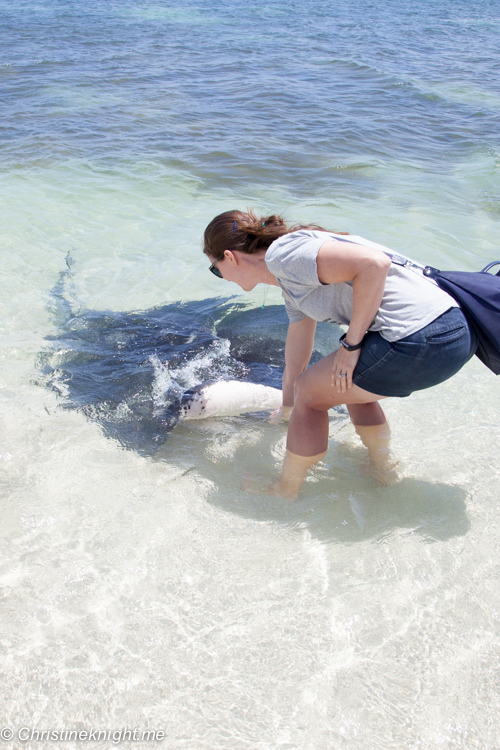 When we visited the rays we stood in the water for a while watching them swim past in absolute awe. One of the smooth rays came up to check me out as you can see in the photo, and rubbed against me as it swam by. Absolutely incredible.
Visiting the Hamelin Bay rays was an amazing opportunity for Cheese to meet the spirit animal from Moana in real life and see for herself what a precious creature it is. Another animal to be observed, enjoyed from a safe distance, and protected.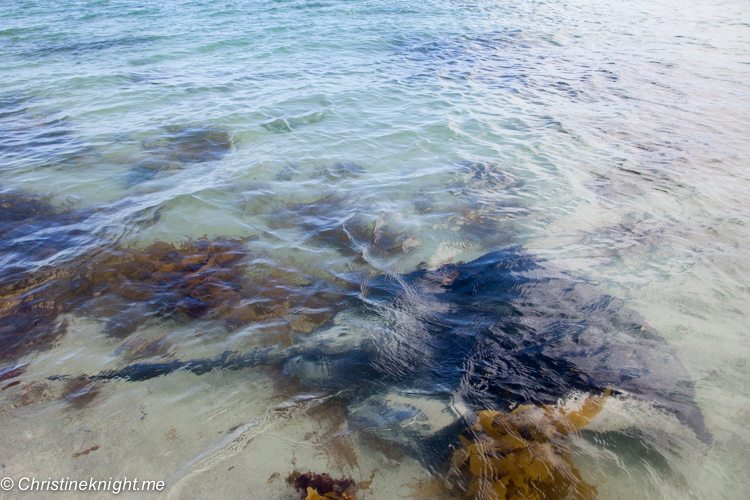 Tips for meeting a Hamelin Bay stingray
Stingrays generally only attack if they feel threatened, so don't approach them in the water and be careful not to tread on them.
You can swim at the beach and snorkel, but be aware that there are no lifeguards on patrol.
There are public bathrooms available in the parking lot.
With younger children, have them watch the rays safely from the shore rather than venturing in for a closer look.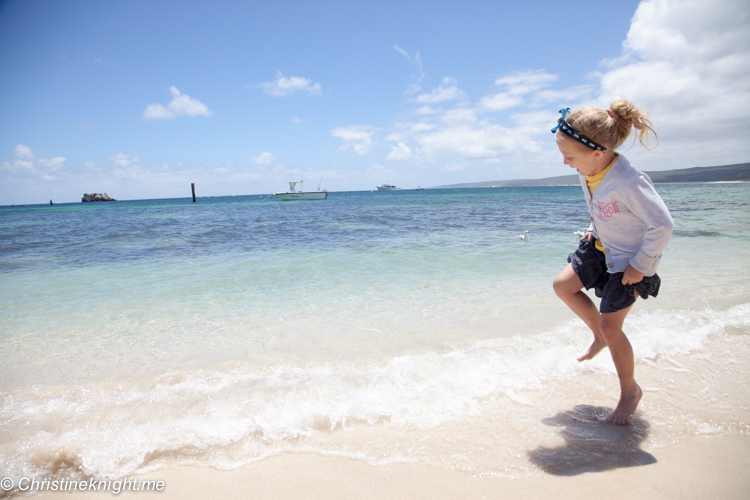 Reinforce with older children that the stingrays of Hamelin Bay are wild animals and are such are unpredictable. Have them stand still in the water and let the rays come to them if they want to.
The best time to see Stingrays at Hamelin Bay Margaret River
The best season to see the stingrays is summer when the water has less seaweed and is calmer.
Visit in the morning between 9am-10am or afternoon when the boats are returning for your best chance to see them.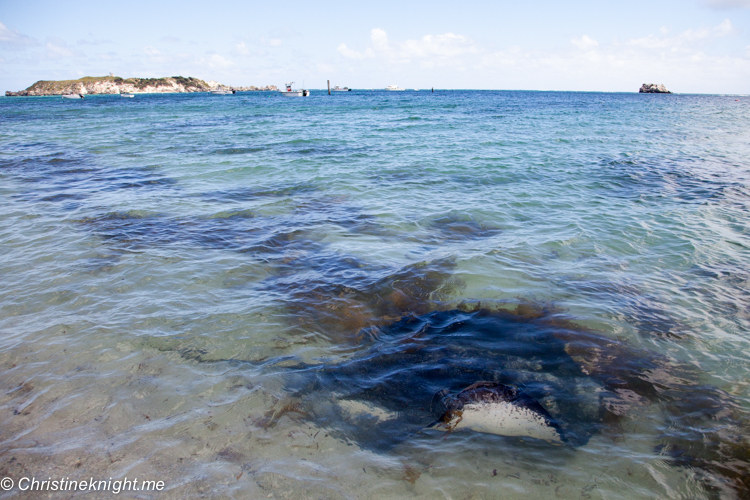 The stingrays at Hamelin Bay beach are protected and must not be harmed. Please report any incidents if you witness people harming the rays.
I would advise not trying to touch the stingrays, but to observe them instead. One might find you interesting enough to come up and say hello, as one did to me! You never know your luck.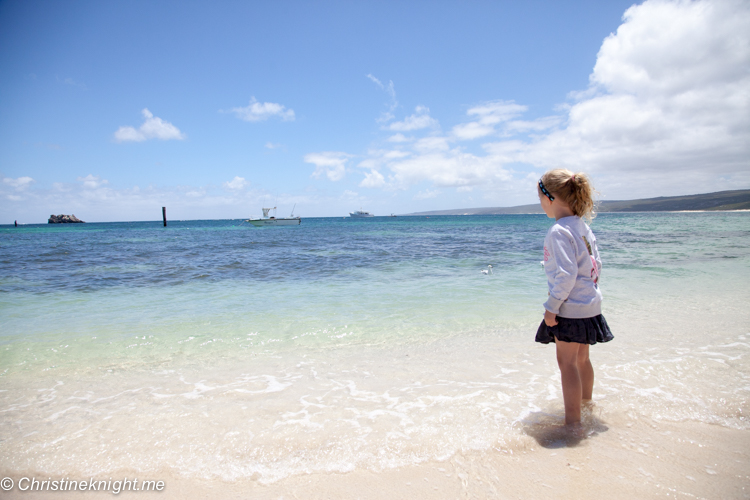 Getting to Hamelin Bay WA
Hamelin Bay is located in the south of the Margaret River Region. It's about a 15 minute drive north of Augusta or 25 minute drive south of Margaret River Town. Drive south down Caves Road right to the very end or, if heading north from Augusta, turn left at the junction of Bussell Highway with Caves Road.
The drive is doable in one day, or you can stay the night at the The Hamelin Bay Caravan Park.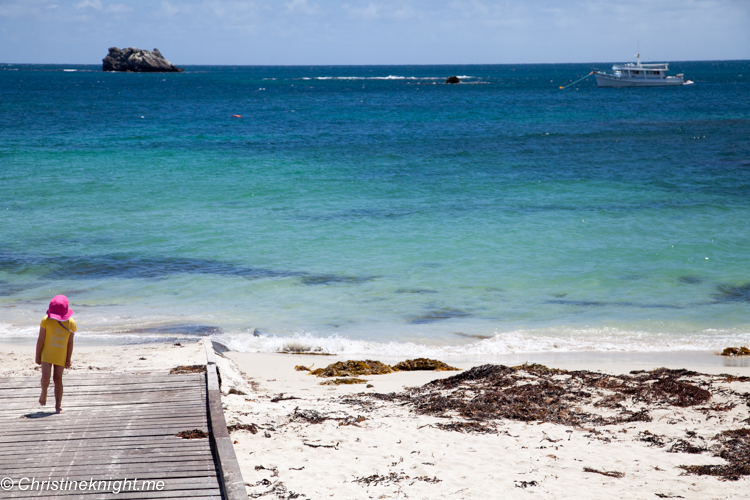 Get more info on things to do in the Margaret River region of Western Australia here.
Click here for info on staying the night at Hamelin Bay Australia.
Have more time in Western Australia? You must visit Rottnest Island.
Get more info on visiting Hamelin Bay Western Australia here.