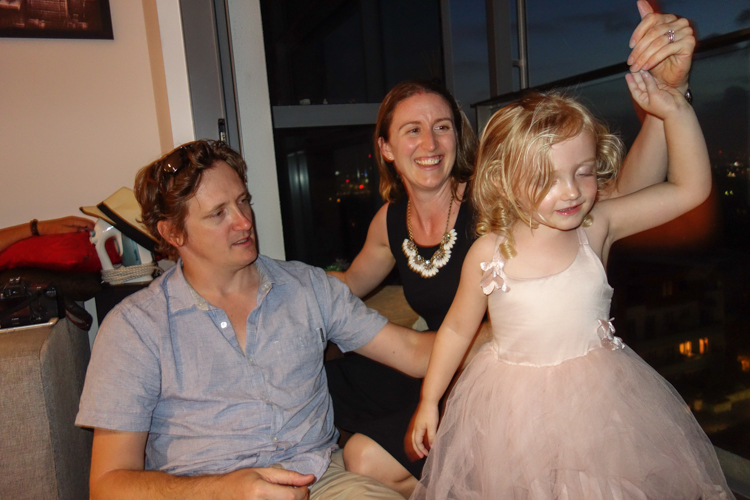 I saw this great post over on Maxabella's blog on 10 questions rather than resolutions for the new year, so I thought I would similar do the questions for my new year's post. I'm rubbish at resolutions anyway.
1. What word do you think best summed up 2014?
Change. The whole year was a chaotic mess really, with a family health emergency bringing us back to Australia at the end of January and prompting our move back in June. We basically spent the entire year deciding to move, preparing to move, moving and then settling into Sydney again. Epic and not fun.
2. What did you do for the first time this year?
I had a blog post go viral, and several pieces published in the Huffington Post. I also tried new kinds of exercise, like antigravity yoga and booty barre, and bought my first bike!
I also took my blogging in a different direction. My previous focus, Brunch With My Baby, ended, and all the writers went their separate ways. I merged my old content from BWMB with my old personal blog, A Kiss Goodnight, and created this new site, Adventure, Baby!, to be home to all of my travel, parenting and food blog posts from now on.
3. What is one thing that happened that will have lasting consequences?
Making the decision to move back to Australia, for sure. I was nowhere near ready to leave New York (and I still miss it like mad!), but it was the right decision for our family at this time of our lives. The decision effected not just Alec and myself, but Cheese, too. She's changed from growing up as a little New Yorker to life as an Aussie kid. It's been a really positive change for Cheese in particular. Her relationship with my parents has blossomed, whereas previously she didn't know them very well, and she's super attached to them now as a result. She is also loving the beach, learning to swim and wants to ride her scooter everywhere. Thanks to the Australian climate, she can play outside every day, too. No hibernation for six months of the year!
4. Was there anything you wish you'd done differently? Why? How?
I let a situation get out of control that I wish I hadn't. I took the path of least resistance thinking it would all turn out ok, and in the end, it was an absolute disaster. In future, I'll have difficult conversations when they need to when a problem is still small, instead of hoping for the best and letting issues escalate to the point of no return.
5. Do you have a favourite moment from the year? What made it special?
Christmas day with my family. After being away for a few years I really missed spending Christmas with my parents in their home. I also didn't think I would get the chance to spend a Christmas with my dad again after his health issues, so it was special in a lot of ways. Cheese was old enough to take over a few family traditions, too, like decorating my mum's Christmas cake and the gingerbread house.
6. What lessons has 2014 taught you about yourself? About others?
I generally am the kind of person who hates upsetting others, and will go along with what people I care about want if it doesn't effect me much to do so. I tend to put the needs of others before myself. This year I learned the hard way that this is not the path to my own happiness, and that I really need to speak up more for myself and what is important to me.
I also learned that you can't change people's minds, either. No matter now rational or logical I might think what I'm saying is, if the person I'm speaking to has a differing opinion, I'm better to state my feelings and then let it go. Differing opinions are ok – they don't make my thoughts wrong, or the other person's right or wrong, they just are what they are.
7. How will the lessons from this past year change the way you approach the new year?
Being upfront and honest about my feelings, even if it's hard. Making better, smarter decisions.
8. What do you most want to do in 2015?
I want to regain a sense of purpose for myself. I've focused a lot on Cheese's needs in the past 3.5 years, and now it's time to balance her needs with my own. I hope to start a small business, grow my blog and continue freelancing.
I also want to travel again for pleasure. We have a big trip including Europe planned for mid year that I hope will come about.
9. What do you most want to change about yourself? The world?
I want to yell less. I'm quick to anger and snap easily, particularly at Alec and Cheese. I'm really working on this trait this year, hoping to improve it.
I would love to effect people on a bigger scale – and I hope that I can do this through my blogging and freelance writing. As an introvert, I find it hard to be 100% open and honest and leave myself vulnerable in my writing, but this is how I reach the most people and help them feel like someone else is going through the same thing. So being braver and putting myself out there in a more honest and open way is another goal.
10. What one word do you hope will sum up what you hope to achieve in 2015?
Peace. Mostly I'm aiming for inner peace. To change what I personally can, to do the best I can, and then to try and be at peace with the outcome. Letting go of the past, coming to terms with things that have made me sad but that I can't do anything about, and moving towards a happy future.
What are your goals for 2015?