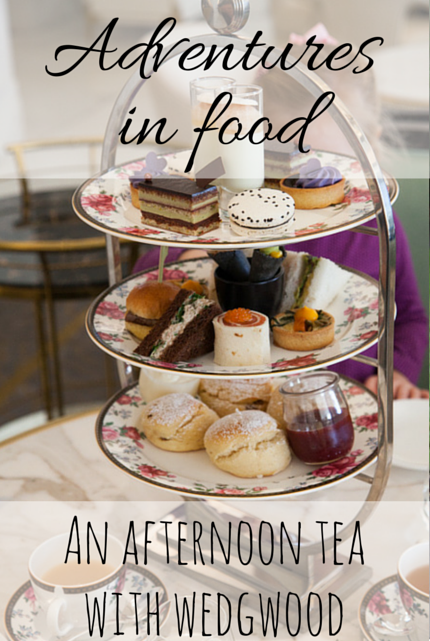 The Langham Hotel has under gone a significant refurbishment, and is now lighter and brighter than ever before. The Palm Court at the London Langham Hotel is heralded as the birthplace of the traditional Afternoon Tea, so it has been on my list of "must-do" Sydney afternoon teas for a while.
Mother's Day is always a good excuse for an indulgent high tea, and so it was the location for an elegant lunch (yes, even with my 30 year-old in tow) to celebrate, well, me!
The Palm Court at the Langham Hotel offers guests an exclusive afternoon tea experience with their new global partner, Wedgwood. The beautiful tea experience was heightened with the serving of Wedgwood specialty teas in tailor-made "Langham Rose" Wedgwood teaware.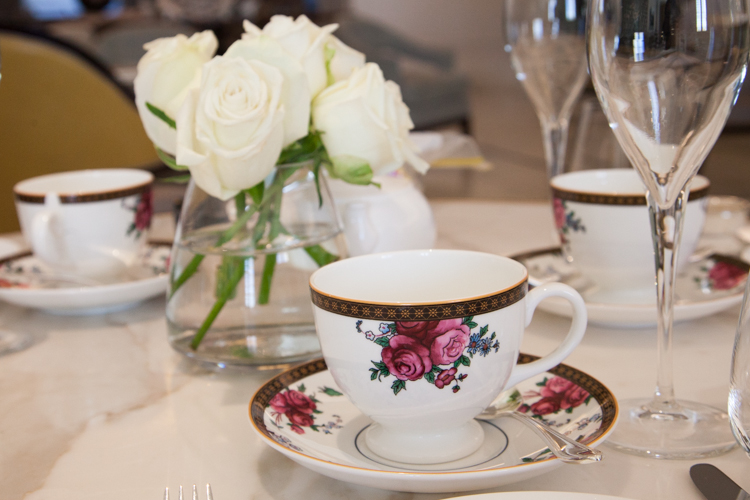 Our server for the tea was lovely beyond belief. She offered our testy preschooler a hot chocolate and made it on the lukewarm side without being asked. Perfect not just for Cheese to drink straight away, but also in case of spills.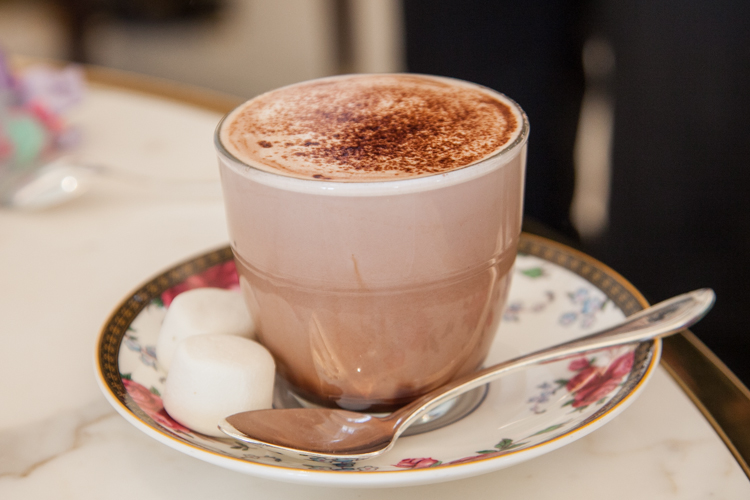 Since we visited on a weekday, it was a quiet seating. Our tea and then food were brought out quickly. I particularly enjoyed our server's attention to detail through out the tea, ensuring that we were happy with everything and asking if there was anything more we could do for us. She also made an effort to engage with Cheese, and complimented us on how well behaved she was (lucky Cheese saved her tantrum for refusing to wash her hands in the bathroom!).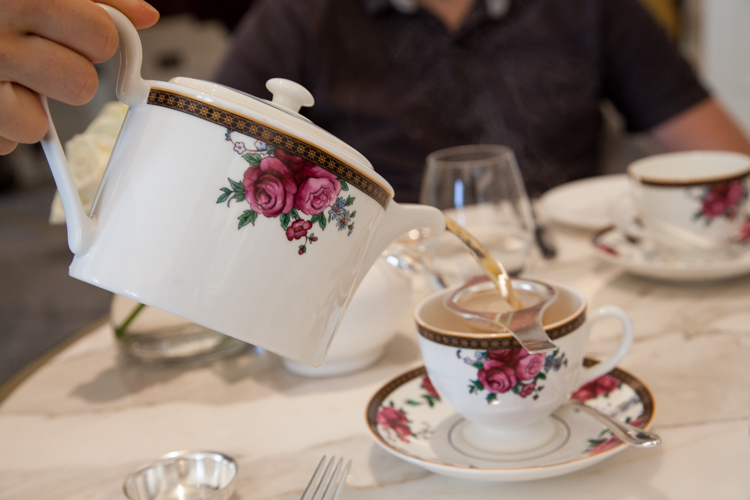 With one vegetarian and one regular diner, our platters looked exceptionally pretty with the added variety.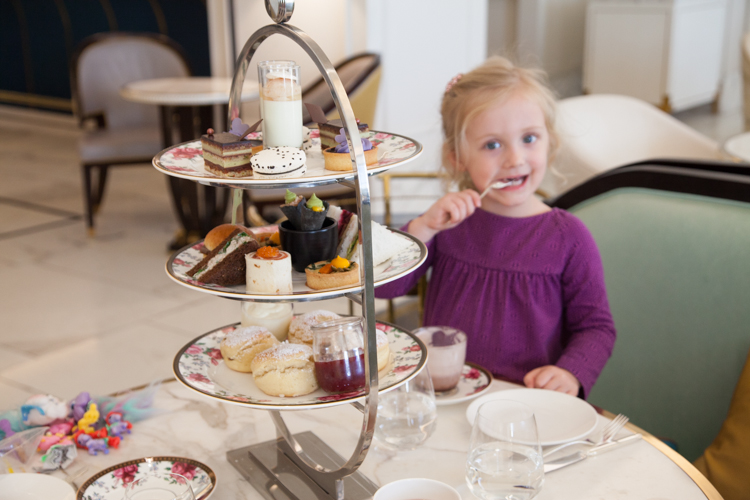 Starting with the savoury, I loved the pumpkin tart the best. It was just a delicious morsel of pumpkin and pastry with nuts for garnish. Next was the corn and avocado cornet (delicious) and the sandwiches. The sandwiches were sadly the only part of the high tea that I wasn't happy with. All three were a kind of vegetable medley – it would have been nice to have a bit of variety like an egg salad, or cucumber. The bread was also kind of on the dry side and god stuck in my mouth. The fillings were fresh and flavoursome however.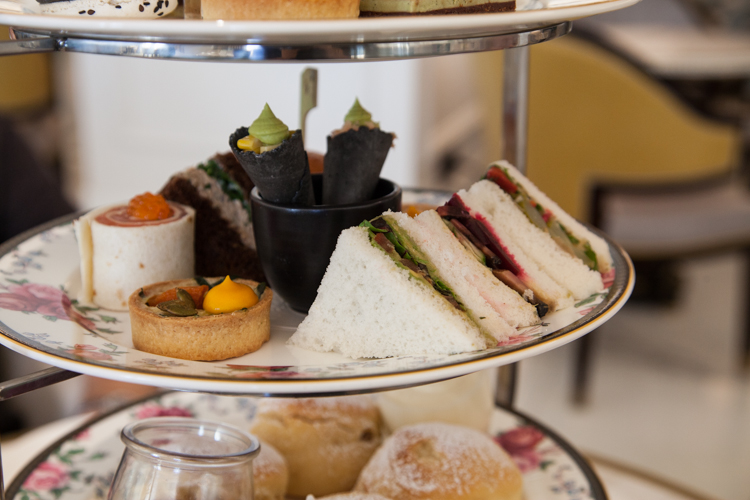 The scones were my favourite part of the tea, along with the pumpkin tart. They were freshly made that day (not warm, but obviously not made long ago) and came with the most delicious strawberry jam and cream.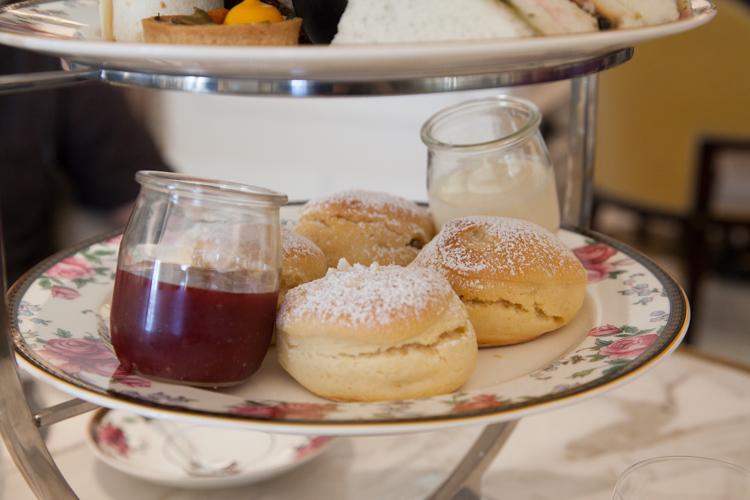 Desserts included a pannacotta with lychee, blueberry tart, sesame macaron and a kind of pistachio cake. My favourite was the blueberry tart, which was nice and tart rather than sickeningly sweet. I wasn't a fan of the macaron as I don't like sesame flavour in general, but Alec really enjoyed his. The panacotta was creamy and light, and the cake a dense chocolaty way to finish.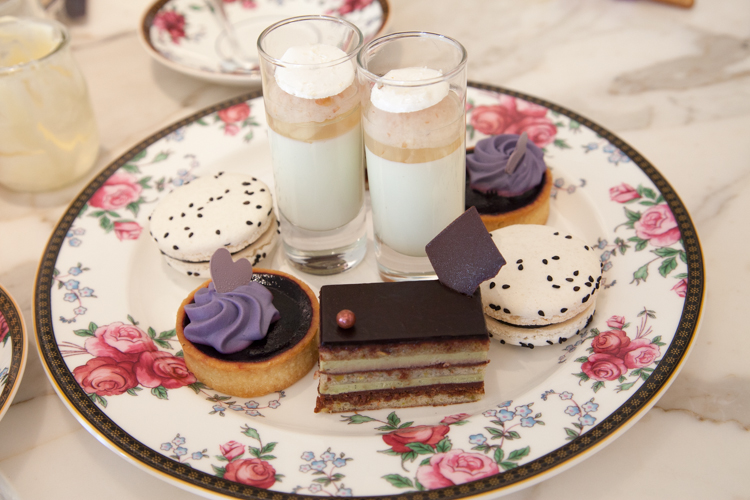 All in all, it was a very enjoyable high tea.
Wedgwood High Tea at The Langham Hotel
89-113 Kent St, Millers Point,
Sydney NSW 2000
Prices: $$$ (From $55 pp Mon-Fri & $65pp Sat & Sun)
Phone: 02 8248 5220
Hours: Daily 12pm–5pm
Get Directions