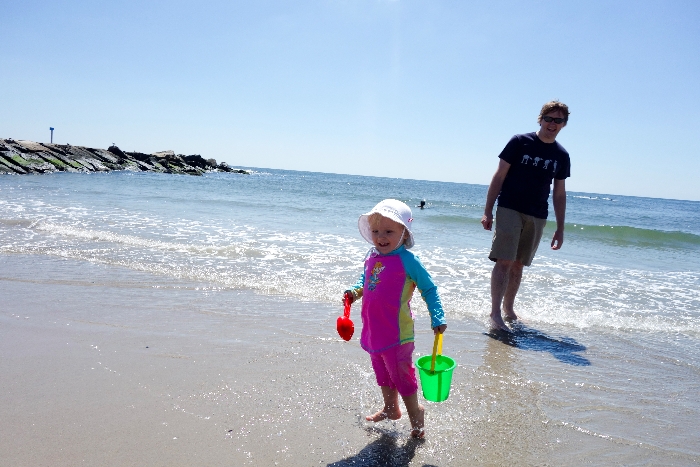 Being from the land of beaches, I've found myself desperately missing white sand and blue waves – yet I feel trapped at home because of the timing of Cheese's naps. Today, however, we decided to throw caution (and naps!) to the wind and catch the A train to Rockaway for a day at the beach.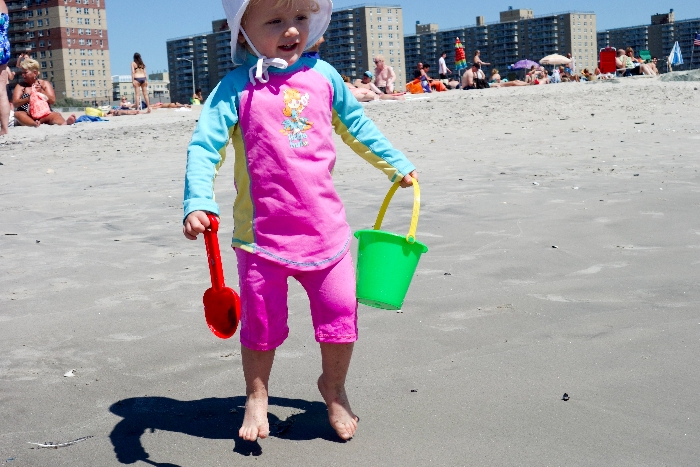 Getting there by train was a lot easier than I'd expected. We caught the A to Broad Channel, then switched to the S (Shuttle) to 90th St. The whole trip took 50 minutes from our apartment in Brooklyn. After getting off the train, it was a 10 minute walk to the beach.
The Rockaways were hit extremely hard during 2012's Hurricane Sandy. You can still see the extensive damage as you walk to the beach – the houses with ground floor construction still being done, the buildings missing shingles on their walls, parts of the boardwalk still being rebuilt. The beach has undergone a massive reconstruction since the hurricane and it is pretty amazing that the beaches were able to reopen again this summer.  The boardwalk is still in the process of being re-constructed, and sections of the beach are closed off, but don't let that stop you. There are still 14 miles of white beach for you and your kids to enjoy.
The beach in Rockaway is particularly kid-friendly. The water is calm and shallow at the shoreline, and several newly-reopened playgrounds line the boardwalk.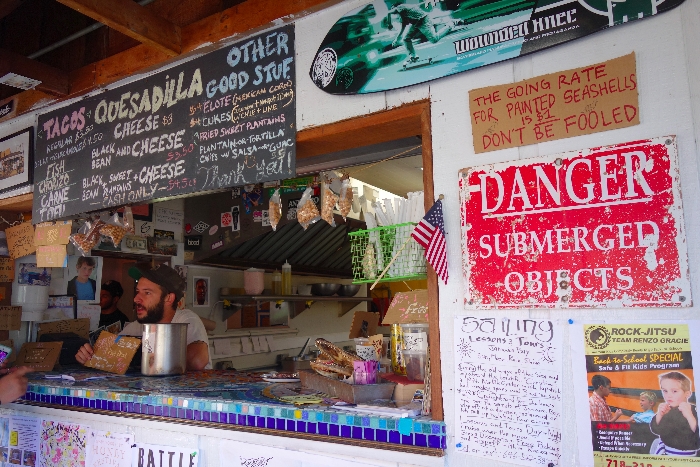 Rockaway Taco
First stop is breakfast, after surviving the train trip intact. Everyone we asked recommended Rockaway Tacos, a tiny little taco stand tucked away on 96th street. Breakfast is served 9am-10:45am, then the regular menu from 11am onwards. You won't be the only taco-seeker, so be prepared for a long wait. Their side garden features benches to sit on in the shade, and cool murals to point out to the older kids. Grab a coffee or smoothie from the coffee and juice stand, Veggie Island, next door, then come back for your tacos. Tacos start from $3.50 each. Go for the fried fish taco – it's a lightly fried piece of white fish, topped with cabbage and crema in true Mexican style. They also do a nice Elote (corn on the cob smothered in mayo and spices, $3.50).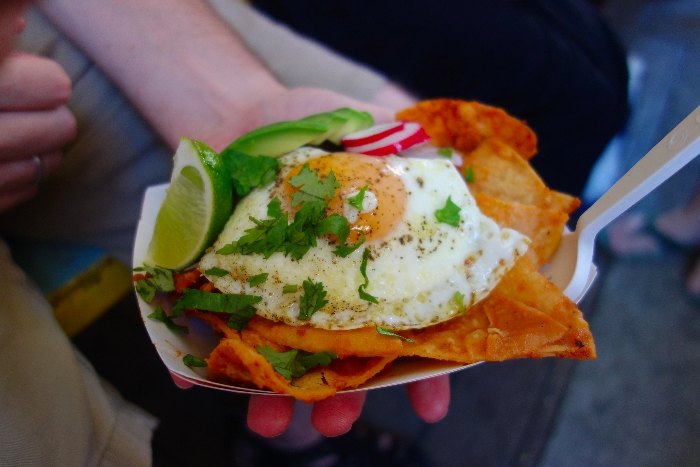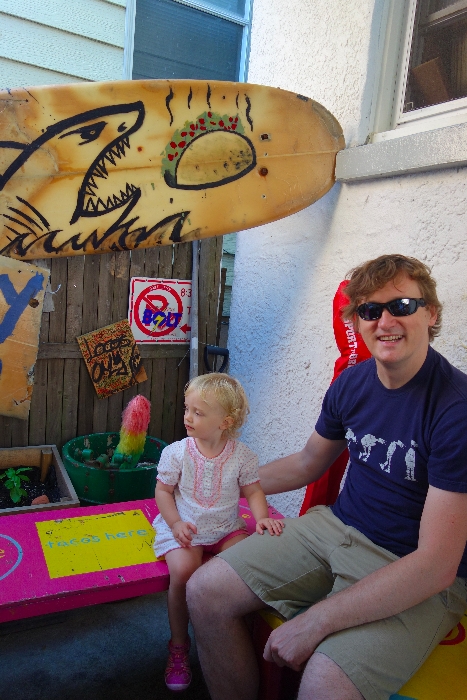 Rockaway Taco
95-19 Rockaway Beach Boulevard
Rockaway Beach, NY
Phone: (347) 213-7466)
Prices: $$
Hours: Mon-Wed 11am-8pm, Thur-Sun 9am-8pm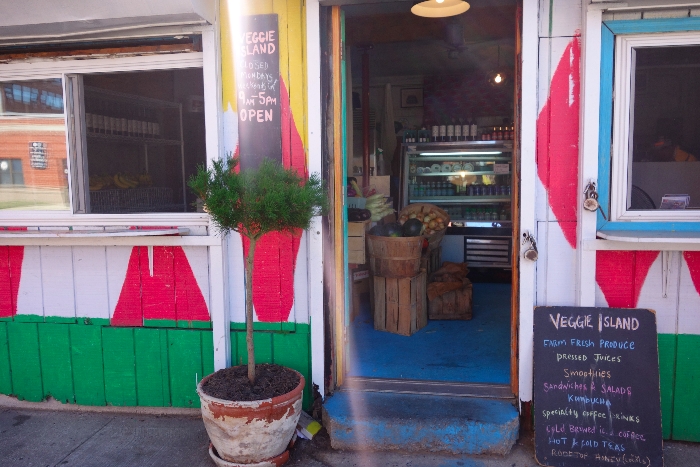 Veggie Island
Next door to the famous tacos sits the aforementioned Veggie Island – home of great coffee, smoothies and snacks like the peach muffin ($3) I sampled. You can also grab some brightly-colored fresh fruit and veggies. I also picked up a Strawberry and Banana Smoothie ($6). It was more like a slushie than a smoothie (blended with ice rather than yoghurt or milk), which was great for the hot day.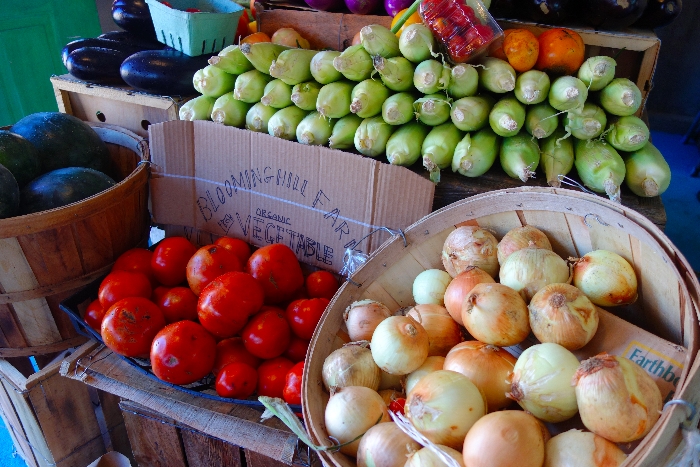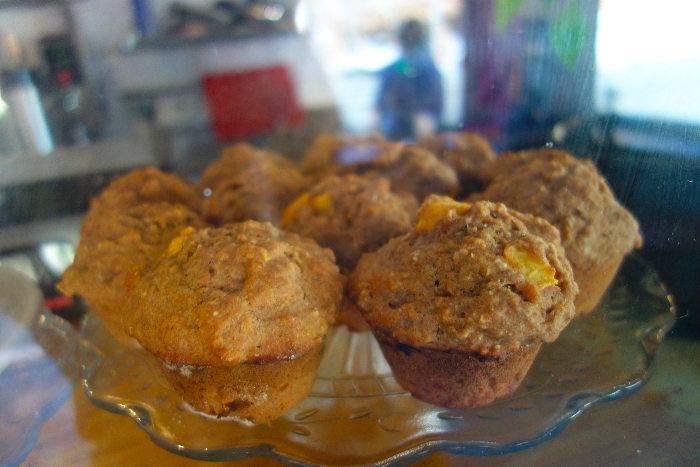 Indoor seating is limited to bar stools, so take your smoothie and coffee to go.
Veggie Island
95-19 Rockaway Beach Blvd (on 95th St.)
Far Rockaway, NY 11693
Phone:(347) 277-2268
Prices: $$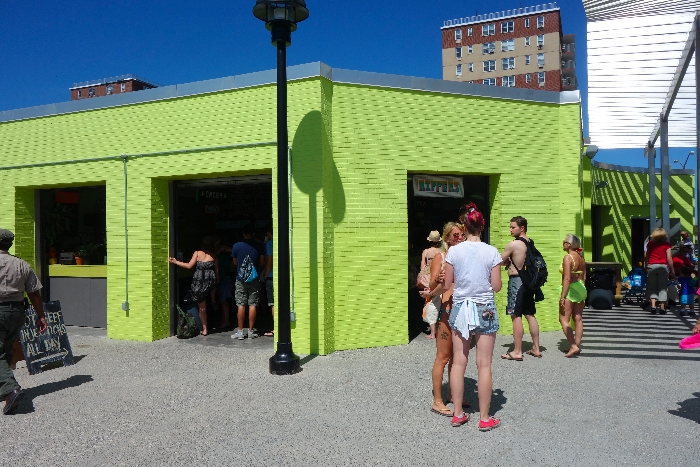 Rippers
Rippers is currently the only concession stand open on the boardwalk. You'll find breakfast burritos, hamburgers and fries – good, solid beach food. They also have a large, shaded seating area and phone charging station, and are located next to the brand new bathrooms installed on the boardwalk.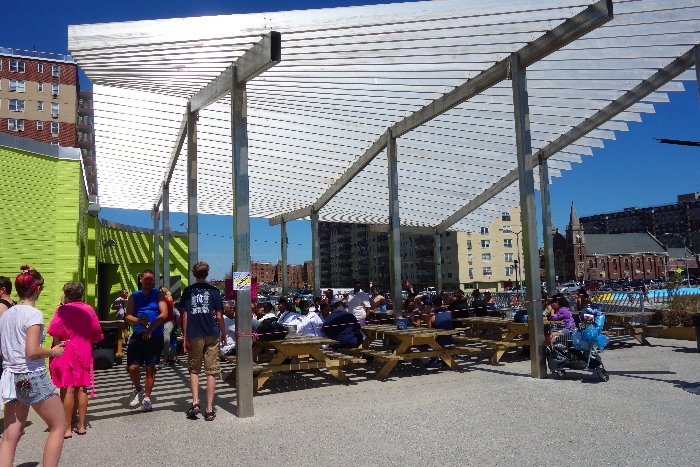 Rippers
Rockaway Boardwalk
Beach 86th Street
Far Rockaway, NY 11693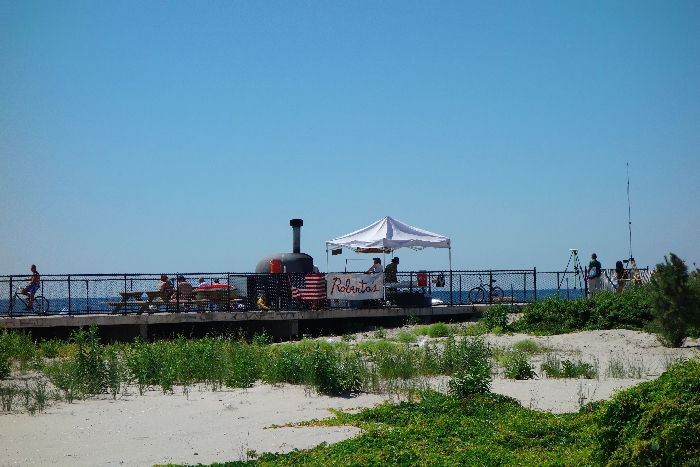 Roberta's
Walking along the street to get Cheese to nap in the stroller, I spotted this sign (above), which made my heart jump. Yes, it was the pizzeria I never venture to because I hate, hate waiting.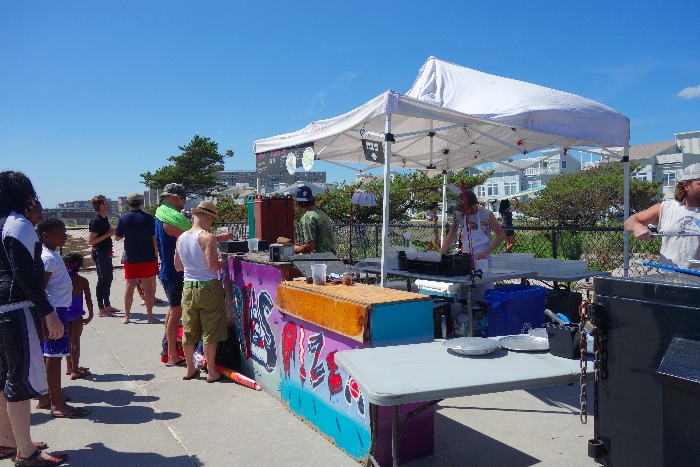 The Roberta's pop-up stand features a wood-fire oven on wheels (genius!), delivering some seriously tasty pies. Each pizza is a single serve, with a basic Margarita costing $6. The pizza took over half an hour to arrive (at least that was better than waiting in line for a seat at a restaurant), but it was absolutely worth it (and better than waiting for over an hour on a line alone). Crispy base, with a soft crusty edge, the perfect savoury tomato sauce and daubs of mozzarella cheese on top. O.M.G. My only regret was not ordering two as Cheese ate a big chunk of mine.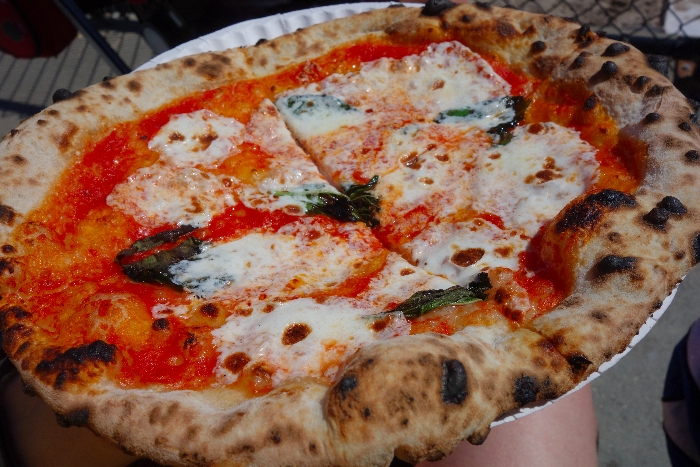 There are a few tables and benches near Roberta's, but no shade. One option is to take it to the nearby toddler playground to eat on a bench there while your kids run in the sprinklers.
Roberta's
Beach 69th Street
Rockaway Beach, NY 11693
Prices $$
Hours: Fri 12:30pm-6:30pm, Sat-Sun 11:30am-6:30pm
What you need to know before you go
Swimming is permitted only when life guards are on duty, which is from Memorial Day weekend until Labor Day weekend, daily from 10-6 p.m.
Avoid areas with red flags or "beach closed" signs. Temporary "islands" have been built at sections where the boardwalk is still damaged.
If you need chairs & umbrellas, there are stores at 116 Beach Street (near the subway) that sell them relatively inexpensively (there are no places to rent them).
LABOR DAY UPDATE: The stretch from Beach 110th Street to Beach 130th Street, and Beach 88th Street to Beach 93rd Street, will be closed over the long weekend for dredging.
Getting there
Take the A train to Far Rockaway, change at Broad Channel to the S train to 90th st. Travel time from Manhattan is about an hour and 15 minutes.
Rockabus has weekend buses from Brooklyn and the Lower East Side.
A weekend ferry runs between Pier 11 on Wall Street and Jacob Riis Park.