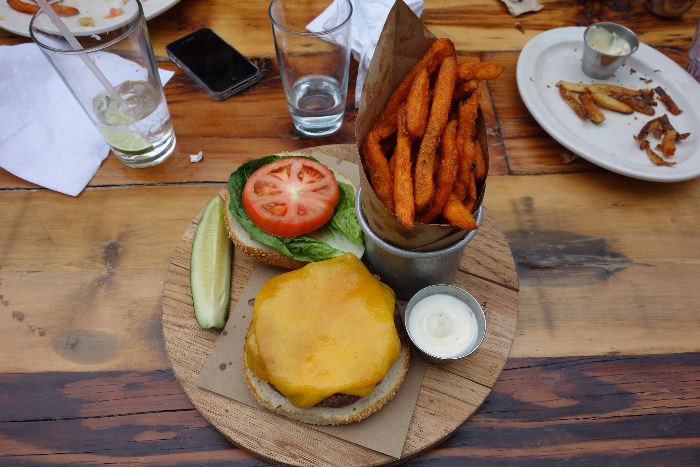 On a dreary but not-too-cold day, we made our way to Brass Monkey in the Meatpacking District to celebrate a dear friend's birthday. We walked past packed brunch spots like Pastis, and I was concerned that we were going to have to fight for a table.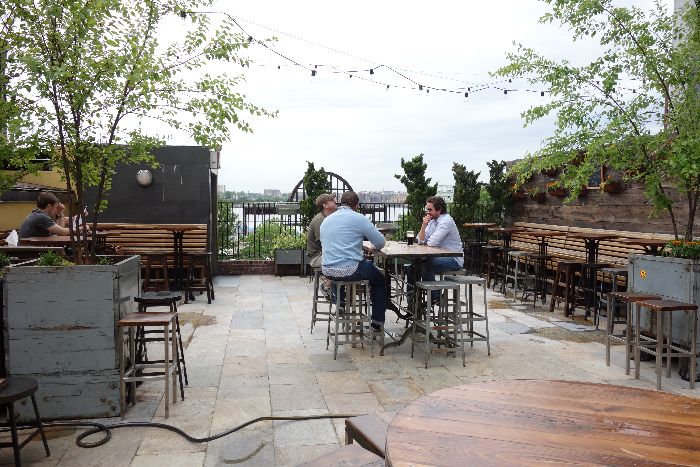 I don't know if it was the sad weather that put people off, but Brass Monkey was practically empty when we arrived. We were able to grab a table on the rooftop deck big enough to fit the 14 members of the party, and spread out with all the space we had.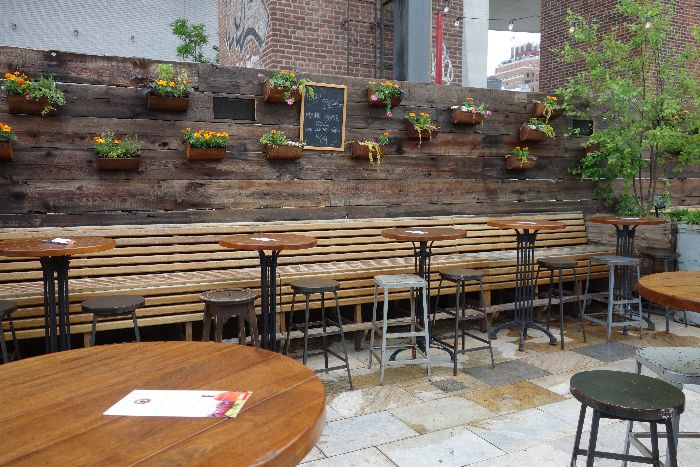 As the afternoon wore on, the tables slowly filled up, but it was never packed to the point of the famous neighbours downstairs. In fact, when it started to rain, we were able to find empty tables enough to fit our remaining part of eight on both the floors below.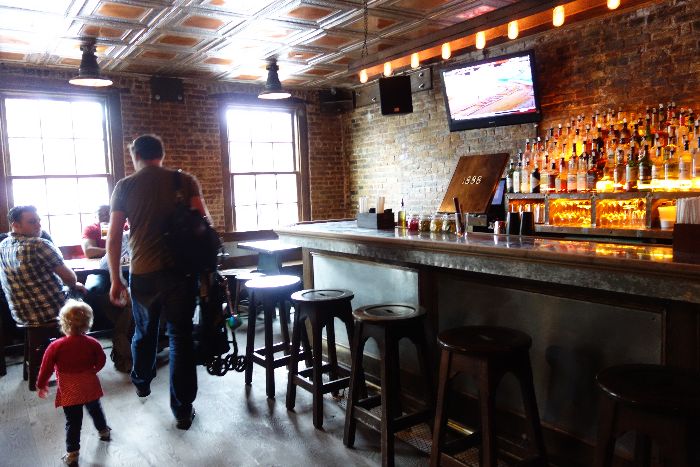 Speaking of floors – there are three. The main floor entrance, with a bar, tables and chairs, the middle floor with a second bar, booths and small tables and chairs, and the rooftop. There's no lift, so if you're planning to take kids to the middle level or rooftop, pack light and bring a folding stroller. One thing's for sure, you'll burn off at least half of the food you're about to consume.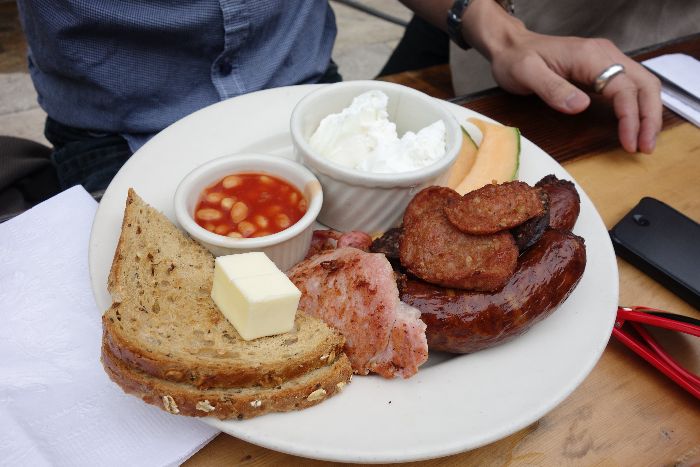 Brass Monkey serves upmarket bar food. It has a brunch menu with a twist, including items like the Egg Scramble Wrap (scrambled eggs with spinach, tomato and cheddar, served with homefries) and Maine Lobster Roll, served with old bay chips. You can also try the Full Irish Breakfast (two eggs, any style, sausage, bacon, black pudding, white pudding, beans and toast).
On a sunny day the rooftop deck get crowded fast. It has a less pub-like ambiance, with little pot plants embedded in the walls, and a creates an interesting juxtapositioning of old and new, being right next to the Standard Hotel and High Line.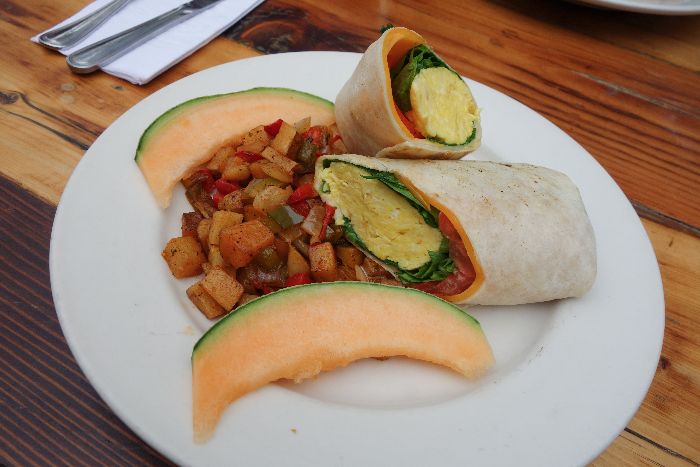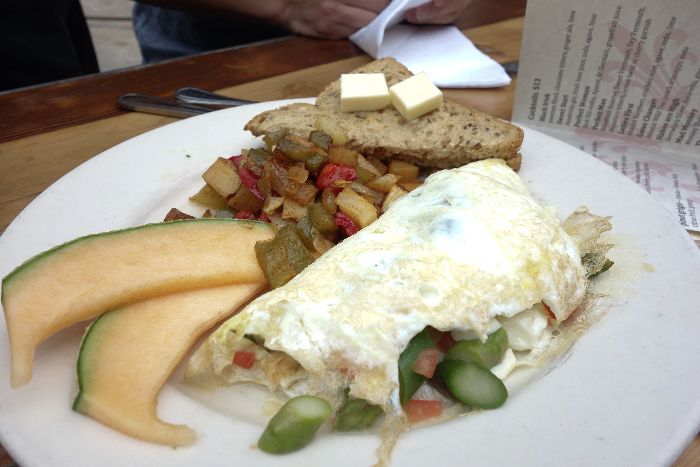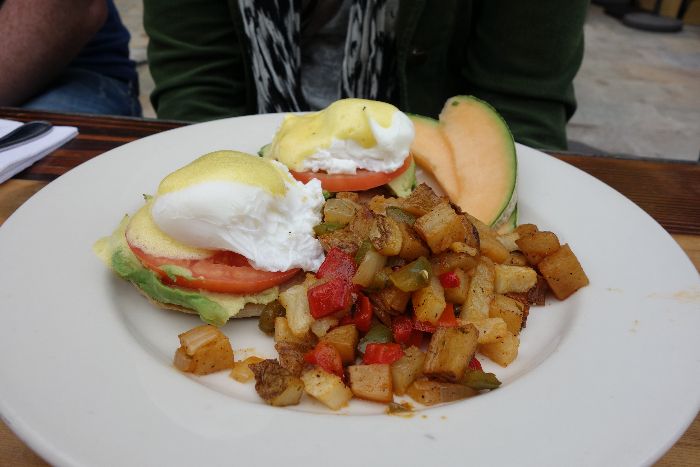 Our food arrived pretty quickly for a party of 14. Everything was well cooked to order, including the meal which was altered to suit a gluten-intolerant diner. My Egg Scramble Wrap was delicious. A big wedge of egg, wrapped in spinach, tomato and cheese. What combination could be better?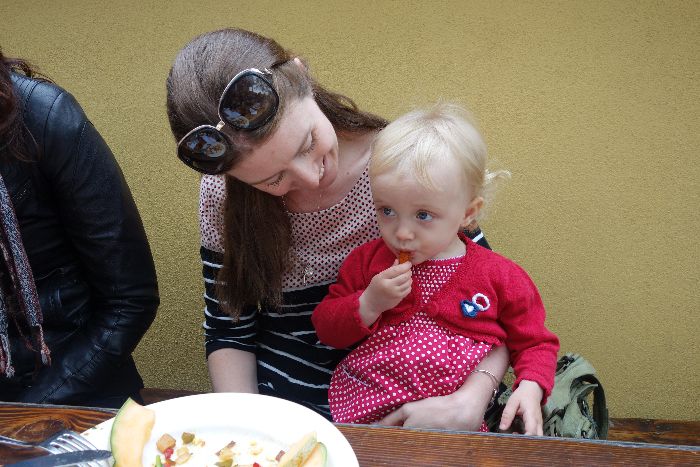 We couldn't find any high chairs, so we balanced Cheese on our laps, then chased her around the deck when she got bored. The sweet potato fries we ordered entertained her for a while, then I resorted to letting her pick the ice out of my empty glass.
The staff were efficient, but not overly friendly. They gave us what we needed, and kept out of our hair. No special concessions were made for kids, but it was a very welcoming environment, and we didn't feel awkard about having our rowdy toddler with us. Several more toddlers arrived as we were leaving, so we clearly weren't the only people seeking a quieter option for lunch or brunch on a Saturday.
Last bite: For bar food with a twist – and a great view, grab a table on the rooftop deck, order a drink, and relax in the sun.
Highchairs: No.
Stroller storage: Yes – as long as it's not super busy, there's plenty of room for strollers.
Easy access: Yes, to main floor.
Change tables: No.
Kids' menu: No.
Brass Monkey
55 Little West 12th St
New York, NY 10014
Phone: (212) 675-6686
Hours: Daily, 12pm-4am
Prices: $
Cuisine: Bar food