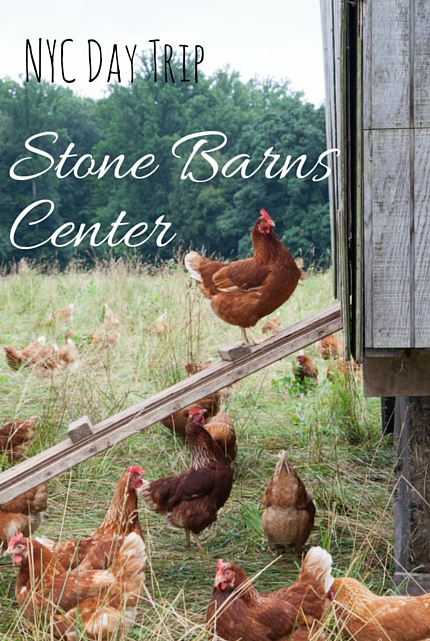 Give city kids a dose of country life at the Stone Barns Center for Food and Agriculture in Westchester, NY.
Just 25 miles north of Manhattan is a rural paradise with rolling hills and gently baaing sheep. It's the perfect way to escape the hustle of the city and wind down with the family while also learning a bit about where our food comes from.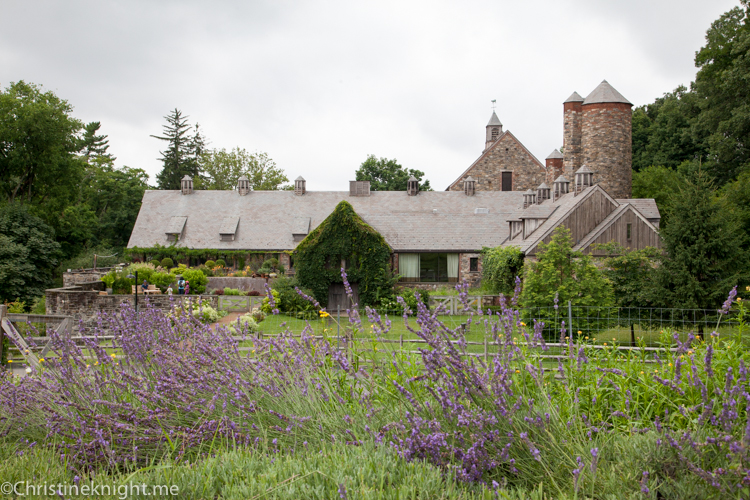 The Stone Barns Center is an 80 acre non-profit farm and education center with a mission to create a healthy and sustainable food system to benefit us all.
Visiting Stone Barns is a full day trip filled with fun farm activities. Due to safety precautions (electric fences everywhere!) and concentration-requiring activities, the farm experience is best suited to children at an age where they are able to follow directions. Younger toddlers and babies are welcome, but won't get as much out of the day, or be able to get up close to animals.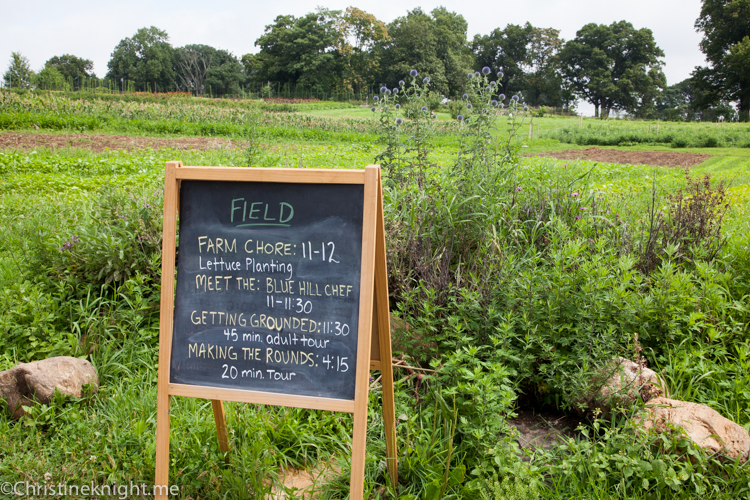 A day on the farm is different depending on what month you go. There's so much to see and do, from meeting the Stone Barns sheep, laying hens, chickens and pigs to seeing fresh produce being grown in the greenhouse and fields, which are filled with lettuces, radishes, tomatoes and other seasonal fruits and veggies. Drop-in hands-on activities are held throughout the weekend, such as egg collecting, flower pressing, storytime and planting crops.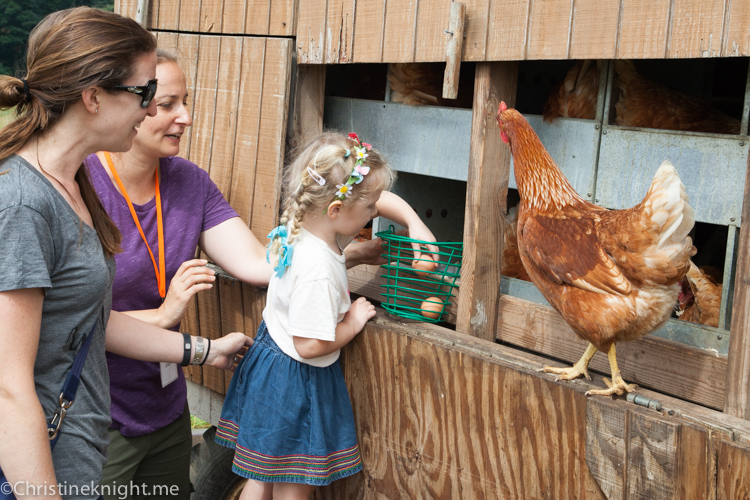 Weekend visits to Stone Barns are really popular, so be sure to buy your tickets in advance. All of the activities are included in the price of the ticket.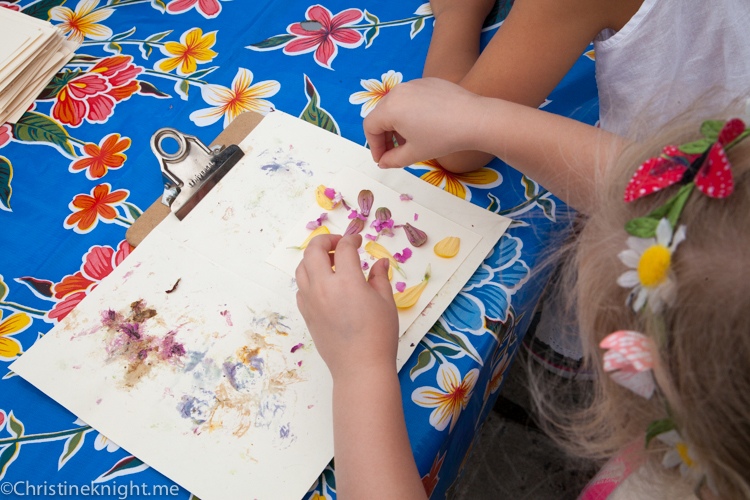 When we visited, the two preschoolers in our party enjoyed egg collecting (even though they were a bit freaked out by the friendly, curious hens who pecked our feet), the flower print making and playing with the farm dog the best. There were also freshly hatched chickens and adorable piglets to see up close.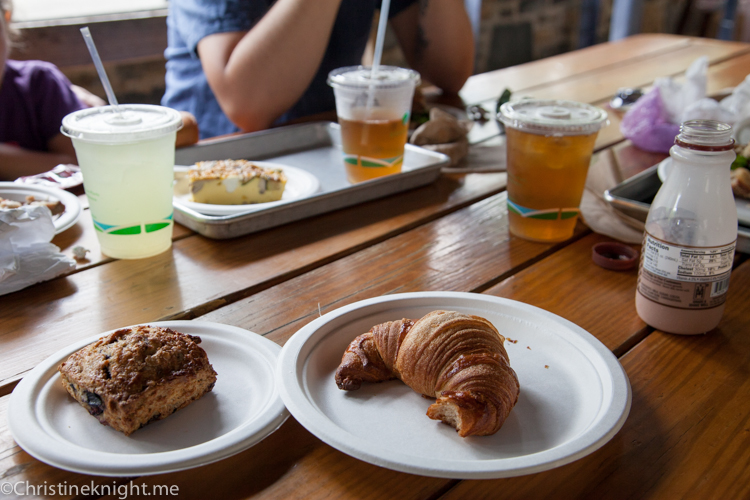 Farm work makes for hungry humans, and we adjourned for lunch to the Blue Hill Café. Open Wednesday-Sunday, 10am – 4:30pm, the cafe has light snacks like pastries and salads, coffee and locally grown goodies. If you've got fussy eaters, take a picnic lunch. There's plenty of space in the courtyard to sit in the shade and take a break before trying your hand at a farm chore or gearing up an uphill hike.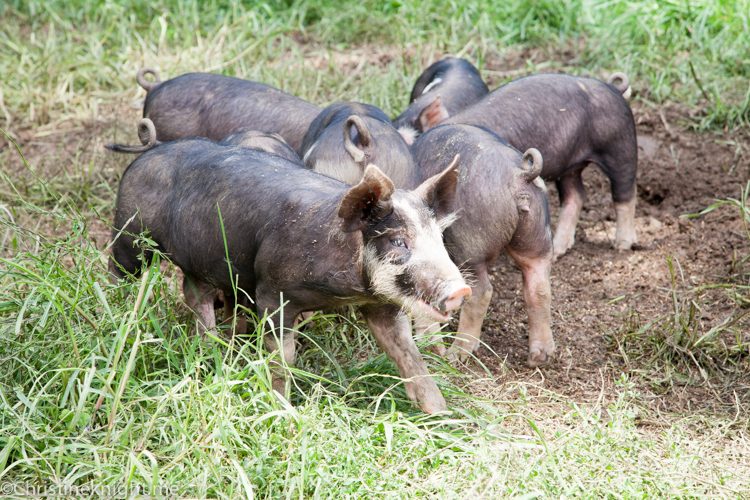 If you visit on a weekday, the farm is open Wednesday – Friday, 10:00 am – 5:00 pm and has a free, 40-minute family-friendly tour on these days at 1pm for you to explore the farm, get a closer look at the animals and see the seasonal vegetables being grown. The tour is appropriate for ages 4 and up.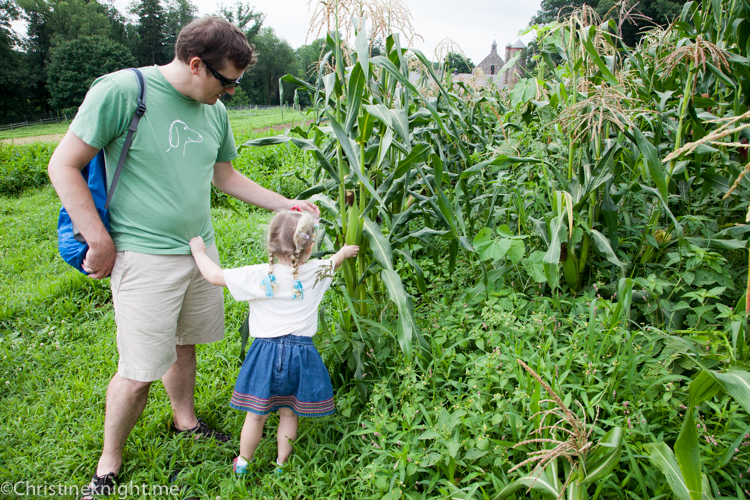 Every year Stone Barns holds a Harvest Fest. This year it's on October 3, and tickets are selling fast.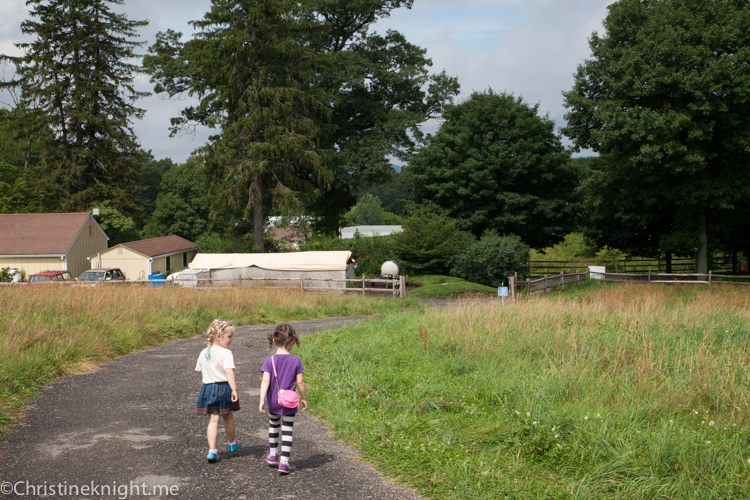 Tips for your visit
When dressing for the farm, remember you're visiting a farm and dress appropriately. Closed in, comfy shoes that you don't mind getting dirty, long pants to protect skin from itchy grass, sunscreen and hats. If it's been raining, wear rain boots to protect your feet from mud.

Buy tickets online before your intended visit. They often sell out.
If you or your kids are fussy eaters, bring a picnic lunch as there is limited food availability.
Arrive at the start of the day to make the most of the scheduled activities.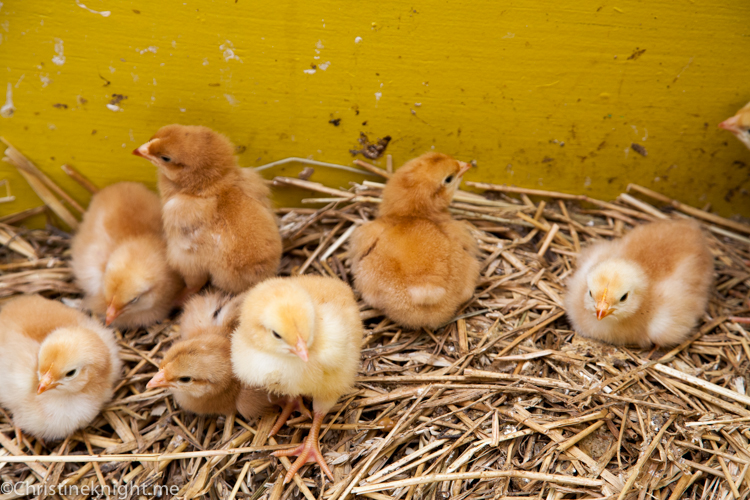 Hours and Admission
Location: Stone Barns Center
630 Bedford Road
Pocantico Hills, NY 10591
Hours: 10am-5pm
Weekend Admission: Adults $20, Youth $10, Kids under 2 free.
This article was first published on MommyNearest.